The Coroner's Report - Delve Deep Into The World Of Death, Black & Thrash Metal

By Peter Atkinson, Contributor
Monday, October 6, 2003 @ 4:57 PM

| | | |
| --- | --- | --- |
| | | Peter Atkinson Gives KNAC.COM |
It's been a while since the last thrilling episode, but I won't waste your time with a lot of introductory jibber-jabbering. Plus, now that Hurricane Isabel has come and gone and the power's back on, there's lots to get to, too, as it seems like everyone's got something new out -- including most of heavy hitters. So many, in fact, I left a few notables out -- Krisiun (great new album), Children of Bodom, Watch Them Die (savage debut due Oct. 7), Extol, Monstrosity, etc. But there's always next time. First up, if you're on the East Coast or looking for a weekend getaway with a mosh pit, the New Jersey Metal and Hardcore Festival is slated for Nov. 14-15 at the Asbury Park Convention Hall complex. The line-up was just announced -- and it's a good one. The Friday (Nov. 14) show is scheduled to feature Superjoint Ritual, Dimmu Borgir, Morbid Angel, Nile, Nevermore, Children Of Bodom, Hypocrisy and Strapping Young Lad. Cradle Of Filth, Type O Negative, Deicide, Suffocation, Hate Eternal, Biohazard and Krisiun are slated to highlight Saturday's festivities. Of course, the line-ups are subject to change. The action starts early -- 3 p.m. on Friday, noon on Saturday -- and the usual booths, pornstars and other distractions should be scattered about. Morbid Angel and Superjoint Ritual also were also supposed to have been part of "The Blackest Of The Black Tour" with Danzig, Devildriver and Behemoth this fall. But, as has been the case with a few of these underground package tours that are big on promise and idealism, but low on financial security, it seems to have fallen apart. And speaking of Morbid Angel, in case you haven't heard the band's new singer is ... the band's old singer! Steve Tucker, who replaced long-time frontman David Vincent and sang and played bass on the Morbid's last two albums has returned after abruptly -- and somewhat acrimoniously -- leaving just before the band was set to play the "Extreme Steel" tour with Slayer and Pantera in 2001. Hate Eternal bassist Jared Anderson filled in -- quite ably, in fact -- for the remainder of Morbid Angel's touring responsibilities, but left when they were over along with guitarist Erik Rutan to focus on Hate Eternal. And for a stretch, Morbid Angel had been whittled down to guitarist Trey Azagthoth and drummer Pete Sandoval. There were rumors of the remaining Morbid's trying to lure Vincent back, but apparently he's content playing bass as "Evil D" in his wife Gen's traveling S&M rock/freakshow, The Genitorturers. But in the end, Azagthoth and Sandoval were able to settle their differences with Tucker and he was welcomed back into the fold in time to go to work on the band's just issued new album, Heretic. "We were friends, but there was also a business involved and sometimes business and friendship doesn't mix, especially when things aren't clearly spelled out," said Tucker on the phone from his home in Cincinnati. "Things had gotten too blurry and things needed to be cleared up, and since I left, they have been. "They called me up and said they wanted to make it happen and we were able to work things out. Things are better now than before, everyone's on the same page." And whatever frustration or ill-will that might have remained, certainly worked itself out on Heretic, which is a furious and unrelenting -- for the most part, if you ignore all the instrumental tomfoolery at the end -- as the last album, Gateways To Annihilation, was moody and somber. "Gateways had a different mood, people were looking for more chaos," Tucker said. "Well, they'll get chaos this time, and then some. After all we went through in the last couple years, this is only album that could come out of us at this time."

* * *

SIX FEET UNDER: MORE BRAINS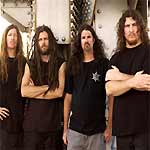 With his Grand Guignol work fronting Cannibal Corpse and, now, Six Feet Under, Chris Barnes has rightly earned a reputation as one of the sickest men alive. So it's more than a little weird sitting there with a phone to one's ear listening to him talk smack about the current state of U.S. political affairs instead of serial killers or Lucia Fulci splatter movies. But Barnes is as eager as any of the talking head pundits you see screaming at each other on the cable news shows to rail about freedom of speech, the war in Iraq and the "fucking Republicans" – as he calls them – the Florida election travesty and marijuana laws. And, while he drops the "F-bomb" with far more frequency – and definitely smokes a hell of a lot more weed – than the cable chatterboxes, his reasoned arguments and mellow tone make Barnes seem uniquely eloquent. "All of our worse nightmares have come true since the fucking Republicans stole the election for Bush here three years ago," said Barnes from his Tampa, Fla. home. "We're fighting a war Bush's daddy should have finished off when he had the chance – and if he had finished the job maybe we wouldn't also have to be fighting this 'war on terrorism' now. "The rest of the world hates us, even most of our supposed allies, because of the way Bush and his minions have bullied them around. The level of hostility we project now is really disgusting. And we've dug ourselves in so deep in all this shit now that it's gonna keep going on forever – or at least we're gonna be paying for it forever. "It's easy to say things would have been different, or at least better, with Gore as president, but I really think they would have. But I guess we'll never know. Our only hope now is that it's like father, like son and George W. gets voted out after one term so we can start repairing the damage." You can hear Barnes' outrage on Six Feet Under's beefy new album Bringer of Blood, which was issued Sept. 23 on Metal Blade. Amid the usual "Murdered In The Basement" and "Escape From The Grave" death metal horror stories are the spleen-venting "My Hatred," "Sick In The Head" and the album's centerpiece "Amerika The Brutal" – whose video actually has been getting some Headbanger's Ball airtime on MTV2. "Amerika's" anti-Bush, anti-war, anti-establishment creed would be right at home on a hardcore album – especially with Barnes' bulldog delivery and surprisingly clear vocals. "Not afraid to speak my own mind, I don't use the first amendment to hide behind," he bellows – this from a guy who once sang of "Entrails Ripped From A Virgin's Cunt" with Cannibal Corpse. "I'm usually a pretty mellow cat," Barnes said. "But what's happened in the last few years really has pissed me off. And seeing what's been happening to anyone who has spoken out about Bush and his evil empire, how they've been attacked and branded as traitors, only makes me want to speak up. There's not a lot politics on this album, but when there is I really want to drive the message home." Six Feet does that with perhaps its chunkiest, grooviest, heaviest performance yet, which definitely lets listeners -- as Barnes barks on "My Hatred" -- "hear what the fuck I'm saying." To hear more about what the fuck he's saying, check out the bonus DVD that comes with Bringer of Blood and features interviews with the band members, as well as a documentary about the band and the death metal scene called "Six Feet Underground." Look for Six Feet Under on road in a few weeks headlining the "Un-Natural Born Killers" campaign featuring Skinless (see below) and Black Dahlia Murder (see below) and, now, Behemoth. Will Barnes be doing any speechifying? Better go and find out for yourselves.

* * *

ARCH ENEMY: RUDE AWAKENING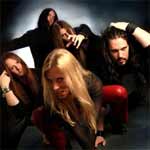 Angela Gossow got her feet put right into the fire when joined Sweden's Arch Enemy two years ago. And for a while, anyway, it wasn't a particularly pleasant experience. Though she was unfazed at the prospected of stepping into a role typically reserved for gravel-throated men, Gossow had never experienced life with a touring band. And when the band jumped right out of the studio after finishing Wages of Sin for six straight weeks of roadwork, it proved rather rude awakening. "I'm a vegan, so food was a big problem, I lost so much weight," the already tiny Gossow said. "The clubs in Europe all have showers, here you can go for days without one. And just the traveling, when you're constantly on the move in only makes things worse. For a while it was like, 'What have I gotten myself into?'" Gossow, who's previous experience was in German club bands, also developed nodules on her vocal chords from the nightly punishment. Eventually, though, they healed and she got settled into the routine. And people got used to the idea of Gossow fronting one of metal's most powerful bands pretty quickly after seeing or hearing her – having a voice like a T-Rex and a pitbull-like stage demeanor certainly helped. "I think, at first, most people thought it was going to be ridiculous, like I was going to be some goth or hippy chick that was going to mellow the band out," said Gossow, who replaced the aloof Johan Liiva. "But we rock out together, it worked really well for us, we have a lot of energy together, the chemistry is good, it's very natural, it's still very heavy and I think the band kicks more ass than ever." Arch Enemy ended up doing three U.S. tours for the well-received Sin and jumped right back into studio when the shows were done. "We got home from a tour on Friday and started working on the album on Monday, so it was all fresh in our minds," Gossow said. "We had the whole touring vibe while we were recording." Arch Enemy just-issued fifth album, Anthems of Rebellion, is its riffiest, most direct effort yet, with the focus moving from complex rhythms and fanciful soloing to big hooks from the guitar tandem of brothers Christopher and Michael Amott, taut, punchy songs and Gossow's raging vocals. "It doesn't have so many little things in it," Gossow said. "When we were playing you could see the weird, complicated parts weren't getting the reaction that the heavy parts were where all the kids were moshing and jumping. So I think we turned things around on this album." The band's already toured here once for Anthems and will be coming back in a couple weeks to open for Slayer and Hatebreed on this year's Jagermeister Tour. Don't miss it.

* * *

ZYKLON: BRUTALITY IN A SUBTLE WAY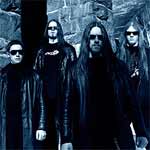 Norway's Zyklon delivered one of 2001's most memorable metal debuts with the pulverizing World Ov Worms. Fresh from their stints with the ever-more-progressive Emperor, band leader/guitarist Samoth (who goes by Zamoth here) and drummer Trym vented their stored up aggression in a huge way -- ably augmented by the misanthropic lyrics of then-imprisoned former Emperor drummer Bard Faust and the understated, yet lethal guitar work of Myrkskog's Destructhor. After such a devastating introduction, the inevitable question was, could they keep it up? The band's sophomore disc, Aeon, proves that indeed they can, and then some. Boasting a more solid line-up with the addition of Myrkskog drummer turned bassist/vocalist Secthdamon and blending the all-out brutality of Worms with more efficient and focused songwriting, Aeon is death metal's finest hour thus far in 2003. "We wanted it to be a more complete album," offered Destructhor, when he phoned in from Norway. "We wanted it to be slower and heavier, but still apocalyptic. The first album was really relentless. Aeon still has the brutality, but it's presented in a more subtle way, I suppose." Subtle might be a stretch, but definitely smarter and with more depth. "Two Thousand Years" rides a bludgeoning mid-tempo groove while album closer "An Eclectic Manner" builds and builds on its churning, titanic riff. That said, "Psyklon Aeon" and "Specimen Eruption" still blast with death/black metal hybrid fury, powered by Trym's tornadic drummer, with Faust's hate-fueled diatribes. "I think he based his lyrics on what he presented on the first album," said Destructhor of Faust lyrical sentiments – which Zamoth described as "showing the ugliness and society and the stupidity of mankind" when we spoke after Worms was issued. Although Faust is out of prison after having served nine years for murder, there are no plans for him to play with Zyklon. He has said he is joining Dissection -- but with their frontman Jon Nodtveidt still having to serve a few more years in jail on his murder charge. "I think right now he is just enjoying his freedom," Destructhor noted. Zyklon got some choice touring opportunities with Morbid Angel in Europe and America for the first album, but didn't play a whole lot of shows other than those. The schedule promises to be more rigorous this time, and the band already had done festival shows in England, Finland and Germany and a Norwegian tour weeks before Aeon was issued in preparation for a European tour in October. The band would like to come back to the U.S. at least once, if not twice, although with Zamoth also running the Nocturnal Art Productions label and Destructhor and Secthdamon recording and touring with Myrkskog, when that will happen remains to be seen. "I think we gained quite a few fans there [the U.S.]" Destructhor said. "A lot of people heard about the band and came early [to the Morbid shows] so they could see us, which was cool. The American fans are very dedicated and were better to us than in a lot of places in Europe, so we want to come back."

* * *

IMMORTAL NO MORE
Sadly, Norwegian black metal legends Immortal have called it a day recently after 13 years as one of the scene's most influential and engrossing acts. A terse statement on the band's Web site said only, "We have decided to stop working with Immortal due to personal reasons." Epic and imaginative – they based their material on the mythical ice kingdom Blashrykh created by band founders Abbath and Demonaz – Immortal carved a niche that was truly their own. The band eschewed the blatantly satanic trappings of many of their contemporaries, and avoided the controversy and infamy it brought during the "Lords of Chaos" era of the early '90s. That may be one reason why the band always had a lower profile than Emperor, Mayhem and other more notorious scenesters. The announcement came soon after Rob Halford's abortive "2003 Metal Gods Tour," which the band was a part of, crashed and burned. It was just Immortal's third tour of the states, where the band's popularity was on the rise following its signing with Nuclear Blast for last year's titanic Sons of Northern Darkness. But it seemed like every time something good happened for the band, something bad always followed. Demonaz had to leave as the band's 1999 breakthrough In The Heart of Winter was in progress because a tendonitis-like condition rendered him unable to play the band's ever-more-complex material. Immortal's crushing 2001 album Damned In Black, released just after its first U.S. tour, received negligible support and spotty release here from its former label, Osmose Productions. And with a better label now behind it, bassist Iscariah, who joined after Demonaz left and frontman Abbath switched to guitar, left early this year to play with obscure goremongers Wardulak. While Immortal has stopped, the band members have not. Abbath just guested on Dimmu Borgir's new album, which prompted rumors he was actually joining the band. The Dimmu camp quickly refuted said rumors, but as incestuous as the Norwegian metal scene is, with everybody seemingly playing in everyone else's bands, I'd take the denial with a grain of salt. And drummer Horgh – who used to work as a demolition expert blasting tunnels in mountains! – has been busy playing with Hyprocrisy mainman Peter Tagtgren's industrial side band Pain and with the new band Grimfist. Also featuring one of Iscariah's bandmates, Frediablo, Grimfist just released its ferocious debut album, Ghouls of Grandeur, on Candlelight. Simple, stripped-down and raw as hell, Ghouls is pretty primitive when compared to Immortal's expansive soundscape. But it's unrelenting ferocity, bolstered by Tagtgren's buzz-sawing production, is quite jarring.

* * *

TOMAS LINDBERG, DESIGNATED VOCALIST
While few can rival Phil Anselmo for the sheer number of bands he belongs to at once – a couple years ago it was seven or so – former At The Gates and recent Crown frontman Tomas Lindberg seems to be giving him a run for his money. At present count, the Swedish screamer's got four active bands going – the supergroup Lock Up and The Great Deceiver, as well as a new second supergroup, Nightrage, and Disfear, both of which have just issued new albums. Nightrage also features Haunted drummer Per M. Jensen, clean vocalist Tom Englund from Evergrey and Dream Evil guitarist Gus G. The band's debut album, Sweet Vengeance (Century Media), is prototypical Swedish death metal with power metal flair, with loads of gatling-gun drumming and dogfighting guitars made much more sinister thanks to Linberg's feral bellow – in other words, a lot like what he was doing with At The Gates. Disfear, however, is noticeably different. The decade-old, one-time straight-up hardcore band now melds death metal and abrasive, old Entombed-like thrash into its snub-nosed bluster – perhaps as a result of Lindberg's influence since he came on-board in 1998. Disfear's new disc, Misanthropic Generation is crude and ugly, boasting a Motorhead-like simplicity, but played with much more viciousness. If you haven't heard of these guys yet, expect to before long. Misanthropic is coming out soon on Relapse and the band plans to play here in 2004 after first hitting Europe with, fittingly, Entombed.

* * *

ENTOMBED IN LIMBO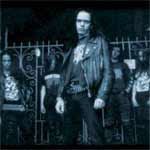 Speaking of Entombed, the release of the band's new album Inferno is being delayed here due to rather bizarre circumstances. It was supposed to have come out in June through Koch – promos had been issued and everything. But apparently Koch hadn't secured the proper rights for the album, and Inferno was pulled. It has remained in limbo ever since. With the band scheduled to tour here with King Diamond in mid-October, one would have thought something could have been worked out to get Inferno released in time for that. But now it doesn't look like the album will be out here until early next year through Century Media – provided nothing else happens. Is it worth the wait? Inferno is way better the band's dreadful last album Morningstar and a slight improvement over its predecessor, Uprising, where Entombed reintroduced the death and roll fire of its Wolverine Blues period. But anyone still pining for the frantic, roughshod – and downright incredible -- death metal of the Left Hand Path/Clandestine era will be let down.

* * *

NEIL KERNON: UNDERGROUND BENEFACTOR

Producer Neil Kernon's either been slumming it these last few years, or he's become something of a death metal benefactor. He made quite a name for himself in the '80s, working with some of the biggest names in rock -- Queen, Peter Gabriel and even Michael friggin' Bolton (when he fancied himself a rocker) -- and has produced such big-time metal bands as Dokken, Queensryche and Judas Priest. But over in recent years, he's gone underground -- way underground. He started working with bands like Metal Blade industrialists Skrew, making their biggest, baddest sounding album, the Grammy-nominated Shadow of Doubt, and Nevermore before moving on to the likes of Macabre, for their 2000 classic conceptual piece Dahmer. In 2002, he reached his zenith of extremity by hooking up with Cannibal Corpse to record Gore Obsessed – or so it seemed. Now he's shifted his attention to the Relapse camp, working with one of its sickest bands, Exhumed, and the less grotesque – despite their name – but no less brutal Skinless. Both just issued their Kernon-produced new albums, and neither has ever sounded anywhere near as massive.
Exhumed's Anatomy is Destiny rivals Carcass at their pre-Heartwork gore-metal finest. The dueling puke-and-scream vocals, technical guitar flourishes soaring above death-grind brutality and surprisingly clever, but spectacularly gory lyrics sound so much meatier and more punishing in Kernon's skilled hands. Where low-budget production often made earlier Exhumed albums unnecessarily messy, here the splatter is professionally presented – all the way down to the grisly artwork – and as viscerally satisfying as this stuff gets. Indeed the artwork – very explicit murder scene depictions with lots of guts and brains -- proved a bit too visceral for German authorities, who banned it. Pussies. Skinless is certainly a more cerebral band than Exhumed or Cannibal Corpse, but their music is just as wickedly intense. And it's even more so on their third album, From Sacrifice To Survival where, again, Kernon is able to flesh out the band's sound and allow them to make a bolder, more forceful statement. Sacrifice is hardcore-tinged death metal insanity at its most lethal.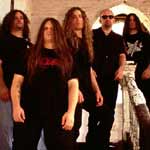 Kernon just finished up work on the new Macabre album, Murder Metal – a sort of true-crime compendium. Its 13 tracks each tell of a different murderous fiend – from Jack The Ripper and the Hillside Stranglers to the "Acid Bath Vampire" and "The Wustenfeld Man Eater" – all backed by the group's freaky, almost comic, jazz-style death metal. Tres bizarre. It's due in October. On a side note, Kernon is just getting started on the new Cannibal Corpse album, which probably won't arrive until next year. In November, however, Cannibal Corpse will be issued a massive box set through Metal Blade called 15-Year Killing Spree, which will have two "best of" CDs and third CD featuring 21 rarities, demos and unreleased material and a DVD of live footage from Cannibal's first show in 1989, a 1993 performance in Moscow and a 2002 show in L.A. – 27 tracks in all. It's $54.99 price tag is a bit hefty, but given all you get, it seems like a bargain – and if all else fails, it makes the perfect Christmas gift.

* * *

A COUPLE KILLER NEW BANDS
Metal Blade's also got a couple killer new bands that are more than worthy of your death metal dollar. Detroit's The Black Dahlia Murder and San Diego's As I Lay Dying are the best bands Metal Blade's signed in quite some time. Black Dahlia's had a bit of line-up turmoil in recent weeks – losing two of its five members -- but got things sorted out enough to go on tour as part of the Arch Enemy package last month. Now the band is hastily trying to find a singer. And its debut album Unhallowed is sensational.
Gore-tinged death metal with some grindcore overtones, but a surprisingly dynamic presentation full of shifting tempos, crafty guitar accents and even a touch of melody, the album absolutely rips, sounding more like something from Sweden than the Eight Mile. The scream-and-growl vocal tradeoffs are viciously effective as well. As I Lay Dying's a pretty murderous band in its own right. With a more hardcore take on death metal – spearheaded by Tim Lambesis' flamethrowing vocals and introspective, emo-wracked lyrics – the band's new album, Frail Words Collapse, is a seething, tumultuous blast. Anyone who digs, say, Darkest Hour or even Hatebreed will find these guys right up their alley. Potent stuff.

* * *

NEW SHIT FROM THE OLD SCHOOL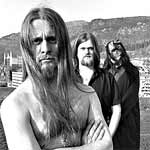 With the recent retirements of Emperor and the aforementioned Immortal, the list of bands remaining from the early days of Norwegian black metal is growing mighty slim. Yet, ironically, the last few months have seen three of those bands deliver new discs – despite some rather significant turmoil, at least with two of them. Enslaved lost drummer Dirge Rep and drummer R. Kronheim in the last year and the band's ambitious previous album, Monumension, probably alienated more fans than it gained. The band's new album, Below The Lights (The End Records), however, provides a more comfortable middle ground between Monumension's avant-garde meanderings and the more familiar Viking-metal fury of earlier efforts. Very heavy and bleak, it better balances the dark, moodier passages with the blast-furnace fits and starts and progressive flair.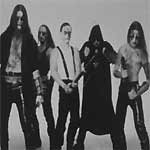 It's been three years since the last album from primal, Tolkien-meets-Satan veterans Gorgoroth. In that time, the band not only lost guitarist Tormentor, but faced the kind of difficulty that, unfortunately, was all too common back in the day – prison. Vocalist Gaahl has been in and out of jail for past year on assault charges resulting from a brawl, which limited his availability. But he was able to participate in the band's latest effort, Twilight of the Idols: In Conspiracy With Satan (Nuclear Blast), which continues Gorgoroth's tradition of raw, uncompromising black metal. Don't look for any fancy frills like chick singers, keyboards or gothic twaddle here. These guys keep it simple and pure – for better or worse – and what you see is what you get. There's been some controversy with the album's cover, which the band wanted to feature a burning church – the symbol of the aforementioned "Lord of Chaos" reign of terror in Norway. Nuclear Blast, for obvious reasons, thought that might be too provocative, and issued promos with a most unprovocative alternate cover – the band in a misty forest… yawn! Since I have yet to see the new album in the store, I'm not sure how the controversy was resolved.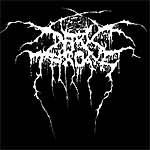 The always-unpredictable Darkthrone has been surprisingly productive in recent years, and relatively stable. Drummer Fenriz and multi-instrumental frontman Nocturno Culto, opted to carry on as a duo after hosting a gaggle of other members, and the formula seems to be working. Darkthrone's latest effort, Hate Them (Moonfog), is its third in four years and a remarkably easy to grasp, almost listener-friendly bit of old school black metal. As usual, the music is crude and low-fi, with buzzing guitars and thin-sounding percussion. But it's got a grim catchiness, despite its rampant nihilistic tone – the album's opening lines are "I come from a land of systematic erasure of optimism and positiveness." Damn!
Gorgoroth and Darkthrone will be featured in a documentary about Norwegian black metal that currently is being put together. Filming started at the Hole in the Sky Festival Aug. 30. According to Gorgoroth's web site, the documentary is supposed to be an international film and focus mainly on Darkthrone, Satyricon and Gorgoroth. Perhaps sometime soon we may get a chance to hear Vulcano, the new album from Satyricon, which has been available in Europe for months. Despite having a big-label deal in certain countries over there, the band has jumped from one ever-smaller indie to another over here. As a result, Vulcano's been stuck on a shelf waiting for a release date.

* * *

OLD SHIT FROM THE FAR FRINGES

Finally, two of Norwegian black metal's more unconventional and controversial acts are having back catalog material released in the U.S. for the first time. The wildly experimental In Thy Woods is now defunct – with several members now part of the equally experimental Green Carnation – but the band's enchanting mix of metal, electronic, progressive and pagan folk elements is excellent and timeless. Candlelight has issued three late-90s albums that document the band's move away from a metal-based sound to something that, by 1999's Strange In Stereo is just that, something that all but defies description. It's definitely not for everyone, but if you're looking for something from way out in left field, In Thy Woods is completely off the wall.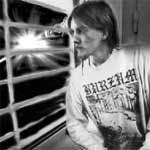 Most people probably know Burzum only from accounts of infamous bandleader Varg Vikernes (aka Count Grishnack), the "Lords of Chaos" poster boy and killer of Mayhem founder Euronymous. Burzum's music, most of which has been recorded as Vikernes serves his prison sentence, has been all but impossible to find in the U.S. But for the curious, Dead Ringer is issuing some of Burzum's older material for the first time here. Be forwarned, despite Vikernes' association with the early black metal underground in Norway, very little of the music he produced sounds anything like what you'd consider "black metal" – which no doubt has something to do with the fact that he is recording in prison with whatever instruments he is allowed. Hlidskjalf and Daudi Baldrs could best be described as ambient, or even electronica with their eerie, throbbing synthesizers and creepy computer-generated effects. No question the music is disturbing, but it's also rather tedious as the tempos rarely move beyond a low ebb and the soundscape revolves around redundant loops. Listen at your peril.
Please log in to view RANTS