KNAC.COM's 2017 CHICAGO OPEN AIR Recap

By Travis Failey, Planet Earth Contributor
Tuesday, August 1, 2017 @ 8:12 AM

| | | |
| --- | --- | --- |
| | | |
All Photos By Travis Failey/Rocket Sports & Entertainment
Friday, July 14:
Friday marked the start of the 2nd annual Chicago Open Air festival at Toyota Park in Bridgeview, Illinois. It was a beautiful day, breezy, partly cloudy, and if I say so myself, the temperatures were so much better than they were in Florida in April, during the World's Loudest Month. Toyota Park hosted two stages: the Monster Stage and the Blackcraft stage. Chicago Open Air was produced by Danny Wimmer Presents, Live Nation and Toyota Park.
The organizers managed to put together the perfect schedule, managing to avoid the dreaded overlap of band sets. Fans had plenty of time to get to where they needed to be during the weekend, and the VIP pass not only got you special seating (in the shade), but also a special viewing area on the floor, a tented VIP area, with shaded picnic tables, food and drink vendors, and even provided the fans with a short cut between the two stages. Great food options, cold beer and other libations were provided, and lockers that had phone chargers inside were available for the stuff you didn't want to lug around all day.
The acoustics in Toyota Park sounded great, but the music was a little louder than I am used to. Speaking of loud music, I noticed the presence of a lot of kids aged ten and under. I would say that only half of them had noise cancellation headphones on. I'm not a doctor, but I think that all kids should have ear protection when attending a live show. As adults, we can make decisions about whether or not to protect our ear drums, but the kids are at their parent's mercy. But on a positive note, it was great seeing our metal family inducting its new members!
Early performances on Friday included: FAILURE ANTHEM, HELL OR HIGHWATER, CODE ORANGE, and WHITECHAPEL.
CROBOT, out in support of their latest release, Welcome To Fat City, saw the biggest crowd of the early day, and got the crowd going with "Skull Of Geronimo". Brandon Yeagley, CROBOT's lead singer, couldn't stand still, and in my opinion, sounds a little like Myles Kennedy. After "La Mano de Lucifer" and "The Legend Of The Spaceborne Killer", Yeagley dedicated "Cochise" to the late Chris Cornell. I had an opportunity to meet Brandon back stage and you couldn't ask to meet a nicer guy. No ego here. Just a talented guy, with a wolverine beard who likes the "funky chicken".
After CROBOT, most of the main stage crowd rushed over to see some of the new kids on the Deathcore block as SUICIDE SILENCE and ex-SLIPKNOT drummer Joey Jordison and his new band, VIMIC took turns on the Blackcraft Whiskey stage. Both bands have solid front men in Eddie Hermida and Kalen Chase and are great at what they do, if you like what they do.
The first surprise of the weekend was the performance of Ronnie Radke and FALLING IN REVERSE. All I have ever heard about the band and specifically Radke is that he's a complete asshole. Whether this is the case or not, what was evident was his control of the stage, and his powerful sound. I was also surprised at the poppy hooks and catchy chorus' throughout the 8 song set that included "I'm Not A Vampire", "Superhero" and the closer "Just Like You". FALLING IN REVERSE's performance not only made me check out their catalogue, but will lead me to catch them next time they come around. In fact, FALLING IN REVERSE recently won Best Live Band at the 2017 Alternative Press Music Awards.
ANTHRAX saw the biggest crowd yet, and got the crowd primed by playing MAIDEN's "Number Of The Beast" prior to hitting the stage. Drummer Charlie Benante climbed aboard his massive kit as the opening notes of the title track from "Among The Living" played over the p.a. The massive mosh pits that ANTHRAX are known for got started early in the set as ANTHRAX started with the apropos, "Caught In A Mosh". It was a straight forward ANTHRAX festival set that lets vocalist Joey Belladonna engage with the crowd and also inspires them to join in by playing their covers of "Got the Time" and "Anti-Social".
ANTHRAX surprised some fans as they played the KISS cover "Parasite" in honor of them being on the same bill as their childhood heroes and influences. ANTHRAX had the following to say after the show: "Had a total blast at Chicago Open Air, Rock Fest and Rock USA over the weekend. That marks the 215th #ForAllKings show since 2016 and is the final show until October. ANTHRAX will have a much deserved break. A huge thanks to everyone who came out to Breathe Lightning with us!!!"
The second band to play from metal's "The Big Four", MEGADETH, kept the metal moving, and opened with the classic "Hangar 18" from Rust In Peace. The set included the staples "Sweating Bullets", "Symphony Of Destruction" and of course "Peace Sells", but MEGADETH also threw in a curve ball by playing "Mechanix" from Killing Is My Business which confused some of the crowd as it is the basis for METALLICA's "The Four Horseman".
Prior to ROB ZOMBIE hitting the Monster Energy Main Stage, Swedish metal band MESHUGGAH led by vocalist Jens Kidman, screamed the crowd into submission with songs from their 2016 release The Violent Sleep Of Reason.
After recovering from the brutal MESHUGGAH, the side stage crowd reverted back to main stage for the final two bands of Friday night in ROB ZOMBIE and KISS.
ROB ZOMBIE got the crowd fired up for KISS on the Monster stage. Zombie opened his set with "Dead City Radio And The New Gods Of Supertown" and treated the crowd with a couple of covers, THE RAMONES', "Blitzkrieg" and ALICE COOPER's "School's Out". Zombie stated, "We don't have a lot of time, so I'm not gonna f--k around. " Well he didn't. Zombie played all the fan favorites, including "Living Dead Girl", "Superbeast", "Thunder Kiss '65" and "More Human Than Human". Zombie also brought out some new stage props with an inflated alien race from the stage to the soundboard. One thing is for certain, you can never accuse ROB ZOMBIE of not putting on a show.
KISS ended the night's festivities in support of its Kissworld Tour 2017. KISS was 20 minutes late, the first late start of the day but it was understandable as the stage crew had a massive set to take down from Zombie and another to put up, (both bands played on the Monster Mainstage.)
As the moon shined over Toyota Park, the park was approximately 95% full, and you could have cut the excitement in the air with a knife. The KISS Army brigade came out in droves: fans were sporting tattoos, t-shirts, face paint, even little kids were drafted! KISS also brought all their props to this show and opened with "Deuce", followed by "Shout It Out Loud" and then "Lick It Up". Gene pulled double duty by breathing fire during "Firehouse" and then spitting blood and getting lifted in the air during "God Of Thunder". Guitarist Tommy Thayer also treated the crowd to his version of "Shock Me", which included blasts of pyro out of his guitar. Paul Stanley also flew across the stadium on a hanging metal ring and performed on a small stage near the distant soundboard during "Psycho Circus".

ANTHRAX's Charlie Benante watched KISS from the photo pit, and his daughter, Mia, came on stage with Paul during one point in the show. KISS' encores included "Cold Gin" and "Detroit Rock City", and "God Gave Rock And Roll To You II" played as the crowd emptied out of the venue. For some tonight, it was their first time seeing KISS, and the band treated them to the same memorable performance that KISS has been putting on since its inception in the seventies.

Saturday, July 15:

Saturday' weather was a little hotter than Friday's, mostly due to full sun, but luckily, a nice breeze again made things tolerable. Saturday's diverse lineup seemed to have something for everybody and hopefully everyone had their walking shoes on as it was a back and forth kind of Saturday.

BLACK MAP got things started early on Saturday and was the first highlight of an action-packed lineup by playing songs from their 2017 release In Droves. BLACK MAP's first single from the San Francisco three piece, "Run Rabbit Run", has charted at #31 on the U.S. Mainstream rock charts and it's easy to understand why. Driving guitar and bass rhythms with vocals that you can understand and relate too, really distinguished them from the other two early bands: CANE HILL and PIG DESTROYER.
Speaking of PIG DESTROYER, they brought their die-hard fans with them as some dressed in pig costumes and even hit the skies with the crowd surfing Jesus in tow. As PIG DESTROYER finished up, Saturday's initial crowd buzz came from the rail as thrash legends METAL CHRUCH took the stage. The band is out on tour in support of 2016's XI. Vocalist Mike Howe returned to the band in 2014 after a 20 year hiatus but Howe and the band sounded amazing, even with a few technical problems with Howe's microphone. METAL CHURCH opened up with a resounding performance of "Faith Healer" and another in "Badlands". With a bunch of festival dates in Europe and a stop at ProgPower in Atlanta in September, METAL CHURCH looks to kick start their career once more during this thrash revival that's going on right now.

DRAGONFORCE is another ProgPower band that was on this year's Open Air Lineup. The power metal band from London with new vocalist Marc Hudson provided the crowd in Chicago with the opportunity to check out DRAGONFORCE's version of "Nintendo metal" as guitarist Herman Li once described it. Out in support of Reaching Into Infinity, DRAGONFORCE performed its recent single "Ashes Of The Dawn" and also its version of the Johnny Cash classic "Ring Of Fire". DRAGONFORCE concluded its set with its Guitar Hero monster smash, "Through The Fire And Flames".

After DRAGONFORCE, MUSHROOMHEAD were next on the BlackCraft Whiskey side stage and the two bands couldn't be further apart in musical style and technique. Give MUSHROOMHEAD credit as their live performances are as memorable as they have been since their inception in 1993. MUSHROOMHEAD's incorporation of the water on the lighted drums during their show was visually appealing and memorable as was their version of "When Doves Cry/Among The Crows" which concluded their set.

AVATAR, always a crowd favorite, opened its set with "Feel The Apocalypse" and got everybody moving with "Let It Burn" and closed with "Smells Like A Freakshow". This wasn't my first time seeing AVATAR and I have to admit, I miss the freakshow. AVATAR usually travels with its very own freak show with sword swallowing ladies and a man with nothing below his belly button. It's a sight to see but due to time constraints of a festival, it's impossible for them to put on their complete show. In any event, the boys from Sweden put on a great performance as usual and I'm sure they picked up a few new fans along the way.
SiruisXM's Jose Mangin and MTV's Riki Rachtman got the crowd pumped before introducing Ice-T's BODY COUNT. BODY COUNT rocked the block and got the crowd charged up by covering SLAYER's "Raining Blood" which led into "Bowels Of The Devil" and then Ice-T introduced the band and said that he's no longer Ice-T. He is now "Ice Mother Fucking-T Bitch". Ice-T got the pits churning during "There Goes The Neighborhood" with bassist Vincent Price getting hurt and then coming back to perform in a wheelchair. Founding member Ernie C was once again with BODY COUNT, along with a new member joining the band, Ice-T's son, Little Ice, who provided backup vocals.

Next up were the dirty old men known as STEEL PANTHER. If you have never seen this band before, I guess you could describe them as a cliché 1980's hair band, with lyrics that would make Weird Al blush. These guys are truly dirty mother effers. STEEL PANTHER' inappropriate setlist included: "Fat Girl (Thar She Blows)", "Poontang Boomerang" and "Gloryhole". These guys are always good for a cheap laugh, the trick is to not take things so seriously. STEEL PANTHER was a perfect band to get us ready for the funk.

And who brought the funk? That would be the one and only CLUTCH, and they brought their fans with them. Across the front rail of the BlackCraft side stage, CLUTCH fans got pumped up for their favorite band. CLUTCH and frontman Neil Fallon are truly a special breed. No bells or whistles, no costumes, just four individual guys uniting as one to develop their own distinct sound and it has paid off in spades. Out again on this year's festival circuit and in support of Psychic Warfare, CLUTCH performed an 11 song set highlighted by "Sucker For The Witch", "A Quick Death In Texas" and "X-Ray Visions".

Back to the Monster Energy Main Stage as SEETHER, the boys from South Africa were out in support of Poison The Parrish, came on just when the afternoon started to cool down. SEETHER opened up with "Gasoline" and kept the fire burning with "Rise Above This" and "Nobody's Praying For Me". SEVENDUST's Clint Lowery is still touring with the band and he fits in perfectly. Lowery not only is a first rate guitar player, his backup vocals are an asset to any band. Apparently Shaun Morgan broke his foot, and was wearing the dreaded boot (trust me, it sucks). He stated that it was weird, "Like wearing your dad's work boots when you were a kid." Unfortunately the band suffered through some annoying technical difficulties, but they were good sports about it and played a ten song set list, which ended with its hits, "Fake It" and "Remedy".
GODSMACK was up next, and their first order of business was to ask the women of Chicago to get up on their men's shoulders, saying "All I see are ugly goatees and bald heads." I think there was a mention of shirts being optional. After frontman Sully Erna declared his love for everything Chicago, GODSMACK opened up with "Whatever" followed by "1000hp". You couldn't have asked for a better set time, playing "Cryin Like A Bitch" and THE BEATLES cover, "Come Together" as the sun set. Vocalist Sully Erna and Shannon Larkin both got behind drum kits and battled in front of the packed stadium. GODSMACK always puts on an awesome show, but I guess it's a little hard not to when all your band does is put out hit after hit.

Jose Mangin, Octane and Liquid Metal DJ, got the crowd primed for KORN, telling the crowd about the first time he took his kid to a KORN show and took a huge audience photo while turned around on stage. It may be the sickest selfie ever!

KORN closed out Saturday night's festivities in true KORN fashion. They took us all the way back with "Falling Away From Me", "Twist" and "Shoots And Ladders" and played its latest hits, "Rotting In Vain" and "Coming Undone". KORN treated the crowd to a fifteen song set list, plenty of fog and a lot of bagpipes. These guys have been around since 1994, and they don't show any signs of slowing down. Jonathan Davis' voice is remarkable, especially when you consider his vocal style. It was a great way to end the awesome "variety" day of music.

How would the final day of the festival compare to the rest? Enquiring minds want to know.

Sunday, July 16:

There wasn't any rest for the weary on Sunday as some of the heaviest bands of the weekend played on day three of the second annual Chicago Open Air Festival at Toyota Park. Headlining Sunday's lineup was OZZY OSBOURNE with Zakk Wylde, thrash metal titans SLAYER, STONE SOUR and LAMB OF GOD.
Once again the weather gods blessed the semi-packed stadium throughout the day as the scheduled rain never made an appearance, allowing the crowd to remain high and dry. High because the smell of weed was stronger on Sunday than it was on the previous two days, and because, once again, the crowd surfing was at a level that I've never seen before.

Sunday's minor league schedule got started with Boston's extreme metal group AVERSED followed by a new player on Sirius/XM's regular rotation, DED. All the members in DED wore white contacts during and after their show and got the crowd into their set with their hit "Anti-Everything". Their sound incorporates various tones that could be described as a cross between bands like KORN, MOTIONLESS IN WHITE and HOLLYWOOD UNDEAD.

DEMON HUNTER, DEVILDRIVER and NORMA JEAN all brought the moshers back into the pit as most of the attendees traveled from the Monster Energy Main Stage to the Blackcraft Whiskey Side Stage.

Sunday's lineup really got going when HELLYEAH took the main stage around 2:30 and drummer Vinnie Paul rose up from behind his kit and blood soaked vocalist Chad Gray screamed the lyrics to "X" and "Demons In The Dirt". Gray followed up by telling the fans in the stands to "always be the flame and never the moth" prior to playing one of their biggest hit of their career, "Moth". They concluded their set with their cover of the Phil Collins classic "I Don't Care Anymore" and "Hellyeah!".

Sirius/XM's Jose Mangin hit the BlackCraft SideStage once again to introduce his close friends in the L.A. based 3 piece, KYNG. KYNG differentiated themselves from the other bands of the weekend with what some may call "stoner-metal". Their sound is reminiscent of QUEENS OF THE STONE AGE and the EAGLES OF DEATH METAL, with more of a classic metal feel. Highlights from their set included "Electric Halo" and "Pristine Warning". KYNG also gave the side stage crowd a much needed body recovery break as BEHEMOTH and SLAYER were coming up soon.

As KYNG wrapped up their set, Sweden's AMON AMARTH finished up their massive stage setup on the Monster Energy Main Stage. The dragon headed Viking ship or Lofotr, breathed smoke and adorned the center of the stage with the drum kit set behind its neck. As pyro pots exploded from the sides of the beast, vocalist Johan Hegg commanded his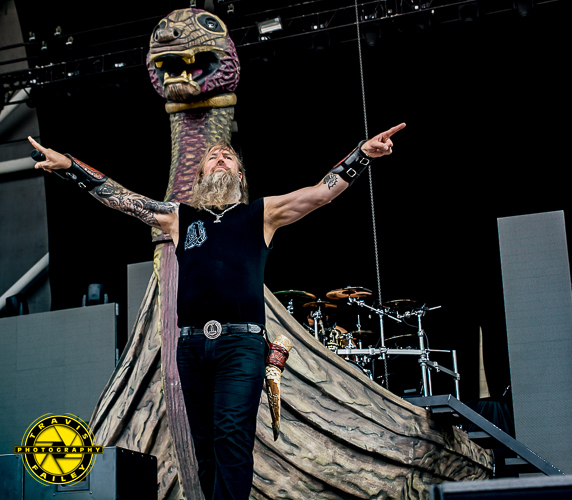 shipmates through a 9 song melodic death metal set featuring "The Pursuit Of Vikings" and "Deceiver Of The Gods". During the finale "Twilight Of The Thunder God", the kids in the pit physically got on the ground and rowed like they were fighting the waves of the Black Seas. It was one of the most memorable moments of the weekend.

Three of the next four bands on Sunday's schedule are touring together this summer as BEHEMOTH, LAMB OF GOD and SLAYER will be coming to a town near you. BEHEMOTH, the extreme metal band from Poland, were formed in 1991 and have been active and very controversial in Europe since then, as some state that the band promotes Satanism and murder. Vocalist, guitarist and original member Nergal, commanded the crowd during "Conquer All", "Messe Noire" and "Alas, Lord Is Upon Me" and rose into the crowd with help from the fans and security. BEHEMOTH provided a "prelude to madness" as LAMB OF GOD was next.

The energizer bunny a/k/a Randy Blythe, with bassist John Campbell, drummer Chris Adler, and guitarists Mark Morton and Willie Adler, affectionately known as LAMB OF GOD, crushed Toyota Park on Sunday. LAMB OF GOD opened with "Laid To Rest" and prior to "Engage The Fear Machine" Blythe told the crowd not to believe the media and to educate themselves. Blythe also led the crowd into a big Ric Flair, "A WOO!" and performed his epic jumps off the risers and joined the crowd on the other side of the rail. A funny moment happened during their set as a mom tried to stop the people in the pit from moshing because her kid jumped in. She stuck her arm out like a traffic monitor yelling at the kids to stop. It was the most hilarious moment of the weekend.

A reprieve to the crowd was next as Corey Taylor and STONE SOUR donned the Monster Energy Stage. Yes, STONE SOUR is heavy at times but also softer and more melodic than most bands at this year's Chicago Open Air. One thing for certain is that Corey Taylor is a front man for the ages and some would say a voice for a generation whether he is fronting STONE SOUR or SLIPKNOT. During "30/30-150" and before the ballad "Bother", the fans started chanting "Fuck NICKELBACK" prompting Taylor to break into a huge smile. "You guys are fucking insane," he laughed "Come on! Get it out of your fucking system. Make some fucking noise out there. Beautiful, crazy bitches." Their set consisted of hits in "Song #3", "Tired" and "Through Glass" and they finished up with their first single of their new album Hydrograd in "Fabuless".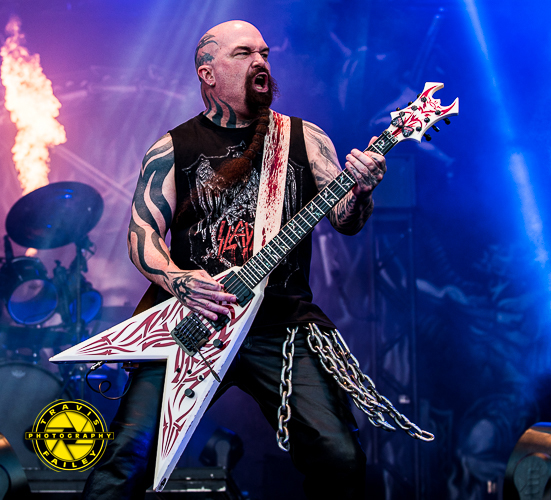 I learned 2 things at this year's Open Air: The first one is Chicago is a SLAYER kind of town. Out of all the bands at the fest, SLAYER received the most pre-set buzz. If the people weren't already at the side stage for SLAYER, a lot of them left for it during STONE SOUR. Kids and their parents were sporting SLAYER shirts all weekend. Not just a couple either. It was amazing and SLAYER did not disappoint. The Thrash legends opted to play on the smaller side stage so that they could setup their whole pyro show. The turnaround time between STONE SOUR and SLAYER would have restricted their time for the larger setup.

SLAYER bludgeoned the crowd with an exhausting 13 song, pit moshing, crowd surfing set consisting of their most recognizable songs. These included "War Ensemble", South Of Heaven" and of course "Angel Of Death". Guitarist Gary Holt fits in perfectly with Kerry King and Tom Araya, and it's evident that SLAYER fans are rabid in their support, no matter who completes the lineup.

The other thing that I learned at the Monster Energy Chicago Open Air Festival is that the security guards on the rail are the real rock stars. These guys risk life and limb trying to keep the fans safe from themselves and each other. Their sole priority throughout the weekend was the fans, and most of the time, the photographers. Every 15 seconds someone was being pulled over the rail due to physical and health issues due to drinking and/or crowd surfing. I also witnessed the EMT's helping out hundreds of fans after they were wheeled out after being lifted over. This is not an exaggeration, it was an extremely high number and the weather wasn't a factor. Big props to Danny Wimmer Presents for aligning themselves with the right security people.

Back over at the Monster Energy Stage, chants of "Ozzy, "Ozzy!" roared from the impatient crowd gathered around Toyota Park. Questions were abundant and were centered around Ozzy's health and his voice and if this is the last time that the fans in Chicago would have the chance to see him live. Well the questions were answered early as Ozzy opened up with a howling rendition of "Bark At The Moon". Ozzy looked and sounded great throughout the show and Zakk and his band mates were always there to provide Ozzy a break and audio and visual support. At one point Zakk went into the center catwalk directly next to the fans and did a three minute solo on BLACK SABBATH's "War Pigs". Ozzy played a total of 4 SABBATH songs, including "Iron Man" and the encore show closer, "Paranoid".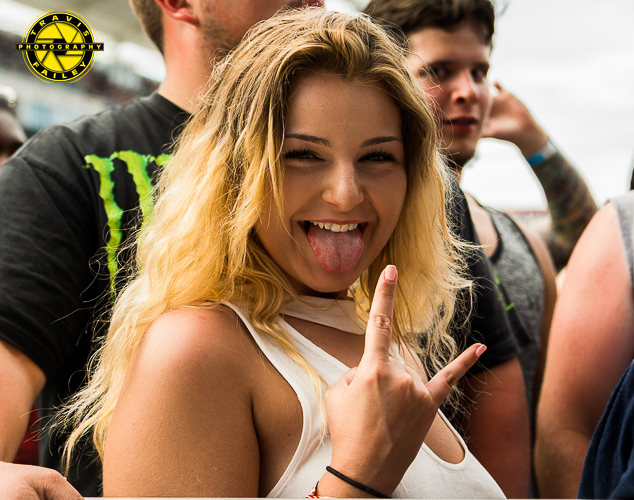 The rest of the set was a hit show from Ozzy's solo material, including "Shot In The Dark", "No More Tears" and of course, "Crazy Train". Other than the obvious use of the teleprompter, Ozzy put on a great show and it seems like he definitely doesn't wanna stop.

Clay Busch, Danny Wimmer Presents' Vice President of Marketing, stated, "After the incredible debut of the Chicago Open Air festival in 2016, we knew we had to come back even bigger and better in 2017. We have our great heavy metal family in the Chicago area to thank for welcoming us back so strongly and showing us there is a community of fans here that enjoys coming together in the spirit of music. We look forward to building on that relationship in the years to come and solidifying Chicago Open Air as America's greatest heavy metal experience."

Finally, I want to thank the organizers: Danny Wimmer Presents, LiveNation, Chicago's Finest for doing a great job under tough conditions, and Chicago Open Air's sponsors: Monster, FYE, F*ck Cancer, Razor & Tie, and Jack Daniel's, just to name a few.

I would especially like to thank the 70,000 fans for coming out to the festival throughout the weekend. They have been supporting the music they love for years without any kind of support from the local terrestrial Chicago radio stations. With festivals like Chicago Open Air, hopefully your voices and your demand for hard rock radio will be met sooner than later.

One thing is for sure, your voices were heard loud and clear and will be heard once again in 2018 at the 3rd Annual Chicago Open Air Festival at Toyota Park.

Check out some more photos from the festival at these photo galleries!
All Photos By Travis Failey/Rocket Sports & Entertainment
Please log in to view RANTS