JUNKMAN Recaps 2017 ROCK ON THE RANGE

By Junkman, On-Air Personality
Thursday, July 13, 2017 @ 6:47 AM

| | | |
| --- | --- | --- |
| | | Mapfre Stadium, Columbus Ohio May 18th-21 |
All Photos By Junkman
As it has for the 10th time in the last 11 years, mid-May brought me smack dab in the middle of the good ol' USA. Columbus Ohio, specifically. And despite my airline making it as difficult as possible to get there, I made it, although almost a day later than expected. But this would be quite a weekend of unpredictable events, it turned out. My destination? The biggest and best rock festival of the year, Rock On The Range. As a veteran "Ranger", I was prepared for whatever a three-day rock festival with 60 or so bands on three stages would produce. And, as always, I was blown away by the results.
The unexpected sudden death of SOUNDGARDEN front man Chris Cornell shocked all of us. The fact that they were to be the headlining band on Friday night at the festival made it just plain weird, and I must say disappointing to all of us that had looked forward to seeing them. All our thoughts were with his family, friends, bandmates and all those close to him, and a communal outpouring of love was generated all weekend by the promotors of the festival as well as the bands that appeared.
Even though the aforementioned airline kept me from attending, a pre-festival party featuring the first appearance in a while from STONE SOUR tore the roof off of Columbus concert stage Express Live on Thursday night. Singer Cory Taylor and company performed a red-hot 17 song set, including some new music from their forthcoming June release Hydrograd. They also played some cool tunes that they had not performed in a while, as well as a scorching version of SOUNDGARDEN's "Outshined", dedicated to Cornell.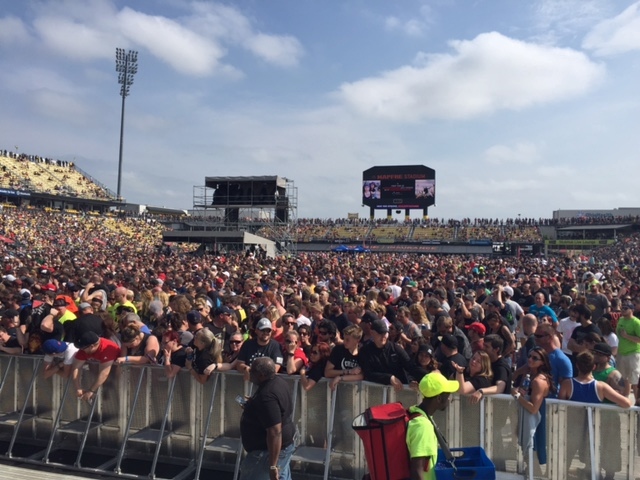 I arrived in town on Friday morning, and although completely "red-eyed" I went directly to Mapfre stadium, home to the Columbus Crew professional soccer club, as well as the official home for ROTR since it started way back in 2007. Rain and thunderstorms were in the forecast for the entire weekend, and I and my fellow "Rangers" kept an eye on the sky as well as our weather updates on our phones.
After some great opening sets from BEARTOOTH, then THRICE on the main stage, the rain did indeed come. Thunder and lightning as well, which prompted the sold out festival to be evacuated. Pretty tough to do when there are 45,000 fans in attendance. But, the security crew and festival organizers did a magnificent job of keeping order and, after being instructed to "wait in your car" for a few hours, we did. The word came out a few hours later that the skies had cleared enough to resume the show, and we returned to a surprisingly solid set on the main stage from BUSH, a band that I had almost forgotten about.
Opening with the mid-nineties hit "Machinehead" brought the soaked crowd back to life, and singer Gavin Rossdale is still a great performer; Very animated and his voice is solid. An interesting dedication to Chris Cornell came in the form of a cover of R.E.M's "The One I Love" before ending their nine song set with "Comedown". Again, an impressive performance by a band that I had not thought about in a while. I almost forgot about how many radio hits they have. I would hope they come to my town soon.
On the Bud Light stage, GOJIRA just slayed! The French metal band always brings out their best onstage, much more so than their recordings can bring forth in my opinion. The second song of the set was "The Heaviest Matter Of The Universe", which was apropos to the evening. A huge fan base greeted their every riff with enthusiasm and it was, as far as I am concerned, the best set of the shortened day. On the main stage, CHEVELLE brought their brand of angst riddled songs to a favorable response. Some great lighting enhanced what I have experienced in the past as a not-so-exciting show. But this band has some great songs. Two of my favorites, "The Red" and "Send The Pain Below" wrapped up their set, with many in the crowd singing along to every word. I guess that is what really matters when it comes down to things, the way the music business is these days.
While standing in the photo pit waiting for the band LIVE to be, unfortunately, the last band of the day, I had the pleasure to speak with Ohio Governor John Kasich, he of the unsuccessful run to become President of the US. He was more than excited to be seeing LIVE, who would be performing with original singer Ed Kowalczyk for the first time in eight years, and he told me of his love of rock music and bands like last year's ROTR headliners RED HOT CHILI PEPPERS and LINKIN PARK. "People ask me, how can I be into bands and music like that at my age?" he exclaimed. "It's because I love it and they JUST DON'T GET IT" he said enthusiastically. Naturally, ala the movie Blazing Saddles, I gave the Governor a "Harrumph." He laughed, shook my hand, and prepared to watch the show. Nice guy.
And LIVE came on and gave the Governor and all of us a terrific show indeed. Opening with "All Over You" from 1994's terrific Throwing Copper release, they looked like they could be the local band playing at the local pub in "Anytown USA." Highlights of their set included a version of "Selling The Drama", which I think could be a radio hit if it was released today. An interesting version of Johnny Cash's "I Walk The Line" raised a few eyebrows, as did a very somber version of the AUDIOSLAVE song "I Am The Highway" dedicated in honor of Chris Cornell before ending their 11-song set with the appropriately for today titled "Lightning Crashes", again from 1994.
The stadium was buzzing about what would come next, as again, headliners SOUNDGARDEN would not be performing. That came in the form of a video on the huge screens adorning each side of the stage, with pictures of Cornell with a huge lit candle superimposed in front of him, as the late singer Jeff Buckley's "Hallelujah" played over the PA system. It was quite an emotional moment as many in the crowd wept or bowed their heads in silence in respect for Chris Cornell. Another video collage of Cornell was shown, along with his isolated vocals-only version of SOUNDGARDEN's "Black Hole Sun" was then played and continued with Cornell doing the John Lennon classic "Imagine" accompanied only by his acoustic guitar. STONE SOUR singer Cory Taylor then appeared onstage with SS guitarist Christian Martucci and performed the classic PINK FLOYD number "Wish You Were Here" acoustically, and followed with "Hunger Strike", the 1991 song from TEMPLE OF THE DOG that had Taylor and the crowd improvising what the original version duet had done with Cornell and
PEARL JAM vocalist Eddie Vedder. People in the audience sang their hearts out, a great release of grief, from many who had travelled great lengths to see SOUNDGARDEN, and were crushed at what occurred two nights prior. It was an impromtu, yet emotional tribute. I thought it was very well done, and so did the crowd who roared their approval at song's end, before once again, filing out of Mapfre stadium, thus ending Day One of the festival.
Day Two of Rock On The Range was much more pleasant, weather wise, and musically, a bit more aggressive. My first experience with FRANK CARTER AND THE RATTLESNAKES was the wake-up call I was looking for. This band just kicks ass. Straight ahead, loud rock out of Great Britain. A sort of a mix between the SEX PISTOLS and GUNS N' ROSES, if I must make a comparison. Singer Frank Carter is a redheaded dynamo. Until this show, I had never seen anyone actually walk ACROSS a crowd before. I LOVE seeing new bands that blow my mind. FRANK CARTER AND THE RATTLESNAKES was this year's model.
On the Monster Main stage, STARSET was an interesting choice. A local band, hailing from Columbus, they featured the nerdy looking singer Dustin Bates and lots of electronic equipment. The bassist and guitarist were clad in spacesuits throughout the set. I can imagine, with the weather as muggy as it had become, that they were quite uncomfortable. Nonetheless, it was an experience.
SKILLET has become a more exciting band recently. Maybe I just have paid more attention to their show. Husband and wife team John and Korey Cooper are both very entertaining and have spent a lot of time on the road, but I honestly cannot tell one of their songs from another. ALTER BRIDGE, who followed them on the Monster Main stage, have all their pieces together. Great songs, like the opening song "Come To Life", feature the great range of singer Myles Kennedy, and the more than capable guitar playing of Mark Tremonti, thrilled their fans, who were out in full force, screaming each time Kennedy opened his mouth. Again, keeping with the Chris Cornell tributes, they dedicated one of their more emotional songs, "Blackbird", to his memory.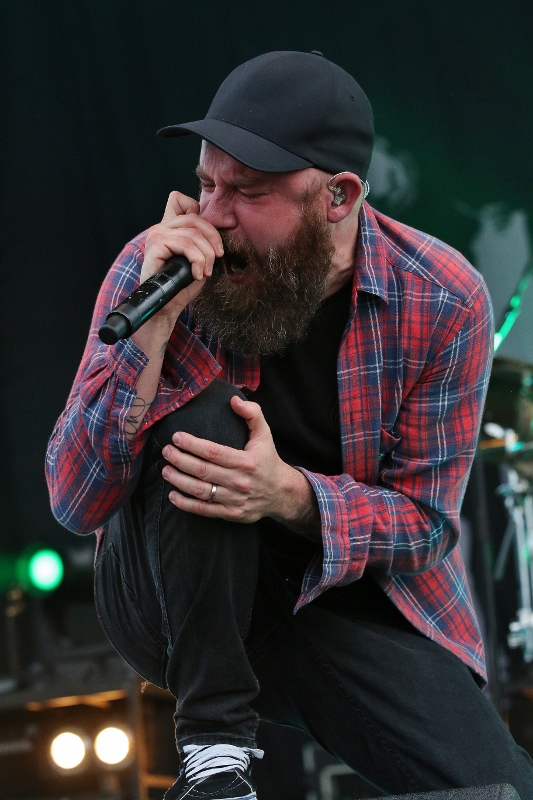 I caught a bit of WHITECHAPEL on the Bud Light stage. Hardcore, passionate, and loud as hell, they slayed their crowd, who by now, were flying through the air. Crowd surfing at ROTR has become the norm, and the faces on the kids as they land on the pavement after reaching their goal of making over the rail, is always priceless. And off they go to do it again. One thing I noted about WHITECHAPEL; Their bassist, Gabe Crisp, looks like a tank. He plays a really heavy low end as well.
There were pleanty of food vendors to choose from. For me, I had only one, thought. After a quick bite at Schmidts Sausage Truck, a Columbus institution, I hit the media tent to catch up with some old friends, namely DOROTHY, the band, who would be playing the Zippo stage on Sunday. Unfortunately, it would be around the same time that RIVAL SONS would hit the main stage. Oh well, ya can't see them all! After a brief chat and a drink, I headed back to the main stage to catch SEETHER. Again, there is something I just don't get about this South African band. They have great songs, but their stage show is nothing out of the ordinary. Maybe I have seen them in the daytime too many times, but there is just nothing that sticks out about this band live. From a photographer's aspect, singer Shaun Morgan's hair covers his face 90 percent of the time, making it hard to get a good shot of him. A set-closing "Remedy" was a highlight, and was dedicated to Chris Cornell.
IN FLAMES closed out the Bud Light stage with a wicked set of true metal. The Bud light stage was definitely the stage with the heaviest bands of the day. The crowd moshed, and crowd surfed all day. Security was working overtime. From the moment IN FLAMES fired up their opening number "Deliver Us", it was ON. Tangled bodies and pits everywhere. Exactly what a good old fashioned metal show is all about. I knew that nothing would match this set. Until Sunday, that is.
PAPA ROACH did what they do best. Pump up the crowd with their energetic front man Jacoby Shaddix in constant motion. He leaps, and waves, and raises fists in the air for virtually the entire set. He's like cheerleader on game day. PR has played ROTR many times and they know their crowd. They also had a new record, Crooked Teeth, coincidently released that weekend, and it needed to be plugged. They had the confidence to perform three songs, "American Dreams", "Help" and "Born For Greatness" from that new release and they went over well. PAPA ROACH has a very dedicated fan base that loves everything that they do. And they did. They performed a very energetic set through and through, a wise choice on this day and time slot.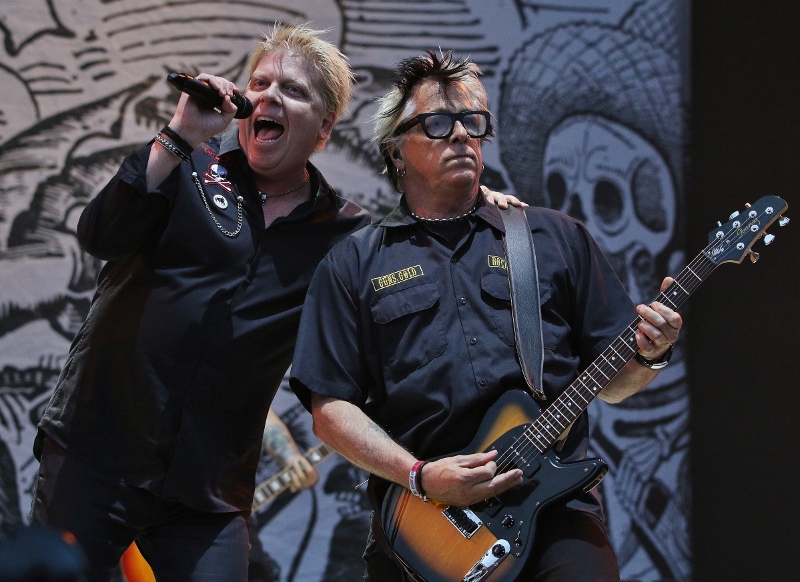 THE OFFSPRING is a veteran aggressive band from Orange County, California, and even though they have been out of the spotlight the last few years, they have enough past hits to make their show very interesting. Coming out of the gates with "You're Gonna Go Far Kid", guitarist Kevin "Noodles Wasserman was pumped and ready, as he leaped about and had a huge grin on his face. By the time the band started the intro to "Come Out And Play" with its "You gotta keep em' separated" tag line, it seemed like the entire Mapfre stadium had become a punk club from the early 1990's. Wind-milling kids, crowd surfers, and slam dancers were everywhere. I saw people dressed as superheroes and people in wheelchairs and topless women flying over the barriers. Singer Dexter Holland paced the stage and grinned, as the "Rangers" rejoiced in unison. THE OFFSPRING played all their hits, including "Gone Away", Why Don't You Get A Job" and "Pretty Fly (For A White Guy)" and the crowd sang them as loud as they could. A band member can't ask more from a crowd than what THE OFFSPRING received.
Wrapping up day two of the festival was everyone's favorite, KORN. They did not disappoint. An eleven song set, although shortened again by the threat of heavy weather conditions, did not dampen the crowd one bit. Singer Jonathon Davis is absolutely frantic onstage, waving his body in contorted positions with every breath he takes. I even noticed him taking gasps of oxygen in between songs. Their latest release, The Serenity Of Suffering, was well represented with killer versions of "Rotting In Vain" and "Insane", the first two tracks that had guitarists Head and Munky head-banging throughout. Drummer Ray Luzier is one of my favorite live drummers. His drum kit is incredible and his chops are even better. As always, KORN's lighting and sound are top-notch. By the time they ended their set with "Blind", I think everyone in the audience was totaled. A fun Day Two of the festival had come to an exciting end. And there was still a huge day to come!
After attending a post-concert party on Saturday night, Sunday got off to a late start. Getting to the stadium in time to see one of my favorite bands, RIVAL SONS, proved to be a chore but I did indeed make it. As always, this Long Beach, California band delivered. It's like being in church on Sunday morning when it comes to RS singer Jay Buchanan's soulful, gospel tinged vocals. Opening with "Electric Man" as they have done many times, Buchanan and company converted many of the curious and transformed them into believers during their six song set. They pour their heart out into every song, and built up to a crescendo, ending their set with the bluesy "Keep On Swinging". RIVAL SONS guitarist Scott Holiday, bassist Dave Beste, and drummer Michael Miley turned the still arriving crowd upside-down with a serious dose of "how it's done".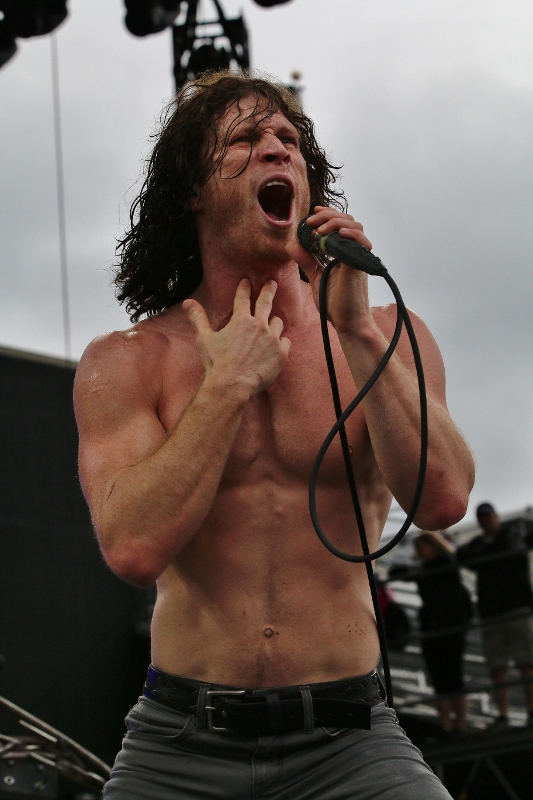 NOTHING MORE, led by muscle-bound lead singer Jonny Hawkins, played a very interesting set on the main stage. Hawkins, who sings and plays drums that are set up all over the stage, is a huge presence. He's everywhere! In constant motion, he is very often found on his knees at the end of a good run around the stage, screaming at the top of his lungs, as was the case during their second song, "Let Em Burn". Shirtless, shoeless, he reminds me a bit of a latter day Jim Morrison, with about the same amount of vocal range, not much. The band joins together to play all kinds of drums during their set, and it was fun while it lasted. Really, can't say much more about NOTHING MORE as I made my way over to the Zippo stage to see British band DINOSAUR PILE UP, playing a gritty brand of rock which made their fans very happy. Among those fans were a pair of people dressed in Tyrannosaurus Rex costumes who posed for pictures, mock fought and wrestled with each other and crowd surfed. Funny as hell to watch, and the crowd enjoyed them while their namesakes kicked ass onstage.
BIFFY CLYRO and THE PRETTY RECKLESS rocked the main stage at the same time that ZAKK SABBATH and SUICIDE SILENCE were rocking the other stages. I decided on the main stage. These are the decisions you sometimes have to make when there are 60 bands in a weekend. Eventually there will be a conflict, although the organizers always do a great job at "staggering" the set times. BIFFY CLYRO were excellent. Yeah, I know the band name is kind of silly, but the band kicks ass. Hard to classify this Scottish band, but I really enjoyed their set. THE PRETTY RECKLESS followed them with their moody singer Taylor Momsen front and center. They had been the opening act for SOUNDGARDEN on this most recent tour, and naturally, were affected by Chris Cornell's untimely death. They paid tribute with a stirring version of the AUDIOSLAVE number "Like A Stone" that gave many of us in the audience the chills with the way it was delivered. I have seen THE PRETTY RECKLESS quite a few times, and they get better and more soulful each time.
Afterwards, I decided to take a peek inside the "Rolling Rock Comedy Tent" set up just outside the stadium. People were starting to gather for a night of comedy headlined by the hysterical Jim Breuer, himself a big fan of heavy rock. It is a nice place to take a break every now and then, have a laugh, and a beer, and in the case of ROTR 2017, a nice place to take shelter during the occasional thunderstorms. Needless to say, lots of happy faces in the comedy tent throughout the weekend.
DILLINGER ESCAPE PLAN ripped it up with their patented brand of deep metalcore on the Zippo stage, to a raucous crowd of thrashers who loved movement of any kind in the pits. Slamming with anyone who came in contact was the norm. Singer Greg Puciato always goes full force in every performance. Climbing up the side of the stage, jumping out to the barrier, it doesn't matter. He is in a "zone" at all times. I cautiously headed back into Mapfre stadium a few songs into DEP's set to catch a terrific set from PRIMUS on the main stage.
Led by bassist, vocalist Les Claypool, PRIMUS, as always, played the days quirkiest set. Sporting a bowler hat, and doing his best impression on the old Monty Python "Ministry Of Silly Walks" routine, as he played solo's and embarked about the stage, Claypool and company are quite a tight unit. Love their music, from the opening "Those Damned Blue-Collar Tweekers" to the set closing "Jerry Was A Race Car Driver", it was non-stop chops and geekiness amongst this trio. Claypool even waxed nostalgia about knowing METALLICA guitarist Kirk Hammett in high school, (he referred to him as Kirk Hamster) and buying his first bag of weed from him, as Hammett nodded and laughed from the side of the stage, clearly having a blast at the behest of his old friends musings. Naturally, the crowd loved every minute of it.
I had been warned by security that a huge storm was projected, along with thunder and lightning, and that they were on alert to once again, evacuate the stadium sometime around the last two acts, VOLBEAT and METALLICA. VOLBEAT hit the stage and their brand of revved-up metal seemed to either chase or bring on the storm at first. Opening with "The Devil's Bleeding Crown" from 2016's Seal The Deal And Let's Boogie release, they were off and running from the get-go. Danish singer/guitarist Michael Poulsen and lead guitarist Rob Caggiano led the charge through the up tempo, galloping beats that make VOLBEAT such a great band to experience. Paulsen is a huge fan of Johnny Cash, and played a bit of "Ring Of Fire", the classic from the "man in black", before launching into "Sad Man's Tongue".
It was after "The Hangman's Body Count", one of my favorite VOLBEAT numbers, that the rains really came, and the show was delayed. Security did a fantastic job of clearing the area. Hat's off to them. Most people took cover underneath the stadium, as it was literally PISSING down rain. Lightning filled the sky on occasion, and for me that is always a thrill. While riding the storm out, under the backstage area, surrounded by soaked security guards, I observed one of the promotors, who looked a bit worried. I told him, "look, METALLICA is in the house, let's Ride the Lightning." That got a smile out of him, and he was off to conduct his business.
After over an hour of constant pouring rain, the sky suddenly cleared, and surprisingly, VOLBEAT came back onstage, throwing t-shirts to the fans and rocking them with two more numbers, "Lola Montez" and the set closing "Still Counting". Poulsen told the crowd something to the effect of "Sorry, but I had to take a piss" to half-heartedly explain the delay to the soaked Rangers, and all was well. After all, the great METALLICA was next.
As they have done the last few tours, the darkened stage was soon lit with a video clip from the old Clint Eastwood movie "The Good, The Bad, And The Ugly" and it's haunting Ennio Morricone-penned theme, "The Ecstacy Of Gold". The screen then switched to the intro to "Hardwired" and there they were, METALLICA, brilliantly lit up and rocking the re-energised Rangers with "Hardwired" and "Atlas, Rise!" from their latest release Hardwired...To Self-Destruct. It was, of course, what all of us had travelled great lengths to experience. The crowning-cap of a great weekend of pure rock, from the biggest and best band of the genre.
There were so many highlights of METALLICA's two hour plus set. "For Whom The Bell Tolls" kicked off the hits with its crunching guitar tempo courtesy of James Hetfield and Kirk Hammett. "The Unforgiven" ended with Hetfield quietly saying "We forgive you Chris," again yet another tribute to the fallen Chris Cornell. "Now That We're Dead", another of their latest, featured an extended period in the middle of the song where the band members all played huge African style drums, that were wheeled out mid-song.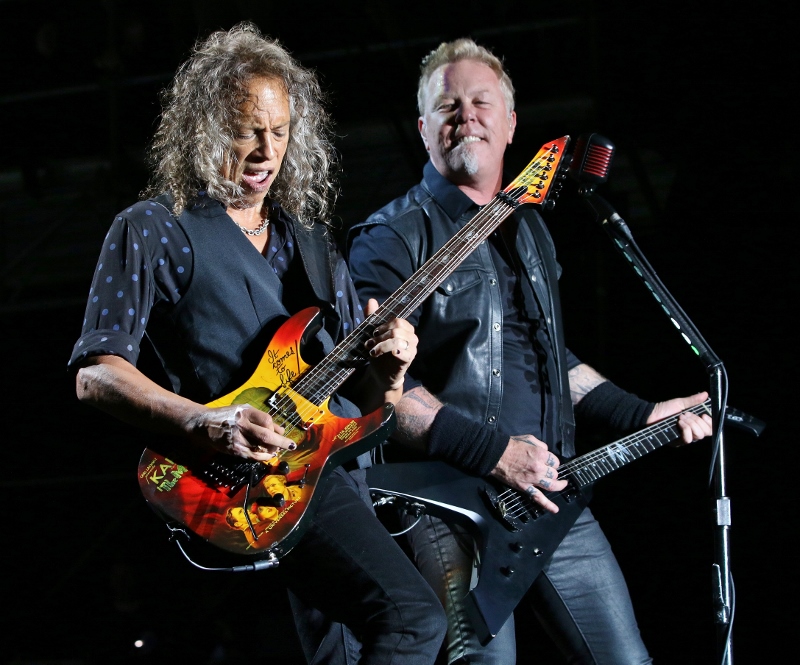 "Moth Into Flame", the first single from Hardwired was introduced as "a certain song, that's kind of known for microphones not working" referring to the technical difficulties at this past year's Grammy Awards, when his mic was not working properly. "Welcome Home (Sanitarium)" was followed by solo's from Hammett and by bassist Robert Trujillo after Hetfield asked the Columbus crowd to "Say Hi to my buddy Robert, and my buddy Kirk." METALLICA then went back to their first LP with "Whiplash", which set the old school fans into a moshing frenzy. "Sad But True" and "One" slowed down the pace for a bit, but quickly picked it back up with a vigorous version of "Master Of Puppets" with its crowd call back on the chorus. What really set the crowd off was the 1-2 punch of "Fade To Black" and "Seek & Destroy" in which Hetfield commented "We're connected, right?" Indeed they were. They totally OWNED this crowd.
After briefly leaving the stage, the band returned and encored with "Blackened" and "Nothing Else Matters" before launching, and (I mean launching) into the set closing "Enter Sandman", which was followed by a massive fireworks display, about as many rockets launched at a concert that I can ever remember seeing. METALLICA had come, survived the rain delay, and absolutely slayed their audience with, what I can honestly say is the best closing of a Rock On The Range Festival that I have seen yet, and I have witnessed 10 of the 11. A great job by the promotors, security, stage crew etc. The sound and lighting were fabulous, throughout the weekend. There is a reason that this festival is so successful year after year, and that is the people that bring it to you, Danny Wimmer Presents, as well as AEG Live, listen to the attendees, watch the reactions, and continue to improve year after year on this great event. I will continue to attend, and report as much as I can. My thanks to all that made it possible. I am indeed, "Ranger For Life" and damn proud to be one.
Check out some photos from the festival!
All Photos By Junkman
Please log in to view RANTS