Live Photos By Krishta Abruzzini, Band Photo Credit Stephen Jensen/F3 Studios
Itís been over six years since WARRANT has put out a new album. Louder Harder Faster, (Frontier Music Srl) produced by Jeff Pilson (FOREIGNER, DIO, DOKKEN) was released in May of this year and certainly holds up to its name. Guitarist Erik Turner describes it as: "You can hear and feel the emotions of the last twenty-five-plus years of being in this band poured into Louder Harder Faster. The fun and the frustrations, the pleasure and the pain... a whole lot of blood, sweat, tears and beers went into the making of this album. Love it or hate it, it's the real-fuckin'-deal, hundred-percent pure melodic hard rock handcrafted by five musicians who dedicated their lives to music when they were just little kids with big dreams."
The album features 11 songs that prove WARRANT still holds its own within an industry that has mostly lost its nod to this genre other than as a novelty or nostalgia. The CD (only) holds a special bonus track, "I Think Iíll Just Stay Here And Drink", which is a remake of the Merle Haggard song and has become the official party anthem of The Professional Bull Riders. The band has collaborated with PBR and play many of their shows during the events. PBR has declared that the song will be played every night at midnight in all the PBR bars across the country.
WARRANT consists of Erik Turner and Joey Allen on guitar, Jerry Dixon on bass, Steven Sweet on drums and Robert Mason on vocals. Mason, who is a powerhouse singer took the reigns as vocalist in 2008 after the split of Jani Lane just prior to Laneís tragic death. Together the five guys, while still playing homage to the fan favorites such as "Cherry Pie" and "Heaven", have put together an album viable of moving into 2017.
I recently spoke to Robert Mason about all things WARRANT and music: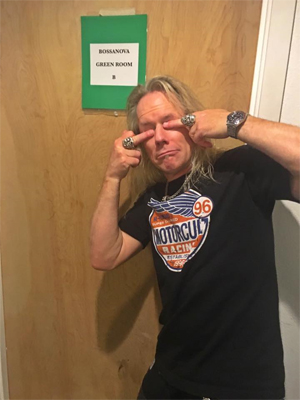 KNAC.COM: What got you into music and do you play any instruments?
MASON: I play a bunch of them, not very well. [laughs] I consider myself to be a somewhat educated hack. My dad sang a little bit professionally, so some of my earliest memories, and Iím not kidding, at two, my mom and dad were singing three-part harmonies. I honestly grew up into it. There was always music around my house. Amazing songwriters and artists. My momís record collection was always out and playing. My first instrument was piano and church organ. When I didnít think that was cool anymore, I decided you canít walk around with a piano and youíll never pick up any girls this way. So, I bought myself a guitar because I could read music, but Iím a hack at that too. I play a little bit of everything but the drums. Iím a lousy drummer. I just kind of got pushed out in front as a singer, because that was always around and I had done it my whole life. I took formal lessons, and eventually the keyboard player or guitar player in one of my bands asked, ďWho can sing this part or thatĒ, ďOh well, shit, youíre just going to be the singer.Ē
KNAC.COM: Is that what you wanted to do, to be a singer, or did you want an instrument in front of you?
MASON: I feel really comfortable with both now. I kind of grew into the lead singer thing. At the beginning it wasnít comfortable, standing up there, pretty well exposed. [laughs]
KNAC.COM: So you originally are an East Coast guy that came out to the West Coast to be in LYNCH MOB, was that your first really big gig to land?
MASON: My first big barbeque, yeah. I had a record deal on Epic/Sony in New York, before LYNCH MOB, but my band got shelved, you know how that goes. But I had been a songwriter that showcased around and gotten a deal or two, production deal, and then a record deal, but I was ready to look for another place to move. I love New York. I was born in the Bronx, Iím a New York, New Jersey metro guy, but I came out to the LYNCH MOB audition and got that gig, and thought about California and wait, it never snows here? Itís often like 300 days of sunshine? Yeah, I think I can do this.
KNAC.COM: Are you permanently a California guy now?
MASON: Iím an Arizona guy now. I live north of Phoenix in a tiny little area. I was never really a California resident. I spent months there, did records there, I have a bunch of friends there, and obviously the place for work. Kind of like the other major cities. You go to major cities to get your work done, session work, national, and I come back to where the coyotes and rattlesnakes are.
KNAC.COM: When you were asked to be in WARRANT, was it a weird time and decision for you?
MASON: Weird no. It obviously took a little thought and introspection. LYNCH MOB had supported WARRANT in Ď92, Ď93, we were all friends. Lane and I met first while I was making the LYNCH MOB records, so our friendship was instrumental in how things happened in that regard. We had stayed pretty close for a bunch of years. He had gone through a bunch of dark times, and I was just in the right place when they needed a guy, and I was the guy. We were already friends. It was organic. I do my damnedest to do as respectful and faithful a job as I can to the fans of those songs. And you know, I sing like me. But the thing is, if people want to hate on me, I canít stop you. We come from the most organic and friend-based place. Lane was headed down a road that was really, really dark, and I was a huge fan before we were friends, we were friends for twenty-something years, so the matchup couldnít be better I donít think with anyone else. And thatís a little cocky to say, but Iím that confident in it. Knowing that they were firing on four out of five soldiers, there was a viable band that really wanted to keep playing and had a great catalog of songs that I was a fan of and respected, it was an easy decision. And two records down the road, here we are.
KNAC.COM: And your new album?
MASON: Louder Harder Faster.
KNAC.COM: Thatís produced by Jeff Pilson, who also plays music. Is he kind of your go-to guy for doing studio stuff?
MASON: No. Our first record was with Keith Olsen (OZZY OSBOURNE, WHITESNAKE, SCORPIONS) whoís an incredible legend, that I was fortunate enough to work with on the LYNCH MOB record. Keith and I worked a bunch together. He hired me for a lot of sessions. Iíd come in and help a band, be the background singer, song-fixer guy under the radar coming in and helping this band finish their record, then write you a big check and go home. I did that after LYNCH MOB and before the WARRANT gig. So I had a lot of experience with Keith. He is a legend of a producer. He did the Rockaholic record with us. Jeff Pilson and I knew each other because he was in DOKKEN. I met Jeff when I met George Lynch. We had known each other through friends and fans but we had never gotten that close and never worked together. This was just the right guy at the right time. Heís got a great little studio, great collection of vintage instruments, which I just loved. We got along really well.
KNAC.COM: You guys are on the PBR (Professional Bull Riders) tour. How did that come about? I wouldnít have put those two together, but I was like, ďOkayĒ. [laughing]
MASON: I totally understand. Itís like jelly bean pizza. The CEO of PBR, is that too many acronyms? [laughing], saw us in Colorado and liked what he saw. And coincidently, Jerry Dixon had seen a PBR bull riding event and was blown away by the sport. You fast forward a few months to a year or so and they contacted us saying theyíd like to have rock bands playing live at their PBR events. Steven Tyler did this thing, but it was really in conjunction with his country record. We have this Merle Haggard song that weíd like for you to redo and make the party anthem for a drinking song and whatever, for the season and for our PBR branded bars, weíll film a video and all that. And it was right when we were recording the Louder Harder Faster record, so it was kind of cool. What an honor to be retreating this number one hit for Merle Haggard, and make it ours. Rock guitars, big production, a few guitar solos. They loved it and we were playing at a bunch of PBR events and it worked out really well for all. So many cool people. A really badass sport and itís smart marketing because itís turning people onto our band who maybe wouldnít even know we exist or let alone know we are still playing.
KNAC.COM: Do they have expectations of what songs you play at the events? Are you able to play some of the new songs off LHF?
MASON: Oh, Sean the CEO guy has become a good friend to everyone in the band and certainly has a specific vision. [laughs] Heís got a music publishing background as well too. Heís a rock fan. And you know, you go to any country bar, and theyíre playing 80ís rock songs mixed in with country songs, and everybody sings. Itís like "Cherry Pie", and then itís "Pour Some Sugar On Me", then "You Shook Me All Night Long". It still appears weird to some people, where theyíll say, ďWhat, you goiní country now?Ē And weíre like, no, have you heard the way we tribute that song? All my friends in big country bands all want to be rock guys. Weíre all friends. We all hang out. I fly to Nashville to go write songs for people, and I get called The Rock Guy, and I think Iíve got this super country idea, and theyíre like, ďNo, youíre the rock guy.Ē [laughs] But then they say, wait, we want to be the rock guy.
KNAC.COM: So, does WARRANT still have itís own label, or is that just Jerry and Erik?
MASON: Jerry and Erik have Down Boys Records, and thatís more of a music placement, publishing kind of thing. Thatís their baby. It keeps them busy in the off hours when weíre not doing fly dates.
KNAC.COM: Do you ever get tired of playing the songs that made WARRANT popular?
MASON: Can I swear? Because I have a funny joke.
KNAC.COM: Totally.
MASON: Richard Pryor, has that thing where heís talking to Bill Cosby. Richard says, ďBill, do people come to your shows?Ē Cosby says, ďDo people clap when you tell your jokes?Ē Prior says to tell Bill to have a coke and a smile and shut the fuck up. Stop complaining. Thatís the joke we use among each other. People come to the shows, do they still buy tickets? I say, play "Cherry Pie" and shut the fuck up. [laughing] Honestly, those songs still get such a great reaction. How can you not dig being on my side of a microphone and perform these songs onstage, and have people appreciate it? You canít have contempt for your own audience. The ones that essentially pay for your mortgage. And thatís the legacy of the band. You have to accept that in nostalgia acts. Thereís a nostalgia aspect to this band, and thankfully the band's been around this long and we can still play so many shows.
KNAC.COM: If you were to attach yourself to a band if money was no issue, what would you want to play personally and what would your band look like?
MASON: I would probably want to replace Steve Marriott in HUMBLE PIE in the early 70ís. And convince Frampton to stay, not to leave.
KNAC.COM: Well, Frampton is still Alive...see what I did right there? Itís still possible.
MASON: [Laughing] I met Marriott before he passed away, and he was one of my monster influences. For me it was those bands based around those songs and singers. Itís like playing fantasy sports. I want this guy and this guy. I have a rock and blues background. I love the crooners and all that stuff. THE FOUR FRESHMEN and the HI-LOís, and stuff from the 40ís and 50ís and 60ís that my dad listened to. BEATLES and STONES and the British Invasion stuff. I think thatís where my heart lies still, and I wear my heart on my sleeve. We all have grown throughout the years, but the stuff that still excites you like a 12-year-old, jumping up on your bed with a hockey stick as a mic stand or a tennis racket as a guitar is still where my heart is.
KNAC.COM: You are consistently recruited for Bashfest during NAMM, with Brian Tichy. How did you get involved with that?
MASON: Brian and I have known each other since the New Jersey, New York days when he was just still going to Berklee, we were probably 20 or 21. As we grew up, we were each playing all those songs Bashfest highlights in cover bands in the bars in New York. So as we got a little longer in the tooth, and got real jobs and real careers, he came to me and said, ďHey look man, Iíve got guys doing this, but I know you know these songs and you love this. I did most of the songs at the first Randy Rhoads tribute because of my Ozzy connection and the fact that Brian and myself and Zakk and JD used to play songs in JDís momís basement until like four in the morning. All the time. Brianís a great guy. Heís one of the best guys to hold drumsticks in his hands on earth in my not-so-humble opinion right now. Heís such a talented guy, and weíre still friends. Itís a no-brainer. Iíll fly in, bang out a couple of ZEPPELIN songs, a couple WHO songs. Whatever I have time for, Iíll always give to those shows. Those are the songs that turn all of us into that 14, or 18-year-old kid again.
KNAC.COM: And the audience too.
MASON: A lot of it seems itís really just for us. We seem a little self indulgent, I think.
KNAC.COM: Itís a great production. The rotating musicians, the music. For those that have never attended NAMM, there are so many shows nightly and itís always a tough one to choose which one to go to. BashFest wins for me every year now.
MASON: For the first Rhoads tribute I sang "Suicide Solution" with Rudy Sarzo and my good friend Brad Gillis. And that hadnít happened with the extended ending since Ď82, Ď83? Gillis brought out that black Les Paul that he had played back then. I got to hold those guitars! I saw those concerts. Itís just crazy. To have these guys as peered friends now and to be able to do that.
For more info and tour dates on WARRANT, please visit: http://www.warrantrocks.com/
For BashFest info, please visit: http://www.bashfest.us/.