Photos By Thom Hazaert
The Hair Metal days were no doubt a glorious time for so many of our generation, but there is currently a quiet revolution brewing in the wake of reunion tours, rock and roll cruises, and the cropping up of 80's and 90's era music festivals across in various parts of the country. At the forefront of many of those appearances has been fan favorite SLAUGHTER. Fronted by vocalist Mark Slaughter, and consisting of bassist Dana Strum, drummer Zoltan Chaney, and guitarist Jeff Blando, the recipients of 1991's American Music Award for Favorite New Artist in the Hard Rock/Heavy Metal genre, has maintained a place in the spotlight for a number of years.
In addition to special appearances with his original band, Slaughter himself has been busy with his solo career. A highly respected singer, songwriter and guitarist in his own right, he has recently released his second solo effort entitled Halfway There. This is something of a departure, musically, from the music he recorded with SLAUGHTER in that it is a much deeper reflection of the singer's current emotional growth as an artist. It's the album he has wanted to do for quite some time and he says it was a labor of love in the way he decided to record; meaning that he focused on releasing the product on vinyl and taking the recording process in an entirely different direction.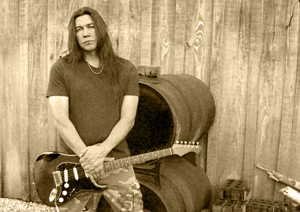 "This album is not typical," Slaughter said. "I've even had some people say it's out of my wheelhouse, but it's truly not. It is different from my first solo album, Reflections In A Rear View Mirror, I think it is just loaded with more heavy songs and has less ballads. Even Dana (Strum) noted that the songs were darker, heavier and had a very different feel than what you would normally hear from me when I let him listen to it. I'm a songwriter so I am going to write songs that connect to people. I think I have my foot firmly on the gas pedal and I think that came across in the music. It is just a heavy record."
The new album has hit the shelves via EMP Label Group, the brainchild of MEGADETH bassist Dave Ellefson. "Dave (Ellefson) and I go back a long time and we always crossed paths during tours," he said. "When I did the Rock And Roll Fantasy Camp we got to spend time together as musicians, and I think we both realized what we were each capable of and that started a much deeper relationship that made us more aware of what we each had to offer; so when Thom (Hazaert) heard I was doing a new record he reached out and discussed doing it on Dave's label and it kind of went from there."
Primarily recorded and produced in Nashville, where Slaughter has lived for the past twenty years, the album reflects his love for songwriting and he is able to relate to his contemporaries who now live in Nashville; a place that is quickly becoming "the new LA" because of the influx of 80's era musicians that have moved there. "We are now realizing how lucky we are to still be playing music. There are so many of us that live in Nashville and so many people that have come out here are very genuine people and we do have something of a music community amongst bands of our era that live here now," he said.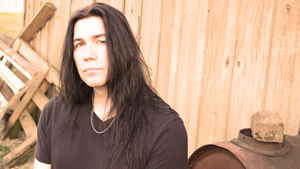 The hub of musical activity works well for Slaughter and he was able to take the time necessary to focus on how he wanted the new album to sound and feel.
"I worked on the record for more than eight months and it has been about making a vinyl record. As I grew up, I listened to actual records and its one of the things that I love. I love the way a record was represented, and you had to record those songs that sounded the best back when vinyl was the primary format. One of the things you have to consider with vinyl was timing; I wrote several songs that did not fit, and I had to look at the process of elimination and what was best for putting out a vinyl record. I think that was the best part of how the record came together," he said. "It is very different from when I first started making albums because vinyl was dropped as a format and I wanted do this with that in mind. You have to master a record for vinyl a totally different way than you would master for a CD. I wanted to go through that process because vinyl gives a rock record the warmth that a CD doesn't."
Guest musicians on the album were bassist Jaymi Millard and drummer Josh Egan. Egan recorded his portion in Los Angeles at the Steakhouse Studio. Egan is actually a long time friend and former schoolmate of Slaughter's so it was only natural that they would work together. John Cranfield mixed the record in LA, and the rest of the music, all guitars, vocals and engineering were done by Slaughter himself.
"We all worked well together and Josh can do just about anything you ask him to on drums. His style is a bit different but he nailed everything I wanted him to do and Jaymi is very well known as a bassist; he's known as The Pink Bassman and he worked on the last half of the record. There were bass parts I had already done myself, but he came in and I wanted to get his style on this record," he said.
Touring to support the album is also at the forefront. SLAUGHTER the band will be on tour this summer with MOTLEY CRUE frontman Vince Neil's solo tour and the singer plans to schedule shows to support his solo band in between runs with Vince. Mark's touring band will include drummer Bobby Rock, guitarist Mike Himmel, and bassist Jaymi "The Pink Bassman" Millard.
"We have several dates this year with Vince, so I thought 'why don't I go ahead and book shows while we are out with him'," he said. "I am looking for those holes in the schedule so that I can do the shows with SLAUGHTER but also take the opportunity to take the new music out and showcase the songs with the other band. I have some excellent musicians to work with on the solo shows; Mike is an excellent guitarist and then I will have Bobby on drums and we work so well together; and Jaymi is also going to be able to join us," he said.
If you haven't heard the new album you can order it via multiple outlets. Songs like the title track, "Hey You", "Supernatural", "Devoted", and "Reckless" particularly stand out and should be just as powerful live as they are on the record. Look for them on the road and you can get more information at www.markslaughter.com or on the artist's Facebook page. You can check out the lyric video for the first single "Hey You" HERE.