JUNKMAN Recaps The Inaugural 2017 BLACKEST OF THE BLACK Festival

By Junkman, On-Air Personality
Tuesday, June 13, 2017 @ 10:16 AM

| | | |
| --- | --- | --- |
| | | Silverado Canyon Ca 5-26-27 2017 |
All Photos By Junkman
To celebrate the release of his latest recording Black Laden Crown, Glenn Danzig threw a party. In fact a two-day festival, featuring his band and 16 others, all handpicked. The setting was the sunny, tree-lined Oak Creek Park in Orange County, California. Not the place you would think of to attract "goth" and "vampire" lovers, which make up the bulk of DANZIG's following, but the organizers did their best to make it scary, and ghoulish. Everywhere you looked, from the entrance onward, there were gutted corpses hanging from the trees, along with strands of plastic babies, bloody body parts, and skeletons suspended above.
There were also side stages, aka "Castle Danzig" that featured bondage and "circus freaks," performing constantly throughout the weekend. I observed fire breathers, people suspended from hooks in their backs, a woman who pounded nails in her nose and asked the audience to pull them out, as well as girls dancing in cages and swallowing fire. A few side stages showcased these acts and others, such as an armless tattooed dwarf, and a guy who stapled dollars to himself, and another who snapped mousetraps on his tongue. Sound like fun? Indeed it was.
There were plenty of vendor booths that sold LOTS of black clothing. Another had a dress with pictures of serial killers on it. I even drank a "Black Lemonade". Many of the attendees looked like they had spent hours and hours on their ensembles, looking as scary as can be. I noticed one couple, totally made up in a huge concoction of makeup, black clothing, piercings, tattoos, and lots of leather and vinyl, just standing in the same place for most of the afternoon, during the entire weekend, as people came and took their pictures with them, no doubt to show their friends on social media. I admit I did the same thing. I guess we all have our 15 minutes of fame.
Glenn Danzig even appeared, and stayed for nearly three hours, signing autographs, along with artist Simon Bisley, who designed the cover of Black Laden Crown to a huge line of fans, who were more than happy to meet their hero, who does not always seem so fan-friendly to say the least. I actually saw him SMILING a few times from behind his ever present mirrored aviator shades.
As for the music, there was plenty on two side-by-side stages, which was conducive to making everything flow with the time schedule, which worked perfectly. No delays all weekend. One band played on one stage, while the next band set up on the other. Back and forth. And the best part of that configuration was that most of the crowd just shifted a few feet between sets, instead of having to hike to another stage to see the next act. Kudos to the festival organizers for that plan.
There were plenty of highlights. Friday, I was introduced to many new acts that I had not seen before. Opening the show, 3TEETH, a very aggressive, industrial metal band that featured an array of keyboards, got the crowd warmed up. BUTCHER BABIES, led by dual vocalists Heidi Shepherd and Carla Harvey played their first show in a while and ripped it up. They were a true "dynamic duo" onstage and just a ball of energy. The crowd responded with the day's first mosh pit, egged on by both vocalists, who jumped off the stage at different intervals to be closer to the crowd.
Local SoCal band SUICIDE SILENCE always delivers. Engaging vocalist Eddie Hermida has brought this band to a new level of intenseness. Constantly in motion, screaming, and contorted as he prowls the stage, pleading for their fans to amp it up. And indeed they responded, moshing it up, as the band beat them to a pulp with their brand of punishing metal. There are so many different personalities in this band, and watching and listening to them perform as a unit is always a treat.
My first look at DEAFHEAVEN, who followed, was of another fierce vocalist with a band that looked like they could work in a school computer lab, but they brought the fire to their stage show. Well, at least vocalist George Clarke did anyway. His contorted facial expressions and grimaces countered with the blank stares of his bandmates. But their passionate blast of sound gave the crowd another excuse to blow off steam in the pit. And I saw the day's first crowd surfer during their set.
DISCHARGE brought a bit of a punk element to the festival. Vocalist Jeff Janiak reminded me a lot of FEAR front man Lee Ving, with his impassioned yelp and tone. Their guitarist and bassist were content on playing thrash chords and looking like they wanted to beat the shit out of you if you looked at them wrong. Janiak stalked the stage, pausing every now and then to kneel and wail as he pleaded with the crowd to react, which they did favorably. A great, energetic set.
My absolute favorite set of the day was next with hard rock veterans, CORROSION OF CONFORMITY. Vocalist/guitarist Pepper Keenan returned to COC after some time off and provided the spark that this festival needed to take it to the next level. "Clean My Wounds" is a classic, and the band looked like four lumberjacks ready to cut down a redwood. Not with chainsaws, mind you, but with axes, Paul Bunyan style; Strictly old school, in-your-face, distorted heavy rock, played by big, tough looking dudes. Bassist Mike Dean was about as solid and dedicated a bassist as I have seen in this genre. Always moving, banging his head and laying down a heavy, muddy bass line to every song. "Albatross" being one of my favorites. Again, a great choice to have play at this festival.
SUICIDAL TENDENCIES was the last band up, and did their usual high energy punk/hip hop/metal fusion to a crowd that reacted from the first note like a bull in a china shop. Front man founder Mike Miur, just like the crowd, never stops moving from the first note to the last, running laps around the stage, "windmilling" his arms, and basically looking like he is in the middle of a gang rumble. It's always great to witness, as his smile never leaves him. Former SLAYER drummer Dave Lombardo is now a member of this band, and his non-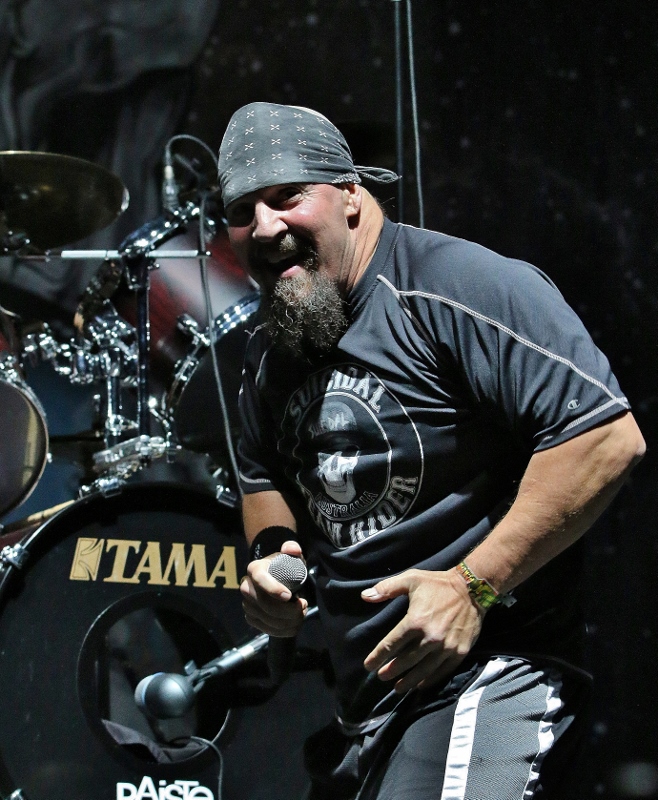 stop machine gun drumming set the tone to ST classics like the opening "You Can't Bring Me Down", "War Inside My Head" and the funky "Send Me Your Money" that spotlighted the different tempo changes that separate this band from so many others, and the crowd seemed to enjoy every bit that was thrown at them during their 15-song set, which ended with the one-two punch of the fist-in-the-air chanting of "How Will I Laugh At Tomorrow" and continued with the set closing "Pledge Of Allegiance". The Blackest Of The Black crowd was now "Black and Blue," and filed out of the park, beaten and bloodied, but ready for the next day. Others stayed for a listening party, featuring DANZIG's new record, hosted by syndicated metal DJ and festival hostess Full Metal Jackie.
Saturday at the festival kicked off a bit earlier than the day before, and I missed opening act RITUAL and blood spewing act GHOUL, who from all accounts reminded many a bit of GWAR with their masked characters and stage props. I caught the tail end of COMBICHRIST and was impressed by what I saw. But things heated up, as did the weather, when DEVILDRIVER hit the stage. This California band has been tearing it up onstage for years, and today was no exception. Singer Dez Fafara is not only a great screamer and growler, but quite the cheerleader as well. He just breathes hard core metal as he and his bandmates put on yet another terrific set. "Clouds Over California" was not the case for this sunny Saturday in the park, but the song went over well with the ghoulish gothic crowd who moshed and crowd surfed with joy to this rockin' act, who just continue to kick ass.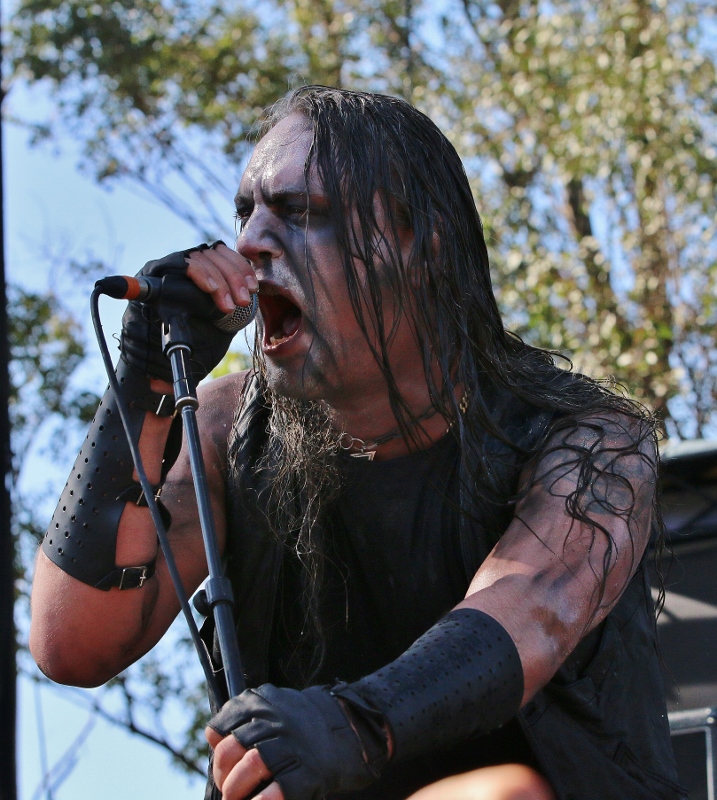 Black Metal enthusiasts MARDUK took their brand of Swedish barn burning best to the amped up crowd with a blistering set, filled with songs of Satan and anti-religious material that would have made the guy with the horns and pointed stick quite keen. This band means business, and the fact that I saw the seven foot Der Weinerschnitzle mascot moshing it up in the pit with the other revelers made it completely bizarre and all the more enjoyable. As far as I can tell, I did not immediately go to hell after witnessing and enjoying their set, so I guess that rules out that concern.
British Metal band VENOM INC kept the revelers at bay and played a great set much in the same way as the previous band, but more intense. A true "Black metal power trio" featuring former members of VENOM, now updated. They even the performed the song "Black Metal", a sort of anthem for the genre. Their set was well received by the Day Two attendees, who were a much larger group than the previous day.
It had been awhile since I have seen local Orange County thrashers ATREYU, and it was odd seeing them on the bill, as their brand of metal is not exactly the type one would associate with Black Metal, or "Goth" types. But a funny thing happened. It totally worked! A loud, up-tempo, energetic set that had singer Alex Varkatzas jumping off the stage multiple times to sing to the fans up close on the barrier that separates them from the stage, as well as wondering on mic whether his kids, side-stage, had heard him curse. "Height-challenged" guitarist Dan Jacobs was picked up and carried by a roadie while soloing on his blood-stained ESP guitar. Bassist Marc McKnight even moshed in the pit with the fans, all the while holding and playing his bass, which added to the fun. Clearly the band, and even some of the eternally sneering fans were having a ball. ATREYU even played a bit of a BON JOVI song and the crowd continued to mosh in the circle pit. That was a first!
Another first for me was seeing Japanese band VAMPS for the first time. Their fans were out in full force and shrieked with delight from the moment they hit the stage. Although it was more pop metal than anything else, the band was very entertaining to watch. Singer Hyde sported a hood, as in hoodie throughout the show, and gave props to DANZIG in the form of a MISFITS shirt. Guitarist K.A.Z. has apparently watched old videos of the 80's band CINDERELLA a lot, as he had their patented "guitar flip" down perfectly. The bassist and his black top hat completed the retro metal look, and their material was well received. Lots of screaming Asian girls, gestured and yelled things to the band while pressed up against the rail, as the moshers continued their parade behind them. A very enjoyable set. I would like to see them again, sometime.
Singer Al Jorgensen IS MINISTRY. The eccentric front man is also very unpredictable. I have seen him a few times, and you will always remember him, be it a good set or a not so good one. Today would be a good one, as the ever-engaging front man jokingly told the audience to "throw shit at us if you don't like it, it'll help us write better" and the audience responded appropriately. A monster 12-song set ensued, including "Punch In The Face" and "N.W.O" in which FEAR FACTORY vocalist Burton C Bell joined the band onstage, to also sing "Just One Fix". The amped up crowd enjoyed themselves and so did Jorgensen. His band was solid, and all went well.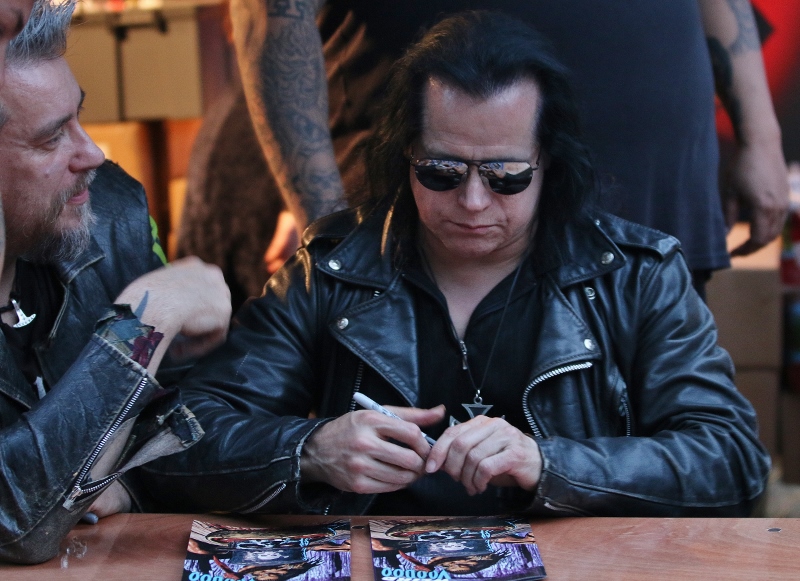 I was told before DANZIG's set that I was not approved to photograph him. I was not surprised. Danzig has had issues with photographers, journalists, and plenty of others over the years, and to be honest, I was getting tired anyway. I watched him hit the stage and play a dark and heavy 16 song set that gave the fans just what they wanted. Besides the classics like "Twist Of Cain", "Her Black Wings" and the set closing "Mother" (which brought the remaining crowd to sing in unison, on just about every word), he debuted a few new songs, "Devil On Highway 9" and "Last Ride", which went over very well. That's something that does not always happen these days, but DANZIG has a most dedicated following. They love EVERYTHING the man produces. He is a true living legend amongst his throngs and it's always nice to see that from fans in today's fickle music scene. Encoring with two of his most popular numbers, "She Rides" and "Am I Demon", his subjects erupted in unison. Danzig and his band left the stage, signaling the official end to the festival, in the middle of the night. Completely satisfied by a scary, loud and macabre weekend, the vampires returned to their lair, probably not to be heard of again until All Hallows eve. My thanks to all that made it possible for me to attend.
Check out some more photos from the festival at the gallery link below!
All Photos By Junkman
Blackest Of The Black Photo Gallery
Please log in to view RANTS