American Misfit Kid: Marky Ramone Exclusive Interview

By Jeff Watson, Contributor
Friday, November 30, 2001 @ 2:30 PM

| | | |
| --- | --- | --- |
| | | Marky Ramone Talks To KNAC.COM |
The Ramones were and still are the greatest rock 'n' roll band ever. Say anything different and I'll get your IP address through Rob Jones, track you down, strap a pair of headphones to your head and force you to listen to their canon until you agree. Although (willfully) tagged as the first punk group, Noo York's finest were so much more. Tired of bloated '70s prog-rock diarrhea and overwrought studio wankery, The Ramones welded the sun-kissed melodies of the Beach Boys to amphetamine-fueled rhythms that created a new kind of teen anthem – perfect for huffin' glue while playin' hooky. While other punk groups couldn't find a hook if it was stuck through their nose, The Ramones had more than a Norwegian fishing fleet.

By the time drummer Marky Ramone joined the group (following the exit of skin-basher/producer Tommy Ramone) in 1978, the boys had already released three teenage symphonies to God, Ramones, Leave Home and Rocket To Russia. But it was the '78 classic Road To Ruin that pushed them into history, buoyed by the single, "I Wanna Be Sedated." Marky was already part of the New York rock cognoscenti, pre-Ramones, having been a member of Richard Hell's Voidoids on their classic Blank Generation album, but is was a Ramone that he would be remembered. He continued with the band until 1983 but then returned four years later and remained a Ramone until they disbanded in 1996. Joey's death in 2000 sealed the Ramones tomb.

However, Marky couldn't stay put. He later formed The Intruders, releasing the album Answer To Your Problems in mid-1999, and then started Marky Ramone's SpeedKings, a group that has all the punch of crystal meth without the bitter aftertaste. In addition, Marky's been seen hitting the skins for the Misfits and even appeared on this year's MTV Video Award show with the other surviving Ramones to…well…just be there. When you're a Ramone, you can do these sorts of things and still be cool.

In the midst of all this activity, Mssr. Ramone talked about his Ramemories, his addiction to playing, life after WTC, and Dee Dee Ramone's inexplicable foray into rap in the mid-'80s.

KNAC.COM: How did you come to hook up with the Ramones?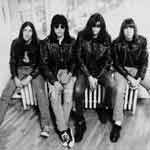 Marky: They were looking for a drummer and I happened to be around. So we did a try-out and that was it. I was in. At that moment I had auditioned for the New York Dolls too. But the moment I started to play with The Ramones it felt like "natural."

KNAC.COM: Why did you leave them in 1983? And why did you re-join them in 1987? Are you bi-polar?

MARKY: I was kinda losing it. I needed to get my shit back together. I couldn't slow them down. In the years in between I sorted my stuff out and again one day they were looking for a drummer. They let me try again and I hadn't lost it. I mean, in a couple of rehearsals I was touring again.

KNAC.COM: I've heard a rumor that during the recording of End Of The Century, Phil Spector pulled a gun out in the studio. True? Was he really a crazy motherfucker like everyone has said?

MARKY: Phil did a lot of crazy stuff and there are so many stories. And believe me… at least half of all that is true. But I love the guy. We could get along really well. You can't show the guy that you're afraid because then he tends to bite. But I was never intimidated by Phil. I had some great times with him.

KNAC.COM: MTV rarely played your videos, yet they brought you out at last year's video awards. What the hell was up with that?

MARKY: The Ramones were never fashionable, no hype. We have always been there and so many bands would never exist if it wasn't for The Ramones, but we were always like low profile. Doing our music, being good at what we were. We never needed anything to establish ourselves. Those three magic chords were all it took. No plugging the songs or videos, just doing good songs and playing live.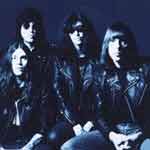 KNAC.COM: Are you just a little bitter that you guys never got the commercial success you deserved?

MARKY: I am not bitter. Not at all. The Ramones was hard work but we loved it. It never came easy, but we all worked hard and earned a decent living. We never sold in peaks or hits, but the success was constant and it still is. The Ramones are here to stay!

KNAC.COM: Do you ever go back and listen to the old Ramones records?

MARKY: Occasionally I do, but I'd rather play the stuff. And nothing keeps me from doing it. With the new band we have all the songs from the upcoming album, but as encores we do quite a few Ramones songs and other NY punk classics and the kids just love it. I play music so the kids can enjoy their night out. Basically I don't record Ramones songs, except maybe that some will end up on the coming live-album and the one song we did for a Ramones Tribute album, but that doesn't mean I don't play them anymore live.

KNAC.COM: Do you miss playing with them?

MARKY: Yes and no. The Ramones had their time and it was time to go. I believe we did what was possible and sometimes you have to look forward and try new things. That's what I feel about it. I had The Intruders after The Ramones, I played on Joeys solo album and I joined the Misfits on their 25th Anniversary Tour as a special guest. And now I have my new band The SpeedKings. And this band cannot be compared to anything I did before. It's fast, loud and in your face. Live the band kicks ass and I am sure that we are gonna have a lot of fun on the upcoming tour in Europe.

KNAC.COM: What is your favorite Ramones memory?

MARKY: There are so many. I am just happy that I was part of this great band and I don't feel like pulling all the anecdotes out of my hat. That will probably be for my book.

"The Ramones was hard work but we loved it. It never came easy, but we all worked hard and earned a decent living. We never sold in peaks or hits, but the success was constant and it still is. The Ramones are here to stay!"



KNAC.COM: Why did the Ramones call it quits in 1996? Did it have anything to do with Joey's illness?

MARKY: Well, after all those years we had done what we had to do. It was like a mutual feeling. And looking back on it I feel that it was time to go one and do new things. New adventures…

KNAC.COM: When was the last time you spoke with Joey?

MARKY: I spoke to Joey when he was in the hospital. We had plans. His album had to come out, he still had so many things to do. It's a shame he is gone.

KNAC.COM: What's an average day like for you?

MARKY: Get up, think about music, work out, practice and if possible go out and play somewhere. Music has been the constant factor in my life and I hope it stays that way for long time.

KNAC.COM: What's it like living in New York post-World Trade Center attacks?

MARKY: Life goes on. The towers have disappeared from the skyline but the world did not stop on the 11th of September. No matter how hard it is, no matter how big the grief and suffering is, the world goes on. We have to keep on going to make sure that nobody died in vain. We have to remember the family members and friends that were lost. All the rescuers who died while helping others. The attacks showed that the world out there is not safe and I hope we all get alert again. Maybe we all went to sleep a little.

KNAC.COM: How did you join the Misfits? Why?


MARKY: We had jammed before. Joey had been involved too and then Jerry asked me to be a guest on their 25th Anniversary Tour and it's fun. I wouldn't do it if it wasn't fun.

KNAC.COM: You guys looked really bored in the movie "Rock 'N Roll High School." Were you? Or were you just really, really high?

MARKY: Hey this was a movie about a High School! Man, have you never been bored in school? Hahaha!!!

KNAC.COM: You've been in Dust, Wayne County and the BackstreetBoys, The Voidoids, King Flux, M-80, Marky Ramone and the Intruders, The SpeedKings and now The Misfits. Ever thought about hanging it up and getting a desk job?

MARKY: My drumkit is my desk. I love doing it and I am good at it. So I play music and nothing is going to stop me. And surely The SpeedKings bring such an amount of new energy that I just don't wanna quit. I am very happy with the new album and I really look forward to play all those songs live.

KNAC.COM: Does touring get harder the older you get?

MARKY: Touring is always hard for people who are not physically fit. Age does not matter in the first place. And besides, you are only as old as you feel you are. I love being on the road, meeting the kids and go for it night after night.

My three buddies in the SpeedKings are very professional and look at this the same way I do. Kids come to have fun and see a good show and that's what we give to them. We don't fuck around with the people who come to the shows, like getting out of shape, being drunk, or whatever.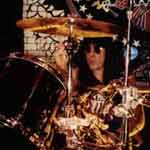 KNAC.COM: Finally, I gotta ask you about this quote from an old article on Dee Dee:

"As Ramones drummer Marky Ramone put it, "Dee Dee isn't a rap artist, he's a rock artist. I thought it was sort of unusual. One day he started wearing Mercedes Benz chains around his neck and gold rings. It was crazy. You know, I really think he lost his mind."

You weren't kidding. What the fuck was up with that? Was it bad drug residue in his brain?

MARKY: He tried new things and that makes him OK. He was not afraid to do this even it might have made him look ridiculous. He had the nerve and guts to do it and I appreciate that in him. I still think he lost his mind, but don't we all once in a while?

Dee Dee is and always will be a punk rocker. And he is good. But trying things out is just a way of being open-minded. Ain't nothing wrong with that.

KNAC.COM: Anything you wanna plug?



Marky: Check out www.markyramonegroup.com. This is the official website of the new band, Marky Ramone & The SpeedKings. The first album "No If's, And's or But's!" will be out in Europe on November 19th. It has 15 songs and Daniel Rey worked on it. A European Tour starts in December and we will play 27 blistering shows. The album will be released soon in the US, Japan and South-America! LOUD FAST RULES!

It sure does, brotha. It sure does.


Please log in to view RANTS