All Photos By Travis Failey/Rocket Sports & Entertainment And Jordan Raiff/Jordan Raiff Photography
Day 1 Were you ready to rock? Because tens of thousands of fans got their rock on at this year's 5th Annual Fort Rock music festival on April 29th and 30th, at JetBlue Park. The event was produced by Danny Wimmer Presents and AEG Live, and is part of the World's Loudest Month Festival Series. This year's sponsors included: Monster Energy, Bud Light, Southern Hospitality Concessions, FYE, and Jakprints.
The weather was both beautiful and brutal all weekend. Both Saturday and Sunday saw temperatures into the mid 90's, mostly sunny skies, with a killer breeze keeping things tolerable. It also helped that security was spraying the crowd (and the photographers) with the hose during the heat of the day. I gotta say that security, D.A.K., did a fantastic job keeping the crowd safe and were there to catch every crowd-surfer, no matter what their size.
This year's lineup featured bands spanning from the 1980s to the present. There was something for everyone this year, and the crowd contained a good number of Gen Xers and Millennials and Generation Zeros, a/k/a teenagers. Despite the heat, many in the crowd proudly wore their favorite black t-shirts, and because of the heat, many in the crowd wore their bikini tops. People were scattered throughout the park, lounging on blankets, relaxing in the VIP tents.
This year's festivities again included the huge misting fans in the VIP tents and in the shaded area in the back of the park. There were food offerings for everyone from Vegetable Noodles to Elephant Ears. The beer was flowing and the water was cold.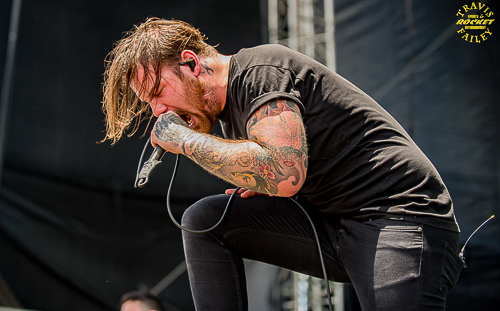 Unlike previous years, this year's festival had an impressive crowd by 12:30 pm. JetBlue Park was set up with two stages, each right next to the other. This was a great set up for the fans and the media. One band played on the right stage, while the next band set up their gear on the left stage. So obviously, this meant that there were no set time overlaps. I think that this is important because I don't think that anyone should have to choose between bands.
Because if you did have to choose, you would most likely pick the band you already like/know. But I love these festivals because some of the most memorable sets were performed by bands that I have never seen play before, and I might not even know one song from them. This year's lineup was so diverse (genre-wise), you couldn't help but be introduced to at least one new band.
After FELICITY and COVER YOUR TRACKS opened Saturday's festivities, BEARTOOTH's Caleb Shomo took the stage at 1:30 and ordered the crowd to "Push the aggression out!" Shomo has been named one of Alternate Press' Best Screamers in Modern Metalcore, (2nd actually) and he didn't disappoint on Saturday. BEARTOOTH also showcased powerful backup vocals by Taylor Lumley and Kamron Bradury. BEARTOOTH ended the set with its current hit, "Hated" and with that, Saturday was off and running.
MOTIONLESS IN WHITE burst out on stage with their 2013 hit, "A-M-E-R-I-C-A" and followed that up with their new release, "Loud (Fuck It)" from MOTIONLESS' fourth album, Graveyard Shift. This was a great strategy because it really got the crowd pumped up during the brutal 2 pm Florida sun.
Devin 'Ghost" Sola broke out a new costume like he does every tour and self-proclaimed "White Boy", Chris Motionless, professed his love for the Florida sun all while keeping the adrenaline pumped up for the next band, NOTHING MORE. NOTHING MORE took the stage and opened with their hit "This Is The Time". They showcased a new one-of-a-kind drum riser/mic stand for singer Jonny Hawkins, and treated the crowd to a new song, "Ripping Me Apart".
NOTHING MORE has spent the last few months in the studio recording, and I can't wait to see what their next album will bring. Jonny and guys closed with "Salem" and as the crowd screamed "Burn the Witch!" we looked out over the massive audience, and WOW! What a huge contrast from their sparsely attended performance at Welcome To Rockville back in 2014.
IN THIS MOMENT and Maria Brink have been touring non-stop for the last few years and are veterans of the World Loudest Month Festival scene. They brought all the bells, whistles and … well, knives again this year. Even though it was a shortened set, it was a strong set featuring "Blood", "Black Widow" and "Whore", providing the Fort Rock fans with a memorable daytime performance by IN THIS MOMENT.
OF MICE & MEN's dual axe-attack was in full effect as guitarists Alan Ashby and Phil Manansala traded off leads during "Bones Exposed", "Real" and their most recent single, "Pain", off their 4th studio album, Cold World.
There was a buzz backstage and in the crowd for the next band who absolutely crushed the Rockville stage in 2014. ALTER BRIDGE, out of Orlando, formed after CREED disbanded, shredded through their set which featured hits "Addicted To Pain", "Isolation" and their most recent single, "Show Me A Leader", from 2016's the Last Hero release.
The evening finally began to cool down and with sundown looming; the hitmakers portion of Saturday's Fort Rock lineup was at hand. THREE DAYS GRACE opened it up, and former lead singer of MY DARKEST DAYS, Matt Walst, really killed it. Every song of THREE DAYS GRACE's 10 song set was a radio hit. The crowd sang with Walst throughout, and he is fronting THREE DAYS GRACE as if he was there from the jump. Despite the 90 degree temperatures, Walst came out in a leather jacket and engaged the fans during "I Am Machine", "Animal" and "Chalk Outline". Walst got a lucky break in the music industry by landing with a monster band and he is taking advantage of it. His talent is shining through with his brother Brad sharing the stage with him.
SEETHER started the show 5 minutes early, which pretty much never happens in rock and roll, and opened with "Gasoline". About ten minutes into the set, a full set of lights toppled over on to the stage, nearly crushing their guest lead guitarist, Clint Lowery, from SEVENDUST! Luckily tragedy was averted, and honestly, the seasoned band didn't even miss a beat.
This was SEETHER's first stop on their new tour promoting their upcoming album, Poison The Parish, which comes out on May 12th. Even though SEETHER doesn't put on an extravagant stage show, the band's talent more than makes up for it.Just like THREE DAYS GRACE, every song that SEETHER played was a radio hit and had the crowd singing in perfect harmony throughout its impressive 10 song set that included "Fake It", "Words As Weapons" and concluded with SEETHER's latest release, "Let You Down".
Saturday was the third time that veteran rockers PAPA ROACH graced the Fort Rock stage. PAPA ROACH was in a perfect time slot as the sun started to set. Again, PAPA ROACH killed it with a hit-filled set, but a personal highlight of their set was seeing Maria Brink come on the stage to join Jacoby Shaddix to perform their 2015 collaboration, "Gravity". Speaking of Shaddix, he is a fireball of energy every time he hits the stage. Other mentionable highlights from PAPA ROACH's set included "Scars", "Last Resort" and "Getting Away With Murder".
CHEVELLE was up next and their spot in the lineup, preceding the headliner, DEF LEPPARD, was somewhat surprising to me. But once they started playing, I remembered how many hits CHEVELLE had! CHEVELLE had the first light show of the day, and it did not disappoint.
DEF LEPPARD had the honor to close out Saturday's lineup. In talking to several people, I found that there were contrasting opinions regarding DEF LEPPARD being the headliner on Saturday as the day's previous bands had recent releases, and DEF LEPPARD hasn't really been active since the late 1980's/early 1990's. In any event, it was a sharp contrast to last year's closers, SHINEDOWN and DISTURBED.
DEF LEPPARD opened with "Let It Go" then "Animal" from Hysteria. Their next song, "Dangerous", from their self-titled new release, was a surprising choice. Joe Elliot thanked the crowd for listening to the new song while acknowledging that most festival crowds just want to hear the hits and promised that they would provide the crowd with the hits for the rest of their set.
A notable highlight from DEF LEPPARD's set was the phenomenal guitar playing by Phil Collen. In my opinion, Collen has been an underrated guitarist. I hope that Collen will get the recognition that he deserves as he participates in the next version of G4 with Joe Satriani.
DEF LEPPARD played 17 songs and finished Day One of Fort Rock with two classics from Pyromania, "Rock Of Ages" and "Photograph". Saturday's Fort Rock experience included a high dose of modern rock with a dash of the 80's. How would Sunday's lineup match up with Saturday's?
Day 2
Day two of the 2017 Monster Energy Fort Rock energy kicked back off on Sunday with a more diverse lineup than day one and thankfully it was a partly cloudy because it was 94 degrees. Sunday's crowd was rearing to go after GOODBYE JUNE and DINOSAUR PILE-UP finished their sets and I PREVAIL took the stage at 1 pm.
I PREVAIL's two vocalists, Brian Burkheiser and Richard "Eric" Vanlerghe were in perfect contrast to one another. Eric made sure to tell the crowd how he felt about Westborough Church, and I think that a vast majority of the crowd agreed with his Fuck Westborough Church t-shirt. I have heard I PREVAIL on Octane, and often wondered why it was on Octane, so I was pleasantly surprised to learn that I PREVAIL's music was much harder than I thought. One thing is for sure: The girls really seemed to like them, especially during "Stuck In Your Head" and the closer, "Scars".
STARSET blasted off its set with "Down With The Fallen", only to experience some technical difficulties with their "spaceboard" and they had to restart from scratch. Unfortunately that's what happens when you rely too heavily on technology in your music. But after that snafu, the glitch was fixed and the band played on. As usual, STARSET put on a visual spectacle. Ron DeChant and Brock Richards donned the full space suit (yes, 94 degrees) and performed "Carnivore", "My Demons" and the latest release, "Monster". STARSET has been charting on the modern rock charts and especially on Sirius XM/Octane for months now. STARSET also included the only string section of the Fort Rock Festival: Siobhan Cronin on violin, and Jonathan Kampfe on cello.
ALL THAT REMAINS was the first late start of the weekend and they exploded on to the stage. I wasn't very familiar with them, except for their singer, Phil Labonte, but I walked away with a new appreciation for ALL THAT REMAINS' sound, and especially guitarist, Oli Herbert. Herbert is a classic shredder in the vein of Zakk Wylde and Jake E. Lee.
Labonte also provided the Fort Rock crowd with a strong performance especially during "Hold On" and their 2009 breakout single, "Two Weeks". He is larger than life on stage and the future could be very busy with all the speculation regarding FIVE FINGER DEATH PUNCH and Ivan Moody.
Next up were the EAGLES OF DEATH METAL: what a contrast from ALL THAT REMAINS. The EAGLES OF DEATH METAL's set time was perfect. Their music was funky and upbeat. It was a sharp contrast from the bands preceding it. Plus, the EAGLES OF DEATH METAL gave the crowd, and me, something unexpected: each band member was as different looking from the next but together their music was magic.
Vocalist Jessie Hughes engaged the crowd by staring at them through his red sunglasses, while Dave Catching smoked his guitar solos that compare to the classics from LYNYRD SKYNYRD. Meanwhile, the rhythm section of Jennie Vee and Jorma Vik, had the heads banging and the feet tapping. With their style, sound and attitude, the EAGLES OF DEATH METAL definitely put on one of the best performances at Fort Rock on Sunday.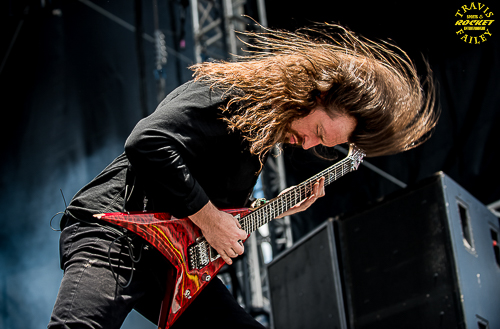 After IN FLAMES returned Fort Rock back to a heavier sound with tracks that spanned their 27 year, 13 album career, Taylor Momsen and THE PRETTY RECKLESS donned the Fort Rock stage for the third time. I guess they say the 3rd time's a charm because THE PRETTY RECKLESS' performance was outstanding. Momsen has come into her own as a vocalist and during the third song in the set, "Oh My God", her power, control and range was transparent and impressive. It also helps when your band is full of veteran players like guitarist Ben Phillips, bassist Mark Damon and drummer Jamie Perkin who all know when to shine and when to defer to Momsen. Fans of all ages and sexes sang along with THE PRETTY RECKLESS during their two biggest songs to date, "Make Me Wanna Die" and "Take Me Down".
HIGHLY SUSPECT, a band I was excited to see, opened their set with their smash hit "Lydia". I have to admit that I was taken aback by the big sound that this trio pulled off. And let me tell ya, security had their hands full with all of the crowd surfers. After covering these festivals for the last five years, this band inspired the most crowd surfers that I have ever seen. HIGHLY SUSPECT's included its latest hit, "Serotonia", "Look Alive Stay Alive", "Bloodfeather" and closed their set with "Claudeland", a song from their first studio album, Mister Asylum. I think that this summer's music festivals will be great exposure for this band especially if drummer Ryan Meyer keeps going on epic crowd surfing journeys like he did on Sunday. It was epic.
Have you ever seen a MCID sticker and wondered what that meant? Well, lead singer and guitarist Johnny Stevens stated during the show that it meant that we are all one, basically that we are all in this together, but I did a little research and found out that it stands for: My Crew Is Dope. I hope that this band's success continues as the future of rock will be a bit more interesting with them in it.
MASTODON was another interesting addition to Sunday's lineup who are being introduced to a whole new audience through playing the Worlds Loudest Month festival circuit. Know for their diverse styles of rock that include progressive, punk, thrash and many others, MASTODON doesn't pigeonhole themselves to a particular sound. Throughout their 17 year career, they have had success and achieved awards but haven't cracked the mainstream market except for the single "Curl Of The Burl" in 2011. With the "Show Yourself" now being played in regular rotation on terrestrial and satellite radio, MASTODON is on the rise and is gaining fans with their on stage performance that showcases their vocal abilities. All four members of MASTODON take the lead singer duties switching up though out the set. Guitarists Troy Sanders and Brett Hinds really shined on Sunday afternoon, especially during "Show Yourself" and "Mother Puncher" from 2001's Remission Album.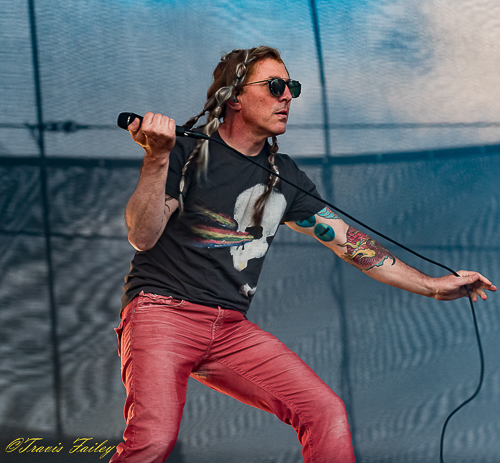 Sunday's sound switched again from MASTODON's quasi-prog sounds to the 80's punk sound of THE OFFSPRING. Original members, Dexter Holland and Greg K., have sold over 40 million albums and after hearing their set filled with recognizable songs that are stilled played today, like "You're Gonna Go Far", Why Don't You Get a Job?", you understand why. The crowd was more aggressive during the OFFSPRING's set than any of the other bands on Sunday with mosh pits opening up throughout: reminiscent of fellow punkers PENNYWISE's set from last year's Fort Rock. 16 songs of straight-forward anthem based punk rock that had security and the fans on their toes with male and female crowd surfers everywhere.
When the Fort Rock lineup was announced and A PERFECT CIRCLE was on the bill, there was an instant buzz in the music industry that remained until A PERFECT CIRCLE took the stage. Fans of the band were pressed up against the rail and everyone was treated to a rare sighting of vocalist Maynard James Keenan, performing as the sun slowly set of the final day of Fort Rock. It's rare that photographers are able to capture images of Maynard. He is a "bit" camera shy and will avoid being photographed to the best of his abilities. Accompanied by James Iha of SMASHING PUMPKINS fame, guitarist Billy Howerdahl and drummer Jeff Friedl, A PERFECT CIRCLE mesmerized the crowd with a 13 song set starting with "The Package", "Orestes" and ending with "The Outsider" as the moon now shined over Jet Blue Park.
Some of the fans started to make their way to the exit while others transitioned to the other stage for the final performance of the Fort Rock weekend by SOUNDGARDEN. As usual, SOUNDGARDEN and especially Chris Cornell, sounded great. He will go down as one of the best pure vocalists of our generation ala Robert Plant. SOUNDGARDEN had an awesome light show and was a perfect choice to end a diverse and solid lineup of music. Their twelve song set included their classics, "Spoonman", "Black Hole Sun" and "Fell On Black Days". They closed the show with "Jesus Christ Pose", which by no means is an easy song to perform vocally, even by the artist who originally wrote it.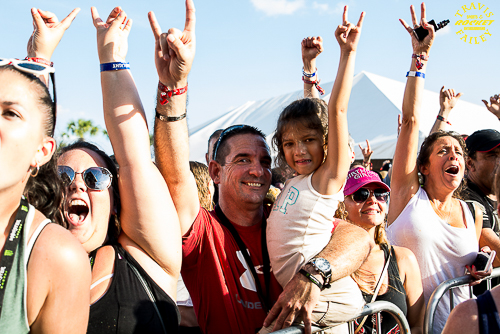 Day 2 of Monster Energy's Fort Rock as announced looked a bit uneventful and full of questions. After leaving JetBlue Park and making the trek home, those questions were answered with positive results. Sunday's lineup was as diverse as Saturday's was similar, with the exception of DEF LEPPARD.
Even the festival rookie bands really shined, and Danny Wimmer Presents, AEG Live and everyone who put this year's Fort Rock Fest together should be proud. Security once again did their best to keep the high flying fans safe and hydrated, and Lee County's finest maintained control and discretion.
With other fly by night festivals failing miserably, and more new bands to be discovered, the 2018 version of Fort Rock can't get here quick enough.
Thanks to Jordan Raiff of Jordan Raiff Photography for providing the I PREVAIL pictures.
FortRockFC, #AEGLIVEEvents, #rockville, #offspring, #theoffspring, #DefLeppard, #ChevelleInc, #paparoach, #alterbridge, #seetherofficial, #threedaysgrace, #OfficialITM, #MIWband, #nothingmorerock, #BEARTOOTHband, #cytatl, #soundgarden, #aperfectcircle, #mastodonmusic, #highly_suspect, #TPROffical, #InFlames_SWE, #EODMofficial, #ATRmetal, #starsetonline, #IPrevailBand, #DINOSAURPILEUP, #GoodbyeJune, #monsterenergy, #budlight, #southernh, #officialfye, #jakprints
Check out some photos from the show!
All Photos By Travis Failey/Rocket Sports & Entertainment And Jordan Raiff/Jordan Raiff Photography
Photo Gallery 1
Photo Gallery 2