Show Us Your Boobs!: An Exclusive Interview With CHRIS JERICHO Of FOZZY

By Rebecca Blaze, NYC Contributor
Monday, May 8, 2017 @ 3:40 PM

| | | |
| --- | --- | --- |
| | | "Bruce Dickinson is an airplane pilot, but IRON MAIDEN doesnít write songs about sitting in the middle seat and giving out small bags of peanuts." |
Live Photo By Larry Petro
After taking all of 2016 off, FOZZY is back with a vengeance in 2017 with a new album and tour. Lucky for us at KNAC.COM, Chris Jericho was willing to take time out of his busy schedule to discuss the upcoming "Judas Rising" tour, the new album, flashy jackets, and getting locked in a venue. This show is certainly one you donít want to miss, and to be sure you donít, head over to the FOZZY website to see when theyíll be playing a city near you!
KNAC.COM: Thanks for taking time out of your day to speak with me. I think it is cool of you and I appreciate it. After taking 2016 off, I donít doubt that you're excited to be back on the road with the Judas Rising Tour. Are you more excited about showing off new material, or are you more excited to just be playing shows again in general?
JERICHO: I think itís a little bit of both, especially on this tour, because it's more just going to be playing one or two new songs. I never really want to do too much new material before it's officially released. The single just dropped, the song is called "Judas", hence the ďJudas RisingĒ name. Any time you spend a year plus working on a record, writing songs, recording them, sometimes you kind of psych yourself out thinking, "This is brilliant, this is great, but is this as good as we think? I don't know if itís any good but I hope so..." and you spend so much time with the songs going over it time and again, so the true test is always just what the fans think. So, weíre always excited to put out a new song, see what people think of it, and then play it live and see what kind of reaction it gets. On top of that, just playing with the guys, getting in a room together and playing the greatest hits of FOZZY, it's always a blast, itís always a good time, so, itís very exciting on both those accounts.
KNAC.COM: Awesome, great response. So, aside from wrestling and working on the new material, how else did you spend your 2016?
JERICHO: That was pretty much it. Thereís always other things going on, like my podcast Talk Is Jericho and thereís always other projects Iím working on, but for me, the main focus is always on whatís on the docket at the time. WWE was going well in 2016, then 2017 it started to be more about recording the FOZZY record. Now WWE is done, and it is all about FOZZY. There's always ancillary things, but for my major projects, 2016 was WWE's year, 2017 is FOZZY's year, and going forward as well.
KNAC.COM: That's definitely something we're all very excited for. I currently live in New York City, but I hail from Milwaukee, Wisconsin, so seeing that FOZZY has a date there on this tour instantly caught my attention. Have you played Milwaukee before?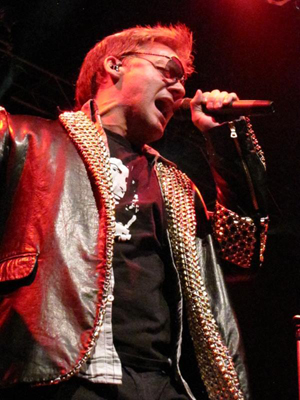 JERICHO: Yeah, the famous Rave Ballroom, played there in about 2013. We went down into the basement where somebody drowned in this underground pool that's now drained, there was also a big giant furnace, it's very much a Blair Witch Project type of a vibe. It was pretty creepy, to be honest with you. Whether you believe in that sort of thing or don't, just to be in there, you could feel that something is off about the place. Not to mention the fact that Milwaukee's a great rock and roll town, and a great Chris Jericho town, so, just to be there is a blast, but you know what? The fact that the show is in the haunted ballroom-- it's gonna make for another memorable night, for sure.
KNAC.COM: I spent a lot of time at The Rave when I still lived in Milwaukee, and you can absolutely tell that something is off, supernaturally speaking. But, it is my favorite venue in Milwaukee by far.
JERICHO: Yeah, exactly, I agree with that. I'm a pretty big believer in vibes and feelings. Is it a white ghost in a sheet thatís going to scare you? Not necessarily, but thereís something in there that's different from the norm.
KNAC.COM: Were there certain cities you wanted to be sure you hit on this tour?
JERICHO: There's all these cities that you want to play, but it all depends on what kind of offers you get, what kind of promoters there are, as well as what opportunities there are, so there is a combination of big cities and small cities, which is good since they're both a lot of fun. We'd love to do more of the West Coast and Canada. There's a Joliet show but not a Chicago show; there's an Asbury Park, New Jersey and a Patchogue, Long Island show, but not a New York City show, but all the shows are great towns. Thereís a lot of Pittsburghs and San Antonios, Milwaukees, Green Bays, and then there's Morgantown, West Virginia, and Virginia Beach, and Canton, Georgia. There's big and small, and in between. It always turns out to be a blast and a great show, because thatís what we do-- we make sure people have a great time when they come out and see us.
KNAC.COM: In the press release two weeks back about the Judas Rising Tour, it was said that we can expect a killer new stage show, can you elaborate on that without giving too much away? Are there any big surprises in store?
JERICHO: The thing with FOZZY is, we are the show. Our mindsetówe are the stars. Whether you have a dragon coming down from the ceiling or not, if the band isn't into it, if the band isn't energetic, the show's not going to be good. We have incorporated a couple cool things, nothing that I want to divulge. Nothing too crazy, but the way we're using it, it's quite unique and memorable and adds to the overall vibe of the show which is to have a great time, drink some beers, show your boobs, whether you're a girl or a guy, we don't care... just have fun! That's what FOZZY is all about. We want them to leave going "That was a great time, I want come again, and I want bring my friends next time and make them feel stupid for not showing up this time around." We've never had a lot of production before, so, just by incorporating a couple of these little things, we think it goes a long way, so we're excited about it.
KNAC.COM: After you guys finish the US dates, you're heading to the UK for Download Festival, and then there was one other date that I saw. Do you have any plans to add more UK shows since you'll already be there anyway?
JERICHO: Nah, not this time. There might be one or two other secret shows, but we're going to be going back there in full in October or November. Download's a huge show to play. It's the fourth time we've been there, second time we've been on the main stage. If you get invited, you show up. So it's always good to play one or two other gigs as kind of ancillary gigs to pay the bills, but whether you do more or not, itís based around Download. A lot of times, when you do Download, you can't do a London, Birmingham, or Manchester show, because the festival insures all eyes are on them; thatís the way it should be. To play a couple gigs in some seriously sweaty punk rock type clubs-- which is always a blast-- kind of whets the appetite, lets people know that we're back, and that we'll be returning in October or November to do a full UK/ European tour.
KNAC.COM: FOZZY has a new record coming out sometime this year. Is there a timeframe for that release yet?
JERICHO: September, I believe. I'm cloudy on that. I know the single is out this month, so the record is probably September, after Summer.
KNAC.COM: Are there any collaborations with other artists on that record that you're excited about?
JERICHO: We do have one guest, but we haven't gotten the release yet. Until then, we don't technically have them. Even though the part is finished, until you get that legal piece of paper that says "You can use this guy," you canít. So, we have somebody, but we canít say because were gonna [laughs] have to get rid of him if we donít get that piece of paper. But, we have a great tradition of people being on our records-- Michael Starr from STEEL PANTHER last time, or M. Shadows from AVENGED SEVENFOLD or Jeff Waters from ANNIHILATOR-- a bunch people that have been on our albums. We always try to incorporate somebody like that. Itís fun. Musicians like playing with other musicians.
KNAC.COM: Being that you both wrestle and are the front man for FOZZY, I'm sure, and actually know for a fact, that there's many crossover fans. So as service to them, why isn't there a song called "The Walls Of Jericho"?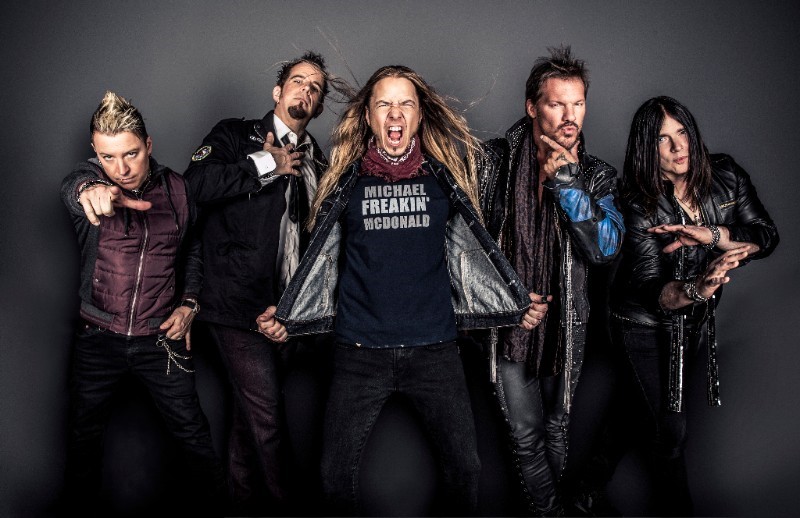 JERICHO: We keep them separate. Itís very hard to have credibility at first when I'm in the band. I'm sure Taylor Momsen went through that at first with THE PRETTY RECKLESS, Iím sure Jared Leto went through it with 30 SECONDS TO MARS; we wanted to keep them completely separated. I think itís one of the reasons why we've become as successful as we have, people know this is the real deal. Weíve got to work twice as hard to gain people's respect. Once we get it though, we've got it for life, and that's something thatís very gratifying for us. We take that very seriously. I think when we first started 15 years ago, half the people thought we were going to be doing wrestling moves on stage, or singing songs about body slams. Bruce Dickinson is an airplane pilot, but IRON MAIDEN doesnít write songs about sitting in the middle seat and giving out small bags of peanuts. It's two separate things. Thatís the way it should be, thatís the way we like it, and thatís the way we're going to keep it.
KNAC.COM: I'm a huge KISS fan, I've been on all the KISS Kruises, and I know FOZZY was on KISS Kruise V. I know you're a KISS fan as well, and the few times I did see you around the ship, you seemed to be having a blast. What was it like to play the same stage as a band you've listened to since you were a kid?
JERICHO: It was great. We had some great tours in the last couple years between METALLICA, AVENGED SEVENFOLD and SLASH and they were great. Doing these tours or being on the same boat as KISS and knowing that they invited us, hand-picked us to play, it was one of the greatest experiences, not only as a professional, but because playing in a cruise is a blast, itís easy-- You stay in your room, go down and play your gig, come upstairs, shower, hit the casino, go tanning on the deck, whatever it may beóbut doing it as a major KISS fan, seeing KISS Alive! in its entirety and hearing nothing but KISS music throughout the ship, seeing other KISS and rock and roll fans, it was great spotlight for FOZZY, and also a great experience as a fan. I get asked all the time, "Are you going back on the Kiss Kruise this year?" and I think, "If FOZZY is invited, I'll be the first in line.Ē I could never go as a fan now. Once youíre there playing it, to go back to just watching, I don't like watching. I like doing. Hopefully, we'll get a chance to go back and do it again, and if not, it's one of the greatest experiences of our career.
KNAC.COM: Speaking of cruises, last year you'd posted a survey on Twitter about a rock and roll wrestling cruise. Have any plans for said cruise moved forward?
JERICHO: They have been moving forward! There is a lot in the pipelines... so stayed tuned! Watch this space for more information.
KNAC.COM: Out of curiosity, who made the light up jacket that you've worn on WWE?
JERICHO: There's actually four of them. They're made by a guy called Johnathan Logan in Los Angeles. He does Justin Bieberís stuff and Brad Pittís stuff, Billy Idol, David Lee RothÖ I happened to have an idea, and thru a set of circumstances, we connected, have been working together since 2012, and have created some beautiful pieces; some that light up, some that don't. He recently made a light up scarf that I wore at Wrestlemania and that I've worn the past couple weeks. Itís always cool to find someone that shares the same vision, and his work is tremendous, so it was cool that this late career resurgence that I had with the jacket being this iconic prop that no one had ever seen before, and maybe no one ever will again. I'm sure someone will try and rip it off, but, unless they get someone like Johnathan to do it, it won't be as good.
KNAC.COM: Have you ever gotten electrocuted by the jacket?
JERICHO: No, they break down from time to time, but itís all battery related so you can't get electrocuted. There's been times the wires break, or the battery doesn't work, and the thing shuts down, and thatís a pain in the ass when you're getting ready to go on. I wear them with FOZZY too, and when you're wearing it on stage and it dies on you, you're worried about it. You take it off, and do the gig, and all you care about is trying to fix the stupid jacket that's not working anymore. Then what am I supposed to do? Thatís the thing about production. Itís great to have the props, the cues, the effects, but when they don't work you feel like a real idiot. And even though no one in the crowd has any idea, you know, and it throws you off your game a little bit. I've had to deal with all aspects of the jackets functioning, malfunctioning, being very temperamental, breaking just by holding it, but if you're going to get into those waters you've got to deal with the good and the bad.
KNAC.COM: What is the best thing you've ever experienced while out on tour? What about the most unfortunate, or the worst?
JERICHO: Just getting to be on tour. Getting a chance to live your dream, and for me to live my dream of wrestling and of rock and roll at the highest of levels. Playing stages with METALLICA, or doing cruises with KISS, all that stuff makes you feel appreciative of what you have. The fact that I can tour the world and get paid for doing something that I love, it's pretty big to be a part of that, to be able to enjoy that. Unfortunate? Nothing comes to mind. We had a bus crash once in Germany in 2011, but no one got hurt and nothing happened, so we dodged a bullet on that. We've been lucky though as far as unfortunate things. It's all been cool stuff.
I got locked in a venue once. I was hanging out in the dressing room and I didn't realize that everybody had left. The alarms were turned on, the steel doors were closed, there was no reception in the building. I got stuck for around three hours until they figured out where I was. That was kind of creepy, you start freaking out, thinking, "What if everyone left?! What if thereís a fire?! How do I get out of here? Like a rat in a cage. Stupid SPINAL TAP shit like that happens all the time on the road and if youíre in a touring rock and roll band, or even wrestling, SPINAL TAP is so close to the truth. Truth is stranger than fiction, thatís for sure.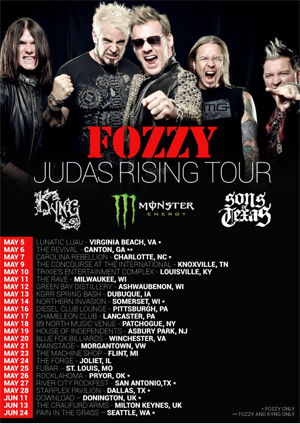 KNAC.COM: Trailing off that last question, whatís the craziest fan or groupie story you've got?
JERICHO: It always throws me when people get tattoos of me, the FOZZY logo, our lyrics, that's a committed fan. Whenever you see that, that's for life, and that's something that really gives you perspective. ďWe better never break up or else this personís gonna have a really stupid tattoo.Ē People make elaborate cakes for us, sugar versions of ourselves that look exactly like us, people have drawn FOZZY comics, where every guy in the band has some kind of a super power. We're like, "How much time did you spend on this?!" But we love those people. We do tours of Europe where people come to every show. Every show! There's people out there that have been to like 150 FOZZY shows, and that blows my mind. Those are the types of fans that make you smile, make you realize that what you're doing is a little bit beyond your control.
So many people are excited to hear "Judas", and that feeling that you get, you know, one of the greatest moments in life, is when your favorite band puts out a new song, and the first time you hear it, you love it. Itís the best feeling in the world. Itís like, "Oh my god, I've been waiting for so long, this is amazing!" And I still have that! Whether it's METALLICA, AVENGED SEVENFOLD, IRON MAIDEN, the STONES, whatever. To know that thereís people in the world that are gonna feel the same way when they first hear or see the video for "Judas", itís a real humbling feeling, to say the least. Itís something I cherish and I never take for granted.
Every one of our fans that has ever listened to a FOZZY song, I appreciate it, whether you joined us on the first album and left right away, are just joining us now for "Judas", or youíve been here for the past 15 years. Everyoneís welcome at a FOZZY party. The only people that don't like our band are the oneís that have never heard us. Thereís a lot of people that say, ďOh FOZZY sucks," and you ask if they've heard any of our songs and they're like "No, but Chris Jericho is the singer." Every band has some kind of hook, KISS has makeup. You might check out the band for whatever reason, which could be the marketing tool. But itís either good music or itís bad music. If its good music, who really cares what the gimmick is, if its bad music, who really cares what the gimmick is? Itís all about the song writing, how you connect with the audience, what kind of material you're doing, and the quality of it. If you have good songs, you'll always come out on top. Always.
KNAC.COM: Before I let you go, is there anything else you want to let fans new, old, or even unrealized, know about the Judas Rising Tour, and what the rest of the year has in store for FOZZY?
JERICHO: I think I pretty much said it. If you want to come to a rock and roll show and forget your problems and have a great time, we're your band. If you've seen us you already know thatís the case. Nobody has ever left a FOZZY show feeling unsatisfied or upset. If you've never seen us, get off your ass, man, what are you waiting for?! There's a lot of issues in the world and we'll take those issues away for a couple hours and you'll have a great time, I guarantee it. That's a money back guarantee. Although, I won't actually give you your money back... I donít literally say it, I don't literally mean it, but that point should be clear.
Please log in to view RANTS