Photos By Travis Failey/Rocket Sports & Entertainment
Get ready to rock: Fort Rock that is! The festival is back for its 5th year, 2nd as a two-day event. It's produced by Danny Wimmer Presents and AEG Live, and is part of the World's Loudest Month festival series.
Fort Rock is South Florida's Biggest Rock Festival and will take place on April 29th and 30th, at JetBlue Park, located at 11500 Fenway S. Drive, Fort Myers, Florida. Jacksonville's sister festival, Welcome To Rockville, takes place the same weekend. It's an all-ages event. Rain or shine, monsoon, whatever. Doors open at 11:00 am, and there is no reentry.
"We can't wait to party and kick off the World's Loudest Month by celebrating five years in South Florida at JetBlue Park this April," said Clay Busch, Vice President of Marketing and Strategic Partnerships for festival producer Danny Wimmer Presents.
This year's lineup has something for everyone with a band that was huge in the 80's, DEF LEPPARD headlining Saturday Night and a rejuvenated SOUNDGARDEN headlining on Sunday.
DEF LEPPARD has been touring consistently over the last few years and their stop in Tampa last year proved that they still have what it takes. A much maligned Joe Elliott was great on vocals and the show was a party full of hits from both the past and present.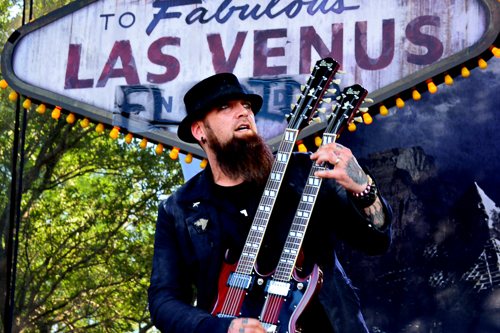 CHEVELLE is going out in support of their new release The North Corridor and Fort Rock will be their second stop of the tour which will span the U.S. from Florida to Oregon. The Chicago-based band has sold over 4 million albums and they are looking to equal the success of their last release, La Gorgola, which hit number one on the rock charts.
PAPA ROACH are back at Fort Rock to perform their catalog of hits spanning 20 plus years of playing together. Vocalist Jacoby Shaddix is a powerhouse on stage and whether you love the band or not, Shaddix gives the crowd a great performance every time out.
Other bands performing on "Non-Stop Saturday" include The World's Loudest Month veterans and hitmakers, ALTER BRIDGE, SEETHER, THREE DAYS GRACE, IN THIS MOMENT, MOTIONLESS IN WHITE and San Antonio's NOTHING MORE.
NOTHING MORE will be back out on the festival circuit after being in the studio working on their much-anticipated follow-up to their breakout self-titled release. Can these guys keep up the momentum that they have gained since opening for ADRENALINE MOB a few years back and their epic performance at Aftershock? Let's hope so as they are a great group of humble guys.
BEARTOOTH, formed in 2012, could be the breakout band of this year's festival season. The Ohio natives have been getting some great feedback and airplay on Sirius/XM Octane with the single "Hated" and after opening for SLIPKNOT and SUICIDAL TENDENCIES, it's their time to take a bite out of the industry.
COVER YOUR TRACKS gets the opening slot on Saturday looking to get the early crowd geared up for a Monster Energy weekend of music at Jet Blue Park in Fort Myers.
Sunday's artists will provide diverse genres of music at the two stages at Fort Rock as elements of punk, grunge, alternative, progressive and metal will be represented.
SOUNDGARDEN will headline Sunday and they will have a tough act to follow as there is a huge buzz about the upcoming festival appearances of Maynard and the guys in A PERFECT CIRCLE. The band has stated that they have been working on new material and could tour with a new release, but with the recent TOOL dates being announced, the band could be in for another long hiatus after this 22 tour date run that starts on April 6th in Vegas and ends on May 7th in Los Angeles.
Other bands on the Sunday schedule include past performers at Fort Rock, THE OFFSPRING, THE PRETTY RECKLESS and the spacemen themselves, STARSET.
Some of the festival's virgins on Sunday's schedule are the EAGLES OF DEATH METAL, MASTODON and the anticipated performance of HIGHLY SUSPECT. HIGHLY SUSPECT has been all over the rock and alternative charts and were nominated for back to back Grammys: Best Album in 2015 for Mister Asylum, and in 2016 Best Song for "My Name Is Human".
On Sunday, the day crowd will experience a more aggressive style of music, as IN FLAMES and ALL THAT REMAINS will be providing plenty of music to mosh to. Last year the ANTHRAX and MEGADETH pits were huge and I think this year's bands will give those pits a run for their money and we may even see a "Wall of Death."
MASTODON will be providing a style all their own. Bassist Troy Sanders summed it up when he stated that MASTODON's music has progressive rock, with bits and pieces of thrash and punk, plus psychedelic-ness sprinkled throughout. They are also experiencing their most commercial success with airplay on Octane as "Show Yourself" is charting on Octane's Big Uns Countdown.
Rounding out the lineup are the EAGLES OF DEATH METAL, (who do not play death metal), English alternative artists DINOSAUR PILE-UP and GOODBYE JUNE. I anticipate that GOODBYE JUNE is going to impress everyone who makes it out to see their early set on Sunday, just like RED SUN RISING did last year.
Miles Kennedy from ALTER BRIDGE: "We're stoked to be kicking off the World's Loudest Month at Fort Rock with ALTER BRIDGE. It's gonna be epic so don't miss it!"
"We are thrilled to return to Fort Rock," THE OFFRSPRING singer Dexter Holland said in a December 2016 press release. "Florida crowds are some of the best in the world!"
Tickets are still available HERE and you can be an ambassador for Fort Rock and get in for free. For more info on that, click HERE.
All ticket sales include a $.25 charity fee that will benefit a local music-related charity. Personal lockers will be available. Multiple ATMs will be available inside the venue. The venue is also handicap accessible.
Things you can't bring in: Coolers, outside food/beverages, video cameras, Go Pros, audio recording devices, laser pointers, laptops, drones, chairs, umbrellas, beach balls, backpacks, bags, weapons, drugs, pets, chains, or spikes (got all that?). You cna find more info HERE.
Do bring: Sunscreen, hats, sunglasses, cell phones, binoculars, earplugs, blankets/towels, small purse or hand-held clutch, small/medium sized clear plastic bag, one-gallon re-sealable zip top bag, and a clear or mesh drawstring bag.
Some personal suggestions from a seasoned veteran: Get yourself a cool towel like this kind from Amazon or Wal-Mart.
Another suggestion is to bring an extra shirt and socks. You will sweat a ton and a change of clothes will be refreshing. I would definitely suggest a locker. http://fortrockfestival.com/info/#lockers
There will be great food available, even healthy options, and of course Budweiser and Monster Energy Drinks. Other sponsors for the event are Southern Hospitality Concessions, FYE, and Jakprints and the security guys are the best at what they do to keep you safe.
We hope that you can join us for another amazing weekend full of music at the 5th Annual Monster Energy Fort Rock Festival. It's a festival that you won't soon forget.