Photos Courtesy Of THE GRAHAM BONNET BAND Website
We're backstage before the show in the bowels of the vintage Arcada Theater in St. Charles, Illinois - a venue in the Chicago metropolitan area that most bands and artists anticipate and enjoy playing. Perhaps not surprising, then, hard rock vocalist extraordinaire, Graham Bonnet, is full of easy-going candor and good humor prior to THE GRAHAM BONNET BAND's opening slot for the Uli Jon Roth tour stop on this night in early March.
First we reminisce about a previous interview done during the ALCATRAZZ years, before catching up on Graham's current exploits tour with his current band, recent/upcoming stints with the Michael Schenker Fest, and his most recent opus, a double album called The Book, released in November of 2016:
KNAC.COM: I want to ask you about the album - The Book, of course - and get your own words on that - and I also know you participated in the Michael Schenker Fest last summer, and that Tokyo date is also coming out as a live recording, and I was wondering how that went for you.
BONNET: Oh, it was good! It was great, yeah! I haven't played any of those songs live, ever with him. There was just the album and I was fired from the band. You probably know the story, right? (laughs)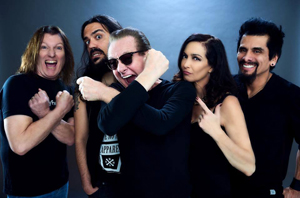 KNAC.COM: Well, yes, I do. (laughs) But you could tell the story again anyway!
BONNET: Do I have to go there? (laughs) It involved naughty parts... Onstage too.... But, anyway .... It's a long story, so I won't tell it again! (laughs) But, it (Michael Schenker Fest) was good, to actually sing those songs live, it was a good experience! We did make it all the way through - thank you - I actually got to sing them live!
KNAC.COM: That's a good point that I'd forgotten about, that you never really ever got to sing them live, and those were great songs on a great album. There were some very good songs on there.
BONNET: They're not bad! We do a couple; we play a couple of songs from that album.
KNAC.COM: Are you going to do the Michael Schenker Fest again?
BONNET: Yeah, we're going to do it again later in the year, I think. I think Gary Barden is doing it again, and...
KNAC.COM: McAuley?
BONNET: Yeah, Robin - Robin McAuley, yeah. So, it'd be the three of us, like before. The first time I sang with those guys, we did it in Japan.
KNAC.COM: Yes. He [Michael Schenker] did say that it looked like there'd be more shows, so I just wanted to get it from your perspective. And regarding your own most recent album, The Book, which was released in November. That's a double album, and the one is all new material. Some of those songs are out on things like Pandora. I don't know how aware you are of that...
BONNET: Well, Yes and No...
KNAC.COM: Well, some of them from The Book are on there.
BONNET: Oh, good!
KNAC.COM: Was that album recorded in L.A.?
BONNET: It was, except for drums, and some of the guitars. I did all the rest of it at the house, you know. That's all you have to do now.
KNAC.COM: Yeah, yeah. And the band that's playing with you now, did they also play on the record?
BONNET: Except for the drummer. We've got a new drummer now - a guy called Martin - played on the album, but now we've got a new drummer - all the rest of them are the same. [Beth-Ami Heavenstone, bass; Jimmy Waldo, keyboards; Mark Benquechea, drums, and Conrado Pesinato, guitars.]
KNAC.COM: Well, the guitarist, in particular, is great. But, throughout most of your career, you have been in bands with fantastic guitarists. A notch above.
BONNET: I've been lucky. Yngwie [Malmsteen] was such a different guitar player at the time, because no one was playing like that! I liked Ritchie Blackmore - he was a huge fan of Ritchie Blackmore - and then he took that a step further and developed his own style. And when he joined the band, I thought, I wonder how long he's going to stay with us. Because, I thought maybe he'd think, "I wonder if I can do this on my own ...." And, of course he did eventually go off on his own, and he did really well. And, the band - ALCATRAZZ - didn't do as well as he did. He did great! Guitar players are worshipped by everybody - don't ask me why! (laughs) I don't get it. But I knew he had a great career ahead of him.
KNAC.COM: And you played with Michael Schenker of course, and Steve Vai, and...
BONNET: Yes, but Michael was before we formed ALCATRAZZ - in my garage.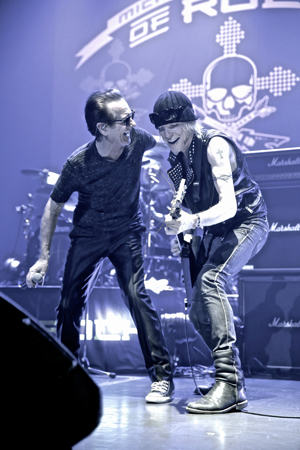 KNAC.COM: So have you been living in L.A. all these years?
BONNET: Yes, since '79.
KNAC.COM: OK, and, as you said, you recorded the new album, The Book, there once again, and that included not only an album of new songs, but also an album of some of your re-recorded classics. How how did that come together?
BONNET: It was all done within two or three months. It was a helluva lot of work, I can tell you that. It was like doing three albums, not just two, because the re-recordings of the old stuff we had done, was hard for me to do because I always think the original recordings are the best. And how to put new life into songs that have been sitting there for 30 years? In the cold studio, and just sitting in front of a microphone...How do we liven it up again? Here we go, for the nineteenth million time, you know? How could I make it so I really like it?
KNAC.COM: Well, I imagine you had to dig down deep inside.
BONNET: I did!! I had to pretend I was 30 years old. It was like OK, I'll try!
KNAC.COM: You can still hit the notes!
BONNET: Yeah, well we did things pretty much as close to the way it was, and then added a little bit.
KNAC.COM: Well those are VERY powerful vocals.
BONNET: Yeah well, I try.
KNAC.COM: Well, what are your immediate plans? Do you like touring still?
BONNET: It depends. Sometimes...Sometimes the gigs aren't so great. People aren't always into this kind of music anymore. That's the problem. We don't get to play that much at home anymore - in the States - because it's all overseas. It's everywhere but here. So, what we're trying to do now is build a reputation here, because maybe people wonder what the hell has happened to me or ALCATRAZZ, or whatever the Hell...
KNAC.COM: Well there are still some parts of the country that remain receptive, like the Chicago area.
BONNET: Yeah, and go back East, like Connecticut or whereever, and there's an audience there, and I know there's an audience here, but it's just finding them. Where are the right places to play? Because this isn't the trend in music anymore. It's old folks music; moms and dads!
KNAC.COM: But some of the younger ones do like it.
BONNET: Oh yeah, I was just telling someone yesterday - I remember playing in Finland, I think it was at a festival, and a kid comes up to me, about 8 years old, and he said, "I love that track from your first album ..." And they start singing that song and say, "My dad has that album..."
KNAC.COM: Well, it is not unusual, but I have a son who is a musician - a vocalist/frontman actually! And they all know the history of heavy rock, and what came before, so all the musicians are tuned in, even the young guys.
BONNET: Oh, yeah. It's great to find the new audience that is going on. Before I die! (laughs) But I'm not hoping to die yet! It's fantastic!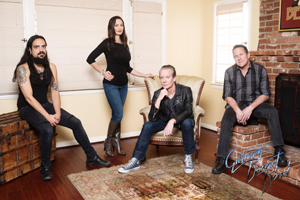 KNAC.COM: Oh right. There's many younger ones that know the songs even if they don't know the artist behind them, and if they do, they appreciate the artist behind those classic songs.
BONNET: Yeah, it's magic!
KNAC.COM: And it's my job to educate the younger ones!
BONNET: My grandkids say, "Can we put Granddad's song on?" They're like six and nine, so that's another audience there! (laughs)
KNAC.COM: That's true.
BONNET: They're very young, but they love all that music, and that's incredible to me .
KNAC.COM: When there's a great melody or rhythm there, there's always going to be an intrinsic attraction to it. It'll never go out of style in that way.
BONNET: Yeah, that's right. People that have nothing to do with what I do. THE BEATLES, and THE BEACH BOYS, completely different king of music. But, I remember, when we used to rehearse with Michael Schenker and Cozy Powell was playing drums - I used to stay with Cozy at his house in Oxford and Cozy used to say, "Shall we play some real music now?"
KNAC.COM: Well, I remember those days, in the 70s, and even the 60s, when music was so eclectic!
BONNET: Oh, absolutely! I just hope people like the new album. I know I do. I'm pleased with it, and it was sort of done quickly and economically, but it's nice.
KNAC.COM: Was the songwriting done quickly too?
BONNET: Well, no, I had some ideas knocking around in my head for a long time, you know, and I eventually put down the ideas that I had, which are on The Book album now. I was helped by Conrado Pasinado [guitars] - what a name that is! - on arrangements and stuff, and with our drummer, we put the songs together. I had a lot of ideas, so what I normally do is I play them acoustically and then I say, okay now, let's make that into a band song, which I've always done with every album I've ever done. I actually had some songs in my mind from the ALCATRAZZ times, but we never recorded them, and now they're on this new album.
KNAC.COM: Had you even demo taped them previously?
BONNET: No! I just had them in my head.
KNAC.COM: Well, as I said before, they are powerful songs - they sound like you actually were 30 when they were first done. When I listened to some of them on Pandora, I had to think whether those were old songs or new songs.
BONNET: Oh, well thank you for saying that! I enjoyed doing the new songs, but the old songs I found hard to do because to have that thing going - "Aw, this is great"- when something is new, and to put that same of energy into it, it's very hard after singing these songs for thirty something years.
KNAC.COM: You kind of have to be an actor to do it, don't you?
BONNET: Yeah, especially when you don't have an audience. When you're doing it live, you can see people smiling back at you, and singing, and all that kind of thing, but to do it cold, with just you and the microphone; it's like, "Oh, God, how many more takes of this do I have to do?" (laughs) I thought it turned out okay, but I tell you what, I can't listen to it anyway!
KNAC.COM: You can't?
BONNET: No, because I'll go, "Oh, No! It's nothing like the way I wanted it to be."
KNAC.COM: Have you always been like that?
BONNET: Yeah. I never listen to anything at all. Ask me what's on the new album, and I have no idea! (laughs) I actually have to think about the titles.
KNAC.COM: Even if I played this interview tape back right now, you probably wouldn't want to hear your voice?
BONNET: No, no! Soon as it's done, I'm done. Next!
KNAC.COM: Because of being hyper-self-critical?
BONNET: Yes, it's like, "Oh, God, that's too sharp, that's too much vibrato, that's too croaky, I don't like the words, let's change the words - never mind!" (laughs) But everybody in the band was pleased with what I did. So, I said, shouldn't I change that? And they were like, No, No, leave that as it is. So, I always ask everyone else in the band what they think, and if they say to stop, I stop.
KNAC.COM: That's interesting to know how critical you are of yourself.
BONNET: Oh, Very! (laughs) I always have been