I spoke with Harley Flanagan last May about his 2016 release Cro-Mags and upcoming book Hard-Core: Life Of My Own. During that conversation, Flanagan gave the specifics regarding what led up to and followed the 2012 Webster Hall altercation with his former band mates, much of his musical background and the writing of his autobiography. I caught up with him again recently for an update on his book release and to talk about some of the other projects heís been working on since our last conversation.

KNAC.COM: Your autobiography Hard-Core: Life Of My Own was released September 27, 2016 and is doing well. Whatís your take on peopleís reception to the book, particularly in response to how open you are about your life?

FLANAGAN: Itís doing well. I donít know if itís a best seller, but itís doing pretty damned well. Itís definitely going beyond my expectations.

Peopleís overall reaction has been really good. [Laughing introspectively] A lot of people are surprised Iím still alive. People are also able to connect a little bit more to me now that they know my background. Iím not just this guy from the CRO-MAGS. There was a lot going on before that. I have a pretty long and crazy history. The response has been really good, though. I kind of expected that thereíd be some negative feedback, but I honestly havenít heard any.

KNAC.COM: Along those lines, after our last conversation, quite a few people asked about my experience talking with you. I think they were surprised when I told them how eloquent you are what an awesome person you are to talk with.

FLANAGAN: [Laughing] Did they ask, ĎHe didnít try to bite you or anything did he?í You know; Iím a little older now and Iíve slowed down with age. No, Iím kidding, man. You know what, bro? I come at people the same way they come at me. The only people who have anything nasty to say about me are people who came at me in a shitty way. I always show respect to people who show it to me.

KNAC.COM: On May 19, 2016, just after we last spoke, John Berry passed away. He was one of the original BEASTIE BOYS all of whom you were close with growing up. I know his passing hit you really hard.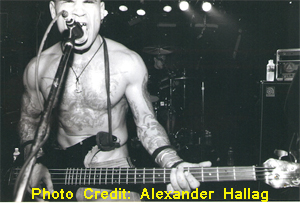 FLANAGAN: They were some of my really close, childhood friends, especially on the scene here. Those guys were all a little bit older than I and we were really the youngsters on the scene. Everyone else was an adult for lack of a better way to put it and we were in our very early teens. I was probably 12 or 13 when I started hanging out with those guys, so it sucked to hear that heíd passed. Itís crazy how many people from that era are dying and way too young.
KNAC.COM: Youíre working on some fund raising and charity projects right now.
FLANAGAN: As you know, Dr. Know from BAD BRAINS had some health issues awhile back and I wanted to do something for him back then. I reached out to the other guys from the CRO-MAGS to see if something like that might be a reason to put aside some of our personal issues to do something positive, set a good example and help out a friend. Unfortunately, that didnít pan out. Dr. Know and Darryl (Jenifer) reached out to John (Joseph) about it. Long story short, he wasnít too receptive to the idea.
Since then, Iíve wanted to do something for Dr. Know and have been in the studio working on a new record. I had the new songs, so I made an EP available online, 48% of the profits from which go directly to Dr. Know. There are a few other things as part of the fundraiser, as well, such as private bass lessons, private Jiu-Jitsu lessons and some other things. Itís something I feel I have to do. Heís someone whoís been a huge inspiration for me musically and the members of BAD BRAINS are also very close to my family and me.
Iím not a rich man, so I donít have money I can donate to him or anything. I have kids and bills. Iím just a struggling person like everyone else, but I write music and I wanted to give something back. This was an opportunity, and hopefully, all the fans of CRO-MAGS, BAD BRAINS and my music will pick up this new song and know that in doing so theyíre helping someone to whom we all owe a debt of gratitude.
Iím just trying to do the right thing. Thereís a lot of posturing and talk about PMA in hardcore nowadays, but beneath the surface itís a lot of bullshit and self-promotion. The CRO-MAGS is the perfect example, but itís really just the tip of the iceberg.
From the bottom of my heart, I wish the CRO-MAGS had gotten together to do it. It would have been really meaningful to show everyone that, at the end of the day, PMA are not just three letters. You have to lead by example and you truly do need a positive mental attitude. You have to be able to forgive people, give people a chance to redeem themselves and be open to ideas and change. Itís sad, but I think those guys just canít get past themselves. Thatís part of a lifelong process of learning how to get past your own bullshit.
KNAC.COM: Youíve also got some other new projects going on, as well.
FLANAGAN: Yeah! Iíve been getting together with Melle Mel and some other legends of the past and present working on some new material. Iím currently in the studio and will be touring Europe twice this year. Iíll also be playing a couple of festivals out on the West Coast. Iíll be playing material from the last album, some new material and a bunch of CRO-MAGS songs, too, because people always want to hear them and I still enjoy playing them. It should be a lot of fun.
KNAC.COM: Some of your other efforts have also come to fruition of late.
FLANAGAN: Yeah! My song ďLets GoĒ was just played at the Super Bowl! [ďLets GoĒ is a song by Chris Clemence, co-written by Harley Flanagan and Ray Castoldi and featuring Harley Flanagan. It was written as a stadium anthem for all New York sports teams.]
I recently inked a deal with Wal-Mart to carry officially licensed CRO-MAGS merchandise, as well. Iíve just got a lot of really cool things going on right now. It comes down to this. You canít wait for things to happen. Youíve got to make them happen.
Harley Flanagan is certainly making things happen. He continues to write and record new material and his autobiography provides readers with an unfiltered look into his life. Heís also a strong proponent of making a positive contribution, be it through charitable fundraisers or teaching Jiu-Jitsu at the Renzo Gracie Academy. Flanagan will forever remain synonymous with the NYHC scene, but that which makes him hardcore may also be what drives him to find and create new and different paths to success.