Live Photo By Gnarly Charlie
Progressive metal band ONI released their debut album, Iron Shore on November 25, 2016 on Blacklight Media/Metal Blade Records.
ONI will embark on the I Worship Chaos Tour, beginning November 23, featuring headliners CHILDREN OF BODOM and fellow special guests ABBATH and EXMORTUS.
KNAC.COM caught up with vocalist Jake Oni after the bandís set at Knotfest 2016 on September 25, 2016 at San Manuel Amphitheater in Devore, CA. Here is what he had to say:
KNAC.COM: Tell me about ONI.
ONI: Weíre all from Ontario, Canada. Some of the guys live out in L.A. Weíve been a band for like three years now, but weíve all kind of played with each other in other bands before. We recorded an album, not that long ago with producer Josh Wilbur (LAMB OF GOD, MEGADETH). It was great. We signed with Metal Blade then Blacklight Media.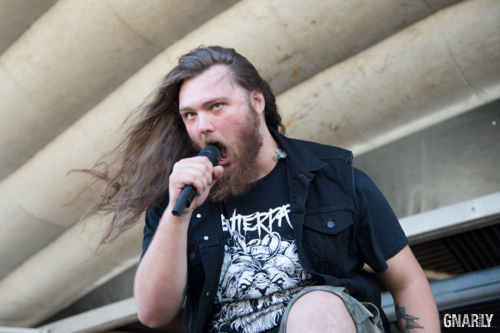 KNAC.COM: Where do you live?
ONI: I move around between Canada and Cayman Islands in the Caribbean. Everyone is e-mailing each other parts all the time.
KNAC.COM: Cayman Islands?
ONI: I grew up there. I moved there when I was a baby. My accent changes when Iím there. Iíve always been a metalhead and Canada was definitely where I found my metal voice.
KNAC.COM: What inspired you to be a singer in a metal band?
ONI: I had always performed. Iíd go sing in a talent show, like a METALLICA song. At a young age Iíd do shit like that, or be in plays and shit. I was always down to be onstage. But I wanted to do my own thing and make my own music. I was in college in the UK and I hit up some of the guys in Canada about forming this band.
KNAC.COM: How did you become acquainted with Randy Blythe? (Blythe provided guest vocal on the track ďThe Only CureĒ.)
ONI: We called Josh Wilbur up because we were going to get a guest vocalist for one of the songs. I was like, ĎMan, no one knows who the fuck we are. Letís use some of the leverage we have to put a spotlight on us.í Heís such good friends with Randy that it was no problem. Randy was going to do it for free. Heís such a good guy. I sent him the songs and he dug the music a lot. Josh is a good friend of his and now heís my friend, too. Itís fuckiní rad. Randy named the album.
KNAC.COM: Youíre very ferocious onstage.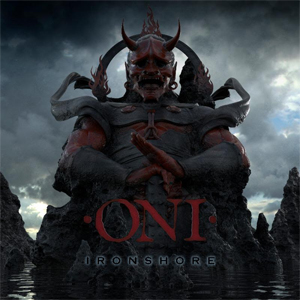 ONI: Thank you.
KNAC.COM: Youíre very disarming off the stage.
ONI: Iím just a nice dude, man. I like metal. Iím a musician. I like music. Itís what I do for fun.
KNAC.COM: Anything else you want to say in closing?
ONI: Oh, dude. The record is so fucking cool. Itís sonically amazing. Very pleasing to listen to. We try to write really progressive music thatís fucking out there shit, and at the same time we try to keep it heavy and groovy and hook-y, too. So we try to get a good mix. Check it out. Randy took a photo. In fact, Randy named the album Iron Shore. That was his idea. Shout out to Randy.
KNAC.COM: Props to Randy Blythe.
ONI: Props to Randy Blythe.