JUNKMAN Recaps The 2016 LOUDER THAN LIFE Festival With Photos!

By Junkman, On-Air Personality
Friday, October 21, 2016 @ 2:23 PM

| | | |
| --- | --- | --- |
| | | 2 Days Of Music, Food And Fun |
All Photos By Junkman
Louisville Kentucky was the scene, once again, for the Louder Than Life Festival, a gathering of some of the biggest and best rock acts of today, along with a ton of gourmet and specialty food booths as well as local brewers of beer and bourbon. Sounds like a lot to take on? Yes, that is correct, but I do believe I am just the man for the job. As a matter of fact, if the reports are correct, about 50,000 others had the same idea.
So we descended upon Champions Park in Louisville and were greeted by a huge Louder Than Life logo that not only welcomed attendees to the event, was a great place for groups to take a photo. To the left were a ton of food and drink booths and trucks. Everything from BBQ to loaded tater tots to bison hot dogs and sausages, lobster rolls, gourmet pizza, to ice cream and, of course, plenty of beer. The longest lines of the weekend though were at "Wild Bill's" crafted soda stand where for 25 bucks, one could purchase a steel mug emblazoned with the LTL logo and have free refills of Wild Bill's delicious, root beer, birch beer, and other delights. The mug was a very popular souvenir that I joked, "would not shrink when you washed it".
There was also an F.Y.E. "fan experience" tent that sold CD's from the various artists that played the festival, as well as conducted autograph signings throughout the weekend. A pretty consistent line formed all weekend long and backed into the eagerly awaiting camp of booths that sold everything from bandanas, hats, and smoking supplies. A "Music Experience" tent with instrument vendors like Yamaha, Fender and many others gave attendees a chance to rock their favorite riffs on the latest models of guitars and drums, while speaking directly to sales staff. Vibes, a hearing protection device company, was giving out free samples of their earplugs. They were a welcome gift to everyone, as this festival would be indeed Louder Than Life.
To the right of the festival grounds were paced with booths that offered free cigarettes, official merchandise, and celebrity chef demos as well as a "Bourbon World" tent that featured live music and samplings of some of the area's best Kentucky Bourbons. LTL sponsors Monster Energy drink also had their pavilion and the lovely Monster Energy girls eagerly posing for photographs with the fans and serving up the latest flavors of their tasty products.
A huge "Jack Daniels VIP tent" and "Miller Time VIP Lounge" with bars and lounge chairs and huge projection screens, were a comfy place to watch all the action onstage, and LTL had a huge sold out campground that was adjacent to the festival area that even had it's own entrance to the fest. A large media tent gave media from around the country, such as myself, a place to chill, and conduct interviews with band members.
As for the stages, on one end were the side by side "Monster" and "Loudmouth" main stages, and on the other end of the grounds was the "Zorn" stage, named after the street that passed by the festival. Throughout the weekend, every performance was on time like clockwork, and the sound and lighting, for the most part, was incredible. And the performances? There were many, with lots of highlights. Let's discuss some, shall we?
Day 1 featured an early assault of young bands such as DINOSAUR PILEUP from Great Britain, and TWELVE FOOT NINJA from Canada that got the early crowd going. YOUNG GUNS, also British, and the Welsh band NECK DEEP thrilled their young fans with up-tempo pop rock. Sweden's AVATAR, in their costumes and makeup, were the first real "metal band" of the day, and their choreographed show was very entertaining as always. I PREVAIL gave the hardcore metal fans a real boost as their mid-afternoon set raised the bar on volume. THE AMITY AFFLICTION from Australia brought the energy level up a notch and MOTIONLESS IN WHITE put on what I thought was the best set of the early part of the day. Their stage show, and boundless adrenaline fused songs really woke up the Kentucky audience which was still at this point filing in.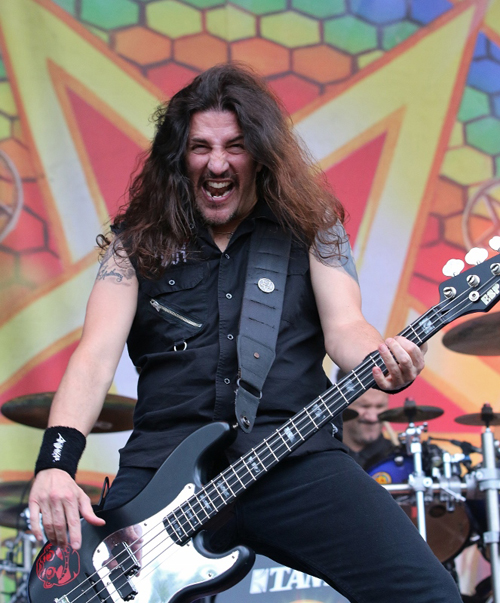 HELLYEAH just flat-out kicks ass. High level rock, brought out by scary looking singer Chad Grey, and featuring popular PANTERA/DAMAGEPLAN drummer Vinnie Paul got the pits started, and featured an interesting take on Phil Collins "I Don't Care Anymore" during their abbreviated but awesome 8 song set. ANTHRAX, who followed, absolutely OWNED the "Monster Stage". Opening with the 1-2 punch of "Caught In A Mosh" and "Got The Time", these guys have been around forever but have the energy level of bands half their age. I always enjoy guitarist Scott Ian's "personal mosh pit" and bassist Frank Bello's animated faces as the band pounded out a short but sweet 6 song set.
PIERCE THE VEIL cranked out a very pleasing set that had the "crowd surfers" flying all over the place. I headed to the "Zorn Stage" and caught a few songs from CHEVY METAL, a band that features FOO FIGHTERS drummer Taylor Hawkins, cranking out rock classics from THIN LIZZY, THE ROLLING STONES, MOTLEY CRUE, and even a cool version of the classic "My Sharona" from THE KNACK. Hawkins and company were clearly having fun and his constant smile is infectious.
Back at the Monster Stage, THE CULT ripped through a loud but predictable set that featured most of their hits like the opening "Fire Woman" and "Love Removal Machine". Guitarist Billy Duffy plays chunky, deep guitar riffs like it's just another day at the office. Nothing different than what he's been doing for the last 30 years or so. Drummer John Tempesta is a beast behind the kit and singer Ian Asterbury, although not always as exciting onstage as he has been in years past, was on tonight. He grinned at the huge crowd and voiced his pleasure.
Back to the Zorn Stage I raced and caught a great set from recent Rock N Roll Hall Of Fame inductees CHEAO TRICK who, as always, brought their "A Game" to the stage. Opening with "Hello There", all eyes seemed to be on guitarist Rick Nielsen, as he is all over the stage, mugging and throwing out handfuls of guitar pics. My favorite CT number, "Baby Loves To Rock" featured great vocals from top-hatted singer Robin Zander. CHEVY METAL drummer Taylor Hawkins joined the band for "Stiff Competition", a track from the Heaven Tonight release from 1978. Bassist Tom Petersson took lead vocals on a cool cover of the VELVET UNDERGROUND classic "Waiting For The Man", and ANTHRAX guitarist Scott Ian joined the band for the set closing "Auf Weidersehen" and there were huge smiles all around. Everyone just loves CHEAP TRICK!
The stage was set for the next act on the "Loudmouth" stage, none other than the heaviest of the heavy, the mighty SLAYER. Bathed in scary looking red lighting, SLAYER stormed the stage and proceeded to bludgeon the huge crowd, who had obviously been awaiting this set with great anticipation. Bodies flew everywhere as they were continuously pounded into submission with SLAYER classics such as "Chemical Warefare", "Mandatory Suicide", "war Ensemble" and a devastating "Seasons In The Abyss". Tom Araya's unique vocals were in great shape, his bloodthirsty screams, combined with guitarists Kerry King and Gary Holt's continuously shredding guitars were the ultimate heavy metal beat-down on a crowd that was totally into this kind of musical masochism.
Finishing up their set with a brutal trifecta of "Raining Blood", "Black Magic" and "Angel Of Death" completely destroyed the late crowd. Bodies were hurtling over the barricades, mosh pits broke out in every available spot of land, and attendees were being dragged out bloodied, but happy. SLAYER was once again triumphant. There is no one heavier, louder or more worthy of the title of "Kings of Thrash Metal" than them.
Closing up day one of the fest was the ever popular AVENGED SEVENFOLD. Because they did not allow photos to be taken, I did not catch their whole set. Hell, how are you supposed to follow SLAYER anyway? They did open with "Nightmare" and there was lots of pyro, and plenty of their brand of metal for all those who stuck it out to see them. New drummer Brooks Wackerman is a perfect fit for this band, and "Shepherd Of Fire" showcased his skills, as well as duel guitarists Synyster Gates and Zacky Vengeance. Those two names still crack me up.
I made my way out of Champions Park, had a BBQ dinner that couldn't be beat and, beaten down for the day, went back to my downtown Louisville hotel and hit the hay. Plenty of pictures to upload, notes to be made, and a big day on Sunday with a lot more live action on the three stages. I'm pretty sure that I was fast asleep by the time my noggin hit the pillow.
Some of the best sets of the weekend were on Sunday. An excellent early set by CROBOT was my first wakeup call. This band from Pennsylvania, is a terrific combination of hardcore funk and 1970's style rock grooves, reminiscent of bands like FREE or BAD COMPANY or even HUMBLE PIE. Their energy onstage is over the top. Bassist Jake Figueroa for one, never stops moving and pounds out fat grooves on songs coincidentally like "Welcome To Fat City", the title track to their latest release that had this reviewer "a bobbin' and a weavin'" all through their 6 song set. Righteous!
Las Vegas rockers ADELITAS WAY had a great set, as did a rare state-side set from Britain's SKINDRED, who I had wanted to see for years. I was not to be disappointed at all. This day was getting better by the moment. TRIVIUM and their progressive rock led into the fist waving and heavily choreographed European metal of SABATON which led into the stripped down, youthful rock of PARKWAY DRIVE, who brought out plenty of their fans on a gorgeous sunny Sunday in Kentucky.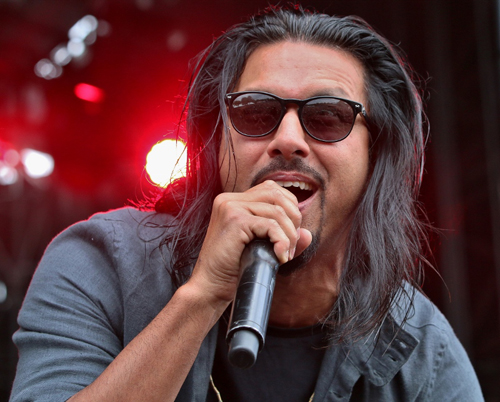 Again, the food and drink were plentiful. I even tried some of the local bourbon's in The "Bourbon World" tent, and I must admit, was impressed. The ladies at the "Buffalo Trace" booth were more than accommodating. My lunch consisted of Macaroni and Cheese with plenty of bacon, as well some freshly pulled pork from the carcass of a pig on a spit,that satisfied my swine craving and gave me the fuel I needed for the rest of the day. Monster Energy drink boosted that as well. On the "Loudmouth" stage, POP EVIL were killing it. As always, their military inspired hit "Trenches" brought the crowd together as one. These guys are just a great live act. Over at the "Zorn" stage, KYNG ripped a stoner style fuzz-toned rocking set to a very appreciative crowd. I left a few songs in to again, head back to the "Monster" stage to witness yet another incredible set by SEVENDUST, who ALWAYS bring their "A game" whenever I see them, and I have seen them a lot. These guys, collectively, are one of the best live acts on the circuit. Singer Lajon Witherspoon had the mid-afternoon crowd following his every command, as SEVENDUST rocked a killer seven song set, finishing with the appropriately titled "Thank You" from their 2015 Kill The Flaw release.
I trekked back to the "Zorn" stage once again to catch a few songs from ZAKK SABBATH, the trio featuring Zakk Wylde playing BLACK SABBATH songs. The set was plagued with technical difficulties unfortunately, and at one point, the entire stage right side of the PA system went out, but was eventually restored. Wylde, ever the professional, kept on going, completely oblivious and unfazed as he blasted out SABBATH classics, such as "Into The Void", "War Pigs" and the set ending "Fairies Wear Boots".
ALTER BRIDGE brought out their fans in a big way for their set. Promoting a brand new recording The Last Hero, I was surprised that they only played one track off of it, the excellent and timely "Show Me A Leader", but it went over well and hell, they only had time to play an 8 song set. Vocalist Miles Kennedy is one of the best in the business, and he and guitarist Mark Tremonti are quite a pair. Great songs, well played and very popular, I am looking forward to seeing them play a full set when they come to my neighborhood.
CLUTCH is unlike any of the other bands at the festival. Just hot, fast paced, sweaty funk and the antics of singer Neil Fallon make this band so much fun to watch and get your groove on to. Like everyone else in attendance, I found myself dancing. Not just dancing though, literally bustin' out my groove for the whole time I was there. It's infectious. CLUTCH makes even non-dancers like myself, and most of the males at the show into the Soul Train dance contest contestants with every hard, funky riff they put out. "A Quick Death In Texas" got me all fired up. Hot, sweaty and nasty indeed.
Grammy award winning Swedish band GHOST was the complete opposite of CLUTCH, but a great set indeed. These goulish looking characters play a well formulated brand of metal, and their masks and choreographing are lots of fun and a great visual. Lead vocalist Papa Emeritus III is a commanding presence on stage. You just cannot take your eyes off him. Creepy fog and lighting enhanced some dark brooding metal tunes like "Square Hammer", which started the set as the masked "Ghouls" band offset their dapper lead singer with chunky chords and heavy drumming as he entertained the crowd like a mid-career David Bowie. A truly enjoyable set, which was well received by the sold out crowd. What followed was probably the most popular band of the festival.
KORN has been around so long that, if you are like me, you probably don't even remember when you first heard them. And here they were today, with a new album, The Serenity Of Suffering, to plug, and a new stage setup. The pounding of drummer Ray Luzier's insane red drum kit started the intro to "Right Now" and it was go time. Complete insanity for the entire 12 song set. Singer Jonathan Davis is a whirlwind of frantic energy onstage. It's like he is having multiple seizures the whole time. Sporting a kilt and pacing and bouncing from side to side of each end of the stage, he uses his elaborate microphone stand to steady himself while screaming out KORN classic's like "Coming Undone", "Shoots And Ladders" and "Blind". A highlight of the set was when KORN brought out SLIPKNOT vocalist Cory Taylor to duet on the debut performance of A Different World, the first single off the new release. The crowd ate it up and went wild.
The rest of the band, Munky and Head on guitars and Fieldy on bass supplied the bombastic, distorted assault that that is KORN's unique and brilliant signature sound. Ray Luzier's drumming is fantastic, and he really is the engine that drives the bus. KORN finished their set with two of my favorites, "Falling Away From Me" and "Freak On A Leash" as the crowd, from the field in front of the stage to the people crowd surfing, to the ones enjoying from the comforts of the VIP tent's, and hell, as far away as downtown Louisville for all I knew, roared their approval. I can pretty much say that KORN's set was the most well-received of the weekend, and rightly so.
Chicago's DISTURBED had the slot immediately following KORN and before SLIPKNOT. Dunno whether or not that is a good thing, but by the time they hit the stage, there seemed to be less of a vibe than the previous act. Maybe it was just me. I had seen them 2 weeks ago and was not surprised that it was pretty much the same show. But a cool show it is. There is a hell of a lot of pyro and people love that, especially at outdoor festival stages. Singer David Draiman, once again draped in a black flowing frock, has a great voice and as he stalked the stage pacing back and forth, pleading "my brothers and sisters, let me see those fists in the air", the band, guitarist Dan Donegan, bassist John Moyer and drummer Mike Wengren went about their business. DISTURBED's catalogue of music is quite impressive, and all the hits including "Ten Thousand Fists", "The Game", "Stupify" and the set closing "Down With The Sickness" were performed. DISTURBED has always sounded great live. There is just something missing, and I cannot figure out what that is.
Some choice cover songs piqued the crowds interest, including a medley of U2's "I still Haven't Found What I'm Looking For" into THE WHO's "Baba O'Riley" into RAGE AGAINST THE MACHINE's "Killing In The Name Of" (which featured SKINDRED singer Benji Webbe) which was terrific. What was really impressive was the way the crowd reacted to their incredible cover of the SIMON AND GARFUNKEL classic "The Sound Of Silence". With one song, DISTURBED's Draiman took this loud, raucous crowd, and turned it into a quiet, cell phone waving, church-like service. His powerful and soulful vocal take literally hypnotized the booze swilling, pumped up LTL attendees, if only for a moment. The beauty of a great song, and performance fulfilled.

By far the most anticipated set of the weekend was it's closer. Close to 40 bands performed during the two day fest and it came down to this to finish it off. Coming off their "Knotfest" appearance in Southern California, SLIPKNOT conquered Kentucky with a brilliant 15 song performance. The photo pit that I was in was packed with not just the photographers, but extra amounts of security to deal with the expected onslaught of crowd surfers and gate crashers. They would be busy all set long. So was I, dodging feet and asses as I jockeyed for position to take photographs of the standard first three songs of the set. After years of doing this, I have developed my own set of "commando tactics" whilst trying to line up that perfect shot. "Gonzo photo journalist" indeed.

SLIPKNOT is a lot to see. Cory Taylor, in his frightening mask, is first and foremost. He bounces about the stage, and crouches on a small platform near the stage monitors, and lets out his throaty wail to a mixture of SLIPKNOT's material, both old and new. Guitarist Mick Thompson (#7) is content to stand still and rock out. Everyone else is in constant motion, especially percussionists Shawn "Clown" Crahan (#6) and Chris Fehn (#3) who man huge beer-keg looking apparatuses that rotate and move up and down on scissor jacks.

The sound and lighting were phenomenal, and again, the playlist spanned SLIPKNOT's career. "Dead Memories", "Heretic Anthem" and "Wait And Bleed" were highlights, especially with the huge crowd reacting to every note. Taylor egging them on at every chance. Many times during the set, during an instrumental break, he stared at the crowd, his mask hiding what looked like a huge smile.
Encoring with "Surfacing" from their 1999 debut, the band's performance was electric. The crowd loved every minute and again and again, roared their approval of their heroes. Finishing up with "Spit It Out", also from their debut release, it gave the "old schoolers" something to brag about on their way out of Champions Park. SLIPKNOT did what they always have done; Put on a kick ass energetic performance, and give their fans exactly what they want. Bravo!

Bravo as well to the organizers of Louder Than Life - Danny Wimmer Presents and all the others that made it happen. Truly, the most satisfying of all the festivals that I attend. From the food to the drinks to the facilities to the music and the vibe that this event brings every year. Speaking on behalf of all that attended, we had a blast! I look forward to more in the years to come. A special thanks, as always to Kristine at AM Media. I will always consider the Louder Than Life Festival to be "my old Kentucky home".

Check out the Louder Than Life photo gallery right HERE.
All Photos By Junkman
Please log in to view RANTS