JUNKMAN's SiriusXM HAIR NATION FESTIVAL Recap

By Junkman, On-Air Personality
Friday, September 30, 2016 @ 12:12 AM

| | | |
| --- | --- | --- |
| | | Aquanet Makes A Return To Irvine Meadows |
All Photos By Junkman
In theory, one would take a look at the title of the recent "Hair Nation Festival" and guess that it was a cosmetology convention. Located in Irvine California, where one's looks are 90 percent of one's personality, it would be a logical summation to make. But for rock music fans, especially those in their 40's and 50's like myself, it has a completely different meaning. We know that there is a certain genre of rock known as "Hair Metal", and includes a ton of bands that made their way up the charts in the 1980's and featured HUGE hairdo's on all band members and their fans. It was their own self-described "Badge of Honor". If you had long, teased, fluffy hair, you were in the gang, no questions asked.
But those days are long gone, unless you are one of those people that refuse to let go of it. Working in the business, I have encountered many people who still live like that scene is still relevant. They have the hair and the clothes, and are always lurking around at shows from any number of the bands that were popular during that time period. Most are not musicians at all, they just dress like their heroes. Almost like when you go to a country music event and the hats and belt buckles and boots are everywhere.
Last year, 80's "scenester" and club promotor Riki Rachtman threw a huge concert celebrating the 30th anniversary of his "Cathouse" nightclub which was THE place to be in Hollywood back in the day during the "Hair Band" era. It was also staged at this very place, Irvine Meadows, and was well attended and featured a bunch of bands from the era on a blazing hot August day. Someone noticed, and SiriusXM Satellite was onboard to sponsor another round of memories, and brought on DJ Eddie Trunk, a big fan and supporter of the genre, to be the host.
Last year's show was so ridiculous to me in so many ways. For one, people wearing the standard leather, chains, and boots combo of the typical 80's rocker would not be feasible for a scorching hot 100 degree day. I was right about that. People were dropping like dead flies. The fact that fans of these bands (or what's left of them) still take this stuff seriously, and women, even in their 50's, still make themselves up in miniskirts and tight jeans and literally throw themselves at the guys in the band, who are now older, fatter, and balding. I was right about that too, and was and is always so much fun to watch. There were lots more scenarios that gave me chuckles throughout the day, and this year's event made me ready to sarcastically roll my eyes at it once again. Then a really funny thing happened. I ended up having a really great time.
The "Hair Nation Festival" comfort-wise was much better. It was in mid-September, and not during a blazing mid- August heatwave. That was a plus. More conducive to those dressing up, along with the standard these days of 20 something frat-boys that wear "hair band style" wigs to these type of shows, the leather and wallet chains people seemed to be comfortable in these surroundings. Not ONCE did I witness anyone literally branding themselves on a white-hot wallet chain while reaching for the 14 bucks it took to get a can of beer.
And, of course, there was the music. Early on I was impressed that there were younger bands on stage that fit in well with the genre. Contest winners THE AVIATORS got things going on the main stage and ELECTRIC HOUNDS, 3 good looking,long haired guys who would have SLAYED during the heyday of the 80's Sunset Strip era, put on a brief rocking set. The incredible vocals of 19 year old Gabbie Rae and her band were a perfect example that there is a lot of talent out there who have done their homework and deliver the goods to a rock-loving audience. This girl has what it takes, you can be sure of that.
Then there were bands that you almost forgot about. If you ever saw Penelope Spheeris's brilliant documentary of the Hair Band scene in Hollywood, The Decline Of Western Civilization Pt 2 - The Metal Years, then you remember ODIN. Hailed by the late Sunset Strip club owner Bill Gazzarri as future superstars, they never quite made it. But here they were, onstage in 2016 rocking out to an adoring crowd. And yes, the infamous "Odin, Odin, Odin" chant was resurrected as they hit the stage.
Also resurrected for the day were bands like CIRCUS OF POWER, VAIN and BRITNY FOX, who seemed to please the still arriving crowd, as well as bands that just won't go away, like PRETTY BOY FLOYD and FASTER PUSSYCAT who have always been what I consider to be awful. TUFF, who featured as their guest ace guitarist Howie Simon, put on a fun set. Singer Stevie Rachelle, who recently committed the ultimate "Hair Band Fashion Faux Pas" and shaved his head, led the sparse early afternoon crowd in a romp through "American Hair Band", a parody of a KID ROCK song that could be this genre's official anthem of sorts.
Two of the best sets of the day, in my opinion, were the stripped down rock of JUNKYARD and the sheer energy of Marq Torien and BULLETBOYS. JUNKYARD is more like a garage punk band, yet, they get grouped into this particular genre because of the fact they came out of Hollywood in the 80's and had some success in a few hit singles. They tore it up, and myself and others agreed that more is needed. Apparently that is the case, as bassist Todd Muscat told me backstage that there is new JUNKYARD music that is ready to be released.
BULLETBOYS frontman Marq Torien is one hyper guy. Onstage he is a ball of fire, screaming out the tunes, playing blazing guitar and jumping all over the place like a 20 year old kid. He's still a commanding force, and his band, which featured drummer Shawn Duncan (who also pulled "Double Duty", playing drums with his brother Jeff in ODIN earlier in the afternoon) was rock solid. They also had 3 background singers, and the stage was also adorned with stripper girls on either side, bumping and grinding it out, much to the glee of the older guys in the audience, and the chagrin of the older women in the audience, who rolled their eyes at the very sight of them. Good times indeed.
BANG TANGO on the second stage put in a very solid set, much to my surprise. Singer Joe Leste seemed to be sober and showed off his vocal prowess for the first time in a long time for me. He was on his game, and his band featured the extraordinary guitarist Rowan Robertson, formerly of DIO and currently with DC4, who blazed out riff after riff in the BANG TANGO songbook. Their fans were out in force, and the set went down without a hitch.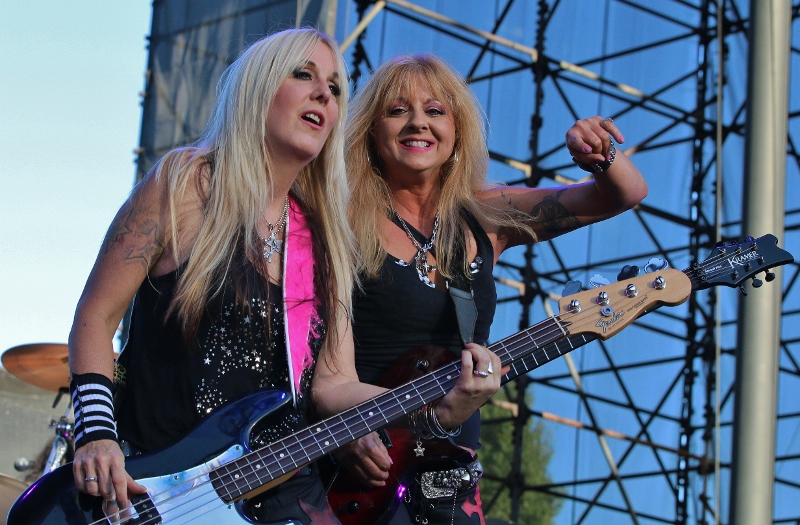 ENUFF Z'NUFF, filling in for LOUDNESS, who cancelled out, were solid, but nothing special. Chip Z'Nuff is a great guy, and handled the bass and vocals very well. The songs, like "New Thing" and "Fly High Michelle" are very poppy and fun. The sound mix was good, too. Not much of a show to see, but again, they sounded great. VIXEN on the other hand looked terrific. These ladies have all aged gracefully, but it's about the music, isn't it? Not always in this genre, but they had their minute of fame and have used it to their advantage. Bassist Share Pedersen is rock solid, and combined with drummer Roxy Petrucci, they are the driving force behind the band. I noticed plenty of people knowing and singing all the words to "Edge Of A Broken Heart". That says a lot, especially when the song is about 30 years old. Great job by the ladies.
I caught part of FASTER PUSSYCAT's set, and as always, I wish I didn't. People love this band, but I always thought they were lame. My opinion hasn't changed. They DO seem to have a good time onstage and I guess that is what matters to them. That seemed to be the case for a few others that spent the day reflecting on 1986. I then caught a song or two from Lita Ford, who looked and sounded great. But I made a beeline to the second stage for probably the most anticipated set of the day. I was glad I did, and was not disappointed in the outcome.
It has been a long time since guitarist Tracii Guns left LA GUNS, and in the meantime there have been multiple versions of the band under that moniker, so much so that there have been lawsuits filed. Kind of silly actually, considering all versions of the bands have been touring pretty consistently over the years. But this is an ego-driven game. And, luckily for one day anyway, all was forgiven, and singer Phil Lewis joined forces with Tracii Guns onstage for a blistering set on the side stage that had the biggest and most enthusiastic crowd of the day. The band, featuring members of LA GUNS,
like the slick guitarist Michael Grant, along with Lewis, joined Tracii and his drummer Shane Fitzgibbon and bassist Johnny Martin, literally ripped and tore it up with an 8 song set that naturally ended with "Rip And Tear". Everyone sounded great and there are plans for more from Lewis and Guns in 2017. It's always so nice when time can heal wounds and egos.
On the main stage SLAUGHTER put on a decent show that featured singer/guitarist Mark Slaughter and his occasional high pitched vocals, which he seemed to nail repeatedly, unlike many other bands on the bill. But the real show was drummer Zoltan Chaney. He is like a circus act behind the drums. In constant motion, spinning and flipping his drum sticks, and using his whole body as an instrument, he is truly something to witness. Look him up, you will get a real kick out of him. The "Hair Nation" crowd ate it up, and SLAUGHTER gave them all whey they wanted, including the sing-along "Fly To The Angels" that brought out the cell phones in full force.
Yngwie Malmsteen has not changed his act since Ronald Reagan was in office. But no big deal, the guy just shreds on guitar and his onstage moves almost rival those of the aforementioned Zoltan Chaney, but on guitar. He is a true maestro, and as I watched him from the pit in front of the stage, I spent most of his set dodging fans who were on the hunt for the numerous guitar pics he throws to the audience during most of his set. One highlight of said set was watching him drop his guitar after one of his many elaborate spins and twists, something he rarely does. Oh well, I enjoy watching this Swedish legend of the Stratocaster every chance I get, and it's always the best time for watching guys with mullets play "air guitar" while their girlfriends or wives hit the ladies room.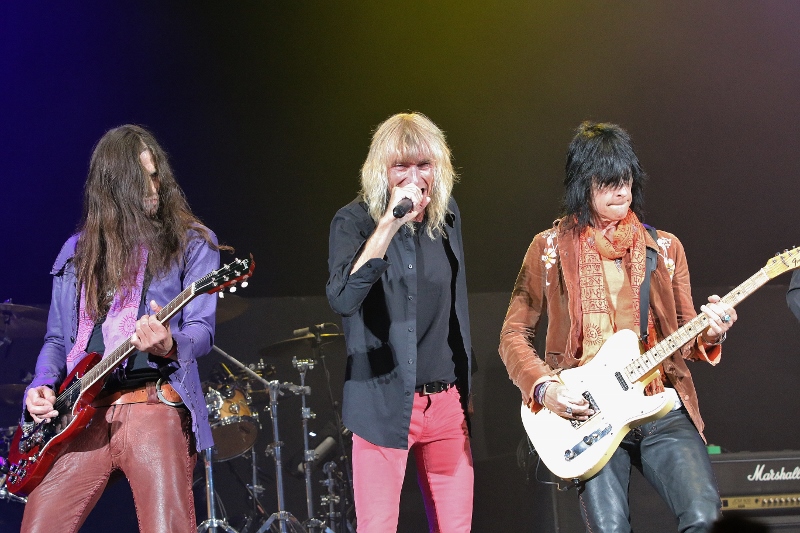 Hailing from Baltimore, KIX was by far the tightest act of the day. These guys are so good at what they do. They have catchy songs that scream for sing-alongs, like "Midnight Dynamite", and the big ballad "Don't Close Your Eyes", as well as crunchy, dual guitar licks from Brian "Damage" Forsythe, and Ronnie "10/10" Younkins. But what really sets them apart from all the others is the eternally young singer Steve Whiteman, who looks and sounds exactly as he did 30 years ago. A very witty guy as well, and he clearly enjoys himself onstage, chatting and joking with the audience, with bounds of energy and great vocal chops. Always a great time with KIX.
POISON singer Bret Michaels put on a wildly popular set, as the crowd by now seemed to be almost at capacity and clearly having "nothin' but a good time" was into it the entire set. He did all POISON songs, naturally, except a cover of the LYNYRD SKYNYRD classic "Sweet Home Alabama", as well as LOGGINS AND MESSINA's "Your Mama Don't Dance", which POISON covered way back when. But again, this whole festival was all about "way back when", wasn't it? Give props to Michaels for being a really nice guy, and it clearly showed he was having a blast onstage. His band included CINDERELLA bassist Eric Brittingham, and he even did the famous CINDERELLA "guitar flip" that no other band did better than them. Again, the Irvine crowd ate it up and were enjoying every moment.
The sets, unbelievably, were all on time and going smoothly for most of the day. I kept waiting for something or somebody to fuck it up, but it never happened. A true potential for that was about to finish the festival in the form (and huge ego) of one Vince Neil, who was the last act. Looking like he's living a pretty good life these days, the MOTLEY CRUE singer, backed by the SLAUGHTER band, got right to work and rocked the house with "Dr. Feelgood" and the place was jumpin'. Neil was clearly having a good time onstage tonight, and sounded better than I've heard him sound in years.
After the uptempo "Looks That Kill", Neil reflected on his family members, who were all veterans, and dedicated a really nice version of MOTLEY CRUE's big ballad "Home Sweet Home" to all of them. It was touching to see this legendary party animal get reflective onstage, and he and the guys were looking starry-eyed at all the cell phones that lit up Irvine Meadows during that number. Afterwards, he went back to doing what he did with the CRUE for so many years and just rocked the place, finishing up with "Wild Side", a place that Vince Neil knows very well.
Again, I initially set out to be sarcastic about this whole day, but the drama and the egos were put in check, at least temporarily anyway. I ended up enjoying myself, as did just about everyone else in attendance. My hats off to the folks from SiriusXM Satellite and all the bands and people that gave Irvine Meadows and the "Hairband Nation" a really good send off, as the amphitheater will close in November and be demolished to put up condominiums. It's very sad, as I had a lot of really terrific times at that place, and attended so many great concerts there. Just like a lot of today's music and hairstyles, it's a whole new era, but again I must paraphrase the band POISON, and say that for one last night at Irvine Meadows, we all had "Nothin' But A Good Time".
Check out the Hair Nation Festival Photo Galleries!
All Photos By Junkman
Photo Gallery 1
Photo Gallery 2
Please log in to view RANTS