When you look at the list of bands playing at the Houston Open Air Festival, you might recognize quite a few. Bands like ANTHRAX, SLAYER, AVENGED SEVENFOLD and THE CULT are bands that have made a reputation for themselves and are very well known. But when you see the name MOTHERSHIP, you might have to take a second look and if youíre not from Texas you might not recognize the band. In fact when you think of Texas guitar slingers you may think of Eric Johnson, Stevie Ray Vaughn or even Chris Duarte, but the name Kelley Juett may not strike a bell of recognition. But MOTHERSHIP is starting to make waves in Texas and out of the State. Playing in Europe with WO FAT got them quite a buzz. Recently doing shows with PRONG and CORROSION OF CONFORMITY in Dallas and then doing Sturgis with LYNYRD SKYNYRD, the band has started getting the respect this power trio deserves. The band is Kelley Juett on guitars, Kyle Juett on Bass and vocals and Judge Smith on drums. I managed to catch the band on a recent tour stop in Houston at Rudyardís British Pub.

KNAC.COM: For those who have never heard or had the ďMothership ExperienceĒ tell us what should fans expect at one of your shows?

KELLEY: Good Times! High Cosmic Rock n Roll! Supersonic Heavy Rock n Roll!

KYLE: Yeah, Good Times! Music you can bang your head to, drink beer, ride motorcycles, just about anything.

KNAC.COM: Critics like to put labels on music. What would you say critics would label your music?

KYLE: Rock n Roll!

KELLEY: Rock n Roll! I know we get linked a lot with stoner rock. Thatís such a coined term that goes around I think loosely in the heavy music scene. We just say we are a rock n roll band and we pull from heavy rock influences.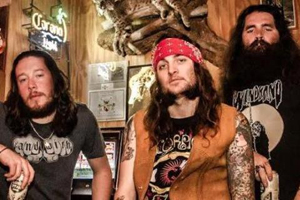 KNAC.COM: And what are your major influences in music? I know that HENDRIX and SABBATH are clearly right up there, but who else would you say are inspirations?
KELLEY: UFO is big on our list. ZZ TOP, RAINBOW, JOHNNY WINTER!
KYLE: ZZ TOP! SKYNYRD! The list goes on and on and on. We donít just listen to one band. We listen to all kinds of bands. All kinds of music!
KNAC.COM: You recently started making successful inroads into Europe. How did you guys break into the European scene?
KELLEY: WO FAT!
KYLE: WO FAT!
KELLEY: Our good buddies WO FAT from Dallas invited us on our first European tour, ďThe Texas Takeover TourĒ. And from then on we kept making big contacts and going back. Hopefully we will keep being able to go back over there. They love it. They love good old fashioned rock 'n roll.
KNAC.COM: How do you compare the audiences in Europe versus the audiences here in the States to your style of music?
KYLE: I think the audiences in Europe are rabid for rock 'n roll more, and the lifestyle and supporting rock 'n roll bands. I think there are a lot of rabid cities in America but I just feel that as of late Europe is just so hungry, and the A dream is just there. Itís just their way of life. I feel like America can do it. But itís going to take a lot of band to come together and really pound America and get America awake again and back on track with heavy rock 'n roll music. There are a lot of bad ass bands out there, but I think in Europe they are just flying so strong. We need to just pick up our American brothers and sisters. I think in my opinion thatís the key to the puzzle. Rock 'n roll is massive all over the world. But in America itís very subdued. Donít talk about whatís in the cellar type stuff. But I think if we get enough people to pull on that cellar door, we can break through.
KNAC.COM: Okay here is a question I have to ask because you are brothers. History has shown that there are often conflicts within a band that pull on the band. THE KINKS and OASIS come to mind. How do you guys manage to overcome the conflicts as brothers in MOTHERSHIP?
KYLE: I donít think you manage not to have anything. I think we just deal with it better because we are brothers.
KELLEY: It makes it easier even. Yeah, in most bands you get into a fight, a knock down drag out fight, and the band is over. You know what I mean? For us we can test it up and weíll figure it out. Itíll make us stronger even having a brother in the band.
KYLE: Having a brother in the band you know, we can even have harrier interactions with each other. Were as, two random people in a band, might not survive some sort of interactions. I mean we have known each other all our lives, so I just donít understand these bands with brothers that fight and break up. I mean who cares? Get over it.
KNAC.COM: So how did you guys decide who would play bass and who would play guitar?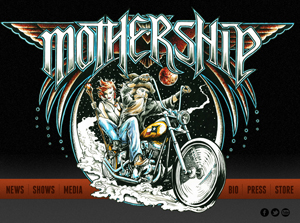 KYLE: It never ever came up.
KELLEY: It was just written in the stars, man.
KYLE: I knew I wanted to be in a band. I knew I wanted to play things so I just started singing and I learned to play bass from there. Played in a band and then he saw us and he said,Ē I want to do thisĒ. So I said, ďThen do it. Learn to play guitar.Ē So he did and now I got him.
KELLEY: One of the best things, one of the first bands I had, I was living in Huntsville. I had this church gig and this fool showed up for it. After the gig my brother comes up to me and said, ďYouíre too good for this band dude. Move back to Dallas and letís start a band.Ē I think that was a pretty cool thing for me to realize because his band had been playing around and I was just playing my music.
KYLE: I just didnít care what anyone said, I was just being an honest brother. Like dude, youíre way too good now. You just need to go back to Tri-cities and start jamming and so he did.
The band has gone on to put out three CDs now. But it is in the live performance that you get the total energy that comes with the Mothership Experience. The band is tight and high energy. Watching them play at Rudyardís made me imagine how someone watching Jimi Hendrix for the first time might have felt. Judge completes the band and his rhythm completes what is indeed one of the best Texas trios since ZZ TOP. Their original music would best be described as Texas boogie. But donít take my word on it. See them in a show. MOTHERSHIP is flying high.