Halo Recaps The 2016 ROCKLAHOMA Festival

By Halo, Heavenly Contributor
Saturday, July 23, 2016 @ 8:31 AM

| | | |
| --- | --- | --- |
| | | Pryor, Oklahoma May 27, 28, 29, 2016 |
Rocklahoma 2016 for me was a first! I had attended it but was very pleased by the experience. I'm going to forever remember this particular year as Rocklahoma 2016, through hell and high water. Friday was Day 1 for me. Due to prior family obligations I had a late start out of Houston to make my way to Oklahoma. The sky decided to open up just about the time I was headed up I-45 and pretty much felt like a monsoon was hitting us. I seriously thought I was going to be in Houston all of Friday just trying to make my way out of the city, much less the state. About two hours out of Houston the sun peaked out around the clouds and I started making up for some lost drive time. The rest of the drive was pleasant but hearing of the flooding back home was a bit unsettling, not knowing what awaited us when we returned.

After a few stops along the way, we finally arrived in Oklahoma. I had been told Pryor was a tiny little pit stop town and nothing around except for the festival grounds. I must say from my first impression, Rocklahoma, which started in 2006, has brought some business to this little town. It wasn't as small as I pictured and the surrounding area has many amenities I did not expect. I arrived to the festival grounds late, about 8pm, and was greeted at the gate by wonderful staff that told me where to go and pick up my info and credentials. Once I parked and found my location I was told they left a bit early. I was somewhat bummed after the long day and trying to get there by the time I was told (which I did arrive with a few minutes to spare shockingly). Quickly I was greeted by a fellow photographer and a couple other staff that decided to show me the ropes and were so helpful.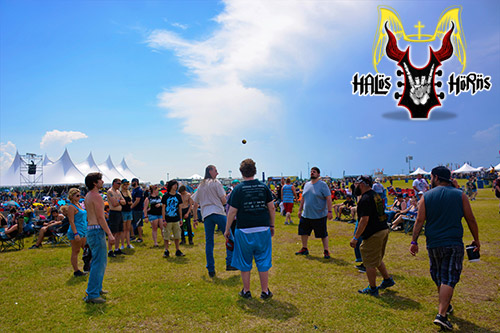 I was able to get into the concert area just in time for LAST IN LINE on the Hard Rock stage. This band was formed by past members of the original line up from DIO in 2012. Members include Vinny Appice, Erik Norlander, Vivian Campbell, Andrew Freeman and Phil Soussan, who is the replacement for the late Jimmy Bain. They were awesome. I had been told they were crowd favorites and they had a huge crowd. They are all seasoned vets in the music industry and were one of the acts that should have had a spot on the main stage. This of course was just my opinion. At about 10:50 DISTURBED took the main stage, the Bud Light stage. Of course they were the final band following some huge names on this first day. The crowd was incredible. "The Sound Of Silence" was amazing as were the pyrotechnics. Awesome show.
Earlier on the main stage were BANG TANGO, POP EVIL, SIXX:A.M., MEGADETH and of course a fan favorite, Mr. ROB ZOMBIE. From speaking to fans it seems MEGADETH and ROB ZOMBIE were the ones to watch on Day 1 on the Bud Light stage. The Hard Rock stage had some crowd favorites earlier according to people I spoke to as well. SHAMAN'S HARVEST was one that was being mentioned and moving to the 3rd stage. New York based KORE ROZZIK tore up the stage with his ultimate "rock star" image and fronted his band like any seasoned Rock God would do. British Band FREEWAY MAD, new to the U.S. scene, seemed to gain many new fans. After Day 1 of the excitement and getting familiar with my surroundings I headed to the Tulsa Hard Rock Hotel & Casino. I was so tired all I pretty much did was smile at the little chocolate guitar they left on the night stand and then quickly passed out.
Day 2 – Saturday, started with waking up very early with news of all the damage back home from the storms and flooding. A family member's house flooded 4 feet and my neighborhood was surrounded by the high water. This was not uplifting in the least but all loved ones and family were accounted for, so I tried focusing on the long day of music. I arrived back into Pryor at the festival grounds early, about 11 am. Overcast skies and low humidity made for a pleasant morning. I wanted to get there and get my photo pass early and plan out my attack of events and schedules. The first band to play was WILD THRONE on the Hard Rock stage. Their first appearance was a success. POD was next on the main stage and got the festival goers up and loud. The next band that played was by far one of best bands at Rocklahoma 2016. Swedish band AVATAR hit the Hard Rock stage at about 4pm. Holy hell this band was off the charts amazing. The crowd around this stage was huge and kept growing after each song. These guys should never play on any stage other than the main stage again at these festivals. Johannes is one of the most electric front men I've seen and they lived up to all the expectations and then some. Later on in the media tent they stopped by to say hi. They mentioned that in Sweden when they were first getting started KNAC.COM was the heavy metal station they listened to. They were able to keep with the heavy metal scene thanks to KNAC and were very appreciative of us. "The Eagle Has Landed", from their latest album release FEATHERS & FLESH was a crowd favorite.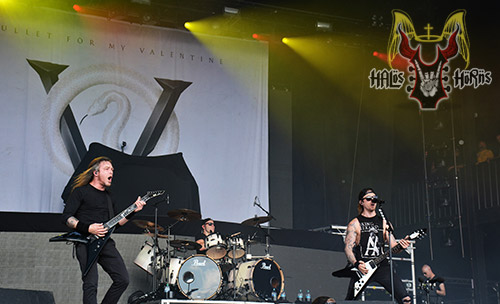 The next band I was able to catch was BULLET FOR MY VALENTINE, who came after SEVENDUST. I missed SEVENDUST to sneak a Gatorade and snack time in. It was my first time to ever see BULLET FOR MY VALENTINE and they have a following for sure, a definite favorite of the female masses. After I was able to see them I rushed back over to the Hard Rock stage to see the one and only DEVILDRIVER. I was looking forward to seeing Dez and the guys live after I had reviewed their latest album Trust No One, which kicks ass by the way. Seeing DEVILDRIVER live was better than the album. Band members Dez, Mike, Diego, Austin and Neil were fucking amazing. This was another band that I believe should have a main stage spot. They had more followers and a bigger crowd than some main stage acts.
After watching DEVILDRIVER kick everyone's asses, I hustled back to the Bud Light stage to see COLLECTIVE SOUL. They are still as good as they were 20 years ago. They are crowd pleasers and have some diehard fans. Next was 3 DOORS DOWN. This Mississippi based good old Southern band is and always will be a concert favorite. Brad is one of the most down to earth guys and is one of the most well liked front men. He had a new lineup and they all meshed well. Hits "Kryptonite" and "Road I'm On" had the audience singing. "She Likes To Do It In The Dark" from their latest album Us And The Night and "Still Alive" are soon to be hits in their discography just as the past hits. I love this band and Brad Arnold is one of the nicest down to earth guys in music. He paid respect to our men and women in the service by dedicating "Here Without You" to all.
Next for me to watch and shoot was HELLYEAH, a band that needs no introduction. I must say they have quite the magnetic front man and seem to be a Rocklahoma favorite. One fan said they drove 12 hours just to see them. Chad, Vinnie and the boys know how to draw a crowd for sure. Crowd surfing was becoming dangerous during this set and security just decided to allow it and help the concert goers over the rails to keep the peace. These fans were going to do it anyway. The final show for the night on the main stage for Day 2 was the SCORPIONS. The crowd was huge. The pit was completely full and seats and lawn attendees were as far as the eye could see. This was the show that many were there to see. Rudolph, Klaus, Rudolph and Mathias had the crowd eating out of their hands. Commanding the stage in normal SCORPIONS fashion they had everyone from the first note played. Mikkey Dee (MOTORHEAD) was filling in on drums and was right at home. His drum solos were amazing and the light show and stage set were perfection. This band gets better and better with each year that passes. Never do they disappoint. They prove to us age is just a number. Klaus belted out many of their hits perfectly like "No One Like You", "Winds Of Change", "Rock You Like A Hurricane" and many more. Schenker was all over the stage with his flying V's. I will never get tired of seeing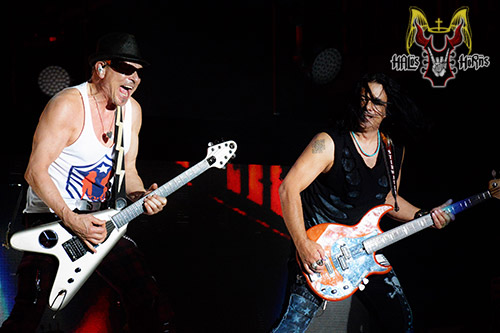 these guys live. Do they even age? Seriously. They were the perfect ending to a long amazing day of music. The drive from Pryor to the Hard Rock Hotel in Tulsa is about 40 minutes and I think my age started to come into play. I was wiped out. Food and sleep were needed to refuel for the last day, which by this time was in just a few hours.
Day 3 – Sunday. As usual we arrived a bit early to avoid some traffic. Being in the media tent on and off I was able to meet an all-girl band MOXY & THE INFLUENCE. From Southern California these young ladies are gaining momentum in the rock scene. From the unbelievable age range of just 13, yes I said 13, to 20 they are something to watch on stage. They played on the 3rd stage Sunday and rocked. Keep an eye out for these young rock stars. Having played at such places as the iconic Whiskey A Go-Go already, I think many will recognize their name in a short time to come. Members include Moxy Anne, Sydney Ellen, Shea Hamilton, and Alexey Poblete. Awesome band and management. They were a great start to Sunday's lineup.
The next band I was off to see was THOUSAND FOOT KRUTCH. This was their second year to be at this festival and they were fan favorites, being promoted from the 2nd stage last year to the main stage this year. A Christian based rock band, they have great fans and always positive and motivating messages. Next on the the 2nd stage was female fronted band SECOND PASS. She held her own and put on a great show for 30 minutes. SAINT ASONIA played on the Bud Light stage next. Former 3 DAYS GRACE lead vocalist Adam Gontier had not graced the Rocklahoma stage in 7 years. His new band seemed to make a big impression on fans from what I could see.
As I was headed over to the Hard Rock stage some sirens started going off and staff was letting us know that the festival grounds were being evacuated. The skies above looked scary and as a precaution we were told not to be in the media tent. The long huge metal rod at the top of it probably wasn't a safe spot, but that's just a guess! The staff was awesome and had a spot on Radio Row for us. I'm not sure where the thousands of campers and attendees went so quickly but the festival grounds were vacant in no time. It was all very organized.
It was about this time that those of us that stayed behind in the media/radio area noticed this tall, long-haired icon walking towards us, none other than Mr. Sebastian Bach himself. He was there to interview and wasn't going to let the possible storm stop that. He grabbed a fold out chair and started talking. At this point in time, he seemed pretty upbeat and glad to be there. After this informal interview session we took part in because we all happened to be there and nowhere to go luckily, he got up and took pictures and signed some autographs. As many of our favorite rockers do, Sebastian noticed the call letters KNAC on my clipboard and said "Hey it's KNAC, Let's do the interview here and now!" Some of us looked at each other and smiled as the manager gave me a wink and walked with us all into a radio row room. We walked into a room and a live broadcast started. There were only about 7 of us in this room and the broadcast didn't start off the best. The guy interviewing Bach didn't have correct info and quite frankly should have just shut the hell up. Sebastian kept looking over in our direction as if he was wondering if the guy with the microphone was serious with his stupid questions. I chatted with Bach's manager and he thanked me for my patience and we joked about a couple other things. Sebastian was shockingly gracious after a few "Media" people bombarded the room. I would have been pissed myself if I was him, but Sebastian was sweet and took photos and was being positive about the rain staying away long enough to play his set.
After almost a 3 hour delay the festival grounds opened up and people were coming in droves. Next on the agenda was GLORIOUS SONS on the 2nd stage, a 5-piece outfit from Canada with a southern rock grunge sound and feel. Lead vocalist Brett Emmons was all over that stage, barefoot and energetic. This group was one of the bands that I personally felt stole the show. They sounded as if they had been doing this forever and I loved their sound. Different from most that played, they stood out and I look forward to seeing them again. Next on the main stage was GREAT WHITE. Not the Jack Russell's GREAT WHITE but with the one with lead man Terry Llous.
Finally, it was Sebastian Bach's time on the main stage. SKID ROW's past infamous front man hadn't played Rocklahoma in 5 years but no matter the years that have gone by, he is always anticipated greatly. He took the stage with "Slave To The Grind", of which everyone was singing along. Shortly into his set there were very obvious and disturbing sound and technical problems. Sebastian was becoming more and more pissed off, especially with one guy in the pit shouting "we (audience) can't hear you!" Well once was enough but he kept saying it. Sebastian was livid and kept reminding everyone that the sound was "Not My Fucking Job". This all took up about 5 to 7 minutes of his forty-minute set. After the sound was somewhat fixed he went on and belted out "Monkey Business", "Piece Of Me", "I Remember You" and last but not least, "Youth Gone Wild", for which he asked STEEL PANTHER's lead singer Michael Starr to join him and with this duo the crowd was back to singing along with Sebastian. Bach never fails to entertain!
The next two bands on the the main stage were CHEVELLE, not a Rocklahoma newbie, that fans love and finally FIVE FINGER DEATH PUNCH. This Vegas-born rock favorite is a heavy hitter with this crowd. The Rocklahoma festival goers loved this set and they gave a very worthy performance. FFDP pleased their fans with "Lift Me Up", "Never Enough", "Bad Company" and more. They were a great show to finish up the night on the Bud Light stage.
ESCAPE THE FATE and STEEL PANTHER wrapped up the Hard Rock stage, bringing in many fans and enormous crowds. STEEL PANTHER is a show for sure. I wasn't able to stay to watch their set but fans love this bunch of colorful rockers and fun antics.
Rocklahoma 2016 was by far one of the most entertaining weekends I've ever experienced in my music journey. Through the ups and downs, the storms and floods, the tantrums and triumphs it was a success for sure. With the aromas in the air and characters like the butterfly hippie and Captain America walking around along with some of the best music in the industry, how can you not want to return? Merch was flying off the shelves along with all the other vendor's supplies The staff and management were amazing and they run an awesome festival. I look forward to going again each year I can.
Check out the Rocklahoma 2016 photo galleries!
Please log in to view RANTS