Live Photo By Larry Petro/Petrofyed Photography
Music is often a reflection of the soul and sometimes something comes along that so perfectly articulates the heart of the musician in question that it speaks volumes. That is undoubtedly what has happened with bassist extraordinaire PJ Farley. Best known for his role as the bassist for renowned hard rockers TRIXTER, Farley has leagues of experience under his belt not only with his home band, but as a session and touring musician and as the bassist for alternative masters RA.
When he started his career as a teen in New Jersey, Farley never expected the happy results that ultimately gained him and his bandmates in TRIXTER the world-wide acclaim they experienced. In the mid-1990s, TRIXTER went on hiatus, but Farley didn't stop working at home and with other musicians. He did multiple tours backing Lita Ford and participated in several cover projects at home in New Jersey. All the while, he was composing new music that has a life all its own and has been recorded as his solo debut, Boutique Sound Frames.
"Some of these songs go back, easily, twenty years," Farley said. "I wrote some of them that long ago but didn't do anything with them. There is a huge timeline between when I wrote some of them and when I actually recorded them. I knew once I finished them, that these were songs I needed to keep for myself. Sometimes, once I am finished with a piece, I instinctively know that it is a song that I'm meant to hold on to."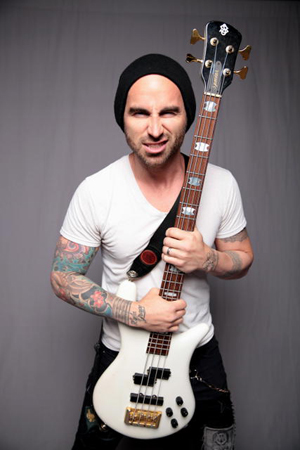 With that said, Farley has worked with a wide range of musical genres and each project tends to have a formula. TRIXTER has a well-known, yet carefully formulated sound. When you hear it, you know who it is and Farley generally follows that formula when he works, but there are times when he has an idea that grows outside that formula and he likes to see where it will take him.
"If I am in a band, I have internal guidelines regarding what we write, depending on the project," he said. "Then, there are times that I just start writing and I may go off the guidelines and see where it takes me. I don't try to box it into a category or genre. I just let it out. That is what this record is; it's a collection of songs that I have worked on over the years that don't sound like anything I have done with TRIXTER or any of the other projects I have worked with."
Boutique Sound Frames is a vast departure from Farley's work with TRIXTER. It has a modern, edgy sound that can compete with anything on the radio today. However, it wasn't deliberate; it was just what flowed from within for Farley as a writer and composer.
"The songs on the album were not an intentional departure from what I do with TRIXTER," he said. "The way we write with TRIXTER starts with Steve (Brown). He has an idea or a riff and he goes from there. It has its sound, and we stay within that bubble of what TRIXTER is and sounds like. I do a lot of writing with Steve on my own, but TRIXTER is very different. I do my parts with them in a synchronized way. I can write fully for them, but generally it starts with Steve. Writing for myself often turns out to be something entirely different. When I start writing for myself, I find that it has diversity. It wasn't a concentrated effort to sound different; it just seems that my influences came out in a different way. It was an internal change for me musically and I just let it flow from there."
This solo project was produced by TRIXTER guitarist Steve Brown and all of the instruments on the recording were played by Farley, with the exception of some guitar solos that Brown contributed to the project.
"I would go over to Steve's studio at his house and I would tell him I had a song I wanted to record and we would set up for me to put down a guitar track, then go in and bang out the drums. I can hear the guitar parts in my head and then I would go record them, and then later I would come go back in to do the vocals," he said, but he also pointed out that he likes to do something special with the bass, his primary instrument.
"I like to do the bass last," he laughed. "That is a bit ironic, but I feel that once everything is down, I have a lot more freedom with the bass tracks. Some of my guitar playing is limited; I'm not a solo guy, so having Steve there is a plus because when I would feel that the song needed a guitar solo that had a certain tone, he would come in and do it. My guitar playing is melodic and simplistic, so when you listen to the record, you will be able to tell when it's me and when it's Steve."
Live shows are also not out of the picture for Farley. He has several musicians that he works with regularly and putting together a band for appearances is something that he wants to do as often as possible. Incidentally, he will be a featured artist at this year's RockNSkull Fest and will perform on Sunday, October 30th; the third day of the festival.
"I have a group of guys that I play with regularly that want to work together and it may be multiple people based on availability but I have a sizeable network of people that want to do some shows," he said. He will also not be playing bass during the live shows, something that fans are not accustomed to seeing. "Although I sing and play bass all the time, I will be playing guitar. It feels a bit freer and I like that. I think that it would be fun to travel and do shows based on time and location. I am definitely not opposed to getting on a plane and flying out to do some shows."
While TRIXTER is part of the Frontiers Records family, Farley elected to release Boutique Sound Frames via MelodicRock Records. Much like Frontiers, MelodicRock is an AOR and commercial rock and metal niche label that specializes in bands that debuted in the 1980s.
"Steve mentioned the label to me and he told Andrew (McNeice, MelodicRock Records A&R) that I was finishing a record and Andrew loved the songs so we decided to put the record out with them," Farley said. "There was a bit of reluctance at first because this record is very different than most of their catalog because it has a more modern sound. I know it isn't what I normally put out but I love it and I think people will be into it. My hope was that fans of my other music would transition over to this. I know it may not be what they normally listen to but I think they will enjoy it, especially TRIXTER or RA fans. I think there is just something about it that people will like."
Farley did approach Frontiers Records with the project but rather than mixing TRIXTER with his solo music, and it being so much of a departure from the Frontiers catalog, Farley felt that MelodicRock was the perfect label to work with for the release.
"I did initially look at Frontiers because of our relationship but it was not a record that fit their format. We talked about keeping it in the family, but we both agreed after I gave it to them and they listened to it, that I would take it somewhere else. They are even more of a niche market label and this record didn't fit that mold. We have a wonderful relationship with them with TRIXTER, but I branched out on this one."
The album came out in May and right about the same time as the release was ready to drop, Farley produced the debut single and video for the song "You'd Stick Out".
"This was the obvious choice for me as the first single and video based on the reaction that it got when people first heard it. It really is a special song to me and once the production was done I knew that this was the first song I wanted people to hear. I also worked with musicians I knew for the video and these are also the same guys that will likely work with me for live shows. We had Dennis Zimmer on drums; Steve Massa, who has worked with DANGER DANGER's Ted Poley was playing guitar, and my friend Cory Pensa, who I work with a lot was on bass."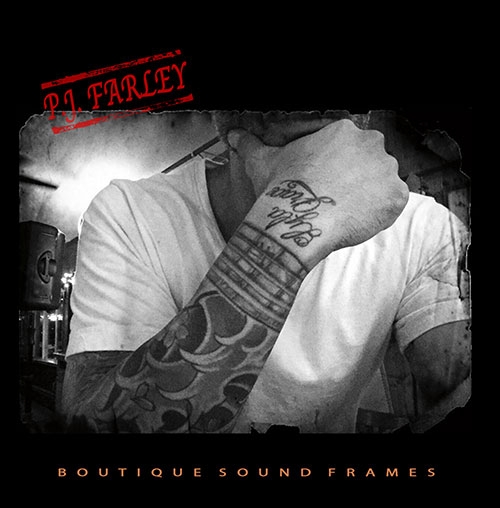 The video has been viewed heavily on YouTube and through other internet sites and the album is available in CD and digital formats.
"The album can be ordered through my website, www.pjfarley.net and I have a new Facebook page for PJ Farley Music. Any shows will be announced there; if fans want to order shirts there is some merchandise available and you can hear some sample tracks for the album," he said. "I just really appreciate everyone listening and I think that people are really going to enjoy it. Come out and see me when I have some shows scheduled. I think fans of any of my other bands' music will be into it."
Be sure to check out the video for "You'd Stick Out" on KNAC.COM right HERE and keep up with the latest news via Facebook HERE and http://pjfarley.net/ or on Twitter HERE.
Track Listing:
"Take It Straight"
"You'd Stick Out"
"Things We Hold Onto"
"Ain't No Good"
"SuckerPunch"
"The Fallen"
"Keepin' It All Together"
"A Place In The Sun"
"Vow"
"The Afterglow"
"What You Do"