STITCHED UP HEART arrived on the hard rock scene about five years ago and quickly developed a loyal following. What really sets them apart beyond great songwriting, which features heavy riffs and a thundering rhythm section, are the vocals of lead singer Mixi Demner. She seamlessly combines an incredible range with visceral screams. STITCHED UP HEARTís early material tended to have dark undertones, but the bandís latest release, Never Alone, offers a much more positive outlook. Though upbeat and often inspirational, it retains a sense of honesty that comes from understanding what it means to grow from painful struggles.

The members of STITCHED UP HEART are more than just remarkable musicians. Theyíre truly devoted to their fans and make a concerted effort to interact with them as much as is possible on a personal level via both social media and in person at the bandís shows. Theyíre also very conscious of the world around them and the opportunity they have as artists to make a positive impact.

STITCHED UP HEARTís passion for making great music is equally matched by a passion for helping make the world a better place. In fact, when I spoke with Mixi recently, all of the members of STITCHED UP HEART were visiting a petting zoo for rescue animals just prior to their show in Salt Lake City. Hereís what she had to say.

KNAC.COM: Your vocals are remarkable and that which really caught my attention when I first heard STITCHED UP HEART. How did you develop your style and who are your biggest influences?

DEMNER: When I founded the STITCHED UP HEART in 2010, I wanted to include screaming vocals, but wasnít planning to do them myself. I wrote the parts. It wasnít until the band was practicing and I demonstrated them that I realized I could scream. I didnít mean for it to happen, but thatís when I discovered I could do screaming vocals. I didnít have any type of classical training, though. I sang along to songs on the radio, movies and things like that when I was a kid, and learned to do it on my own.

Recently, I began taking vocal lessons in an effort to ensure that Iím singing properly. I questioned whether I ought to go after some of the high notes that appear on Never Alone knowing Iíd have to reproduce them live on tour. The members of the band really encouraged me, though, saying, ĎYouíre hitting those notes in the studio. Youíve got this.í I decided to go for it and now itís pretty much on autopilot. I go right to the notes.
The best advice I can give is to just challenge yourself to do things you donít think you can do.
KNAC.COM: Thereís a lot of complexity to Never Alone. Several sections feature you harmonizing with yourself including parts that layer screaming over clean vocals. The musicianship is stellar. Thereís even some sampling mixed in. Please elaborate on what was involved in the writing and recording the album.
DEMNER: We did this record a little differently. We used to go into practice sessions, put together 30 or so songs over the course a few months and then pick the best ones. What we found, though, is that we werenít putting enough effort into each individual song. So we did this one differently. Merritt (Goodwin) and I went into the studio and worked with producers Mitchel Marlow and Sahaj Ticotin on the majority of this record. We started from scratch. Any time an idea came up for a song that one of us had written a long time ago, we ended up throwing it out and starting from the beginning. Thatís why this record turned out the way it did and carries with it a particular message. I was going through a lot of self-discovery and making an effort to better myself as a person during the time when it was written. I was starting to see a light at the end of the tunnel in terms of all the hard work weíd done as a band. That hopefulness came through in the lyrics of the songs.
We put a lot of thought into every word, melody, every single part of this record, really. Never Alone was written with a great deal of detail. The guitars are layered and some of the guitar parts are dropped-tuned even further to create a lower, darker feeling. Iím then able to bring them back up via the melodic manner in which I structure my vocals. The producers were particularly helpful during the creation of the record, especially in terms of developing lyrical ideas and melodies. It was a team effort and weíre really happy with how it turned out.
KNAC.COM: Something that stands out about Never Alone is the shift in moods in its lyrical content. Earlier STITCHED UP HEART songs such as "Is This The Way You Get To Hell?" and ďGraveĒ and their accompanying videos had a dark, macabre tenor. Never Alone has a duplicitous, more upbeat sound. Does this mark a change in direction for the band or is it just where you are right now?
DEMNER: I donít really think about what Iím going to write ahead of time. Whatever is on my mind when I first start writing is what ends up coming through, maybe even subconsciously. Iíd reached a much happier place in my life at the time Never Alone was written. I also took into consideration the idea of wanting listeners to feel something different after having listened to a song from beginning to end. I wanted to make sure the message wasnít too positive and that people knew it came from a hurtful, painful place. You canít have the light without the dark. The story has to include how you got to where you are. Not everything is a rainbow. I wanted to create something that, when people listen to it, will help change their moods if theyíre having bad days or something is going wrong in their lives.
KNAC.COM: Even though STITCHED UP HEART is labeled a hard rock band, there seems to be a lot of crossover potential into other genres. Songs such as ďCatch Me When I FallĒ and ďNow That Youíre GoneĒ seem to have pop potential. ďI Canít BreatheĒ even has a jazz feel to it. Has there been any discussion of pursuing other markets?
DEMNER: No. The band as a whole is what it is and we like keeping the heavy guitars and low-tuned sound. There are some pop elements in the songs and ďI Canít BreatheĒ is one of my favorites. The reason I like it so much is because I am able to bring out the jazzy element of my vocals over a piano, and then go right into drop-A with a super heavy riff and some screaming. I want all that mixed together. There are tons of pop artists out there, but not enough female artists in hard rock. The numbers are growing. Thereís still not enough in comparison to the number of male artists, though. Iíd rather be part of the female movement in hard rock than just another fly on the wall in the pop industry. There are so many in pop and the longevity is far better in rock. I mean, look at Joan Jett. It isnít like, ĎHey, youíre a pop starí today, and then ĎWe donít like youí tomorrow. Rock has a much more loyal following and I prefer the music.
I listen to pop, as well. I like Katy Perry, but prefer super heavy guitars. We try to make music that we like because ultimately, we donít want to play music everyday that we donít care for. Hopefully, other people like it, too. That said; we try to keep it as broad as possible so that thereís something in there for everyone. People have different tastes, so we mix in a lot of different things. The only thing we didnít include on this record was Country. [Laughing] Oh, and I didnít rap on it either. Thereís a lot on this record, though, and we made an effort to broaden its appeal such that more people will connect with it and grasp it.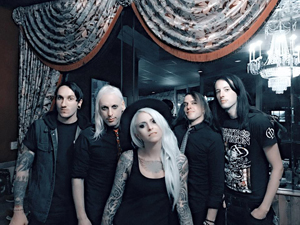 KNAC.COM: STITCHED UP HEARTís success has skyrocketed over the past year playing every major festival and touring nonstop. All the while you remain very accessible and real to your fans via social media and in person. Is this a trend more bands are moving toward?
DEMNER: Music connects people and the Internet has also changed things. Artists now are far more connected to the people who listen to their music. Fans can Tweet you and youíll see it if youíre paying attention. I know for me; if someone noticed me and favorited something of mine, then Iíd get really excited. It made my day. Why wouldnít we do the same to brighten the day for anyone following our band? It does take a lot of energy because there are so many social outlets and forms of social media. We try to hang out with fans as much as possible at our shows, as well. Obviously, there are days when we need some alone time, but ultimately, we really make an effort to connect with everyone and get to know everybody we can.
KNAC.COM: The Alternative Press Music Awards (APMAs) have become a centerpiece in the award show scene. Whatís the excitement level been like with the band about appearing at this yearís show and do you have any surprises in store for show attendees?
DEMNER: Itís really exciting. I was blown away. Iíve never even been to the awards, so just being a part of the whole thing is really cool. [Laughing] Iím still trying to figure out what Iím going to wear. Itís kind of surreal. Iím used to watching it from the other side of things, not actually being able to help and be a part of it. It feels like Iím growing up and becoming part of the industry right along with the growth of the band.
KNAC.COM: An integral part of your mission as a band is doing outreach work for animals, particularly those in shelters. What makes this issue so dear to you and how can others get involved?
DEMNER: We were touring through Seattle and stopped to see my aunt who has a house nearby. She was fostering kittens and I guess it was kind of selfish at first. I was like, ĎYou can borrow kittens and then give them to somebody? You donít have to commit for 18 years?í That was my initial thought. Then, we were home riding horses and I decided it would be cool to give back by fostering some animals. I fostered a dog and a cat, and then I found a kitten rescue. I kind of fell in love with it because of the way they help. Once you start helping with the rescues and see how many animals are in need, it always feels like youíre never doing enough.
Weíre in Salt Lake City right now at a petting zoo for rescue animals. You come here, give them a donation and you can pet horses, alpacas, chickens and ducks. Itís great because they found a way to generate funds to provide for the animals while helping them.
Iím hoping that this inspires others to find something to help give back to the world. If you keep taking, taking, taking, then what are you doing for this world? Itís very selfish. When we went back on tour I still wanted to help the kitten rescue, so we decided to donate a percentage of our merchandise sales to the rescue. So far, weíve raised over $2500 for them. Itís not much, but it helps. It helped them get a nursery, so they can pull all of the bottle babies from the shelters who donít have mother cats. Shelters without nurseries typically put those kittens down in an hour or two because they canít feed them. This one is based out of L.A., so its focus is mainly that area, but there are rescues all around. If you feel passionate about something and want to help, once you get involved, youíll see how much help is needed and how much you can actually be of service.
KNAC.COM: Beyond raw talent or songwriting ability, is being on the road touring virtually nonstop the key to success in music?
DEMNER: Yeah! That way you actually have the opportunity to meet people in person. Itís one thing to grow your fanbase over social media, but when you meet people, hug them and get to know them, you start to build real relationships. Thatís what keeps people around. I mean; youíre not going to talk to a friend who never wants to see you. Youíll lose the connection. Being on the road is fun. Itís definitely not glamorous. At this point, the six of us are still traveling in a 15-passenger van. Weíve been out since April and wonít be back home again until late-September, but we enjoy what we do. There are moments like now, when Iím just sitting here petting a miniature pony talking with you, and it pays off.
KNAC.COM: Thereís been huge growth in the number of female-fronted bands in the hard rock and metal scenes in recent years. Whatís driving this trend?
DEMNER: I really have no idea how it started, but music tends to go through phases and people are always looking for something different. When people heard female vocals over heavy music it was definitely something new and different. Audiences wanted more of it and, hopefully, the trend lasts for a while and I get to be a part of the female movement in heavy music. Hopefully, too, it inspires more girls to pick up a guitar or drum sticks and try to touch people through music.
KNAC.COM: Whatís the most important thing that fans should know about STITCHED UP HEART?
DEMNER: We really care about people and animals. Itís not just about us and how cool we are or how cool the band can be. Itís all about making an effort to make the world a better place. Whatís the point of promoting the band, to listen to our music and make us cool? No. Itís about what we can do with the platform we have to do something that inspires and moves people for the better.
The difficulties of the past have shaped the unified heart that comprises STITCHED UP HEART into band whose music sends a powerful message of hope told through the voice of experience. Theyíre also passionate about improving the world around them and inspiring others to do so, as well. Perhaps a heart must be broken and then stitched before it realizes thereís more to life than turning the focus inward. Letís hope more will model themselves after STITCHED UP HEART and those in need will come to know that, as long as there are people willing to help, they are Never Alone.