Home On The Range: JUNKMAN's 2016 ROCK ON THE RANGE 10th Anniversary Recap

By Junkman, On-Air Personality
Thursday, June 16, 2016 @ 11:01 AM

| | | |
| --- | --- | --- |
| | | Mapfre Stadium-Columbus, Ohio May 20-22nd, 2016 |
All Photos By Junkman
The 10th annual Rock On The Range festival took the town of Columbus Ohio by storm (literally) as it does every year, with over 60 bands on 3 stages bashing it out to a sold out crowd, estimated at over 120,000 for the 3 day event, put on by the team of AEG and Danny Wimmer Presents. As part of the "Worlds Loudest Month" of rock festivals across the US, Rock On The Range is the largest and longest running and definitely the loudest gathering, again celebrating 10 years in Columbus, smack dab in the middle of our beloved USA. America's Heartland once again, hosted one hell of a party.
Once I rolled into town, Thursday evening, as I have done so many times, I headed downtown for a bit of a pre-party featuring the band STITCHED UP HEART for a rockin' preview of their latest material. I then headed to a local bar with some other journalists, before heading to the infamous Alrosa Villa to check out the reunited FLAW rock the place, to a very sparse but psyched up crowd. Afterwards, I headed back to the rented house that I would call home base for the next few days and crashed. A huge three days at the festival was ahead, and I needed all the rest I could get.
The forecast for Friday was for rain, and when I got to Mapfre Stadium it looked semi-clear, a perfect day for a rock show. Spread out on three stages, including the main stage inside the stadium, home to the Columbus Crew pro soccer team, there would be plenty of rock for all. There is also a Comedy tent, featuring a lineup of plenty of today's top comics, like Jay Mohr, Craig Gass, and the guys from That Metal Show to entertain those that needed a break from the music, throughout the weekend.
I headed to stage two, located just outside the stadium to catch the first act of the day, a band that rocked my world just a few weeks before in Hollywood, Canadian retro-rockers MONSTER TRUCK. Loved every second of their 7 song set, which started out with their first single "Don't Tell Me How To Live" from their latest release Sittin' Heavy. Just a great way to start the weekend. A killer band with a very heavy set of songs. Check these guys out.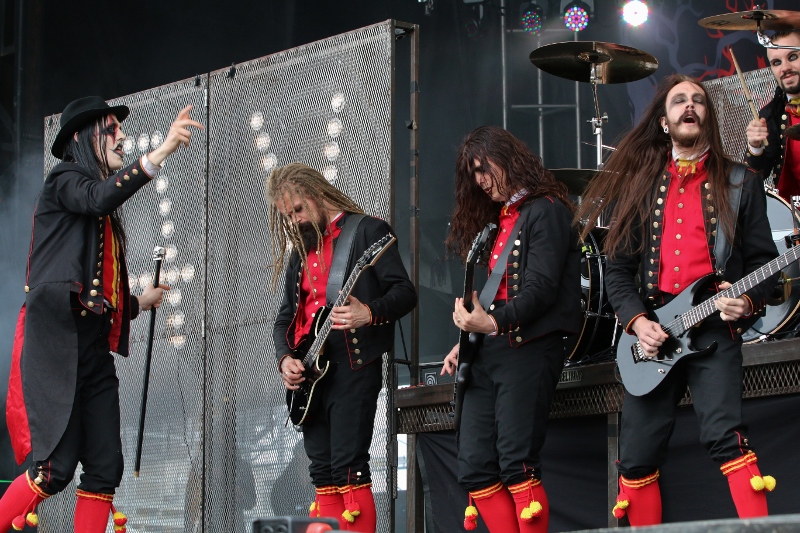 I decided to stay put at stage two, because next up were the Swedish band AVATAR, who just recently released a new recording that I absolutely love, entitled Feathers And Flesh. Although they only played 5 songs, they did play "For The Swarm" and "The Eagle Has Landed" from their latest. This is a very visual band, their makeup, costumes, and choreography are stunning and a fun break from the norm. You can tell that they are having a great time onstage, and the audience ate it up.
Off to the main stage I went, and upon entering the photo pit, I was greeted warmly from a familiar face. Head of security Jim, has been the man who has kept crowd surfers from landing on the photographers heads for years. A great guy, and he trains his crew well. He loves his job and he loves the music, and it's always a treat to know that he literally has my back at all times. Rock On The Range crowd surfing has increased every year, and now it includes lots of people with super hero costumes, as well as "Where's Waldo" surfers, and this year, not only a guy in a chicken suit, but I even saw an Amish kid high above the crowd before landing in the pit, cradled by one of Jim's well prepared team of catch and release crowd controllers. I would hope that the lad was on "Rumspinga". Look it up…
As for the next set, Australia's SICK PUPPIES with their new singer/guitarist Bryan Scott came on and rocked the early rising "Rangers", as the ROTR crowd is affectionately known, with a 7 song set. Not overly exciting as a band, but the early time slot had the attention from the psyched up early arrivals anyway. SEVENDUST followed with a blistering set as always. This band has consistently kicked ass for so long, I honestly cannot remember not seeing them on the road at some point in the last ten years or so. They just keep coming. Songs like "Praise" and "Decay" spotlighted singer Lajon "LJ" Witherspoon's manic delivery and constant interaction with his audience.
I really had to hustle to catch as many bands as I could between the main stage and stage two, throughout the afternoon. In this order it went-TRIVIUM, stage two the crowd went absolutely ballistic. BULLET FOR MY VALENTINE on the main stage was rather disappointing. Great songs, but the stage show seemed to be lacking the energy that I had witnessed this band giving out in years past. ASKING ALEXANDRIA, on stage two, featured their new singer Denis Stoff. Sadly, he doesn't hold a candle to their former singer Danny Worsnop (now singing in WE ARE HARLOT) but they were very entertaining, and three songs from their latest release The Black were performed to an adoring crowd of diehards. Security was very busy, as the crowd surfers were at their peak during their set at the second stage. Since it was set up in a parking lot, stage two surfers had only asphalt to break their fall if they didn't make it to the barrier, and the tender handling of the massive security force.
One of the best sets of the day, in my opinion, came from SIXX:A.M. on the main stage. Opening with their first big hit "This Is Gonna Hurt" from 2011, the band just came out blazing. Bassist Nikki Sixx looked reborn on stage. Truly having a great time and energized, after putting MOTLEY CRUE away, hopefully for good, he was all over the stage, in constant motion, almost like his early CRUE days. Guitarist DJ Ashba has come a long way in the past few years, and his guitar playing is terrific. Note after note and big chunky chords accompanied new songs like "Rise" and "Prayers For The Damned". The newly made-over singer James Michael just oozes rock star onstage, and the crowd ate it up. They wrapped up their set with the outstanding "Life Is Beautiful" from 2007's The Heroin Diaries release, and Mapfre Stadium erupted, as "Rangers" to and fro shouted their approval. I had spoken with Ashba before the set, and he was beyond excited to be playing new music for the ROTR faithful. Again, a great set, from a great band that has come a long way.
Another impressive set followed on the main stage with A DAY TO REMEMBER. I saw them a few years back and was not impressed, but they have really upped their game and their fans came out in droves. I will have to say that they brought out the most crowd surfers of all the bands that played Day 1 of the festival. They also got a longer set then I thought they would, 11 songs to be exact. Singer Jeremy McKinnon is a star. He is all over the place onstage, boundless energy throughout. A cool mixture of pop/punk/and Metalcore songs are what gives this band mass appeal, and I'm glad I got to see them again, as I am now officially a fan.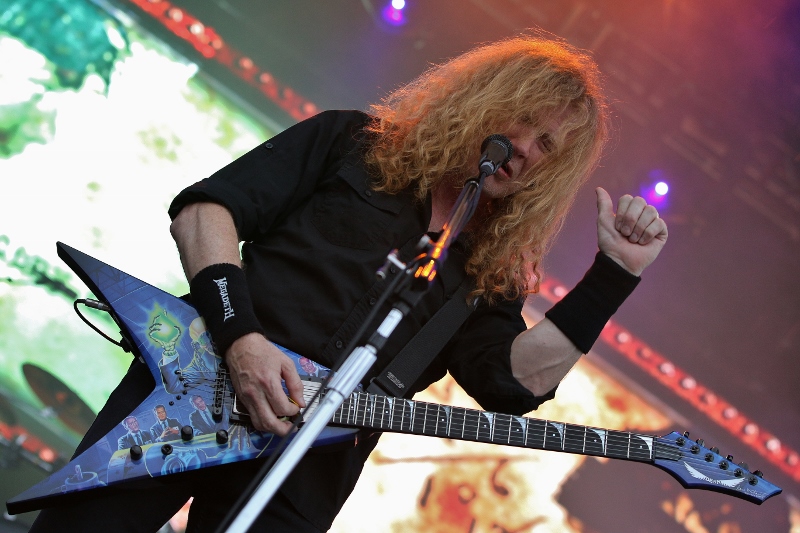 The clouds were starting to open up and the rain started to fall on Columbus as I made my way to stage two for MEGADETH's set. Opening with "Hangar 18" and featuring new guitarist Kiko Loureiro, and in his first appearance with the band, drummer Dirk Verbeuren (from the band SOILWORK) who gave the band a real charge. It seemed the louder MEGADETH played, the harder the raindrops fell. Dave Mustaine was in fine form, and he croaked out MEGADETH classics like "Sweating Bullets" and "Peace Sells" as well as the title track from MEGADETH's latest, Dystopia. Loureiro was on fire. He's an amazingly talented guitarist, and he breathes new life into the band, you could almost see a smile on the forever grimacing Mustaine's face when they finished their set with the classic "Holy Wars…The Punishment Due" as the sky and the fans simultaneously exploded. Another of my favorite sets of the day.
SHINEDOWN as a band, with multiple hits and "crossover" status as far as radio programming is concerned, have become superstars. Singer Brent Smith, after overcoming his demons, has proved to have what many consider the strongest and most powerful voice in the business. They have upped their game in terms of songwriting as well. "Asking For It", "Cut The Cord" and "Second Chance" are just a few of the huge hits that this band performed to a crowd that hung on to every word. During "Enemies" Smith encouraged and succeeded in getting the ENTIRE crowd to jump in unison. It was an awesome sight to see, and a great look into the power that a great band like SHINEDOWN has with it's audience. Years of hard work for these guys have paid off and now they are truly at the top of their game. As always, their cover of the LYNYRD SKYNYRD classic "Simple Man" brought chills, as the crowd sang along to Smith's incredible rendition. Rounding out their set with the title track to 2008's Sound Of Madness release was the perfect end to a great set, once again. You gotta love this band.
Headliners DISTRUBED were the last band onstage on day one. Returning to Rock On The Range after a few year's self-imposed "sabbatical", they brought along their A-game, as well a lot of pyrotechnics, for their 13 song closing set. Singer David Draiman, in a black frock, pleaded with the crowd to "Let me see your fists in the air" during the opening number "Ten Thousand Fists" and the weary, but game "Rangers" obliged in unison. As much as I like this band, their stage show has always been, let's say, predictable. Yes, the pyro was fun to see, but they basically let the music do the talking. Draiman paces back and forth, and after a few songs, you get the picture. His show stopping, stunning rendition of Simon And Garfunkle's "Sound Of Silence" was mesmerizing though, and the crowd was about as quiet as I had witnessed all day. They stood, body to body, spellbound at this terrific take of this classic and erupted in applause when it ended. Another cover, or medley of cover tunes, rocked a bit harder towards the end of the set. Bits of NINE INCH NAILS' "Closer" along with U2's "I Still Haven't Found What I'm Looking For" into THE WHO's "Baba O'Reilly" and, joined by PAPA ROACH singer Jacoby Shaddix, for a take on RAGE AGAINST THE MACHINE's angst ridden anthem "Killing In The Name Of" brought the subdued crowd back to life.
DISTURBED then ended their set with an encore of their earliest hits "Voices" and their biggest hit "Down With The Sickness". Guitarist Dan Donegan, bassist John Moyer and drummer Mike Wengren were on fire as they slayed the crowd musically to wrap up a great first day at the festival. As cool as the day had been, Saturday's lineup was sure to kick ass and we headed out to get some well deserved rest. One beer at our rented pad and I was out like a light.
Day Two of the festival got started with a bang. I arrived just in time for a few songs from Oklahoma City based ARANDA who played a very inspiring set on stage two. But things really got jumping, literally, on the main stage with P.O.D.. Blasting out some really listenable hip-hop inspired rock, they woke up the just arrived Rangers and got everyone fired up. Singer Sonny Sandoval even dared audience members to try and get up onto the 6 foot high stage with him. Now, in ten years of covering ROTR, I had never seen anyone do that. Until today. One fired up fan actually made it over the barrier, ran through the photo pit, scaled the stage and gave Sandoval a hug before being dragged off by security. I guess there is a first time for everything.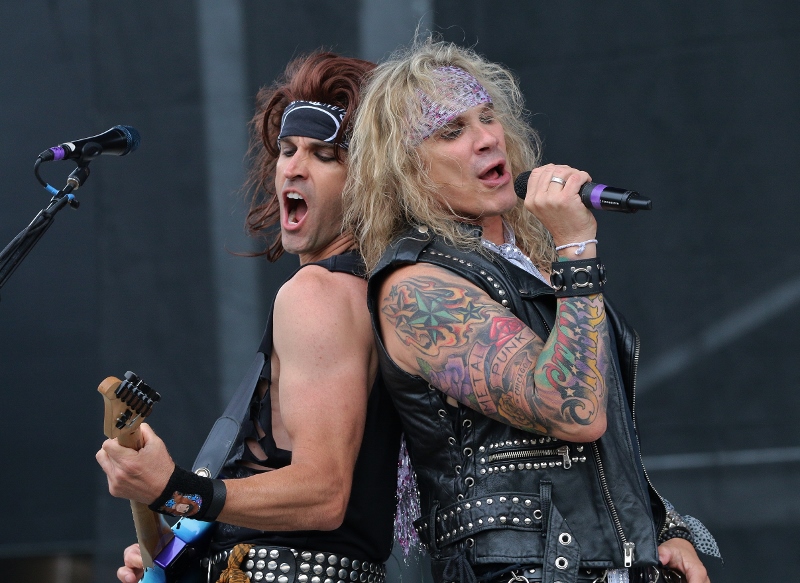 The rain had started to come down, and as I made my way to stage two to catch TEXAS HIPPIE COALITION's set, I donned my portable poncho, and covered as much of my camera equipment as possible. THC just flat out kicks ass, and the damp but excited crowd that greeted them loved it. 6XL sized singer Big Dad Ritch belts out some Texas sized growls as his band plays chunky riffs that charged like the rainfall that accompanied their set. Always a good time with these gentlemen.
Back at the main stage, SAINT ASONIA, who had debuted at ROTR last year, were tearing it up. This band which features former THREE DAYS GRACE singer Adam Gontier, as well as STAIND guitarist Mike Mushok, have really come a long way in the last year. The crowd at Mapfre Stadium embraced everything they did, now that their debut CD has been released and they are familiar with the material. And during their 7 song set, 4 were SA tunes, 2 were THREE DAYS GRACE songs, (including "I Hate Everything About You", probably their biggest hit) and one STAIND song. They finished their set with their first single "Better Place". Gontier is a pretty good frontman, although helooks very stiff onstage. The real show is drummer Rich Beddoe, who is a heavy hitter and in constant motion, posing and making faces throughout the set. A great photo subject.
After taking a lunch break and chilling in the media tent for awhile, I went back to the main stage for sets from POP EVIL and STEEL PANTHER. POP EVIL played their usual uptempo set. They have become borderline superstars in hard rock the last few years, and have had a few lineup changes, but based on the strength of good material like the song "Trenches", which is has been embraced by the US military, have really become a fun band to watch and listen to.
Speaking of fun, LA's 80's 'hair band" parody STEEL PANTHER was nothing BUT fun during their set. Not much to report, just the same hilarious presentation of self-deprecating jokes, lots of posing, spandex, and pleads of "Show us your tit's" to the Midwestern crowd that never got to experience their legendary show that ran for years, Monday nights in Hollywood. Now performing original material like "Fat Girl (Thar She Blows)", "Asian Hooker" and the gut busting "Community Property", they were a hit with the "Rangers" and put a smile on everyone's face during their 7 song set.
I bolted to stage two to catch GHOST, a band that for some reason I had always missed whenever they played. I was not to be disappointed. Just a great presentation, from the spooky intro, to the band member's (AKA The Nameless Ghouls) pagan-like masks, to lead singer Papa Emeritus III seemingly choreographed moves, not to mention some solid Swedish style metal, that blasted out of the PA system like a canon. Opening with "From The Pinnacle To The Pit" from last years excellent Meliora release, I and the rest of the crowd were blown away by this great act. I think the only thing that I found puzzling was when Papa Emeritus addressed the crowd with a squeaky, accented "How you doing?", the tone of which totally differed from what I was expecting his voice to sound like. Kinda funny, actually. I still thought they were the best set of the day.
HELLYEAH were next up on the main stage and with a new album Undeniable to plug, it was almost an afterthought that this would be drummer Vinny Paul's first time performing in Columbus since the tragic night almost 12 years earlier when his beloved brother Dimebag Darrell was murdered onstage at Alrosa Villa, the very venue I had visited two nights before. Didn't matter. HELLYEAH came on, smokin' and burnin' and stuck their fist up the ass of the late afternoon crowd.
Dreadlocked singer Chad Grey was a whirling dervish onstage, even interacting with the people gathered side-stage, as he screamed and shouted through HELLYEAH's 9 song set. "Drink, Drank, Drunk" was a highlight and sums up the bands early days on the road. Vinny Paul was like a dancing bandana, basically buried behind his huge drum kit. He does bash out a huge thunderous boom behind said kit, as he always has. Occasionally, he would pop up in between songs, much to the delight of the army of photographers, such as myself, that are in the pit for the first three songs only.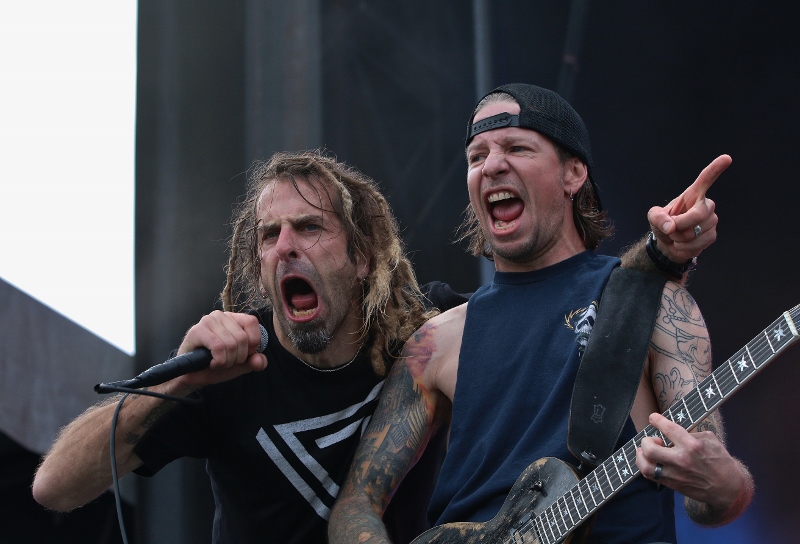 The final act on stage two was LAMB OF GOD. They virtually destroyed the place with their brand of thrashing, locomotive-paced metal assault. Opening the set with "Walk With Me In Hell", it was all about the power and emotion, and lead singer Randy Blythe's frantic stage presence. "We came here to disrupt" exclaimed Blythe, and with that, circle pits erupted like swarms of hornets, crowd surfers were so plentiful, it was like the packed audience had an upstairs. By the time the band finished up their set with the one-two punch of "Laid To Rest" and "Redneck", the parking lot that housed stage two looked like a war zone. Bodies were scattered everywhere, many more were carted away by friends and paramedics, and onstage the band just grinned at the chaos they had created. Quite a show, indeed.
FIVE FINGER DEATH PUNCH were next on the main stage. Security was out in full force as they have had past experiences with overzealous fans that had been egged on by this particular act. That was addressed by singer Ivan Moody as he exclaimed "we were told that we had been banned from Rock On The Range after our last appearance. Guess what? We're baaaack." He then flashed a huge grin, and all too briefly glanced at the security guards before getting back to the business at hand. "Never Enough" had Moody interacting with guitarist Jason Hook and bassist Chris Kale on stage right, and he stalked and strutted his way through a long 13 song set that brought out everything that this band is famous for. Great songs, including a killer cover of the 1973 hit "Bad Company" from the band of the same name. "Burn It Down" towards the end of the set was another highlight that again, featured the many moods of Moody-sometimes smiling, sometimes beaming with delight, and extremely agitated while performing.
Headliner ROB ZOMBIE brought out all kinds of spooky stage props, most of which I had seen the last few times I have seen him. His spooky band, guitarist John 5, bassist Piggy D, and drummer Ginger Fish are as tight as can be, and the stage lighting, featuring a wash of reds, and greens, and lots of strobe lights make for a dramatic effect. The most dramatic part of the show, of course, was Rob Zombie himself. Dressed in leather and fringe that that flew with every frantic move he made onstage, he was in constant motion. You really couldn't take your eye off him.
The 14 song set featured a wide array of songs from his long career. "Scum Of The Earth" and "Living Dead Girl" brought the crowd to a fever pitch. Revisiting his former band WHITE ZOMBIE's hits "More Human Than Human" and "Thunder Kiss '65" are always a treat and a big part of the show, as well as fan favorites. Guitarist John 5's exceptional guitar skills just rev everything up a few notches and his guitar solo, which featured part of the National Anthem in it, spotlighted his talents. Zombie and company led a spirited version of GRAND FUNK's 1973 hit "We're An American Band" that finished the set, before encoring with a killer "Dragula" that left EVERYONE completely satisfied and spent from another incredible day at Rock On The Range.
I finished my evening with another private party in downtown Columbus with a bunch of the industry people at "Barley's Brewery", where the food, and especially the in-house brewed beer, were wonderful. It was also a great time to kick back, relax with a cold one, and reflect on the day's events, and prepare for day three of the festival. I don't really remember what time it was when I got back to my bunk, but I know it was pretty early in the morning.
Day Three at the festival turned out to be different from the other two days on many levels. For one, the bands that were scheduled were not nearly as heavy as the previous days acts, with just a few exceptions. I also focused less on photographing as many acts as I could to take in the sights, sounds, and vendors as well as talk with some of the attendees. People, such as myself, had come from all over to attend ROTR, and today it looked a lot different than just the average head banger. I saw lots of families, even kids in stollers, which was interesting.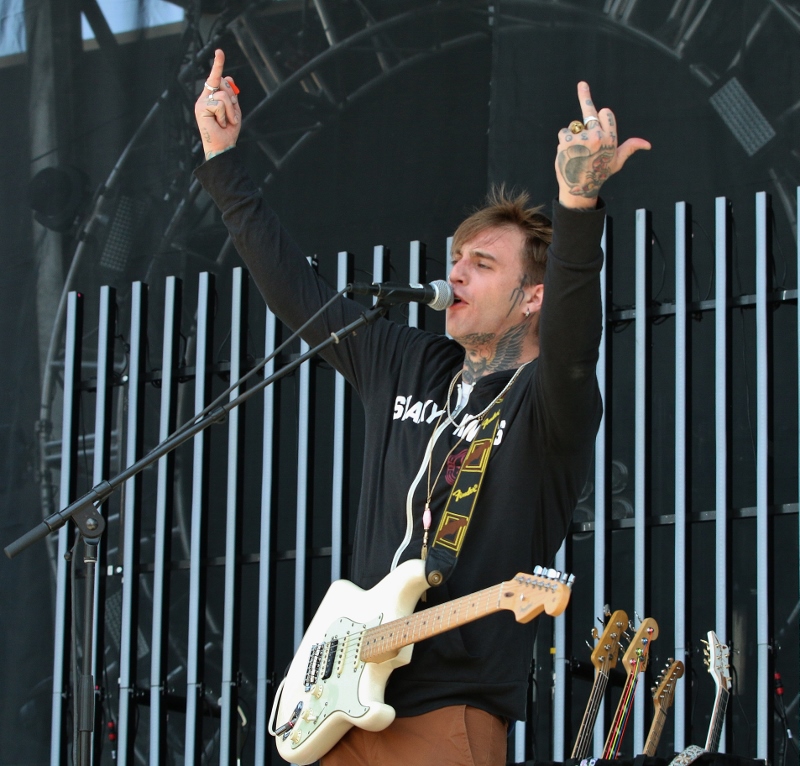 As far as merchandise, the official booths were doing a huge business. Long lines all day and evening. I didn't even see what the official ROTR t-shirt design even looked like this year. I'm sure they all sold out, as they always do. I did see plenty of merch from the individual bands though and as I mentioned, business was booming. Among the interesting booths were "Lovers Are Lunatics" (www.loversarelunatics.com) a clothing line which is co-owned by PAPA ROACH singer Jacoby Shaddix, who appeared and posed for pictures all weekend. FYE had a booth that had scheduled band singings all weekend. "The Music Experience" had plenty of guitar companies, such as Yamaha, Fender, Epiphone, Marshall, etc and their product reps interacting with the attendees as well, and of course, had their own artist signing events throughout the weekend. John Varvatos had a booth and a specially designed 10th anniversary ROTR t-shirt available. There was even a gallery dedicated to a photo history of the ten years of Rock On The Range, which featured plenty of photographs donated by my fellow photo pit bretheren.
As far as food goes, there was plenty. Lots of the average burgers, and dogs, and pizza, and plenty more, for just about any appetite. But there were also some unique things as well. There was a Jack Daniels VIP tent that offered lots of different options, such as a Mac N Cheese booth, and there I sampled a huge dish of Mac N Cheese with hunks of bacon and fried pork. It was quite tasty, actually. I also loved that Schmidt's, a German restaurant which is a Columbus institution, had a food truck selling their incredibly tasty German sausages and brats as well as their world famous cream puffs. Jenni's Ice Cream is another local delicacy, and their truck was selling some of the tastiest homemade ice cream that I've ever had. Unfortunately, the beer selection was very limited as all that was offered was festival sponsors Budweiser and Bud Light, as far as I could see.
I never did make it to the comedy tent, although I passed by it a few times and saw a moderate crowd in attendance. Again, I was here for the music and there was still plenty to see. Sunday's lineup brought out a lot of bands that I had never seen play, so I made my way over to stage two and checked out some surprisingly rockin' sets from GLORIOUS SONS as well as Ohio's own RED SUN RISING, who I absolutely loved. I have a good feeling about the future of this band, simple yet powerful, with great material and a high energy stage show.
I finally made it to the third stage later in the afternoon to catch a great set from THE SWORD, a band I had seen and admired for years. This band from Austin Texas, is not much in appearance but make up for it in material. A real "old school" BLACK SABBATH/LED ZEPPELIN/BLUE CHEER kind of vibe, if you are old enough to understand that comparison. Just a great "sonic thud" of a sound that is not only easy to follow, groove to and enjoy, but loud as fuck. Truly one of my favorite sets of the day.
Not to be outdone, WOLFMOTHER, on the main stage, followed with a similar retro sound, as well as retro look. Singer Andrew Stockdale in his afro and Gibson SG, is the focal point of this Australian power trio. Bassist/keyboardist Ian Peres, clad in bell bottoms and sporting a Rickenbacker bass, is all over the stage throughout the set, playing bass and switching off to the keys mid-song, as the band thrashed out their fuzz-toned material like the radio hit "Woman" and "Pyramid".
On stage two, PENNYWISE did their usual chaotic set and the crowd was pumped and ready for it. Bodies flew through the air during the entire set of songs, much to the delight of the band. Singer Jim Lindberg was on fire and rapidly paced the stage like a wild animal scouting it's prey. Guitarist Fletcher Dragge, a huge guy, looked menacing, but clearly enjoyed watching the chaos develop as they played their brief but fully charged set of songs that spanned their massive catalog.
I missed what I was told was a very uplifting set from BRING ME THE HORIZON, but I did get to see the last band on stage two, AT THE DRIVE IN. I had never seen this band before, but I really loved what they brought onstage. Great material and a nice repore with its audience, who were frantic and moshing during the 8 song set. Opening with "Arcarsenal", this band from El Paso Texas, in spite of numerous lineup changes over the years, really have it together. By the time they closed with their first hit "One Armed Scissor", I was sold and am now a fan of this band.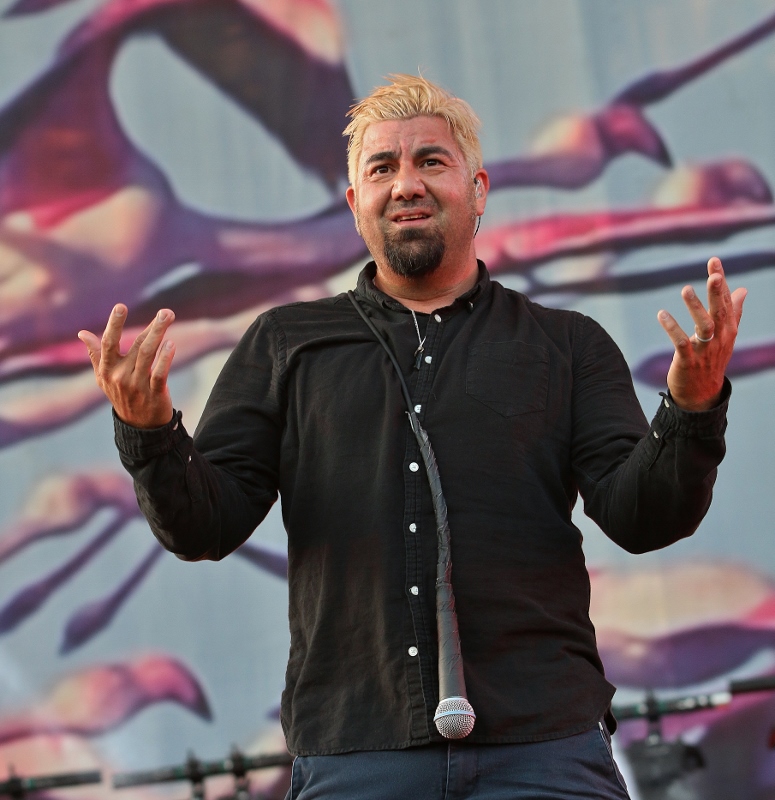 DEFTONES, on the main stage, are an interesting act. Singer Chino Moreno, while onstage screaming out the hit's like "My Own Summer (Shove It)" and "Be Quiet And Drive (Far Away)" seems like a little kid throwing a temper tantrum, while other times he seems very mellow on stage. The two sides of his mood swings clashed throughout their extended 14 song set. On the other hand, guitarist Steph Carpenter was content just banging out chords on his guitar and banging his head the entire time, pretty much at a stand still.
Lots of strobe lights, fog and other effects enhanced material like "Digital Bath", "Knife Party" and the huge hit "Change (In The House Of Flies)" that their fans ate up, and loved every second of. This band has been around a long time and is a huge draw, much more so than most of the other bands on Sunday. Their merchandise, I was told, was far outselling all the others. I enjoyed them, along with everyone else, but there were a few moments that it really got dangerous near the stage, as after a long weekend, many of the "Rangers" were really starting to let loose of their equilibriums and inhibitions. It's amazing how just too much beer and an exhausting weekend of rock can make your personal space grow to epic proportions. As DEFTONES finished their set with "Engine No. 9", I headed to the photo pit corral to prepare for the last and biggest band to play all weekend.
That band of course, was festival headliners RED HOT CHILI PEPPERS, playing ROTR for the very first time. The fact that they are one of the biggest bands on the planet is one thing, but during a show in California the week before, lead singer Anthony Keidis had fallen ill and could not continue the show. Not the case at ROTR as I literally bumped into him on my way out of the backstage area as he was speaking with some people, and he looked very healthy and ready to perform.
And perform they did! Under a bright swarm of lighting, they put on a rockin' funkfest that was unlike any other band at the festival. The rhythm section of bassist Flea and drummer Chad Smith is second to none as far as being locked in to a perpetual groove, sliding between the different tempo changes of songs like "Dani California", which featured an extended drum jam by Smith, and the slower groove of "Snow (Hey Oh)". A new song "Dark Necessities" was also performed for the first time, live onstage, and went over well with the psyched up "Rangers".
This band is so much fun in every way. Constant motion by Keidis, and it just plays into an extremely happy vibe, kind of like reggae does, but much more eclectic and sporatic. The material performed, especially towards the end of the set were so recognizable, especially after so much radio airplay the last 20 years or so. Songs like "Under The Bridge", the slammin' "Suck My Kiss", "Californication" and one of my personal faves, "By The Way", were what finished up the set.
The crowd was clearly re-energized, again, after a long weekend, and the band encored with "Around The World" and an over the top version of "Give It Away" which drove what was left of the crowd absolutely insane. Again, a huge combination of moshers, dancing drunk people, crowd surfers and just general mayhem was what filled Mapfre stadium. A pleasure to watch and take note of. After 10 years of bringing ROTR to Columbus, the festival promoters, Danny Wimmer Presents and AEG Live have clearly done their homework, and given the people what they want. It just seems to get bigger and better every year. I thank them for allowing me to take part and report on my adventures year after year, and look forward to next year's event. My thanks as always to the promotors and publicists for making it possible for me as well to attend.
A late night wrap up party in the artist lounge followed, as well as an "after-after-party" in the parking lot outside the band busses that followed, and all that were in attendance were truly pleased with the weekend's events. It's always good to catch up with friends from around the nation as we gather in the center of the USA every year and party together as one. Yes, I am, as we all were that weekend at ROTR, a true "Ranger For Life".
Check out the Rock On The Range photo galleries!
All Photos By Junkman
Please log in to view RANTS