Band Photos By Anton Sucksdorff
Did you ever wonder how hard rock/glam metal music would have evolved if grunge never happened? Well, the members of Helsinki, Finland-based SANTA CRUZ did. When I first heard their material a few years ago, I couldn't figure out how I'd missed them back in the '80s. They're great! I missed them back then because they didn't hit the worldwide scene until 2013 with their debut release Screaming For Adrenaline. That's right; SANTA CRUZ is a modern take on the hard rock/glam concept with influences including all of metal's greats from rock to guitar-playing virtuosos to thrash.
In 2015, SANTA CRUZ released its eponymous sophomore record. The album is a perfect representation of the band and their take on metal music. Its songs are raucous, fierce and anthemic. They're built on a foundation of heavy guitar riffs backed by a hard driving rhythm section. Layered overtop are four-part vocal harmonies and shredding duel-lead-guitar solos. SANTA CRUZ tossed out the makeup and everything else they saw as being fake or ironic about the '80s glam scene and stuck with making great music and delivering powerful live performances.
This band lives as hard as they rock, too. When I stepped onto the SANTA CRUZ tour bus to chat with them, the Venetian blinds on its windows were hanging by strings. Archie (Cruz) was in the kitchenette in his boxer shorts and it didn't phase him in the slightest that a complete stranger with camera equipment was standing there. He just chuckled, said, "Hey, man" and then told me we could talk after he got dressed. It was a great conversation.
KNAC.COM: Archie and Johnny (Cruz), you were high school friends. What made the two of you decide to form SANTA CRUZ in 2007 and who are some of your biggest influences?
ARCHIE: We listened to MOTLEY (CRUE), SKID ROW and a lot of guitar players like Steve Vai, Nuno Bettencourt from EXTREME and Eddie Van Halen. There was some heavier stuff, too, like PANTERA, METALLICA, ANTHRAX and (pointing to my t-shirt) MEGADETH. We were into pretty much all of the '80s and early-'90s hard rock and heavy metal bands.
KNAC.COM: Artists from glam metal's heyday have stated that grunge had to happen. Glam had to die off because the industry was signing virtually any band that fit the mold regardless of talent. What's the key to reinventing the genre while making it fresh and unique to this era?
ARCHIE: A lot of modern bands that play so-called glam metal try to sound exactly the way MOTLEY did on Shout At The Devil or Dr. Feelgood. I always wondered what if there was a next step after that. What if grunge didn't happen? How would you take it to the next level not trying to emulate the original sound? That was always our thing, not wanting to imitate anything. We want to bring something new to the table.
Playing solos has always been our thing, too. When you think of MOTLEY or SKID ROW, they have really good guitarists in the form of Mick Mars and Scotti Hill, respectively. They aren't Steve Vai or anything like that. He was in WHITESNAKE, though. We've also drawn from genres outside of metal, things like hip-hop, pop, and even grunge. Maybe that's what makes our sound more unique. It's not just about playing A, G and D, and then screaming on top of it.
KNAC.COM: You received recognition pretty early on in Finland, but by the time Screaming For Adrenaline was released in 2013, you were getting worldwide attention. Has the glam scene always remained strong at home or was it a hard sell?
ARCHIE: We had HANOI ROCKS, which is a big part of the reason glam remained strong in Finland. In the '90s, when the party was dying throughout the rest of the world, Andy McCoy was still a big celebrity back home. As long as I can remember, glam bands have remained huge in Finland. We just have a strong rock scene; that's for sure.
KNAC.COM: An interesting juxtaposition regarding tonight's show is that STEEL PANTHER is performing just a few miles away, yet your show has drawn a good crowd. I love STEEL PANTHER and everyone knows its members are amazingly talented musicians. That said; are people hungry for real glam metal as opposed to something that pokes fun at it?
ARCHIE: Maybe. It can only last so long. I love STEEL PANTHER, too. They're hilarious and I love seeing them live. They're great musicians who come from the L.A. scene, so they're not pranksters by any stretch of the imagination. They're one of the greatest rock 'n' roll bands that have come around in a long time, but the joke does wear off at some point. Maybe people want a band that's not just about making jokes about pussy.
KNAC.COM: Regardless of whatever label people want to put to a genre, the music holds up. A large part of that has to do with your talent as musicians. At the end of the day, is that really what separates you from the rest?
ARCHIE: Yeah! I don't want to sound cocky, but most of the glam bands suck. They only focus on their makeup and shit that doesn't really matter. They can't play for shit and they don't have good songs, which is the most important part about being in a band. Having good songs, a great live show and being able to play really well have always been our top priorities.
KNAC.COM: With your fast rise to success and heavy touring schedule, when did you find the time to write self-titled 2015 release, an album that was our Managing Editor Larry Petro's number 6 pick for Top 10 albums of 2015? Incidentally, his top 5 were STRYPER, QUEENSRYCHE, IRON MAIDEN, HELLOWEEN, and SAXON.
ARCHIE: [Regarding Larry's pick] (high five) Fuckin' A, dude! That's pretty good! Actually, that was a hard one to do. We were really busy all Summer right up until we went into the studio doing a bunch of festivals and other shows. It was frustrating. We had a lot of the songs written, but not many that could make the cut. We just didn't have time to do all of the songs we wanted to. It's as simple as that. We had a month to record it, so we hit the studio day and night.
KNAC.COM: Is your writing process a collaborative effort or do certain members do most or the writing?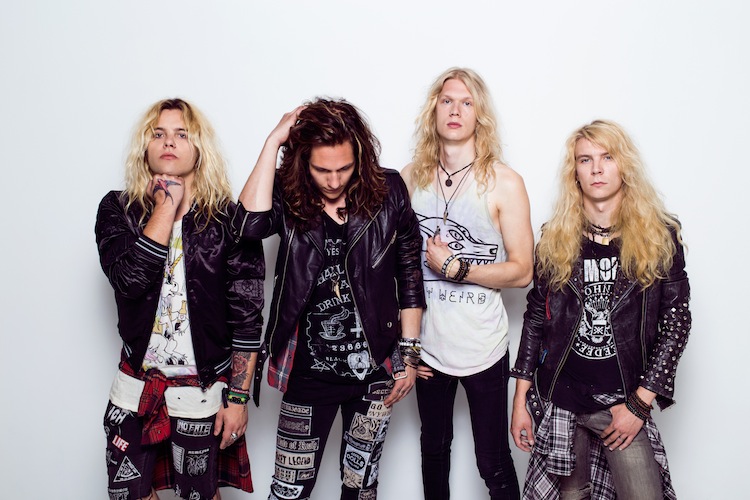 ARCHIE: Johnny and I pretty much write most of the songs. It's always been that way. (Pointing at Taz Cruz and laughing) Taz has a couple of fills here and there, too, but Johnny and I write the songs.
KNAC.COM: You've been out with SKID ROW, done MOTORHEAD's Motörboat Cruise, you're touring with SEBASTIAN BACH and are headed to Download Festival next month where you'll be performing on the same day as MEGADETH and BLACK SABBATH. Did you ever imagine that you'd garner this much success this quickly or were you always confident that it would happen?
ARCHIE: I always imagined it. I dreamed about it. Sometimes I have to pinch myself because it's surreal. It's insane. You visualize it and hope for the best. You have to be ambitious about things. There are no guarantees, but when you see your name on that bill with those bands it's amazing.
KNAC.COM: You just released "Skydiving Without A Parachute" four days ago. Is there another album in the works and what's the next big step for SANTA CRUZ?
ARCHIE: This song is just a teaser. We're going to start recording our new album in the Fall.
KNAC.COM: What's something about the band that your fans may not know (favorite movie franchise, TV show you never miss, etc.)?
ARCHIE: (Joking) Well, uh, we have a lot of gay action on the bus all of the time.
TAZ: (Laughing) All the time.
ARCHIE: (Now laughing hysterically) That's definitely something more interesting than a favorite movie franchise, right? I also want everyone to know that we all have huge penises.
JOHNNY: (Stepping onto the bus) That's the first thing I hear as I step on the bus, and somehow, it does not surprise me. Fact is; we all do have huge penises.
The members of SANTA CRUZ clearly know how to cut up and to have a good time, but they take music, performing and their fans very seriously. From the moment they arrived at the venue until the doors closed, they interacted with fans, delivered an outstanding show and took time to talk with me both before and after their performance. They've recreated a great sound and found a way to make it all their own. From the beginning, SANTA CRUZ has been "Aiming High" and quickly risen to success and developed a dedicated fan base as a result.