KNAC.COM's Annual South By Southwest Report

By David Glessner, Contributor
Monday, May 5, 2003 @ 1:36 AM

| | | |
| --- | --- | --- |
| | | KNAC Correspondent Metal Dave |
My apartment is trashed like Keith Moon's hotel room, my car is downtown and ticketed, and the bags under my eyes could hold a week's worth of groceries. Must be South by Southwest in Austin, Texas. Gotta run! For the uninitiated, the annual South by Southwest (SXSW) music conference is the biggest music industry gathering on the planet (it may also be the world's largest gathering of those incessant and intolerable cell phones). Now in its 17th year, the March 12-16 spring break- style orgy of music once again drew thousands of bands from all over the world to shop their wares in multiple venues throughout this fine city. You want rock? You want techno? You want another beer? Wake up, dude, this crumpled flyer says there's free cigarettes at the Supagroup show! Such is the scenario for the sleepless throngs wearing wristbands, badges and other credentials that determine the order of entrance at 50-plus live music venues concentrated mostly on the city's famed Sixth St. and nearby Red River. The highlights were many, the memories a bit cloudy and the chronological order gets somewhat sketchy toward the end when my notepad went MIA (I think it's with my girlfriend's credit card at a club where a recorded message is currently answering the phone). For those with attention spans as short as a matchstick, I offer upfront thanks to the SXSW staff and the following quick summaries: Rockers I spotted and/our hung out with at SXSW:
Former White Zombie bassist Sean Yseult, former B-Movie Rats drummer Andy (more on those two later), former Buckcherry singer Josh Todd and guitarist Keith Nelson (separately), Nashville Pussy, Monster Magnet/Nebula guitarist Ed Mundel, Sponge singer Vinnie Dombroski, and Dangerous Toys/Broken Teeth singer Jason McMaster. Bands that blew the friggin' roof off:
Bad Wizard, Broken Teeth, Rock City Morgue, D4, the Dragons, The Spoils, Josh Todd, Supagroup, The Living Things. And we're off to pound the pavement...

WEDNESDAY

The Lusties

If memory serves correctly (and I make no claim that it does), Wednesday night got started with a performance by Austin's own, The Lusties. The beauty of a monstrosity like SXSW is that it spawns non-sanctioned pirate shows by bands trying to piggyback on the mass exposure. With all due respect to the fine folks at SXSW, one can't help but stumble upon (or into) a few of these shows. Thus we end up at a club called the Matador where singer Edie Lustie is attacking a small audience that looks half ready to run for cover. Coming off like a ripped-and- torn Siouxsie-meets-Vampirella, Lustie and the band that bears her (presumed) stage name delivered a screeching set of goth-tinged punk that also featured covers of the Misfits' "Skulls" and Blondie's "Dreaming." The she-devil drummer and Johnny Ramone-looking guitarist in the GG Allin T-shirt are worth a look if you can manage to see past Lustie who ends the set by spitting maraschino cherries at the audience. Alrighty then! The Spoils
Next up on the same stage is another local act called The Spoils. These dudes may as well be playing live at Budokan because the set smolders with the influence of such '70s arena-rock mainstays as KISS, Cheap Trick, Slade and, to maybe a lesser degree, The New York Dolls and the Knack. The band exudes a certain vintage cool all dressed in frilly shirts, leather jackets and low-slung guitars. The Spoils' sound has swagger to spare, contagious shout-along backup choruses and a set-list that sounds like it was born in CBGB's before graduating to Madison Square Garden. It's early on at SXSW, but I'm convinced The Spoils have what it takes to raise a major stink. The Fags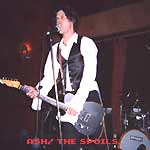 My next stop landed me at a venue called, er, The Venue. Onstage, a buzzed-about Detroit band unapologetically called the Fags was delivering the straight-up style of Motor City hard rock that's all the rage of late. Unfortunately, the crush of the crowd brought back images of Great White news footage and diverted my attention in the direction of an exit (in the club's defense, the daily newspaper reported no overcrowding violations at official SXSW showcases). On the way out, I bumped into Vinnie Dombroski of headlining band, Sponge (the reason for such a big crowd?) who looked more like a member of Rancid thanks to numerous tattoos and a head of black hair that looked like a pincushion. He told me that the current Sponge lineup is working on a new album. Stay tuned. Eastside Suicides
Down the block at an aptly named dive called Beerland, another local band called the Eastside Suicides is spitting snot through a sneer. This being the first night of SXSW and with many bands presumably still en route, it seems the locals are dominating tonight's stages. Given the caliber of local talent in the city known as The Live Music Capital of the World, that's hardly disappointing. The Suicides are one of the city's hardest working and most exciting bands. Led by Frankie Nowhere, who happens to be a dead ringer for a young Billy Idol with Joan Jett's autograph tattooed on his inner forearm, the Suicides have a reputation for bringing the danger. The sound is New York Dolls-meets-Dead Boys and the threat of beer-throwing mayhem is all too real. By the way, who was that chick from the audience doing backbends onstage? I think Jim Rose is hiring. The Ends
Beerland seemed like the best bill in town, so we stick around for yet another local band called The Ends. The punk scene is big, but relatively underground in this city married to the blues and roots rock, but The Ends and the Suicides are keeping the spirit alive. Where the Suicides are decidedly seedy and trashy, The Ends opt for a new-wave flavor and style to go with their rambunctious, well-dressed misbehavior. A cover of Elvis Costello's "Radio, Radio" seemed quite appropriate.

THURSDAY

Brewtality Inc.

Thursday got started with what would be the last of the local bands (I know, I know, you're ready to read about someone you know). Brewtality Inc. hit the Beerland stage (where I may as well have my mail delivered) and as the name implies, this bunch of hooligans is all about drinking beer and, uh, drinking more beer. The songs are fast and furious a la the Ramones or a revved up Social Distortion, but with a drummer who plays like he's auditioning for Slayer. Things were careening along nicely until the bass player blew his cabinet. To his credit, he wisecracked and hummed his bass lines into the mic before the power and chaos were quickly restored in time for a bulldozing cover of Toots and the Maytalls' "Pressure Drop." Reggae never sounded so angry. Bad Wizard
Unable to get into the Red Eyed Fly to see Supagroup from New Orleans, I wandered across the street to Room 710 where New York's Bad Wizard knocked me senseless and earned my vote as best SXSW performance (others came close, but not quite). Expecting a barefoot band of bearded bong-huggers, I was startled shitless by the ballistic, brink-of-disaster kamikaze rock that was so fucking physical, I half expected the singer with the bad afro and serious plumber's crack to hurl himself off the stage in a fit of headfirst hysterics. Whew! Now that was a rock show even Motorhead would toast! Thanks to the merch guy for the killer vinyl. Josh Todd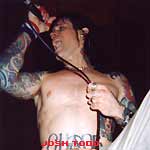 Next on the tattered scratchpad was a meeting with former Buckcherry singer Josh Todd who was waiting for me on his tour bus outside a venue called The Vibe. Todd, who recently spent time auditioning for former Guns 'N Roses badasses Slash, Duff, Izzy and Sorum, was on hand to unveil his new material simply billed as Josh Todd. As for the Guns misfire, Todd said things didn't work out with Slash. No more, no less. He said the same when asked about the breakup of Buckcherry. He may have been tight-lipped discussing sensitive matters on the bus, but he had a mouth the size of a manhole when he strutted and yelped across the stage like a tattooed cyclone. His new band sounded a lot like Buckcherry with some aggro slam added to the swagger. I hope Slash didn't lose Todd's number. Together they'd be an explosive molotov meltdown. Look for a Josh Todd album in the near future.

FRIDAY

SPIN party with D4 and Sahara Hotnights

Friday started with the realization that my car was downtown and I wasn't. Great. The big deal today was the afternoon SPIN magazine party featuring the Black Keys, D4, Sahara Hotnights and Hot, Hot Heat. Making the 1 p.m. start time was out of the question as I was fumbling for the aspirin until mid-afternoon. Sweden's Sahara Hotnights were scheduled for 3 p.m., which gave me enough time to find my other shoe and borrow my girlfriend's car. Fortunately I got there early enough to catch New Zealand's D4 and a free barbecue spread as long as a tour bus. Food? Oh yeah, it seemed vaguely familiar. D4 did the jeans-and-T-shirt skinny guy slam-bang like "Let There Be Rock" was their reason for living. It was sheer raw power, baby, and these guys were gunning for the circuit breaker. The amps kept cranking, but they were sweating and heaving under the weight of D4's high-voltage rock-n-roll damnation. Next up was Sahara Hotnights, a ballcrushing band of Swedish bad girls with an obvious debt to Joan Jett and Angus Young. That, of course, is a good thing. The girls rocked with enough gusto to steal attention and saliva away from the grub and toward the stage, but the media's novelty angle and hype would make anything less than a guest appearance by Janis Joplin seem unremarkable. Don't hold it against them, though. The drummer was a blur of sticks and hair, the front chick was all Gibson SG and studded belts, and three songs into the set, heads were banging, fists were waving and the barbecue was on the back burner. It was a beautiful day in sunny Austin, TX., but memory was fading to black. Rock City Morgue

Rock City Morgue is a great name for a band whose singer looks like the Crypt Keeper. Add former White Zombie deadgirl, Sean Yseult on coffin-shaped bass, former B-Movie Rats drummer Andy and guitarists who look like the Werewolf and a gravedigger, and you've got Rock City Morgue from the voodoo alleyways of New Orleans. The band's debut CD, Some Ghouls, is a clever send-up of the Rolling Stones' classic, "Some Girls," and even features a cover of Mick and Keith's "Shattered." Sounding like Alice and the Stooges jamming with the Munsters, Rock City Morgue's debut was produced by the legendary Daniel Rey (Ramones, Monster Magnet, Misfits). For better and worse, I spent days with these creeps. Ouch! The Dragons/Riverboat Gamblers
I've said it before and I'll say it again (and again), San Diego's The Dragons are one of the best goddamn rawk bands on the fucking planet. Led by Mario Escovedo, The Dragons slay every time. The band's first two albums, Rock Like Fuck and Rock 'N Roll Kamikaze, pretty much sum things up. This is Flying-V, bottle-breaking, woo-hoo rip and slam rock-n-roll at its fang-bearing finest. I tried to get to their gig at Beerland in time to see openers, The Riverboat Gamblers, but the place was packed with menace and fury as the band from Denton, TX raged from the stage in full-throttle suicide mode. Allowed inside before The Dragons set, I found the Gamblers singer in the restroom mopping up his own gushing headwound, which was surely self-inflicted. Just another day at the office for the must-see Riverboat Gamblers. Drained both literally and figuratively, I wander back outside where The Dragons were off to a rip-snorting blast of meth-fueled, hellfire rock-n-roll. These guys will make you sweat, bleed, puke and fall down in dizzying rapid succession. Look for their upcoming new album Frustrations of a Man on Fire (Gearhead Records) and prepare to be smoked to a fucking crisp! The Dragons Rule!

SATURDAY
Saturday started at a what-the-fuck Austin landmark called Maria's Taco X-Press, located on South Lamar and well south of the SXSW border. Friend and former Buckcherry guitarist Keith Nelson told me to drop by and exchange profanities and middle fingers. As usual, Keef offered little in the way of specifics, so I show up at the crack of noon looking for his sorry ass. The indoor/outdoor patio joint is lousy with acoustic singer-songwriters and for the time being, Maria's kick-ass breakfast tacos (trust me) are playing second fiddle to local legend Alejandro Escovedo and his laundry list of six-string troubadours. Alejandro (brother of Dragons frontman, Mario ... did I mention The Dragons?) offers a handshake and acknowledges that Keef is somewhere in the 78704 zip code. Great, I'll pitch a tent. As I crumple into a snoozing puddle of drool, my one good eye spots Keef and his buddy Jonny Kaplan. The guys tell me they're here to promote Kaplan's Gram Parsons-inspired project, The Lazy Stars. Cool bro. Now buy me a beer, bitch. In all seriousness, I think the world of Keef. He's been a stand-up cat since we met in '99 and his music with Buckcherry remains as necessary as Back in Black, Never Mind the Bollocks, Appetite for Destruction and Toys in the Attic when it's time for me to shake off the shackles of the 9-5 grind. When asked about the Buckcherry breakup, Keef was cool and diplomatic, but obviously still baffled and wounded. Fuck! On a personal and admittedly selfish note, I thought Buckcherry was gonna save us from Papa Roach. Thanks for the memories and music!! Broken Teeth

Unfortunately, the Lazy Stars set conflicted with a gig by local Austin jawbreakers, Broken Teeth. These guys are one of my favorite bands in the world so reporting for duty in the front row has become my life's mission. Led by former Dangerous Toys frontman Jason McMaster (and also featuring Dirty Looks/Dangerous Toys guitarist Paul Lidel and former Pariah guitarist Jared Tuten), Broken Teeth unloaded a lethal dose of Bon Scott-style bad-boy boogie that had the audience, including members of Nashville Pussy, Rock City Morgue and Junkyard, delirious with devil-horn salutes and dumbstruck admiration. By the time McMaster peeled off his sweat-soaked Coroner T-shirt to reveal his scrawny tattooed torso, the place was in a full-blown uproar. McMaster can still shriek like a hawk and Broken Teeth's obvious passion for vintage AC/DC and Rose Tattoo turns blood into lava. Hmmmm.... maybe Slash has been looking in all the wrong places. Just a thought. Look up Broken Teeth, buy their CDs on the Web and send your thank-you notes to me. Supagroup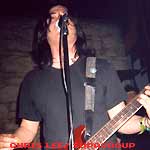 Supagroup comes from the same hard-rock school as Broken Teeth and tonight they're playing a free gig at The Matador where free cigs are being handed out like Hershey's bars on Halloween. These guys, God bless 'em, would rather play a scratched vinyl copy of Toys in the Attic than turn on the radio. Hailing from New Orleans and led by 20-something guitar-slinging brothers Chris and Benji Lee, Supagroup is another must-see band of knuckledusters. Benji looks like Malcolm, but plays like Angus while Chris cranks the rhythm and handles lead vocals. The band is rock solid, their heart's in the right place and Benji alone is worth the price of admission. Plus, they'll match you beer for beer until the sun comes up. You've been warned. The Living Things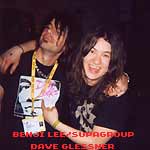 With Benji's hot-wired guitar still ringing bloody murder in my ears, I haul ass to a club called Steamboat to see a young new band called The Living Things. The St. Louis band comes highly recommended by my friend Bryn Bridenthal who has built an illustrious career out of guiding the careers of Guns 'N Roses, White Zombie, Nirvana and the rest of Geffen Records' mighty late-'80s roster. Bryn also turned me on to Buckcherry, which makes her something of a saint in my mind. Anyway, The Living Things are three brothers named Lillian, Eve and Bosh (yes, I said brothers!) who range in age from 19-24. They cite the Pixies, Breeders and Dinosaur Jr. as influences, but onstage they come off more hard rock than alt-rock. They're skinny, they slouch, they wear all black and play vintage guitars. So far, so good. Drummer Bosh turns in the most manic drumming at SXSW and brother Lillian retains eternal bragging rights for attending his first concert the night Axl Rose went fist-first into a St. Louis crowd and started a chair-swinging riot. Look for The Living Things' upcoming debut on Dreamworks Records.

SUNDAY
Sweet mother of God, the end is almost near! It's the official final day of SXSW and for the most part, the masses are at the airport or back in the van praying there's not a message from their probation officer waiting at home. A handful of local bands are slated to perform, but at this point I'd rather have my thumbs sawed off than endure another pounding of decibels and drinks. Mercifully, the aforementioned Bryn Bridenthal has invited me to lunch before flying back to her new Corvette in Los Angeles. Bryn is a wonderfully sweet woman with more rock star stories than Rolling Stone magazine (not to mention her husband was once a member of Blue Cheer). She's staying at the Four Seasons Hotel on the banks of the Colorado River, which runs through downtown Austin. In eight years of living in this music mecca, I've never set a sneaker in this swanky joint for fear of being dogpiled by security goons. The waiter arrives wearing a bowtie and a neatly folded towel on his arm. He asks if we want complimentary champagne with our brunch. Bryn may run in these circles, but I'll be struck by lightning before I can point to the salad fork. Ah, what the hell? It's SXSW and for someone who spends 365 days a year promoting music in one form or another, it only seems fitting that the fan can occasionally live like a rock star. Cheers 'til next year!
Please log in to view RANTS