2016 MONSTER ENERGY FORT ROCK Recap With Photos!

By Travis Failey, Planet Earth Contributor
Thursday, May 19, 2016 @ 8:15 AM

| | | |
| --- | --- | --- |
| | | Reviewing 2 Days Of Music And Magic |
All Photos By Travis Failey/Rocket Sports And Entertainment
Saturday, Day 1
The 2016 Monster Energy's Fort Rock Festival at Jet Blue Park in Ft. Myers, FL made its two-day debut on April 30 and May 1, 2016. And let's just say, it couldn't have been any better, as AEG did a great job organizing this year's festival. This year's sponsors included: Monster Energy, Jack Daniels, Bud Light, Southern Hospitality Concessions, Altpres.com, Fuck Cancer, FYE, TeamRock.com, Blabbermouth.net, Boston Red Sox, El Jimador, ESPN, Revolver, 93X, 96k Rock, the Fan 97.3, and Jagermeister.
The first thing that I noticed was that there were only two stages, and they were positioned right next to each other, with huge jumbotrons on each side of the stages. Plus, there were two more screens on the sides of the sound board, so nobody at Jet Blue Park had a bad seat this weekend. This was great for two reasons: one, no band overlaps, and two, no logistical issues when trying to get to other stages in the heat.
There were plenty of places to eat and get cold drinks and security went above and beyond to make sure that the patrons and the media were safe throughout the 2 day event. The organizers provided a huge "cool zone" in the middle of the park, where several misting fans blasted cold/wet air in your face under a sun-blocking tarp. The VIP section also provided powerful fans in all four corners of the tent, and plenty of shaded seating.
This year's lineup was a who's who of past and present hard rock heroes, along with up and coming bands that are being played on terrestrial and satellite radio on regular rotation.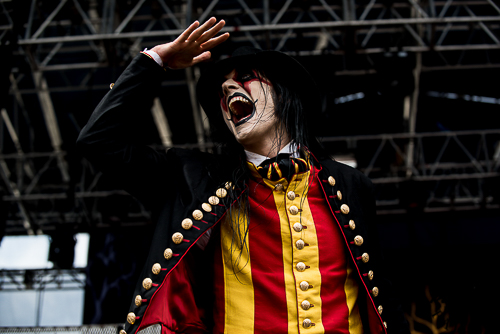 THE GLORIOUS SONS got things started on Saturday, followed by AVATAR, who was out promoting their new release, Feathers And Flesh. AVATAR sported their new black attire and vocalist Johaness Eckerstrom commanded his five-man circus to the delight of the Fort Myers masses. They performed a 7 song set with 2 tracks off the new release Feathers And Flesh, "For The Swarm" and "The Eagle Has Landed". "Get In Line", off Hail The Apocalypse, got the first mosh pit of the day underway.
By the end of AVATAR's set, Eckerstrom had taken off his trademark hat, gloves and jacket in the 90 degree weather. AVATAR's bandmates were truly in sync with one another on stage, and like a few other bands on this weekend's bill, AVATAR is a must-see show, especially as a headliner.
ISSUES, an American metalcore band from Georgia, was next. The two things that stood out to me were the two singers' clean and dirty approach, and the crushing bass lines and activity from Skyler Acord. Skyler stole the show as some of the other members were having "issues" with their equipment and made it obvious that they were not pleased.
A recently formed supergroup, (or as the band has said, "refugees that hit if off creatively"), SAINT ASONIA, took their experience from their previous bands and applied it to their performance at Fort Rock. SAINT ASONIA consists of guitarist Mike Mushak from STAIND, Corey Lowery from STUCK MOJO and SARK NEW DAY, and the most recognizable of the members, Adam Grontier, from THREE DAYS GRACE. SAINT ASONIA confused some attendants who thought they were a cover band because they played songs from their previous bands, such as "For You" by STAIND, and THREE DAYS GRACE's, "I Hate Everything About You". SAINT ASONIA also included songs from their self-titled debut release.
There were a bunch of bands on Saturday's lineup that I was excited to see, and SEVENDUST was definitely one of them. Great songs, big personalities, and monster musicians, all five of them. And SEVENDUST would not disappoint with a combination of songs from their 20 plus year career. Lajon Witherspoon is an absolute beast on the vocals and he takes the listener on a roller coaster of intensity and emotion. It is also hard to take your eyes off of drummer Morgan Rose, who is affectionately known as "The Octupus" in the musical community. SEVENDUST also provided the first surprise of this year's Monster Energy's Fort Rock as ANTHRAX's Joey Belladonna came on stage and performed "Face To Face" with them.
GHOST, this year's participant of the horror rock genre and Grammy award winner for the single "Cirice", introduced themselves by donning their Nameless Ghoul garb but with one caveat: frontman Papa Emeritus III didn't have on his trademark mitre head wear and just went with black and white face paint. It was understandable as the temperatures in south Florida continued to rise throughout the day. Luckily there was some cloud cover and a killer breeze, plus security guards spent the day spraying the crowd down with a hose. There was one security guy in particular that really loved his job and smiled the ENTIRE time as he sprayed the crowd playfully as they chanted "water boy" in between GHOST playing their hits "From The Pinnacle To The Pit", and the aforementioned "Cirice".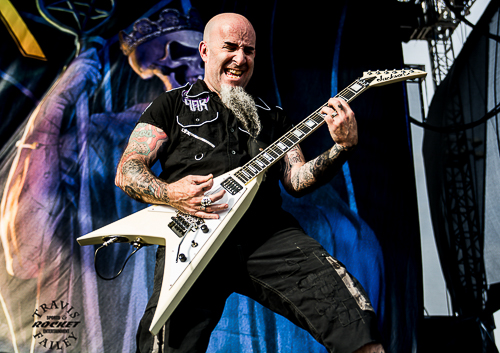 The next three bands on Saturday's lineup were a chiropractor's dream. MEGADETH, ANTHRAX, and LAMB OF GOD have all released new albums recently and have enjoyed their highest chart positions in years. Metal has made a resurgence lately, partially due to festivals like these, with MEGADETH and ANTHRAX enlisting a whole new generation of fans.
LAMB OF GOD and MEGADETH surprised some of the Fort Rock fans when LAMB OF GOD's drummer, Chris Adler, performed double duty on the skins for both bands. And I happen to know that that decision wasn't made until game day because I had the opportunity to interview MEGADETH's bassist David Ellefson earlier in the week, and Ellefson couldn't confirm or deny that this would happen. (Audio Interview HERE)
LAMB OF GOD was the first of the three, and vocalist Randy Blythe was definitely one of the highlights of the day. Blythe moved across the stage with seamless aggression while maintaining crowd control and vocal integrity. He was a powder keg on stage and the biggest mosh pits and most amount of crowd surfing occurred during LAMB OF GOD's 9 song set which included "Laid To Rest", "Redneck" and my personal favorite, "Walk With Me In Hell".
Continuing to tour off their highly successful For All Kings album, ANTHRAX is on fire. Just getting back from playing sold out shows in Mexico with IRON MAIDEN, the singles "Breathing Lightning" and "Evil Twin" are in regular rotation on three different stations on Sirius/XM radio and across terrestrial radio stations. The boys are back and it's obvious to everyone that watches Joey, Frank, Charlie and Scott on stage, that riding out the lean years was worth it.
Another band that has had their ups and downs is MEGADETH, but they too are back on the upswing. This is not only due to their crushing new release, Dystopia, but it's also due to the addition of drummer Chris Adler and guitarist Kiko Loureiro from Brazil. These two have breathed a new life in co-founding members Dave Mustaine and David Ellefson, and MEGADETH fans have benefited greatly. The addition of these two has been a seamless transition in the studio and on stage.
MEGADETH's set mixed some of their greatest hits, "Peace Sells" and "Trust", with recent singles from , "The Threat Is Real" and "Fatal Illusion". They closed out their set with "Holy Wars", which never gets dated for obvious reasons. Along with ANTHRAX, MEGADETH can now ride this next wave of their career to new heights and hopefully a co-headlining tour will be in the cards……
A DAY TO REMEMBER, FIVE FINGER DEATH PUNCH and ROB ZOMBIE concluded the day's festivities as the hot sun set Saturday at Fort Rock.
Ocala, Florida boys, A DAY TO REMEMBER, or ADTR, was definitely the ladies' favorite on Saturday, as was evidenced by the amount of rabidly screaming woman in the crowd. Vocalist Jeremy McKinnon, rhythm guitarist, Neil Westfall, bassist, Joshua Woodard, percussion and drummer, Alex Shelnutt and lead guitarist Kevin Skaff gave a memorable performance with plenty of toilet paper rolls being thrown from the stage.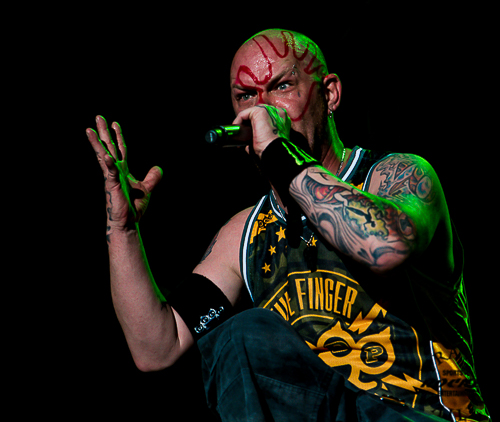 FIVE FINGER DEATH PUNCH has been a recording and touring machine unlike any that I have seen as of late. Their recent drama with their label may have been splattered all over the news lately, but it didn't seem to have an effect on them other than frontman Ivan Moody mentioning the plights of social media.
All the band members know how to control a crowd and Moody invited a family and several young fans onstage to sing "Burn Mother Fucker Burn". It's FIVE FINGER DEATH PUNCH's way of initiating a new generation of metal fans. Other highlights of their set was the opening song, "Lift Me Up" and "Under And Over It". Will the drama swallow them and their success? Only time and FIVE FINGER DEATH PUNCH will tell.
ROB ZOMBIE is out in support of The Electric Warlock Acid Witch Satanic Orgy Celebration Dispenser and brought his own horror show to Fort Rock. With various masks and stage props, Zombie's shows rival those of KISS and ALICE COOPER and tonight's set provided those theatrics. If it's one thing that ROB ZOMBIE knows, is that the show is just as important as the music.
Bassist Piggy D and guitarist John 5 donned their signature masks during the opener "Dead City Radio" and ROB ZOMBIE kept the crowd going throughout their 14 song set. Some in the crowd started to tail off during the guitar solo but Zombie brought them back to life with "Thunder Kiss '65" and the finale, "Dragula".
Day 1 of Monster Energy's Fort Rock set a high bar that would be hard to beat. From the slightly overcast weather and cool breezes, the excellent scheduling of the sets, to the diversity of metal bands, young and old, Sunday at Fort Rock had some big shoes to fill. Did Sunday outshine Saturday? Read on, McDuff.
Sunday, Day 2
Sunday's Fort Rock roster transitioned from Saturday's lineup of old school metal to more of a modern sound on the hard rock scene with SHINEDOWN and DISTURBED headlining Day 2.
First up was a new player on the rock scene in RED SUN RISING, who took the stage at 1:00 on a beautiful Sunday afternoon. RED SUN RISING is out promoting their third album, Polyester Zeal, which was released in August of last year. The first thing that I noticed about this band was that their music reminded me of a cross between STONE TEMPLE PILOTS and THOUSAND FOOT KRUTCH with a touch of CREED. Lead singer Mike Protich was definitely a hit with the ladies, and the combination of Protich and guitarist Ryan Williams could prove to be a recipe for success.
RED SUN RISING played a satisfying seven-song set, including their smash hit, "Emotionless", along with "Push" and "The Otherside". Each year at these festivals I find myself discovering a band that I think has the potential to be the next great rock band. This year, RED SUN RISING is that band for me.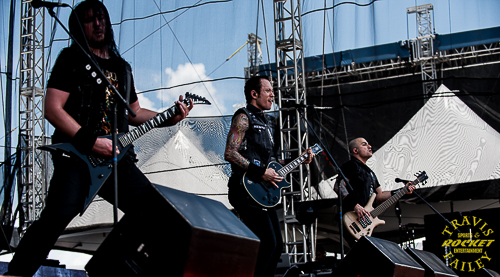 Matt Heafy and the boys of TRIVIUM led off Sunday's parade of hit-makers with "Until the World Goes Cold", "Silence In The Snow" and "Dead And Gone". I've watched TRIVIUM grow as a band and along the way, garner new fans. They have achieved this by making a few tweaks to their music, by releasing terrestrial radio singles, and it doesn't hurt that the guys on Octane love TRIVIUM. Heafy and his bandmates have an edge to their look and music and this combination is going to take them far in this industry.
After emo-metal band ASKING ALEXANDRIA finished their set, POP EVIL presented Sunday's Fort Rock crowd with another drummer question: Would Cha Chi Riot be performing with POP EVIL, and if not, who would be his replacement? Riot is a complete Animal on the drums and he reminds me of a character from the Muppets with the same name.
But Riot would not be in POP EVIL's lineup at Red Sox stadium, as he was replaced by a mystery guest female drummer. I don't know if this was a trial run for her because Riot rejoined the band recently. But whoever she is, she was amazing on the skins, and a perfect fit to lead the back line of another band of non-stop touring hit makers.
Just as the crowd was getting restless for some aggression, vocalist/guitarist Matthew Tuck and BULLET FOR MY VALENTINE brought their own version of a "Fever" to Fort Myers. The pits opened up a bit and the crowd surfing was kicked up to another level when BULLET FOR MY VALENTINE busted out their Guitar Hero classic, "Scream Aim Fire" and showcased the skills of guitarist Michael Paget. Paget is a rock star and he incorporates his own sound with the playing flare of past and present guitar greats.
An interesting entry to the Fort Rock lineup on Sunday was the inclusion of PENNYWISE. Actually it was apropos, as they got their name from another kind of monster, the villainous clown from the Stephen King novel IT. There wasn't a discernible connection between the fans and the band, but PENNYWISE performed their own brand of punk rock while celebrating their 25 year anniversary. Vocalist Jim Lindberg grabbed a camera from one of the guys in the photo pit, and the question was: is he going to shoot a picture with it or smash it? Thankfully for the photographer, it was the former. Lindberg took a couple of shots of the crowd, handed the camera back, and the photographer got some amazing photos of the fans.
There was a huge buzz among the fans and media for the next band to take the Monster Energy Stage at Fort Rock and that was SIXX:A.M. Bassist Nikki Sixx may be coming off his retirement from MOTLEY CRUE, but Sixx has been a member of this band since its inception in 2007, and shows no signs of slowing down. SIXX:A.M. has released 4 studio albums, 3 eps, and 7 hit singles.
Nikki Sixx looked invigorated playing besides guitarist DJ Ashba, vocalist James Michael and drummer . James Michael is SIXX:A.M.'s frontman and during their hit singles "Rise" and "Lies Of The Beautiful People", his vocals and crowd command was riveting. You could see the smile and the positive body language Sixx was projecting, as he doesn't have to worry about the baggage and the deterioration of skills that plagued his previous band.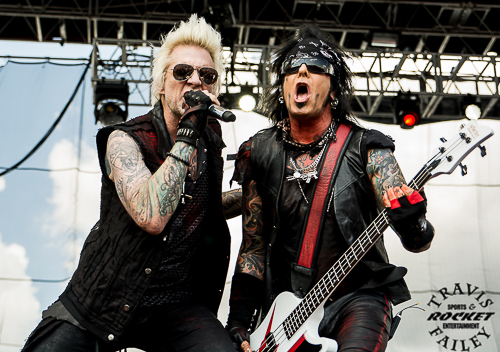 Hit-makers THREE DOORS DOWN, and the new kids on the scene, BRING ME THE HORIZON, led the way to the final two bands of the Fort Rock Weekend: SHINE DOWN and DISTURBED.

BRING ME THE HORIZON and their heartthrob vocalist, Oli Sykes, got the girls screaming like they were THE BEATLES. Bodies were once again being slammed in the pit and catching the crowd surfers was once again the top priority of the security guys at the rail. I can't say enough about the job that I saw security do this weekend. They tried their best to keep the festival patrons safe and hydrated, even if it meant giving them the hose.

Looking at Sykes and the rest of the guys in BRING ME THE HORIZON, you would think they were rookies in the music game due to their age. But the fact is that they have been together since 2004 when Sykes and drummer Matt Nichols were ages 15 and 17 respectively, in Sheffield, England. Sykes sports a new trend in tattoos: a blackout sleeve and this seems to be another part of the emo-metal and tattoo trends. Do I get it? No, but then again, others didn't understand my ink when I got it, and I wouldn't be surprised if we see a "Blackout Tattoo" challenge on the next season of Ink Master.

SHINEDOWN took the stage promoting their new album, Threat To Survival. Brent Smith is one of the most charismatic frontman in rock, and he immediately engaged the crowd. Brent is also a story teller and SHINEDOWN's story on Sunday night started at their beginning, with "Fly From The Inside". SHINEDOWN's set continued with hits like "Diamond Eyes", "If You Only Knew" and "I'll Follow You". Brent also went down into the photo pit area and high-fived the photographers and gave them props for the job they do. It was a truly a memorable moment for those in the photo pit. The band made a statement about the press' inclination to jump to conclusions during a tribute to Prince, and dedicated "Simple Man" to his memory, while thousands of fans held up lighters and phones in unison. It was a special moment that I won't soon forget.

DISTURBED was back with a vengeance after a four-year hiatus, while David Draiman made his return to Fort Rock when he played at the event three years ago with his side project, DEVICE. DISTURBED blasted off with the anthem "Ten Thousand Fists" and went back to their debut album with the old school tracks "The Game" and "Stupify". Mixed in were tracks from their comeback record Immortalized in "The Vengeful One" and during "The Light", Draiman had the crowd lift up their phones. Jet Blue Park was illuminated greater than when the pyrotechnics went off during their set. It was awesome to see John Moyer back on the big stage after doing club tours with ADRENALINE MOB. He is underrated and a great showman on bass.

There was a surprise during DISTURBED's set when they played a four-song medley varying from "Animal" by NINE INCH NAILS to THE WHO's "Baba O'Reilly". The performance was solid, but not necessary, as DISTURBED has an extensive catalogue of songs and hits to choose from. After the medley, DISTURBED finished the Monster Energy Fort Rock Festival with a trifecta of hits with "Indestructible", "Voices" and "Down With The Sickness". Draiman and the boys in DISTURBED are back and balance has been restored in the music community.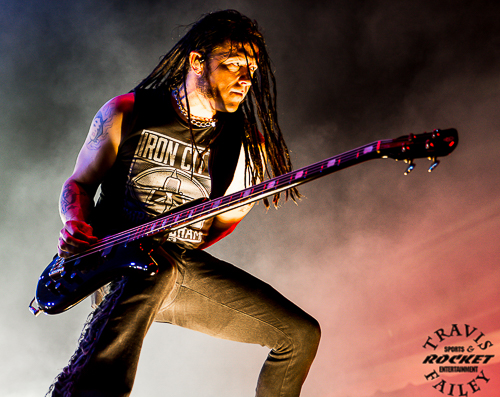 Day 2 of Monster Energy's Fort Rock was a bit more subdued than Saturday, as the crowd seemed to put the "festival" back into the festival. Sunday brought less mosh pits and more hacky sack, dancing and just relaxing with friends and family. Lee County's finest stayed on the outskirts of Jet Blue Park and let the patrons partake in the festivities unless they got out of hand. Yes, it was madness at the rail and directly behind it, but we didn't witness any fights all weekend and there seemed to be fewer people that were drunken idiots.

It was an amazing weekend of music and a job well done by the organizers, the production people and especially security. With promoters Danny Wimmer and AEG Live, the future of the Fort Rock Festival is secure, and is an event that I will look forward to attending every year.

Follow Fort Rock on Facebook at https://www.facebook.com/FortRockFestival/?fref=ts and on twitter @fortrockfest #fortrock.

Check out the Fort Rock Photo Galleries!
Part 1
Part 2
Please log in to view RANTS