Live Photos By Larry Petro/Petrofyed Photography
Few bands can match the rise to stardom over the past decade like San Diego's post-hardcore outfit PIERCE THE VEIL. Since the band's formation in 2006, their popularity has exploded with each successive album release. From PTV's debut release, A Flair For The Dramatic, in 2007, to Selfish Machines in 2010 and their breakout album Collide With The Sky in 2012, the band has garnered more awards than a lot of their contemporaries do in a lifetime and each of their videos has been viewed in the millions, with their smash hit "King For A Day" leading the charge with an astounding 67 million views! Combine that with numerous major world tours that consistently sell out well in advance and you have the makings of a major rock juggernaut.
Now while their musical output may be a required taste for some, there is absolutely no denying the band's appeal, as I am sure that a lot of the KNAC.COM readers and listeners with teenage children can attest. But with influences that include metal bands like JUDAS PRIEST and IRON MAIDEN, there can be something in their music for people of all metal genres.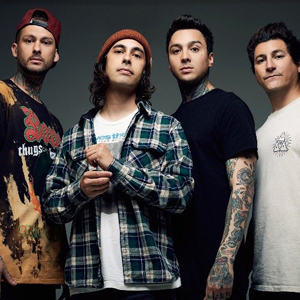 Now, as the band releases their new album Misadventures today, May 13, PIERCE THE VEIL is once again ready to take the world by storm with another world tour kicking off next month, the first leg of which will see the band performing the new opus in its entirety in smaller, intimate venues. I had a chance to chat with bassist Jaime Preciado once again last week to discuss the "misadventures" the band encountered in getting the album out, as well as the upcoming tour and what it feels like for him to be a member of PIERCE THE VEIL. Enjoy!
KNAC.COM: So how are rehearsals going?
PRECIADO: Everything's going great, it's been a lot of fun playing the new songs and we're really excited to hit the road, start touring and stuff.
KNAC.COM: How much rehearsal time do you have to typically put in before you're heading out on a tour?
PRECIADO: I guess it varies with bands. With us, we just like to do it as much as possible. It's literally our job so we like to get in there almost every day and just try to keep the sets fun. Some bands can not play at all and get together two days before a tour and rehearse and be fine, but for us, we have the time and we like to get in there and come up with really interesting, cool ways to play the songs and run a set and come up with a show, that's really exciting.
KNAC.COM: The last time we spoke back in September of 2014 Vic (Fuentes, vocalist) was finishing up vocals on the follow-up album to Collide With The Sky and you guys were looking at a release in the first part of 2015. Here we are, a year and a half after that conversation and the album is just now coming out, so it sounds like we have some catching up to do.
PRECIADO: (laughs) Yeah, definitely a long time coming for this one. We're just really excited that we're done with the record.
KNAC.COM: So what actually happened to keep it from being released when you originally intended?
PRECIADO: The record wasn't ready. It wasn't ready to our standard as far as what we wanted to put out. I think at the time (of our last conversation) we had a pretty good idea of what the music was going to be and all of that stuff, but was far as lyrically and vocally the record just wasn't ready. We could have released it way sooner but it just didn't feel right with and with us everything has to mean more than just a couple of parts of lyrics. All the stuff we do tends to stay with us and be in that kind if realm so we definitely tried to put something out that we were proud of and at that point i don't think we were ready to put anything out yet.
KNAC.COM: It seems like some of the songs were written just recently, so how much of the album did you redo, if any?
PRECIADO: The music was pretty much there, we had a couple parts that we kind of updated, but for the most part the record was pretty much there and Vic went on a little journey to create the rest of the songs lyrically. The songs were there, we were just searching for the final pieces and that's one thing you can't really rush, that creative part of the process. That for us was definitely the thing that kept us going.
KNAC.COM: The song that made me think of that was "Circles", which is about the Paris terrorist attacks, which were late last year.
PRECIADO: Yeah, that track was pretty much done but the lyric content was not fully there yet. And the melody was still kind of up in the air. I know for the chorus part of that line was the original melody that we had in the studio that Vic kind of hummed along. It stuck in all our heads so we ended up keeping that melody and obviously just changing up the lyrics and stuff. That one definitely hit close to home especially for us because we've played that venue in Paris and you know that's just a terrible thing. The song is more about two friends that go to the show and kind of save each other, so that's a little bit of positivity that we brought back into that.
KNAC.COM: A lot of bands probably didn't give that type of incident that much thought prior to that. Do you guys think about that at all now that you're about to head back out on the road?
PRECIADO: I don't think so, it's not something you think about but I think at the end of the day, going to shows is special, it should be all about the show, all about the kids having a good time, and as long as that's still there, that's the main thing we try to keep going. It was just such a horrible thing and so you have to keep that positivity there, the joy of being able to go to a show with friends and stuff and have a good time and we want to keep that going.
KNAC.COM: So was there anything in particular that made you decide on the title Misadventures?
PRECIADO: Yeah, literally the reason we called it that was because that's how it was when we tried to create this record. (Laughs) We had this idea and goal in mind and we had a path directly to that goal, but obviously as soon as we started on that path we started detouring all over the place, whether it was in the studio going to cut two songs and write 'em from scratch to having a tour booked right in between the studio sessions. There were a bunch of things that kind of took us away from the studio element but those are things that really defined the record and made the record what it is.
KNAC.COM: And it certainly was a bit of an issue I would think, the major tour you had with Sleeping With Sirens because that took up a whole chunk of the year.
PRECIADO: Yeah, but it's one of those things where for us, we were getting cabin fever in the studio and it was a nice breath of fresh air to go back on tour and remind yourself why you enjoy being in a band, why you enjoy doing all this stuff, so you can play all the shows. It almost made us kind of rethink some of the songs, some of the parts. It took us all over the place but I think that's what makes the record special to us.
KNAC.COM: And I'm sure that you're all much more satisfied with it now.
PRECIADO: Absolutely. There's literally nothing we could add or nothing we could do to make that record....there's nothing left that we could do on that record, we did it. Everything we wanted to do on the record we did, we're good and we can move on, like a weight is lifted.
KNAC.COM: Being from the Houston area I have to ask about the track "Texas Is Forever". What's the story behind that?
PRECIADO: "Texas Is Forever" is about a relationship that obviously very personal to Vic, a relationship that he's talked about in other songs before and it's like closing the book on that kind of relationship and going on to the next part of his life and leaving that one behind.
KNAC.COM: Are there any other songs on the album that hold a special meaning for you?
PRECIADO: I think musically they all have their own place in my heart, but one of them that's kind of been my favorite the last couple weeks that we've been playing a lot is a song called "Floral & Fading", it's track #4, and for me, musically that song went in such a different way than our normal stuff goes. It's kind of an outside the box track for us and I'm really, really excited with how that came out. It's more in the Pop realm and it has this groovy, almost 80's like vibe to it, too. I don't know, it's one of those songs that you really didn't think of much when we were making it, we were like 'okay, this is kind of a cool song', but it turned out to be one of my favorite songs on the album. That one was definitely a surprise for me.
KNAC.COM: Back on the subject of touring, you guys are headed out on the first leg of the Misadventures Tour and you're doing something you've never done before; you're playing an album, the new one, in its entirety. How did that idea come about?
PRECIADO: I actually think it was our producer's idea at the time, Dan Korneff. We were finishing this record and we were trying to figure out a way to come back and also at the same time show everyone the new record and try to push the new record as much as possible because we're so proud of it, so, so proud of it and we're excited for them to hear it. I think our producer just kind of mentioned it 'hey, why don't you guys do this' and we thought about it and were like 'that's kind of crazy, you know? That's kind of reserved for bands that have put out a record and it's like the tenth anniversary or something'. But then I thought about it and we all thought about it and we thought it would be really fun, especially for me. When I think about every time we've put out a record my buddy and i have this tradition where we'll sit in my car and drive around aimlessly for like 45 minutes or however long the record is and we'll listen to it. We've done that for the last 3 records, so i think of it as like we're doing the same thing but with a room full of people and it's us showing them the record live. I think it's just a fun kind of thing, and we're playing in intimate venues too so it'll be a nice little treat for us as a band playing these new songs and also for the people who are our fans. We just want to have a cool night, you know?
KNAC.COM: And you touched on that just a second ago. Playing an album from start to finish is certainly not a new idea, but as you had just mentioned, generally it's reserved for a special occasion, like the album or band's anniversary, so it is a pretty bold move for you guys and one that I can't recall has ever been done before, so you're pretty much in uncharted waters with this.
PRECIADO: Yeah, you know I know back in the day if LED ZEPPELIN put out a record that's the record they played at that show, but we're talking like the 70's, you know, so it's something like old school. For us, like I said before, it's not to be cocky, it's just more that we're so excited for this new record, we think it'll just be a great night to show kids the record and people who have been patiently waiting for it. We're just so pumped that it's done and we can't wait for it to get released. One week from now! (May 13).
KNAC.COM: It definitely shows the confidence you have in yourselves and the material you're putting out.
PRECIADO: Thanks man, we're really proud of that one.
KNAC.COM: You also mentioned the smaller venues. The last couple of tours have been sold out across the board, so you could have certainly played larger venues and sold them out but you opted for the smaller ones this first leg.
PRECIADO: We just thought of it like it's one of those intimate nights. Obviously the record's not even out yet, so it's always kind of weird like 'what if I don't like the record', so we're definitely taking a chance and playing these smaller rooms but I just put myself in a fan's position and if one of my favorite bands put out a new record and they were so pumped about it that they did a night with that record and they were playing these really small rooms, I would definitely want a ticket just to see them do that, because we're never gonna do this again. It's not like it's our regular thing, it'll be a one-time deal and we'll go from there. I think having that intimate venue vibe is perfect for this kind of show.
KNAC.COM: Of course all of this was just for the first leg. What plans do you have for shows after that?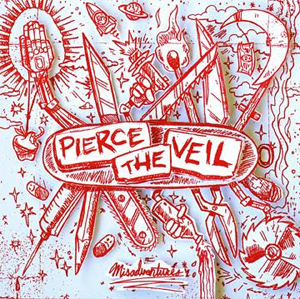 PRECIADO: Well, first things first, we're playing Mexico City next Friday (May 13th) for the release. That's something we've always wanted to do so that'll be a really fun show playing in Mexico City. We start in June for the Misadventures Tour and then after that we have things in the works. We're gonna be touring quite some time and we're gonna be going all over the place, Australia, Southeast Asia, South America. We've already got the UK and Europe already on sale, so we're definitely going to be everywhere and then definitely back in the states again, maybe like you said, playing the bigger venues and putting on a full-on show, playing old songs, new songs. So we definitely have a lot of stuff in the works.
KNAC.COM: Is there any place you guys haven't played yet that you'd like to?
PRECIADO: You know, I don't know, that's a good question. I'm pretty sure we've played every place that's playable. I wouldn't mind playing like Hawaii or something (laughs), but other than that I think we've hit just about every touring place you could go. But I'm definitely excited to go back to places like Australia, Southeast Asia, South America, you know, do all the world, that's always fun.
KNAC.COM: Up to this point, what is your favorite moment as a member of PIERCE THE VEIL?
PRECIADO: My favorite moment? Wow, there's so many. I don't know, I mean honestly, I think that every day we walk out on that stage and the fact that there's people there still blows my mind. I think deep down inside it's unbelievable but real, it's what I get to do for a living and I'm super lucky and I'm sure the guys will tell you the same thing, we're all very lucky and fortunate to be in this position. Any day that I can walk out onstage and there's kids wanting to hear what we play, that's a good day for me.