Sunday Mass: An Exclusive Interview With KURDT VANDERHOOF Of METAL CHURCH

By Wendy Jasper, Black Metal Aficionado
Monday, April 11, 2016 @ 4:12 PM

| | | |
| --- | --- | --- |
| | | "I came from a generation that if you were a musician over age thirty, you were done, but that is not the case anymore" |
METAL CHURCH is a band that, over the years, has become a "metal" household name. Founded by guitarist Kurdt Vanderhoof, the band became a staple on the West Coast metal scene. When their self-titled debut was released in 1984 it was something new and fresh and metal fans rallied around the band that was offering not only the heaviest of music, but incorporated melody and lyrical depth that was not currently available with some of that year's musical offerings.

Late vocalist David Wayne recorded the debut and 1986's The Dark, which was a major label offering via Elektra Records, and the band began to gain commercial success. However, Wayne left the band following that release and energetic HERETIC vocalist Mike Howe won the coveted spot.

Blessing In Disguise (1989) was the band's breakthrough album, and surprisingly, Vanderhoof sidelined himself and did not perform with the band during the tour or subsequent releases. He produced and wrote the band's music but it was performed by guitarist Dave Marshall. Unfortunately, after the successful and robust releases of The Human Factor (1991) and Hanging In The Balance (1993), Howe too, left the band.
Several albums and member changes later, Vanderhoof, Howe, bassist Steve Unger, drummer Jeff Plate, and guitarist Rick Van Zandt are back with what is undeniably the most revered metal album release so far this year. Debuting in high ranking positions on a number of reputable charts, XI firmly puts METAL CHURCH back in the spotlight.
As the 2016 tour to support the album gains momentum, enthusiastic fans all over the world are eagerly awaiting the news that the band plans to schedule a show in a town near them. Currently, the tour only covers select cities, but Vanderhoof assures the populace that METAL CHURCH plans to tour the world since the triumphant return of Howe. There was much teasing of the singer's return prior to the album release and the fan base was absolutely rabid for any information regarding access to the new music.
"We are thrilled to have Mike back in the band and even more thrilled that people love the record. There was a lot of hype and the pressure to meet the expectation of the fans was extremely high. We had to deliver what we promised and so far everyone seems very happy. We are ready for the live shows and there will be a lot of touring to support this record," Vanderhoof said. He knew it was not going to be easy to keep the news of Howe's return under wraps, particularly in the age of the internet, so the band prepared for the buildup that would come along with exposing Howe once again to the metal world after such a long hiatus.
"Mike comes back and immediately the internet music sites blow up with rumors and expectations and questions regarding what the album will sound like. There will always be a few that won't like it, but that has been a very small number so far. Before we announced Mike coming back we wanted to make sure we had the songs, a solid start, and that it was actually happening. I knew that once word got out on the internet and social media, there was no going back," he said. The band wanted to make sure that they felt good about the music and Vanderhoof stated that once the band was at the point they were comfortable with the product, they made an official announcement.
"Mike thought he was 'retired' and he was not performing anymore but we had always remained friends and stayed in touch. I did talk to him regularly and while I was working on a side project with Nigel from SAXON, we were discussing singers and I thought to myself 'I wonder if Mike would be interested?' so I gave him a call to see if he wanted to work on it. We started to work out the details of the side project and then, literally, the next week, I found myself in need of a singer for METAL CHURCH," Vanderhoof said. So, with the departure of vocalist Ronnie Munroe, came the much lauded return of Howe.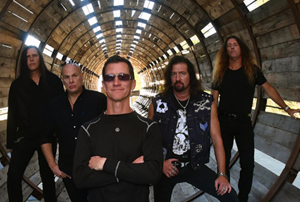 "I thought it was sort of cosmic that I had just made contact with Mike about working together. So I called him back and told him that METAL CHURCH now needed a singer and he said he was open to discussions and then we talked about how he would want to handle it and we decided to take it step by step before telling anyone," he said. "We also talked about how the music business was completely different than the last time he fronted the band and that because of the changes in formats, downloadable music and the ability to self-produce, that we were in charge of it all; the recording, the writing, ownership, everything belongs to us versus the label these days. No one tells us what to do. I make the record, we give it to Rat Pak and they sell it. This really appealed to Mike because when METAL CHURCH ended for him, we were essentially the casualty of big label politics. The good side of the "new" music business is that it is direct from artist to fan. Now it is totally ours, done at our pace and the way we want it. He wanted to make sure that the record was as good as it could possibly be and the process worked so well for us that we knew this was the right time for him to come back."
Every song on XI is brand new and created solely with this new era of METAL CHURCH in mind. Vanderhoof produced the music in his home studio and all of the songs were written once the band line-up was solidified.
"We started from scratch with this record," he said. "When Mike said he wanted to do it, I started from the beginning with the writing and that opened up an entirely new door for me because we didn't have to chase our past. Everything would be totally new. The early albums we did with Mike were more melodic and that type of sound appeals more to me, so that kicked open more doors for me musically and creatively. That was very exciting for me. I felt that I had much more opportunity to explore musical possibilities with this record."
Once the album was in the final stages, the band started press and bit-by-bit releases of video and teasers via their website. Fans began to get excited about the impending release and March 25th was not going to get here soon enough!
"There were a lot of previews of what was to come and we had the single and video released strategically before the record," Vanderhoof said of the video interviews and the release of the video for "No Tomorrow".
"Social media and internet is the only way to do it now. The marketing you can do on the internet is massive, and most, if not all of your magazines are now digital, music is now online and we are in the process of figuring out how to maneuver in this new industry. Piracy is a downside, but now this is the only way to market your product," Vanderhoof said. So far, there have been nearly half a million views of the band's video on YouTube alone. The video was shot at a nuclear site and had a very earthy feel to it that was somewhat reminiscent of the band's vastly popular video for "Badlands" in 1989.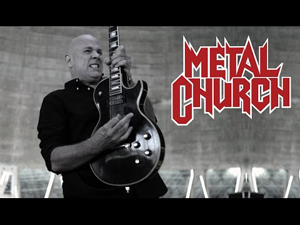 The band has had a full schedule since the album release, with a coveted spot on the Monsters Of Rock cruise earlier this year, and then there is also a plan to hit the European festival circuit in the summer after the first rounds of U.S. dates. There are more videos and singles in the works as well as a vinyl pressing of the album for fans that collect or listen exclusively to vinyl records.
"We will probably do another video that will include live footage after we start touring because we would like to have some live footage included," he said. "This record has so much to offer. In addition to the first single for "No Tomorrow", "Sky Falls In" is a stand out for me. It sounds like METAL CHURCH to me. As we tour, there are songs that we will play live that will reach back to the David Wayne era, but the set list will primarily be songs from Mike's days with the band and we will focus on a lot of songs that we never played live so we hope that people enjoy what we have to offer."
METAL CHURCH has kept a loyal fan base over the years, but Vanderhoof is particularly excited about the new generations of fans that are attending shows and listening to the band more than thirty years after their debut.
"Being the age I am now, and still being able to do this, and have fans still care makes me so grateful that I am still able to be a musician in this day and age," he said. "I came from a generation that if you were a musician over age thirty, you were done, but that is not the case anymore. We can continue to perform and there is no expiration date on us and that is an amazing feeling. We are seeing all ages at our shows. We see oceans of grey hair and bald heads and they bring their kids! Who would have thought? It has just been wonderful for us."
"When we were kids, we probably wouldn't have wanted to listen to a band that was thirty years old, but now it's totally different and we have a whole new generation of fans and it's just incredible. The response to the record is like a rebirth for the band and people have responded so positively. There is nothing like that feeling and I hope it continues! Things are better than they have ever been!"
Make sure to check the band out on the road, view the video for "No Tomorrow" on KNAC.COM HERE and keep checking the tour updates that appear via http://www.metalchurchofficial.com/ as this is where you will find out about shows in your area!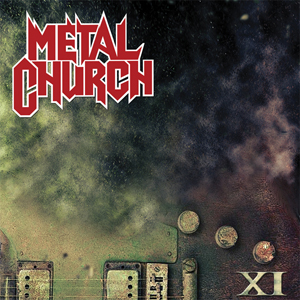 Tour Dates:
5.06 - Klubsen Hamburg, Germany
5.07 - Musikzentrum Hannover, Germany
5.08 - Garage Saarbrücken, Germany
5.10 - The Underworld London, United
5.12 - Z7 Pratteln, Switzerland
5.13 - Airport Obertraubling Obertraubling, Germany
5.14 - Rock Hard Festival Gelsenkirchen, Germany
5.15 - Columbia Theater Berlin, Germany
7.15 - Bang Your Head Festival Baligen, Germany
7.16 - Dynamo Metalfest Eindhoven, Netherlands
8.05 - Porispere Festival 2016 Pori, Finland
8.06 - Wacken Open Air Wacken, Germany
8.09 - Beast Coast Festival Ripatransone, Italy
8.10 - Phenomenon Fontaneto D'agogna, Italy
8.13 - Alcatraz Metal Fest Kortrijk, Belgium
8.14 - Sport Campus Lange Munte Kortrijk, Belgium
Please log in to view RANTS