Flotsam And Jetsam Exclusive: Keep On Keepin' On…

By Nina Delfino, Contributor
Friday, January 4, 2002 @ 9:51 AM

| | | |
| --- | --- | --- |
| | | Flotsam And Jetsam's Jason War |
Flotsam and Jetsam wrapped up the My God tour in their hometown of Phoenix, AZ, with replacement singer James Rivera (from Hellstar and Destiny's End) at The Mason Jar and local Phoenix bands Twist of Fate, Hellven, and Vital Signs opened the show.

They might well have called this the James Bond show, since you just about needed a spy decoder ring and the "double-secret" handshake to find out about it. I had no idea what to expect (as were the sentiments of many of the fans) since the voice of Flotsam Eric A.K. announced his departure from this old school veteran band in August, leaving guitar playing Ed Carlson as the only original Flotsam member. A.K.'s presence was definitely missed, but James Rivera was no disappointment. He sang his M*F*'ing ass off and did it well. Frankly, it's hard to believe he was a last minute replacement. The band definitely sounds a little different but Rivera was able to balance capturing the energy and style of Flotsam And Jetsam without mimicking or ripping off his predecessor. James announced during the show that he would be a permanent replacement. Also checking out the new voice of Flotsam were former Frontman Eric A.K. and former bass player Jason Newsted.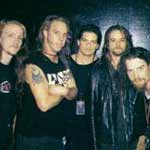 I had a great spot directly in front on the speakers for most of the show. These guys rocked the house down with a good mixture of old stuff like "Hard on You" (from 1988's No Place For Disgrace) and newer My God (released May 2001) tunes which fans didn't seem quite as familiar with. But that didn't seem stop them from romancing the audience visually and blowing out their eardrums with great, good old-fashioned metal riffs from guitarists Ed Carslon and Mark Simpson. bassist Jason Ward (now a veteran of 11 years with Flotsam), ever the ham, was so full of energy. I can't remember not seeing him headbanging during the entire show. As for Craig Neilsen, I can still taste the hair of anyone that was within five paces of me when his drums started beating to "The Master Sleeps" (from 1990's When the Storm Comes Down).These guys were even gracious enough to take a couple of requests from fans (but not mine…oh well).


The show's finale came as A.K. was coaxed on stage to jam with the Flotsam clan. The crowd went abso-fucking-lutley nuts as A.K. belted out the lyrics to "Smoked Out" from their 1995 Drift album one last time. All in all it was obvious from the kick-ass, "it's metal so F'off" performance that the boys favor playing for their hometown loyal fans. I would definitely see this show again.

I had a chance to chat with Jason Ward about the working with cult legend James Rivera, the departure and return of Erik A.K., and life in Flotsam.

KNAC.COM: When did you (Flotsam And Jetsam), officially decide James would be your new lead singer?


"I didn't feel as though people would get past the Doomsday/Newsted comparison. We are just not that band anymore. It becomes challenging and tiresome when the fans are not willing to grow with us."

JASON WARD: Immediately. We thought we were dead in the water when Eric A.K. left especially since he and Ed (Carlson) were the only two original members. We were lucky to find James who immediately fit right in. With only a few days practice, he stepped up to the plate and did a kick ass job. But that's just how James is.

KNAC.COM: Flotsam has definitely paid their dues and come a very long way since the early days playing local clubs like Bootleggers and Rockers here in Phoenix. Do you feel the best for Flotsam is still to come?
JW: For me it's hard to define what the best of Flotsam is. We've been around a very long time and I wouldn't trade anything for this experience. It's more than I ever dreamed. But, I don't think there's another band in the history of metal who've had more chances or opportunities to make a living at this. At least we can say we've always done what we wanted to do. There haven't been a lot of constraints. I don't know how many other musicians can say they've been able to do that. We never consciously set out to write songs to make money. I think if you talk to most musicians, they've had to compromise at one point or another on what they would really like to play. We've at least been able to do what we wanted on our own terms.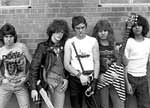 KNAC.COM: A lot of people feel old school heavy metal is in a slump. What is your opinion on the current state of the heavy metal community today?
JW: Its been pretty mainstreamed. Fifteen years ago you would never have heard Metallica getting airplay. Now, I want to slit my throat if I have to hear "Sandman" one more time. I can't figure out how Metallica became Bruce Springstein. But somehow it happened.

KNAC.COM: You feel metal has gone to mainstream?
JW: In an undefined way. There are metal bands like Pantera that can still sell a lot of records and be successful with a similar style to what we are doing. There are also a lot of good new bands that are fusing different styles and sounds. We get a lot of old-school Flotsam fans who are down on that. I think its wrong to deny what good bands like Linkin Park are doing and say it's crap because they're taking what influences they've had and fusing them together. I don't think anybody should be limited to one certain category or style. People should just listen to what's out there now with an open mind.



"It's been a terrible year. I might even quit being Jason Ward if I have another year like this one!!"

KNAC.COM: Are you writing more material?
JW: I'll always be writing songs. I don't know any other way.

KNAC.COM: If things continue on as they have, that is to say, if this year repeated itself would you leave Flotsam?
JW: Yes. It's been a terrible year. I might even quit being Jason Ward if I have another year like this one!!

KNAC.COM: Ohhh.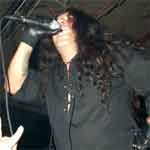 JW: Seriously, I came really close to leaving a couple of years ago. I didn't feel as though people would get past the Doomsday/Newsted comparison. We are just not that band anymore. It becomes challenging and tiresome when the fans are not willing to grow with us.

KNAC.COM: I was surprised to see AK get on stage and jam with you. No animosity about him leaving?
JW: I was surprised myself, and no, there's no animosity. A.K. was and is one of the best. It's a shame it had to come to that but even he'd had enough. Sometimes you just have to prioritize your life. I wish I was that prioritized.

KNAC.COM: What's next for Flotsam And Jetsam?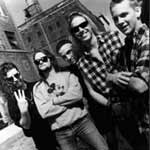 JW: I don't know what's next for us. We've had a rough year. The roughest in our existence. I think Craig is putting together something for us in Europe. Metal Blade has dropped us from the label which is pretty much the fucking same as being ON the label, 'cuz they never really did a goddamn thing for us anyway. We also fired our manager, and then of course losing A.K. Right now we're just taking some time to regroup. Its the end of the year and were just glad to be home in our own back yards.

KNAC.COM: Were can your fans keep updated on the latest info?
JW: Right now it's www.flotsam-and-jetsam.com. We're also developing a new web site that address for that when it's complete will be www.flojet.net.

Please log in to view RANTS