Live Photos By Halo/Halos & Horns Photography
As I arrived at the venue (Warehouse Live in Houston, TX) I was a little nervous, butterflies floating around in my stomach. I had been following Jill Janus/HUNTRESS for a while and if you have ever seen a HUNTRESS show live you have seen first hand the crazy, sexy almost demonic persona at times Jill portrays on stage.
If you have ever listened to any of the three albums then you undoubtedly wondered and been in awe of what goes through her mind. I was getting ready to speak to the mastermind behind this band and get into her eccentric brain.
I was greeted at the door by Jill herself. This gorgeous tall blonde standing before me hugged me as I walked in. Her demeanor was so sweet and personable as we sat on the couch in her dressing room. Hopefully it wouldn't be rushed because things had been delayed and the interview before me was done quick.
Given carte blanche on topics, there were so many things I wanted to get into. Static was the album just released and the last of the trilogy that started with Spell Eater. So this was the beginning of one coolest hours I've spent in the music industry thus far!
KNAC.COM: I was amazed by so many things on this album. Please explain the basis of the trilogy.
JANUS: The first of the trilogy is Spell Eater and the 2nd release was Starbound Beast. What is your understanding of this trilogy?
KNAC.COM: I know that Spell Eater was the Maiden, Starbound Beast was considered the Mother and Static was the Chrone. (Jill, was a little taken back and responded with 'wow, you've done your homework.')
JANUS: The evolution and growth from the first to the third album has been a cathartic process. There've been many struggles during the recording & creative process trying to finish Static.
I was diagnosed with uterine cancer Stage 1 during the recording of Static. I could have halted the recording and had treatment or risk it and finish the album. I took the risk and waited, very thankful it hadn't spread. I went public about it as well as my mental health issues to help people and our fans. I wanted this album to be a great representation of the journey I went through during the creative process of this album. I wanted Static to be catalyst to possibly help both men and women dealing with health and mental health issues.
KNAC.COM: Can you tell me how how the song "Flesh" came about? My review quote used in HUNTRESS' press release was derived from this song.
JANUS: (laughing a little) Yes! I remember..."I want to live a day in her head", loved that! The way "Flesh" came about was interesting. I was at a pre-production meeting. I was being a bitch and stormed out of the meeting and got back on the bus. I really didn't want to do another song. I started thinking of the TV show Dexter, as I had been binge watching it. The idea just came to me. I was obsessed and fascinated with serial killers. "Flesh" was about a female serial killer that killed women and used their skin to make clothes. I wrote this song in 10 to 15 minutes. "This is the sick shit that goes on in my mind." I thought that was the perfect summation of this song.
KNAC.COM: What are some interesting things about the trilogy that may not be well known?
JANUS: There are 11 songs totaling 33. I know you (Halo) know, but others may not know my interest in the stars, Tesla and the Stargate Alpha Tory. My songs have a number significance and are coordinates for the Alpha Tory. I very much believe in other life beyond Earth and am very interested in this subject.
KNAC.COM: You're very passionate talking about this. I've noticed all the imagery and backdrops in past shows and theatrics involved.
JANUS: Thank you for noticing! Yes, it all sort of ties into the title Starbound Beast. The name came up by a little goblin whispering in my ear Starbound Beast. I had goosebumps. I could talk about this for hours with you.
KNAC.COM: I want to pay my condolences to you. Loosing a close friend & mentor has to be so hard. The world has lost a great musician but you lost a buddy recently. Lemmy of MOTORHEAD was an influential person in your life. Are you up to chatting about this?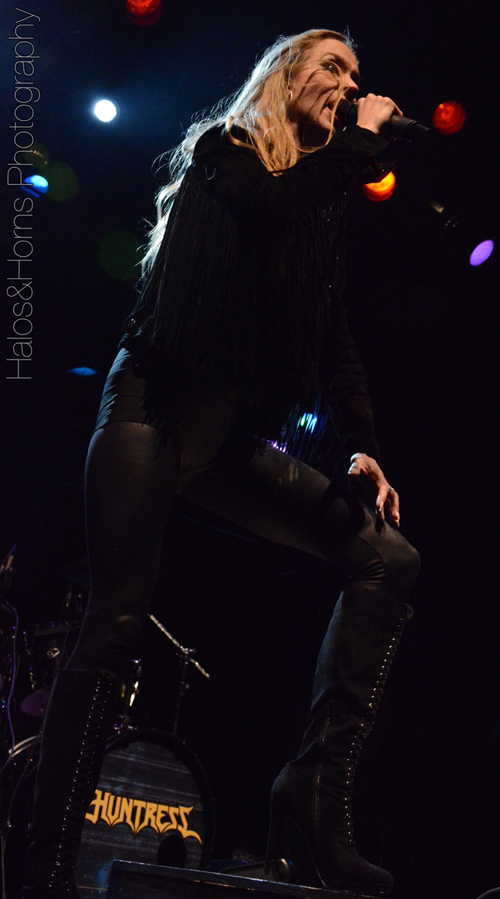 JANUS: (smiling) He's is still around. You know Lemmy wasn't afraid of death. he lived a good 70 years. Many don't know this but Lemmy had a psychic side to him. He feared little to nothing. Lemmy was the man that did the most romantic thing ever in my life. He wrote a song for me.
KNAC.COM: If not too personal, please tell me about it.
JANUS: It was sweet and funny. I had asked him to write a song one night when they were at the Rainbow. He said yes. A few weeks went by and I got a call. Lemmy said he had my song. I went to meet up with him and he handed me 2 pieces of notebook paper with the song titled "I Want To Fuck You To Death". Lemmy said to me, if it's to "fucky" I'll change some lyrics. I responded with "NO, I'll never change these lyrics!"
KNAC.COM: I know you were just part of the Motorboat Cruise . How was that, being able to hang out with Lemmy?
JANUS: I was excited to be part of the cruise with MOTORHEAD and some of my other favorite bands such as SUICIDAL TENDENCIES. I was sea sick a lot of the time which sucked, but was grateful to have these days with Lemmy. He was fading.
He was very influential in my personal and professional life. He told me to always believe in yourself and don't give a fuck what anyone else says!
KNAC.COM: That's quite an honor to call Lemmy a friend and to have spent some of his last days with him. Again, I'm sorry but you know he's not really gone.
JANUS: Thank you hun, he is with us.
KNAC.COM: What's next for HUNTRESS?
JANUS: The trilogy is now complete with Napalm records. I'm very thankful and appreciative of Napalm. HUNTRESS will be moving to another label. The 4th album will be worked on going full force in February. The direction we will be going will be a New Era. HUNTRESS will have some awesome changes in the artistic direction. I never burn bridges! Always appreciative. Its just part of our evolution. (smiling pretty big) We will be headlining our first tour this year. It's been an awesome journey so far and the 6 city tour with BLACK LABEL SOCIETY has been the best tour thus far. We have made so many more fans and the audience at the BLS shows are crazy fun. I saw so many titties and bras the other night, it was awesome! I think we laughed for five minutes after.
Static had to follow the sophomore album that did very well. Static sales doubled that of Starbound Beast in the first few weeks. Thanks to the BLS crowd, sales increased significantly with merch and album sales as well.
KNAC.COM: I know your fans are enormously devoted to you and the band! They have helped you guys out tremendously.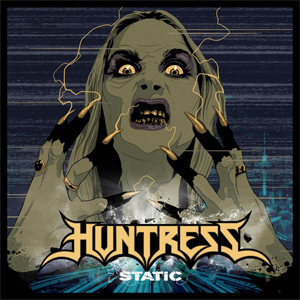 JANUS: They raised 25K to help produce our last video and now thanks to latest successes with Static and the BLS tour we have reached the hierarchy of our career thus far and are able to have more creative input. I hope to have a 4-band bill, bands that have a fan base already but that they have a personal interest in. Not bands that are suggested by record labels because it's good for the label. I would like a female fronted band. I'd like to see a good solid rock band, not just thrash metal. Versatility is a must! After all, it is showbiz when it comes down to it. Mass appeal is important. I've lived this long doing things my way, I'm not gonna change now! I won't compromise my creativity for anyone or anything.
KNAC.COM: I know you take the stage soon, thanks so much for everything!! KNAC.COM can't wait for the tour announcement. Keep us posted!
Jill and I could have talked for another hour but she had to take the stage pretty soon after we stopped talking. She was a gracious person and I left the interview with much respect for this upstate New York "farm girl" as she called herself.
She has an unconventional way of thinking and tells you how it is. She's a women in underground metal. Being a women in this industry is a struggle and she is scrutinized somewhat. Sensationalism is added to anything she says but she's well aware. It's nice to see such great artist reach success through strong convictions and talent.