The Coroner's Report - Delve Deep Into The World Of Death, Black & Thrash Metal

By Peter Atkinson, Contributor
Thursday, April 3, 2003 @ 0:50 AM

| | | |
| --- | --- | --- |
| | | Peter Atkinson Gives KNAC.COM |
If music's supposed to serve as an escape, we need it now more than ever. The war in Iraq's turning uglier by the day, our economy's headed down the shitter – again - and, if all the warnings are to be believed, we're about due for another terrorist attack of some sort. Swell. Well, if extreme conditions demand extreme responses – to borrow from Brutal Truth – then read on, because these responses are pretty damn extreme. Why just escape, when you can obliterate.

* * *

CRADLE OF FILTH'S BIG LABEL BLACK METAL
Cradle of Filth was supposed to be on tour over here about now, showcasing its major label debut, Damnation And A Day, which was issued March 25th. But before it ever got off the grounds, the Osbourne family put the kibosh on it by signing Cradle up to headline the second stage at this summer's Snoozefest, er, Ozzfest.
Good move – for all involved. Cradle's about the only reason to even think about seeing this year's show – Voivod and Sworn Enemy being the others – which features the lamest line up since the one Limp Bizkit played on.
The band was offered a slot on last year's Ozzfest, but turned it down to start work on Damnation, easily the most ambitious album of Cradle's audacious career.
"This is the album I've been wanting to make since our first album in 1994," said frontman – and lone continuous member from the debut – Dani Filth, during a recent whirlwind press tour in New York. "We just never had the financial backing to realize our ambitions. Hiring a full orchestra and choir costs a few quid, I can tell you that much (laughs), and it was well beyond the means of the companies we worked with in the past."
But as Cradle of Filth, nevertheless, grew into "the biggest black metal band in the world," major label interest became inevitable. Last year, the band inked a landmark worldwide deal with Sony (Epic/Red Ink is handling things here), which promptly shelled out a pretty fair chunk of change to allow Cradle to finally and fully realize its musical and conceptual vision.
"They knew what they were getting themselves into," said Filth, "and they gave us everything we asked for and more. It had to be all or nothing with this, we weren't going to do anything half-assed. We'd been doing that, in a manner of speaking, our whole careers.
"A big part of being on a major label is that our music has a better chance of getting heard and being in shops where people can fucking find it. So were going to make the album of our fucking lives."


"…so many people have left over the years because Cradle of Filth literally is a machine and from time to time a gear wears out and has to be replaced." ~ Dani Filth

That meant traveling to Budapest, Hungary, to spend a week working with a 40-piece orchestra and a 32-member choir to capture the classical grandeur Cradle long had sought. It also meant a solid year of writing, recording and mixing Damnation's sprawling 17-track, 74-minute, dizzyingly complex tale of a man who holds the key to the apocalypse – and dealing with the departure of long-time guitarist Gian Pyres in the midst of it all.
"We ate, breathed and shit nothing but this album for the past year," said Filth. "We've always worked very hard, which is probably why so many people have left over the years because Cradle of Filth literally is a machine and from time to time a gear wears out and has to be replaced.
"But this was especially exhausting. I was literally at the point of collapse when it was finished, I really felt like I was cracking up."
A three-week holiday in India proved to be just what the doctor ordered and Filth returned rejuvenated and raring to get back to work – which he and the rest of the band promptly did. Cradle's already written a fresh batch of new songs and Filth hopes that by the time the band hits America this summer, it will have another full-length in the can with as much music as Damnation for a special Ozzfest release.
"We hope Ozzfest will open some doors for us," he said. "Even though we have quite a long history, we haven't played that many shows in American and a lot of people don't know much about us. So when we come over this time, we want to hit everyone with 150 minutes of new music to digest and really kick ass at the shows. Then we'll see what happens."
Ozzfest already made stars out of one batch of costume wearing underground freaks – Slipknot. Why not another?

* * *

ROB-FEST? DANZIG-FEST?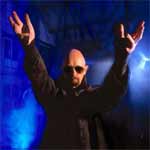 A couple of other wily old metal veterans seem to have a better idea of what it takes to put together a metal package tour - other than showcasing every label's flavor of the week.
Ex- (and perhaps, if rumors are to believed, future) Judas Priest frontman Rob Halford has concocted the "2003 Metal Gods Tour." It has everything Ozzfest does not - an imposing, nicely well-rounded roster that's big on underground heavy hitters and free of nu metal tedium and big-label meddling.
Halford will co-headline the tour with Testament, who're back in business following singer Chuck Billy's battle with cancer. Support will come from fire-breathing Norwegian black metallers Immortal, the vicious Swedish tag team of Amon Amarth and Carnal Forge (playing here for the first time) and Pain Museum, which features former Halford guitarist Pat Lachman and current Halford drummer Bobby Jarzombeck. Now that's more like it!
The tour is scheduled to kick off April 25th in Chicago, and wrap up on the West Coast in mid-June. It will be playing decidedly more intimate venues than Ozzfest. But that means you won't be paying $50 to sit in the 100-degree sun on beer- and puke-soaked grass watching Korn from 200 yards away. What fun. A bit more tentatively, Glenn Danzig – who's shown his affinity for extremity by taking out Six Feet Under on one tour and enlisting Marduk for another, which it wasn't able to make, see below – is trying to get his own Danzig-fest of sorts together. His "Blackest of the Black Tour" right now is only two dates, May 2nd and May 3rd in L.A. and Phoenix. But the line-up is pretty impressive – Superjoint Ritual, Opeth, Lacuna Coil, Nile, Behemoth and, for better or worse, Danzig.
If these dates are successful, a full-blown tour is being talked about for November, with Danzig and a new line-up of openers. Let's hope for the best.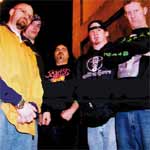 There's actually a few pretty good underground package tours coming down the pike. The "Relapse Records North American Contamination Tour 2003" kicks off May 2nd in Memphis and features the kind of eclectic line-up one might expect from such a diverse label. There's a little bit of everything, from the pounding, monolithic rock of Mastadon to Cephalic Carnage's microburst grindcore and Dysrythmia's jazz-metal gyrations, with Uphill Battle falling somewhere in between. The relatively tour runs through May 23rd. In the meantime, Relapse has just issued another of its dirt-cheap, million-song samplers. Contaminated 5.0 actually boasts 45 tracks, including some cool blasts from the past – literally – by Repulsion and Cryptic Slaughter, loads of new noise and such rarities as a live Dillinger Escape Plan track. And for the price of a six-pack, it's a steal. Speaking of concentrated doses, the fifth New England Metal & Hardcore Festival at the Palladium in Worcester, Mass., is set for May 16-17. The May 16 line-up, at present, features Opeth, Shadows Fall, Nevermore, Lacuna Coil, Kataklysm and Goatwhore – Soilent Green frontman Ben Falgoust/Crowbar guitarist Sammy Duet's black metal band who's new album, Funeral Dirge for the Rotting Sun, is sensational. May 17th's festivities are slated to include Superjoint Ritual, Meshuggah, The Haunted, the resurrected Suffocation, Lamb Of God and Strapping Young Lad.
Meshuggah and SYL will be touring the U.S. together from April 25th-May 26th, with High On Fire. Miss these shows at your peril.

* * *

OLD MAN'S CHILD'S ONE MAN SHOW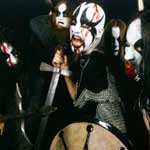 Sadly, one band that probably will not be taking part in any live events for the time being is Norwegian cult heroes Old Man's Child, which released its fifth album, In Defiance of Existence, March 25th through Century Media. In fact, O.M.C. may well be a studio-only act from here on out.
As the "band" is essentially just guitarist/vocalist/ringleader Thomas Rune Andersen (aka Galder), touring can be a challenge. Making it harder is finding recruiting musicians with the chops to master the technical demands of O.M.C.'s black/death metal fusion, since the top-notch players are usually tied up with other bands already.
And, since he joined the far-higher-profile Dimmu Borgir a couple years back, there's not much extra time for Galder to get things rolling to go on the road anyway. Indeed, Dimmu is headed into studio any day now to begin recording the follow-up to 2001's sensational Puritanical Euphoric Misanthropia.
"I will be pretty occupied with Dimmu tours. And I have to start making new O.M.C. songs as well in the summer, so if we decide to go on a tour, it will definitely be quite hectic for me," Galder said in an e-mail interview.
"The funnest tour I ever did was the first O.M.C. tour. But if we want to go on tour with a big band than it is also the problem with money, it's just too expensive, and hiring musicians is not always cheap as well. But, of course, if I find some really talented ones that would like to do it for free, then bring it on."
Old Man's Child formed as a genuine band in 1993, with Galder, drummer Tjodalv and long-time guitar contributor Jardar. But before its first album, Born of the Flickering, was issued, it was obvious that a stable line-up just was not in the cards.
"Tjodalv quit [to join Dimmu Borgir] and after that it all got fucked up," Galder said. "These days I have sort of accepted the fact that I will never find the right line up, but I get the chance to work with a lot of talented people though and that's pretty cool. And I also think that having new musicians on every album just gives it a fresh sound."
Over five albums, Galder's worked with such noted producers as Tomas Skogsberg, Peter Tagtgren and, on Defiance, Fredrick Nordstrom. He's had a veritable who's who of extreme metal drummers help out, including Emperor/Zyklon's Trym, ex-Dark Angel/current Strapping Young Lad giant Gene Hoglan and, on Defiance, Dimmu dynamo Nicholas Barker.


"I still have two more albums to do for Century so I will be around for at least 2-3 years more, whether you like it or not!" ~ Galder

He'll get the opportunity to work with a few more folks in coming years, since there will be future O.M.C. albums, despite Galder's commitments. He's still under contract to Century Media and he's not going to take the easy way out.
"I still have two more albums to do for Century so I will be around for at least 2-3 years more, whether you like it or not," he said. "I don't think they would be to happy if I just released live albums or even re-recorded some old songs, so they all need to be fresh and new I suppose. Of course, every time I release a new O.M.C. album it's all worth the work, and knowing that only you are responsible for everything on the CD is a great feeling."
Of the forthcoming Dimmu Borgir album, Galder offered the following.
"All songs are finished, we have made a pretty good preproduction for this album. I don't think Dimmu has ever been as prepared as we are right now. I think it sounds a bit like the previous album, only this time we will have an even bigger orchestra and we will do a lot of experimenting with samplings and stuff like that so it will be an exiting process."
Galder joined Dimmu not long before the band began recording Puritanical, so his creative input was somewhat minimal. This album marks the first time Dimmu will have recording two consecutive albums with the same line up, so it will truly be a team effort.
"I have participated on every song and made a lot of riffs," he said. "But that's the good thing with Dimmu, everyone has ideas which makes the whole writing process a lot easier when compared to, for instance O.M.C."

* * *

Along with the new Cradle of Filth and Old Man's Child discs, there is a veritable shitload of new music out – or coming out. So if you're looking for an escape from the constant din of the war on TV, or need something to hunker down with when you hustle down to the bomb shelter or seal your house up with duct tape, any of the following should the trick quite nicely.

BLACK METAL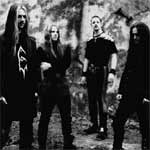 - Norway's mighty Emperor closes the books on its tumultuous, groundbreaking career with the two-disc, 27-track retrospective Scattered Ashes: A Decade of Emperial Wrath (Candlelight). It's an impressive, expansive and thorough chronicle, pulling together a bunch of rarities from the band's compilation contributions (covers of Mayhem's "Funeral Fog" and Mercyful Fate's "Gypsy") and B-sides (from a cacophonous remix of "Sworn" to the climatic, classical turn "Opus A Satana").
Wrath of The Tyrants demo material also is presented in all its primal "necro" rawness, which provides a perfect gauge to chart Emperor's remarkable sonic progression over the years when heard side by side with the likes of "Curse You All Men" or "In The Wordless Chamber" from its last two studio albums. Essential listening. - Sweden's blasphemous Marduk just issued its latest effort, World Funeral (Regain/The End), which brings back some of the speed and ferocity that was noticeable in its relative absence on the band's experimental previous album, La Grande Danse Macabre. Funeral does maintain some of Macabre's dynamism, offering ominous slower numbers like "Bleached Bones" and "To The Death's Head True" to counter the flame-throwing intensity of "With Satan And Victorious Weapons" and the title track, which make new drummer Emil Dragutinovic really earn his keep. The production's also thicker and bolder, the better to loosen your fillings with.
Now if Marduk can ever get its immigration shit together, we might actually get to see the band on tour here again. The band was great when it toured here a couple years ago with Deicide, but has been denied visas every time it's tried to come back since the Sept. 11, 2001, terrorist attacks because of some past criminal history. A discography that includes songs like "Jesus Christ Sodomized" and "Christ Raping Black Metal" probably ain't helping. Oh well.
- After years as an import-only, antichristian curiosity, Poland's mythical Behemoth is finally starting to make a name for itself in America. The band's last album, Thelema.6, was its first to get proper distribution here and the trio just finished its debut U.S. tour with Deicide. The band will be back as part of Danzig's "Blackest of the Black" tour, and hopefully play some more shows around it.
Behemoth recently issued its latest album, Zos Kia Cultus, through Olympic/Century Media and it's the band's most accomplished work yet. Morbid Angel fans will no doubt dig Behemoth's technically proficient, occasionally flashy brutality, especially on the heaving "As Above, So Below" with its cyclonic drumming and the dive-bomb guitar tradeoffs from Nergal and Havoc. And if evil's your bag, check out full-on fury of "Blackest of the Black" or "The Harlot Ov The Saints." Wicked stuff. - And coming up on May 6 is the first album in five years by Sweden's rather obscure, but simply amazing Naglfar. The band's third album, Sheol (Century Media), takes the direct, old school black metal sonic approach and uses modern production to give it a razor sharp sound that is simply vicious.
Sure, there's something to be said for purist rawness some bands, notably Darkthrone, still favor. But when you're playing with some degree of complexity at a thousand miles an hour, some clarity is welcome – a lesson Marduk learned well years ago. And Naglfar takes maximum advantage, offering a nine-track assault of swarming riffs, unrelenting drums and Jens Ryden's flame-throwing vocals that is some of the most accomplished black/death metal to come along in a while. When these guys "Unleash Hell," believe it.

DEATH METAL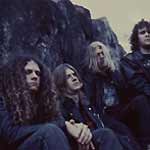 - After an even longer break, six years, Sweden's semi-legendary Grave has resurfaced and seem committed go getting back in the death metal game a big way. Its plans hit a recent bump in the road as drummer Jensa Paulsson quit and a European tour subsequently was canceled. But Grave did manage to come over and play the March Metal Meltdown in New Jersey not long ago, and the band is supposed to return for a tour with Immolation and Goatwhore in May. We'll have to wait and see what happens.
Regardless, Grave's new album, fittingly titled Back To The Grave, shows it didn't lose a step during the hiatus – unlike fellow comebackers Unleashed who's return effort last year was dreadful. Indeed Grave is sounding better than ever. The band's crushing slow grind is methodical and lethal, with bludgeoning hooks galore – album closer "Thorn To Pieces" is a concussion come to life. Speed doesn't always kill, and here's your proof. - Deicide is still very much alive, having just toured here and with a new album due soon on new label Earache. But frontman Glenn Benton may want to rethink his options based on his guest vocals work on the fifth album by Rhode Island satanic majesties Vital Remains.
Perhaps the new Deicide album will get the band back on track, since it's basically been flogging the same dead horse since Once Upon The Cross – and that was a long time ago. Vital Remains gleefully hellish Dechristianize, however, is a masterpiece that seems to have lit a fire under Benton's ass.
Now whittled down to a duo, guitarist Tony Lazaro and guitarist/bassist/drummer Dave Suzuki put together a superhuman, incendiary work that goes well beyond the usual hack-and-slash histrionics. Though most tracks clock in at six or seven minutes, they retain an almost unrelenting pace throughout, with riffs attacking from every angle – you'd swear there was six guys playing, not two - as Benton bellows like the very voice of hell we know he can be.
He hasn't sounded this ominous or downright frightening in ages, and makes Dechristianize an instant classic along the lines of Morbid Angel's Altars of Madness. Look for it April 22nd.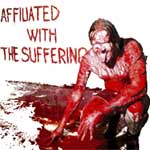 - Former Emperor bassist Tchort has been building a pretty fair body of work with his bands Green Carnation and, especially, Blood Red Throne. BRT's second album, Affiliated With The Suffering, is just out here through Hammerheart USA. And if you can get back the lame, no-budget cover art – some dude, Tchort perhaps, with red "blood" spilled all over him in a scene that looks like it took two minutes to stage and shoot, the morgue shots inside are much cooler – the album itself is quite clever and viscerally satisfying.
Full on, old school death metal with unconventional arrangements and some genuinely spectacular guitar forays make for a pretty intriguing mix. And the band manages to keep it all in context, not going overboard with the fancy stuff or – unlike the cover art - dumbing it down so it sounds like Death redone. Affiliated With The Suffering is definitely something worth hunting around for if you want to spice up a tired collection. - With plans afoot to resurrect Dissection when mainman Jon Nodtveidt is released from prison after he serves out his sentence for murder – and is joined by equally infamous ex-Emperor drummer Bard Faust – the band's making sure it's name stays out there until then. Nuclear Blast has just released Live Legacy, a seven-track album the captures Dissection onstage at the 1997 Wacken Open Air Festival.
This is definitely something of a rarity, as the band didn't tour that much – it did play here with Morbid Angel and At The Gates in one of the best extreme metal tours ever - before Nodtveidt's troubles effectively put it in on shelf. Nevertheless, Dissection – and in particular iron-lunged Nodtveidt - is rather fearsome on Live Legacy, ripping through "Retribution – Storm of the Light's Bane" and "Frozen" like a Sherman tank.
Still, the band retains its surprising dexterity, and even subtlety, on the quieter moments of the stellar epic "Where Dead Angels Lie." Dissection could have been one of the giants of the genre, and who knows, perhaps it still will be. Guess we'll find out in a couple years. In the meantime, Live Legacy is a pretty good note to end on if the band's rebirth ends up being aborted.

THRASH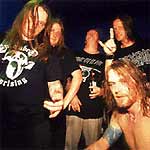 - Ah, Swedish thrash metal. Is there anything better? Whatever stagnation the music may have encountered in the post-Entombed/Dismember period has long-since dissipated and the bands emerging in the post-At The Gates era are sounding better than ever.
So what better place to start than with The Haunted, which was formed from the ashes of At The Gates by brothers Anders and Jonas Bjorler. Anders had quit the band about a year ago, but has returned with a fire in his belly and the creative juices flowing, according to frontman Marco Aro.
"I don't think he really knew what he wanted to do," Aro said in a brief phone interview. "He was tired of touring, he said he'd lost his passion for music and he wanted to return to school. But I guess absence did make the heart grow fonder and he discovered how much he really missed the music when he was gone. So he's back, he wrote a lot of great music for the album and everything moving forward."
The Haunted two previous albums were pretty damn good, but its latest, One Kill Wonder (Earache), smokes 'em both. Big time. One Kill is the band's Reign In Blood, 30-plus minutes of sheer manic intensity that just builds and builds. Indeed, the band pays homage to Slayer in the instrumental opener, "Privation of Faith Inc.," by lifting a few bars of "Seasons In The Abyss" borrowing a bit of the Hanneman/King freaky soloing.
One Kill is a violent, ugly, relentless album inspired, as one might imagine, by the Beltway Sniper shootings – what fun that made life in the D.C. area – and the media feeding frenzy it, and every similar tragedy, inevitably creates. All you have to do is turn on the TV now and watch the news networks tripping all over each other to report the latest horror from Iraq or trot out "expert" after "expert" to analyze, second guess and argue about every friggin' move that gets made over there. Thank god for the Food Network.

The Haunted would have been on tour here now with Cradle of Filth, had not the Osbournes interceded. Indeed, when I spoke with Aro he had just gotten initial word about the Cradle tour and gave me one of those "You can't say anything yet, but we're supposed to..."
Well, it's a moot point now. Instead, the band may be coming over for a short tour in late spring, although nothing has been confirmed as yet. Keep your eyes peeled.
In the interim, the band's got a new live DVD, Caught On Tape, that features footage from shows in Tokyo and Malmo, Sweden, and some documentary stuff.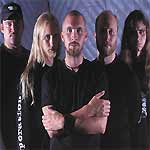 - Another ass-ripping Swedish band on Earache to watch out for is Corporation 187. The quintet's second album, Perfection In Pain, has been out since November, but certainly deserves notice. Unhindered by nagging line-up turmoil, Corporation 187's bulldog tenacity rivals The Haunted, even though its straight-ahead thrash doesn't have the same hardcore overtones.
The band seemingly knows one velocity, light speed, and aside from some occasionally vicious hooks, Corporation 187 doesn't mess around with much fancy stuff. And Filip Carlsson's tonsil-shredding shrieking just bores right through you. If you're looking for something to just beat your head in, Perfection In Pain will be happy to oblige. - Carnal Forge, on the other hand, offers riffy parts galore and is not averse to shifting tempo mid-course – not that there's anything wrong with single-minded fury. Don't get me wrong, Carnal Forge can be as fast and furious as anyone, but the dexterity on the band's third and latest disc, the misanthropic The More You Suffer – the Swedes sure do seem to love violence – helps set it apart from its contemporaries.
The guitar tandem of brothers Jan and Petri Kuusisto is quick, nimble and clever, delivering some thundering power metally hooks and fanciful solos that recall Arch Enemy and make tracks like "Ripped & Torn" and "Destroy Life" a bit less terrifying. And Lars Linden plays some of the coolest, weirdest basslines you're likely to hear from music like this.
Again, look for these guys on the "2003 Metal Gods Tour."

ETC.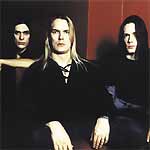 A few other releases worth are mentioning, that don't quite fit the above categories. - If gloom is more what you're after, you can't go wrong with Finland's Poisonblack or Lullacry. Poisonblack is Sentenced vocalist Ville Laihiala's side project. And while the group's debut Escapexstacy, is nowhere nearly as grim or apocalyptic as Sentenced's suicide soundtracks, it's still plenty melancholy – with Laihiala playing guitar and Charon frontman J.P. Leppaluoto handling the vocals. The album's got a dark, gothic air not unlike Type O Negative, but with fatter riffs and a bigger sound. It's not bad.
- With "Pitch Black Emotions," "Heart of Darkness" and the title track "Crucify My Heart," Lullacry would seem worthy challengers to Sentenced crown as doom overlords. But with singer Tanja's bright, powerful voice and her bandmates' driving, mid-tempo backing and HUGE riffs, Crucify's not nearly as forboding as it could have been. It might not exactly brighten your day, but leave you looking for sharp objects either. - What might – out of sheer frustration - is the latest outing from Norway's confounding The Kovenant. What the hell happened to these guys? The band keeps getting more bizarre – and less interesting – with every album.
A few years back - when the band was still Covenant, before trademark lawyers got involved - the cyberthrash supergroup (Nagash from Dimmu Borgir, Hellhammer from Mayhem, etc.) offered the monumental Nexus Polaris album. Since then, the line-up's been a revolving door, everyone swapped their "black metal" monikers and started dressing in Marilyn Manson's throwaways and the music's disappeared up its own ass.
The Kovenant's new album, SETI, is tedious techno-metal noodling with lots of shrill effects and annoying, operatic vocals that sound like "Butt-head" when he was making fun of someone. Unfortunately, there's nothing funny here.
Please log in to view RANTS