Texas Ragers: An Exclusive Interview With SHATTERED SUN

By Wendy Jasper, Black Metal Aficionado
Thursday, February 25, 2016 @ 8:57 AM

| | | |
| --- | --- | --- |
| | | Lone Star Rockers Hit The Road For The "Texas Ragers Tour" |
Over the past year and a half, the metal world has seen the fast rise of Texas metallers SHATTERED SUN. The hard-hitting six-piece released their debut album via Victory Records, Hope Within Hatred, and have secured a spot on some of the most coveted tours of the past year, including 2015's Rockstar Energy Mayhem Festival and the TESTAMENT/EXODUS "Dark Roots of Thrash II Tour".

Comprised of bassist Joseph Guajardo, keyboardist Henry Garza, guitarists Jessie Santos and Daniel Trejo, drummer Robert Garza, and vocalist Marcos Leal, the band has recorded an album with a sound that doesn't pigeonhole them into any particular genre but is in fact a melding of the best of European progressive power metal and American thrash.

Now the band is ready to headline their own run of dates that they are calling the "Texas Ragers Tour" and they are being supported by up and coming San Antonio artists DARKNESS DIVIDED.

SHATTERED SUN has emerged with not only a unique sound but also a different outlook on life. While many bands tend to focus on the negative, this band projects a positive outlook and a determination that is not always so evident in other bands currently on the scene. They have traditional metal influences but they have also grown up during the nu-metal era.
"We are really excited to have our first headlining tour and we have had so much support from b>Chuck (Billy), Jon (Zazula) and Maria (Ferrero) since we signed with Breaking Bands and we have so much to look forward to," Marcos Leal, vocalist, said. SHATTERED SUN garnered much label interest upon their signing to Breaking Bands LLC, the management group jointly owned by Maria Ferrero (Adrenaline PR), Jon Zazula (Megaforce Records) and Chuck Billy (TESTAMENT), and they ultimately signed with Victory and it has turned out to be a positive working relationship. The management group has been particularly supportive of the band's touring endeavors.
"We have had so much help from our management, we have had great contact from fans, and we have a really positive outlook on this headlining tour. We have San Antonio's DARKNESS DIVIDED going out with us and then there will also be local openers on the tour," Marcos said. "We previously had a run with SOULFLY and SOILWORK that was great, but we had some van issues and that was tough, but we got through it and I think we reached a lot of people on that tour. I think sometimes there is the misconception that just because you are on a larger tour that you have a lot of money coming in and that things are easy, but it's really not that way and when we had the issues with the van it was a bit demoralizing, but we persevered. We came home, did a "go fund me" campaign that had a lot of support, got a new trailer and got everything ready to get back out there."
Leal said that there would be more to come from the band regarding the current album and that a new single would be out soon that will boost interest in the band and the tour.
"We have a new single coming out, our cover of TESTAMENT's "Return To Serenity", and we think that will get a lot of play. We also are looking forward to playing a much longer set. When you are opening you may only get about 20 or 30 minutes and now we have the chance to play around an hour and we will be able to work so much more into the set. This is a close to home run and we are playing places that we may not be able to play on a large touring package. We get a lot of fan comments and requests to come to places like Abilene, El Paso, Fort Worth, and you may not be able to hit those towns unless you are headlining so we are looking forward to the exposure in those areas."
The band's debut album has been an excellent vehicle for them, but Leal says the pressure to follow up a strong debut is something that the band is working through. He thinks the new music they are working on will surpass the we received first album.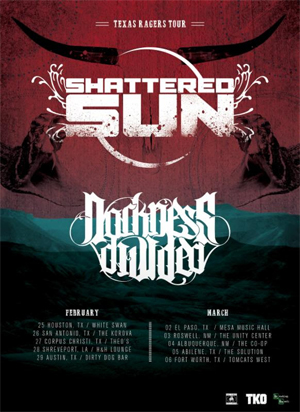 "We are anxious to try to top the album," he said. "I feel the pressure every day but the awesome thing is the great relationship we have with Chuck and our management and he gives great advice so I have been sitting down and working on new music with the band and we feel like we will have the songs done in time to have something after summer. I think that is when the label sees us in the studio after a bit more touring. I would like to be able to tour through the summer; however, we are ready for anything because you never know when a big tour or studio time may be on the agenda and you have to go at a moment's notice."
With that said, Leal and company are on the road and the tour opens today in Houston at The White Swan, a well-known haven for metal and thrash bands. Be sure to check the band out on the road because they are well worth it.
SHATTERED SUN "Texas Ragers" Tour Dates:
2/25 - Houston, TX @ The White Swan
2/26 - San Antonio, TX @ The Korova
2/27 - Corpus Christi, TX @ Theo's
2/28 - Shreveport, LA @ H&H Lounge
2/29 - Austin, TX @ Dirty Dog Bar
3/2 - El Paso, TX @ Mesa Music Hall
3/3 - Roswell, NM @ The Unity Center
3/4 - Albuquerque, NM @ The Co-op
3/5 - Abilene, TX @ The Solution
3/6 - Fort Worth, TX @ Tomcats West
Please log in to view RANTS