Exclusive Interview! Cradle of Filth's Dani Filth

By Chris Hawkins, Contributor
Thursday, March 20, 2003 @ 1:46 PM

| | | |
| --- | --- | --- |
| | | COF Frontman Dani Filth: From |
On March 25th, Metal fans across this mighty U.S. will be greeted by the latest release from one of the globe's most shocking, loved, hated, and ultimately respected bands, Britain's Cradle of Filth. Those who have been following the band may have heard that Dani and company were finally given their just rewards by inking a deal with the corporate giant, Sony. That should not be cause for alarm, and the purists should stop screaming sell-out before they start for Damnation and a Day, the band's latest offering is their heaviest in quite some time! Cradle of Filth's latest is less black lip stick and eyeliner and MORE down-tuned guitar, blast beats, and pure head-banging mayhem! With 17 tracks highlighted by a full orchestra and choir, Damnation and a Day clocks in at well over an hour taking the listener through peaks and valleys across a storyline of biblical proportions. Now gearing up for the summer's biggest tour (Cradle of Filth will be headlining the second stage at Ozzfest), lead singer Dani Filth was kind enough to take the time to chat with me about the new disc, touring, and all things dark and British. Read on.
KNAC.COM: I understand you guys are in NY at the moment. What have you been up to?
FILTH: I'm already exhausted. We left the hotel about 8 o'clock this morning to go shopping and the shop we wanted to visit was about two miles away. When we walked there, it was closed. We walked all the way back and then walked all the way back again when it was open. I just want to go back to bed now! (laughs) KNAC.COM: You're losing your mystique with these tales of venturing out in the morning hours. (laughs)
FILTH: Yeah…(laughs)… KNAC.COM: I thought you were only allowed out after midnight!
FILTH: We have to wear a heavy rain coat and some moisturizer. (laughs) KNAC.COM: I literally just got the album last night. I think a lot of us were expecting Damnation and a Day to be more mainstream, but that is definitely not the case. It's still Cradle.
FILTH: Do you like it? KNAC.COM: I love it, man!
FILTH: Cool! I mean, it will probably take you the next two weeks just to play through the whole thing. (laughs) KNAC.COM: I've been able to give it a few good spins, and I'm still finding new parts within.
FILTH: Cool. KNAC.COM: How was Sony's reaction to it?
FILTH: I don't know. It was rather muted. I think it's fine. We've done a cover for them, which we haven't quite finished yet, but we're really excited about. You'll laugh, but it's a cover of Cliff Richards' "Devil Woman." He agreed to do it last year, but we're trying to initiate involving King Diamond in the proceedings as well, which will be pretty cool. KNAC.COM: There's always been a strong King Diamond/Mercyful Fate influence there…
FILTH: Oh god, yeah! From the beginning, I think Don't Break the Oath was one of the first Metal albums I ever owned. KNAC.COM: So the King spawned it all?
FILTH: Yeah, that and Maiden. KNAC.COM: You guys definitely wave the British flag high a la Maiden.
FILTH: Yeah, we'll have to start our live set off with a Churchill speech. (laughs) KNAC.COM: The new album seems more focused. It flows with more continuity than Midian, but it's still got that Black Metal feel. Was that premeditated?

FILTH: Last year we spent like five months writing the record and on and off five months recording it. It wasn't a straight five months recording. We had an initial two months in the studio then we had a bit of time off. Then we went to a local studio for a week. We recorded in Parkgate where we recorded Midian, and then we went and used a local studio where we recorded Bitter Suites to Succubi. Then we went to Hungary for a week to record with the Budapest Film and Radio Orchestra and Choir. We had a bit more time off, and we then had two mixing periods. The album was produced by Doug Cook who produced Bitter Suites to Succubi and engineered on Midian. We brought a mixing company called Scrap 60 over from New York. One of the members of Scrap 60, Rob Caggiano, is in Anthrax. He went on tour halfway through the mixing so that's why we had two sets of mixing. For the five months writing, there wasn't really any conscious effort to direct it towards anything. To maintain a sort of originality in what we were doing and to keep us sounding like Cradle of Filth, we made sure that we had quite a good deal of isolation. At one point we actually took ourselves up to a remote studio in the north of Whales just so if we were writing, we wouldn't have any outside influence from bands, friends, relatives, or business. We did two, two-week periods. One was in April of last year and another in June. That was very beneficial. KNAC.COM: Did you suffer from cabin fever?
FILTH: We did a little bit in Parkgate because we were there for quite a while. It almost became like a second home. Girlfriends and stuff were kind of kept away from the studio. We came to call it "Boy Island," and we became very sick of "Boy Island." You just prayed to have phone sex with your girlfriend. We all bought gas-powered guns. That was a way to settle the dispute. I think it got to the point where everyone was so sick of one another. The only way to sort it out rather than argue and then brood on the argument was to shoot each other with metal balls. There were some very nasty incidents. A lot of things got broken. Our studio was set on fire as well courtesy of Rob from Anthrax. KNAC.COM: (laughs) What happened?
FILTH: Well we just came back to the studio from the local pub, and this is in the countryside, very traditionally English, cozy pub. We'd had a little bit to drink, and we were quite close to the finish of the mix. We got back to the studio and everyone was in good spirits. I think we were sorting out a few more drinks. We walked in the studio to give a can to Rob and he was there with the music on full blast, devil horns up in the air, and both speakers on fire. It was quite cool. KNAC.COM: That's awesome. We all love hearing Metal stories such as that! The new album sounds as if there are more traditional Metal parts.
FILTH: It's a more focused record anyway. It's a bit more mature. With just the inclusion of the full orchestration, we've got a full 40-piece orchestra and a 32-piece choir -- Just that gives you that more mature edge. Because of the orchestration, we detuned as well to give it more heaviness. There was more emphasis on chugging as opposed to straightforward Thrash which kind of under-pinned a lot of the proceedings. I think it was quite crucial to the sound as well. It's a heavier, fatter guitar sound, and also more direct.

"After lengthy discussions... the band and Gian came to the conclusion the best thing would be a mutual parting of ways."

KNAC.COM: It sounds tighter, too.
FILTH: Yeah, I think that can be credited to the more chugging-type riffs. KNAC.COM: Is that to be credited to Paul Allender's involvement?
FILTH: Well, we're a five piece now. We no longer work with Gian, our other guitarist. That was because he didn't really contribute to the writing. He had other things on his mind, and he was kind of losing focus. He was getting married, and there were a lot of other things involved, a lot of issues. As we got in the studio, we gave him time to come back from his honeymoon, and then we sat down with him and asked him, "Is this where you want to go with this? Are you committed to the band?" After lengthy discussions, and they were very amicable to say the least, we both sat down, both parties, the band and Gian, and came to the conclusion the best thing would be a mutual parting of ways. Therefore, the guitar on the album, because it was kind of written as a five piece, was done by Paul. Also, Martin, the keyboardist played on three of the tracks. KNAC.COM: Are you planning on adding another guitarist eventually?
FILTH: Yeah, I mean we're going on tour. We're going to Russia to do two shows next week in Moscow and St. Petersburg. For the whole of the summer, we're headlining the second stage of the Ozzfest in America. Obviously, we've got a guitarist to replace Gian. He's no one famous, just a friend of ours from London. He's good. I think he's a tighter player than Gian, which will help. At the moment, we've written another six songs… KNAC.COM: You guys are constantly writing!
FILTH: Well, we like to keep busy. We enjoy what we're doing. Nothing stops you. It's the freedom afforded by being on a big label. You don't have to worry too much, or not as much as before. For example, things are delegated like myself and David, the bass player are here doing stuff in New York while the other guys are rehearsing. Things are delegated and things go smoothly. Those six new tracks, which four of them may well appear on a special edition of Damnation and a Day later in the year along with the aforementioned "Devil Woman," and a cover of "Mr. Crowley" and a Samhain track… KNAC.COM: "Mr. Crowley"??!!
FILTH: Yeah, well it was supposed to be done with Ozzy ages ago, but I think Sharon got wind of it through the press. Somebody leaked it out. I don't think she appreciated the fact that people were discussing something that wasn't confirmed. We went ahead and did it anyway without him singing on it. We recorded that ages ago so that my come out on the special edition. These six new songs have all been written as a five piece. I think it's as easy to write as a five piece. KNAC.COM: I guess it would be two less toes to be stepped on during rehearsals…
FILTH: That's true. I definitely want to bring another guitar player in. We're on the lookout for another one. We don't care what color, what creed, what nationality he is. We just want a really good guitarist. We want Paul and the "question-mark-guitarist" to work together like Hanneman and King. I think that's the beauty of a guitar partnership. They'll come up with stuff that obviously one guitarist could never dream of. KNAC.COM: Two heads are better than one. Like you said, Hanneman and King, Dave Murray and Adrian Smith…
FILTH: Yeah, without Janick Gers or whoever. KNAC.COM: Yeah, Seventh Son of a Seventh Son marked the end of an era (laughs)…
FILTH: (laughs) He spent so much time twirling his guitar around and posing! KNAC.COM: In terms of past albums, this new one has the closest feel to Dusk and Her Embrace to me.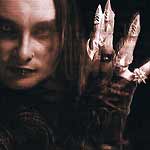 FILTH: I think it has that kind of atmosphere to it. Dusk and Her Embrace was a very sort of soundtrack-sounding record. There was a certain warmth to it, atmosphere, and emotion. It was symphonic, and I think this one captures it but not vampiric. I think this one's more biblical. That would kind of relate to the storyline as well which really is the theme of rejection from paradise. There is a long convoluted story to the whole record, but it's rather hard to explain without having read the lyrics. All the songs work independently of the storyline. When people do want to scratch beneath the surface and discover a bit more, then they read the lyrics and they find out about it. I think if you dwell too much on the fact that this is a concept record, people's interest gets mislaid. People think, "Oh god, a concept record. How fucking '70s! I bet it's awful." I think each song on this record works independently of one another. You could play track 9 and then track 4 without having to listen to it in order. KNAC.COM: I think Cradle of Filth really shines on concept records, though.
FILTH: Yeah, it's something else for people to digest. It just doesn't become as shallow as some other bands. If you do want to get into the storyline, it's there to discover. It just gives an extra dimension to the proceedings. KNAC.COM: What place inside did you have to visit when putting the pieces together for Damnation and a Day?
FILTH: The album concerns itself with a fallen angel. He's pretty much like Lucifer. He could be called Lucifer, but it's never linked to his title. It's kind of split into two halves. The first half is about his relationship with a God, an entity, and a falling from grace, a war with that entity, and subterfuge and retreat to a personal hell. Then his attention is turned to the entity's new creation, which is man, and trying to manipulate them to have them cast out of Eden as well. The first part of the record is banishment from paradise, rejection from paradise. The second half of the record, whereas the first half is past tense with lots of biblical references, Jewish mythology, Genesis, the second half is from his perspective. Mankind has kind of fallen under his rule. This is where he begins nurturing every instinct that they're lucky enough, or he enables them to have. He kind of makes them grow through history. It basically weaves its way in a cadence to the period in time in which we are now which is known as Armageddon, End of Days, Day of Judgment, or Day of Reckoning. Along the way, there's lots of points in history that relates to his involvement with mankind and what have you. There's different characters as well that symbolize faith and virtue and sin. So it's a bit of a morality tale. It was drawn from biblical references and personal as well. When you write lyrics, you've got to harbor it with something you know. The best thing you know about is yourself and your feelings. It's a bit of everything in there… KNAC.COM: It sounds like you read a lot of Milton and Dante…
FILTH: There's bits of that in there. In fact, I also read quite a few books from Evangelists who basically just made up this story to fit their ideas about the fall of Lucifer and the way he's making mankind sin and turning mankind away from God. I actually quite got into those as silly as some of them are. Some of these people truly believe this crap that they talk, but it was nice to read it from another person's viewpoint. I think that's the impression you get from reading the lyrics or living through the record, neither side is good or evil. There's a character you can relate to. It's not pro-evil. It's not pro-good. KNAC.COM: Well, that's life. Nothing is ever completely black and white. Everything is quite gray, actually.
FILTH: It certainly is! It's certainly gray here in New York and it's fucking freezing! I went away to India for Christmas. My mother bought a house over there because she's traveling so the whole family went over there. I took my girlfriend and my daughter. It was unreal. Coming back to England after what was like tropical weather and lying on the beach, which you know is not a normal thing you'd imagine for someone from Cradle of Filth to be doing! After all these years of working and not having a proper holiday, it was something I just had to do to just sort of get back in tune with what we're trying to achieve. I got very ill towards the end of last year and we had to cancel some shows in London. It was mainly because of just the pressure of working on this album. It became so much, I came down with this illness called pharyngitis. I couldn't breathe properly and my food wasn't digesting properly. It was all from stress so that was a real tonic.
KNAC.COM: With anything creative, it's good to put it down for a bit and come back fresh. One of the new tracks that really stood out to me was "Better to Reign in Hell."
FILTH: That's very Milton-inspired. "Better to reign in hell than serve in heaven" is a popular maxim from that era. That's kind of the turning point in the story as well. It's the beginning of the second quarter. The keyboard and the orchestration, the big sort of soundtrack pieces, there's five of them on the record, they serve as chapter headings and divide the album into quarters. The second quarter, which "Better to Reign in Hell" is the first song in, is called "Paradise Lost." It's where he's kind of realizing he might be in this sort of self-imposed hell, but he's master of that and he'd prefer that to being a server in heaven. KNAC.COM: Another track that jumped out at me was "An Enemy Led the Tempest." It has a Death Metal type feel, very brutal.
FILTH: It really needs to be fucking turned up loud. It's an album that begs that. When we recorded, we just had it on fucking 10 every time. I can't get used to it quiet anymore. I have to have it really fucking loud. There's all kinds of things that come out of the music when it's that loud. That was one of the tricks that was employed by Rob Caggiano when he was mixing it. He had the guitars soaring in volume when it hit a certain loudness. There's a lot of strange frequencies in there… KNAC.COM: Yeah, different harmoics and overtones come out at that kind of volume. Another track I wanted to mention was "Doberman Pharoah." The instrumentation was nothing like I expected.
FILTH: This one kind of relates to Ramses II and the exodus of the Jews from Egypt. It has a real Egyptian/biblical feel. We incorporated various Egyptian instrumentation, and there's an actual sitar at the beginning. KNAC.COM: Was it always your aim to not only take your music to the extreme, but the visual element as well?


"I never was into KISS. I loved the way they looked, but I thought the music sucked."

FILTH: Well, I think every facet of a band has to be explored. I never was into KISS. I loved the way they looked, but I thought the music sucked. He was singing, "I was made to love you, baby," but he was this demon spitting fire. I never thought they got the marriage right. There's a couple of tracks they did, "Spit It Out." One of the latest songs, "Unholy" kind of hinted at it, but they never got it quite right. There's other bands as well who just sound brilliant, and then to look at them, they're just in jeans and t-shirts. You think, "Well, you're no different from the guys in the crowd." I just want to give it the theatrics that are on the record. Obviously the music is the most important over anything, but after that you've got the lyricism, the way the album looks, the way you conduct yourself especially in interviews, and just the whole image of the band. It's just something that becomes a lifestyle when they're all compressed together. Some people say, "It's Cradle of Filth, and it's more style than content." Those people haven't got the point at all. KNAC.COM: Well, you've definitely succeeded. You see Cradle of Filth shirts practically everywhere now, but at the same time, it isn't necessarily the same as…well, I don't want to name names…
FILTH: No, no, I know what you mean. It's like creating another sub-culture, and it's cool. It's a great feeling when people come up to you and start discussing stuff that you brought up in your lyrics or they were influenced by a particular song. Also, we were subject to this TV documentary a few years ago in England called Living with the Enemy. The whole thing was a mother and a sister were concerned about their son being into Cradle of Filth and all the attributes that went with it, but then at the end of the show it was like, "Well, the kids could be out on the streets doing crack, breaking into places." What they came to understand was there was a lot of philosophy the kids were getting into, and they were reading. KNAC.COM: How have you developed your vocal style over the years? With every album, you've put a new twist on the vocals.
FILTH: I think on this album, there's a lot deeper stuff. It warranted that because it's so heavy. Every album is a different feel especially for us creating it. It just goes down to the environment in which we are situated. That's one reason why we went back to Parkgate Studios in a place called Battle in the south of England. It's called Battle because it's the site of a famous battle strangely enough…1066, William the Conqueror, blah, blah, blah. (laughs) Because of that, the whole environment around the studio is very historical and the atmosphere is great. It's a very rich part of England so there's some great buildings, lots of expanses and countryside. It was brilliant mixing there in the autumn. It was just out of this world…lots of magic mushrooms as well. (laughs) That was one particular thing. We had two choices. We could have gone to one studio, which is slightly a better studio. It's the sort of place that Phil Collins would use, but it's right in the middle of Liverpool, right in the middle of night clubs and stuff. It would have been great for partying, but for writing a record like this, no. With this one, at least we were isolated. We partied -- don't get me wrong. We're a party band, but it was the whole atmosphere that lent itself to the record. It would be like Immortal recording in the Caribbean. They just couldn't do it. KNAC.COM: Your diction has always been reminiscent of the writing in the Romantic Period like Shelly, Stoker, etc. Did you have any formal training?

FILTH: No, not as such. I wasn't around then. (laughs) It's just a thing I was into. Growing up in England, especially in the countryside, you just got totally hooked on Hammer Horror. It was like the English of the Universal monsters. It was Christopher Lee and Peter Cushing, Dracula and Frankenstein. Especially where we lived, where I grew up, Suffolk, that particular county is known in England as one of the two witch counties. The other one is Lancanshire. This was the kind of seat of Matthew Hopkins, the Witchfinder General. There was a real atmosphere to the place. Also, growing up and knowing women who practiced kind of safe witchcraft, it all rubbed off and it all confined to lead me into pursuing that kind of thing and reading those books. I've always been a fan of the late 19th century horror market where people were fascinated by, probably through sexual repression, but vampirism… KNAC.COM: Oh yeah, there's so many sexual overtones in that stuff, especially in Bram Stoker…
FILTH: Yeah, and especially as a teenager you just lapped it up. KNAC.COM: At the same time, there's an element of finesse to that stuff…
FILTH: Yeah, of course… KNAC.COM: There's something to be said for leaving things implied…
FILTH: Yeah, this leads me to our new video. I don't think it's actually coming out as a DVD single in America, but in Europe it is. It's called "Babylon AD," well you know the track. We've done a video for it and it was directed by a guy called Wiz. He's quite a big name. He's worked with Manson, Smashing Pumpkins, and he did an Oasis video. Not as if all that matters, but this one's quite a sick video. It could be played 24/7 where in the past with stuff like From the Cradle to Enslave and our movie Cradle of Fear and stuff like that, it's all been focused on horror, full-on gore, nudity and explicitness. Well, this one isn't. It's based loosely on the Marquis de Sade's 120 Days of Sodom, and it's about what you don't see that's sick. You see like these men and women sort of stripped to their underwear and with numbers around their neck and you see some of them being led off. You don't see anything happen. The whole band [is] in suits, and it's very corporate and very strange. I've seen it over breakfast in England on a music channel, and that's the sick part. It's Cradle of Filth doing the Marquis de Sade over breakfast, and there's fucking nothing that anybody can do about it. Going back to this sort of periphery thing you were talking about, about the senses, that's what I think the best horror comes from stuff like the really scary shit. It's like the Blair Witch. I mean, I absolutely hated that film. I wanted that girl dead as soon as I saw her, but when you go back and watch it for the twentieth time, obviously I didn't like it at all (laughs), you come to realize that in some places it truly is fucking terrifying and you don't see anything. One of my favorite films from the 1930's called Curse of the Demon, I think it was called Night of the Demon in America, originally, it never had this demon. Those parts are really frightening, black and white, but really frightening. As soon as you see the demon, that's it, the entire mystique is gone and it's crap because it just looks like a giant glove puppet. Right after that you think this is so terrible. I definitely agree. It's about tantalizing the senses and letting the imagination run over. KNAC.COM: While you were talking, I was reminded of Rosemary's Baby. A lot of people who are so bombarded with the shit out there like Scream and all that…
FILTH: Wes Craven, he's responsible really for that whole teen flick thing…
KNAC.COM: Those people can't get it that the pure genius of that movie, Rosemary's Baby, is just how the tension builds and builds…
FILTH: Yeah, of course Anton Lavey had a guest appearance as the devil. It is frightening, and it must be frightening from the woman's perspective because she thinks she's having the devil's child. Yeah it's a great film. It's one of the all-time classics in fact. KNAC.COM: One thing that I've always wondered is what does the Cradle of Filth songwriting process consist of?
FILTH: Well, to let you in on a secret we actually leave money out for the pixies at the foot of the bed. (laughs) Everybody brings something to the table as it were. People seem to think and have this impression, especially in Europe, I don't think America's quite as bad because they don't get all that trashy press like Kerrang! , that I'm a dictator in the band. It's bullshit. It's just that my delegation as a vocalist is to do probably the majority of photos and the majority of interviews. It's a democratic band. Everybody, including Adrian, Martin, Paul, and David, brings their own thing. We wouldn't have it any other way. If people didn't contribute, as with Gian, he didn't contribute to this record and henceforth there wasn't really a place for him anymore in the band. It's like a spider dragging a dead leg behind it. KNAC.COM: How was it working in the full orchestra and choir?
FILTH: That was truly a fucking amazing experience. We went to Hungary. I wanted to go there anyway because this was where Countess Bathory had lived. I was ashamed to find out that the Hungarians in turn were ashamed of her past and have taken her portrait out of the National Gallery. Our hotel was very close, and obviously that was my first port of call after the pub. We went towards the tail end of the summer -- it was September last year. It was myself, the producer, Doug Cook, Martin, the keyboardist, and the arranger who took the band and Martin's ideas and translated into enough parts and scored them for the orchestra. A guy called Daniel Presley, who's like a twice-removed cousin of Elvis, was the arranger. You get this impression that going east in Europe, it's going to be cold and bitter. It wasn't. It was boiling. It was a beautiful old city crammed full of gorgeous women. It really was unreal. This took months of planning and deliberation and going backwards and forwards with translators and the conductor and his head honcho who was the first violinist. We were in this observation booth like in a studio. It was above this huge room where the orchestra was playing, and we just spent days in there watching it being created. It was excellent, such a good experience. KNAC.COM: Did you ever think it would come to that?
FILTH: Well that was one of the precedents we set when we knew were going to be on Sony and we knew there would be better finances. We have aspired over the years to achieve something like this, but in the past we've used keyboard samples and keyboard voices and delegated those accordingly. Fuck it, this time let's use this whole thing, let's do it. KNAC.COM: Amidst all the trends over the last ten years or so with Black Metal getting huge and then hitting a plateau, what do you credit to your staying power?

FILTH: Well, I think as with any scene, as with the Thrash scene of the '80s, the bigger bands survive and they go off and do their own thing, the Metallica's, the Megadeth's, the Anthrax's, the Testament's. As with this scene now, you've got ourselves, Satyricon, Marduk. There's a handful of bands that survived the Black Metal Apocalypse. There's a lot of bands that are desperately still trying to keep the scene alive, but scenes come and go. That's because they lose their magic, and Black Metal was so magical at one point. That magic will come around again in the shape of something new, something a bit more hybrid. Perhaps one of these bands with the staying power will initiate that next period. Who knows? I don't know our position in that as attributed to its demise or its future. We've just kept our heads down, and we'll see you at the end. This album, like I said, we've been very tunnel-vision. We've got our own vision, but we've been looking straight ahead through this record. KNAC.COM: To take you back a few years, what was it like in the early '90s in a scene with My Dying Bride, Anathema, Paradise Lost?
FILTH: That's a very British scene. Apart from Emperor who became very good friends of ours when we toured with them in Britain and a few other bands, we were kind of shunned by the Scandinavian scene. A big wall divided us. It was like, "Hey, how can an English band play Black Metal?" Well, remember Venom, anyone? That was really a traditional kind of English scene, early Anathema, Paradise Lost circa Gothic, My Dying Bride… KNAC.COM: That's still a great scene, though, to go back and listen to now…
FILTH: Oh yeah. I love Serenades by Anathema. I love Gothic by Paradise Lost. I love the first couple of My Dying Bride records. That was a real magical time as well. We did a great tour. We were supporting At the Gates and Anathema. It was like a ten day German tour. It's one of those memories you will always cherish because it was so cool, and it was very underground back then. You'd have like 200 people per show. KNAC.COM: It's crazy how you've incorporated members from almost all of those bands except for maybe Paradise Lost.
FILTH: (laughs) I think we've pretty much had everybody from Anathema apart from the two brothers. KNAC.COM: Do you think Metal in general takes itself too seriously?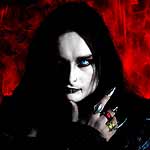 FILTH: Sometimes. We take our music and what we write about very seriously. We take everything seriously. Sometimes people say we're a bit of a joke band because of what they read in interviews. When we're free and when we're talking to people, we like to enjoy ourselves. We enjoy doing our music and we enjoy being serious about our music, but that doesn't necessarily mean we have to disappear up our own asses when we're doing interviews or when we do TV stuff or when we just go out in public and not speak to anyone and be grim lords of the storms or whatever. (laughs) We take everything else so seriously and work so hard in it that the outlets there to express ourselves. You want to enjoy yourself. You want to get along with people. I don't think there's anything bad in that whatsoever, and if you've been drinking with Marduk, and you would never think they would be that kind of band, but the things they get up too…beer monsters, really. KNAC.COM: So when you were on vacation in India with your family, did they give you a hard time about being banned from the Vatican? (laughs)
FILTH: (laughs) No, my Mom's a really big fan of our band. She used to make a lot of my costumes. She hasn't recently because she's been traveling. She's coming back to England at the end of this month, and the next time I'll see her is when she comes to out shows in England. No, no it's cool. They know exactly what the story is. KNAC.COM: I'm sure there are a lot of people over here that are looking forward to seeing you guys on the Ozzfest. Are you getting geared up for that?
FILTH: I'm really looking forward to that… KNAC.COM: Do you know about how long your set list will be?
FILTH: About 45 minutes, which is fine with us. We can do six or seven songs. We just have to go for it, no talking, just playing. I don't even know if it's inside or not. I hope it's inside a big tent or something so we can use our light show. KNAC.COM: We'll be looking forward to it. That's about all I've got…
FILTH: That's fine. That gives me enough time to go to the bar and get a drink. (laughs) KNAC.COM: It's now 12 PM so I guess it's ok…
FILTH: (laughs) Well, it would be 5 PM in England so I can get away with it! (laughs)
Please log in to view RANTS