Believer: An Exclusive Interview With Michael Sweet Of STRYPER

By Charlie Steffens aka Gnarly Charlie, Writer/Photographer
Friday, January 29, 2016 @ 4:54 PM

| | | |
| --- | --- | --- |
| | | "Nothing's more fulfilling than to know that you shine the light in a dark place. You can make a difference in somebody's life" |
Live Photos By Gnarly Charlie
Last year saw the release of Fallen, STRYPER's follow-up to 2013's No More Hell To Pay, with the continuation of the classic lineup of Michael Sweet on vocals and guitar, Oz Fox on guitar, Tim Gaines on bass, and brother Robert Sweet on drums. With guitars tuned-down—perhaps a bit heavier than its predecessor--Fallen received high praise from fans and critics alike.
The thinking was to follow in the same footsteps as the album before, says singer/guitarist Michael Sweet, "because there was such a good, receptive response for that album. The fans and the critics loved that album. It kind of took you back to the old days to the classic STRYPER sound to the modern day."
Divvying up his time between STRYPER, SWEET & LYNCH (his project with George Lynch), his solo career, guest appearances, touring, and other commitments, there is no such thing as downtime for Sweet. He'll tell you he likes it that way. After being in the business for over 30 years, the singer/guitarist defies his 52 years, and doesn't show any signs of hanging it up. While there may be some wear and tear from the natural progression of aging, Sweet's onstage energy and vocal power is alive and well.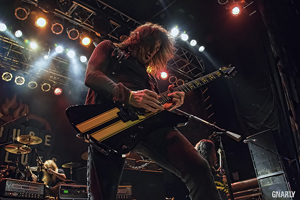 "I really love to work," says the singer/guitarist. And if I'm not doing something musically I'm kind of going out of my mind. I've always got songs in my head and things that I want to do. I'm grateful for the opportunities. And if more come, awesome. I feel like I'm the busiest I've ever been in my life. It's insane. There's so much going on and I just have a big smile on my face, because I love to write songs, I love to record, I love to perform."
"I've been playing my whole life. I consider myself a guitarist first and a singer second." he insists. Though his singing and guitar playing are notably great, Sweet looks at himself as a perpetual student. Maybe collaborating with the best players in hard rock and metal, like SWEET & LYNCH band mate, guitarist George Lynch (DOKKEN, LYNCH MOB), keep him on his toes. "What I'd like to do is maybe watch some videos and take some lessons and kind of branch out a little bit more. Learn some new licks. Try some different things just to make people go, 'What? That's him?' We'll see how that goes. I got a new solo album I've started to work on, and I'm going to try to dive in a little more."
Sweet's distinct falsetto and stratospheric screams aren't traits he takes for granted: "I tell you, it's getting a little more difficult these days to hit those high notes because of my age. As we get older—this is what I was told by the doctors—as we get older our vocal folds start to stiffen. When we're born they're really loose and flappy, and as we get older they start to slowly stiffen. The more they stiffen, the more range you lose. I'm going to keep going till I can't sing anymore."
Unless it has all been a gimmick, designed to secure them a niche as the forefathers of Christian metal and cash in, STRYPER's ministry and raison d'être is to proclaim that Jesus Christ is the king of kings. Non-believers, haters, and fanatical right-wing Christians have metaphorically thrown stones at STRYPER since the early days. Being a devotee of Jesus is accepted by few and hated by the multitude. The opiate of the masses is being slung by the un-coolest of characters, whether televangelists or derelicts passing out tracts on the Venice Beach boardwalk.
"Big Screen Lies" is a song from Fallen that gave Sweet a platform to take a shot at the contemptuous media, a majority who, he claims, brand Christians as lunatics.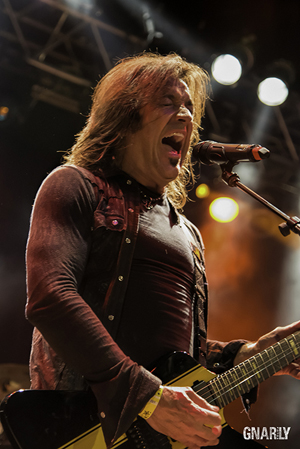 "I've always believed that when I watch movies or I watch a television show and there's a Christian character in the movie or the show, nine times out of ten… they're never portrayed as just a good person. They're always portrayed as a whackjob--someone's that's weird or creepy, crazy, or whatever. I've met Christians that are a little on the weird side or fanatical side that certainly go overboard. But, I mean, most of the Christians that I know, that I hang with, go to church with—they're just great, normal people." He believes it is rare, if ever, that Hollywood portrays them that way. "It gets a little offensive sometimes, because I'm thinking, 'Wait a second. The world's watching, thinking that's how all Christians are.'
We get laughed at for being a Christian band. Being Christians and mocked all the time by other metal bands. We hear it all and read it all. But it's funny at the end of the day when you think about it--we're more rebellious than they are. Because we're totally going against the grain. We're swimming out in the water and you've got the world up ahead, in front, and you've got all the metalheads swimming back a way, you know, rebelling. Then you've got STRYPER swimming the opposite way. But we love it. We wouldn't have it any other way, because that's what we're called to do. And we see the fruit. Nothing's more fulfilling to know that you shine the light in a dark place. You can make a difference in somebody's life.
If I get into a heated debate with someone… and I get upset, I tend to forget that. But we can never forget that because that's why we are here. And every single person, every single soul does matter. And God looks at us all the same and loves us all the same. We're just out there trying to spread the message, man, and the Word. And we're going to keep going until we can't do it any longer.
It doesn't every go away. I meet these people that saw us one time back in '84, '85, or '86. Then they come out to see us again in 2015 and tell us, and show us, the impact that one show had on their lives and who they've become. And what they've done for God from that one show—that one album--that's mind-blowing to me. Mind-blowing. So it's pretty cool. That's why we're doing this. That's what it's all about. Metal music is just icing on the cake. But the cake is that."
Please log in to view RANTS