Photo By Dana Yavin
Her parents gave her the name MADAME MAYHEM when she was a little girl. (Her birth name is Natalie Ann Cohen.) More than an attention-getting stage moniker for the singer, according to MADAME MAYHEM, her appellation is perpetual, not just some alter-ego thing. "It's not on my birth certificate," she says, "and I feel like if I change my driver's license I will never hear the end of it if I get pulled over. Like, they will never let me off with a warning (laughs). So I will not do that. Everyone just calls me Mayhem or MADAME MAYHEM. That's really all I go with now."
"I was never shy", Mayhem says. "I was always the one holding the family hostage after dinner to make them watch me put on a show or something like that (as a kid). I just live for the stage and live for performance."
She admits that there's "a ton more eyeliner, a ton more spikes" that she wears when it's show time. "But to be honest, my style and how I am—it's just how I am all the time and it's just heightened onstage. So I never consider it an alter ego as much as it's just me times a bazillion (laughs)."
Now You Know (released October 2015) might be considered MADAME MAYHEM's "coming out" album, and she is supported by an amazing collection of musicians: Billy Sheehan (MR. BIG, WINERY DOGS), Corey Lowery (SAINT ASONIA, STUCK MOJO), Russ Parrish ("Satchel" from STEEL PANTHER), Ray Luzier (KORN, KXM), and Ron "Bumblefoot" Thal (GUNS N' ROSES).
Now You Know was recorded in Billy Sheehan's studio. He also produced the album and played bass on several of its 14 tracks. The record is a guitar-heavy offering driven by the rhythm of bassists Sheehan and Lowery, drummer extraordinaire Luzier, and Mayhem's first-rate vocals.
"It's really like an introduction," says Mayhem, "even though I've been doing this for a while and I have other music. This specific album is…who I am and what I can do. Billy and I really wanted to be sure that we showcased the voice in addition to just the hard-hitting music. I co-wrote all the songs except for the cover song. I co-wrote them with Billy and three of the songs I wrote with Corey Lowery. I went to Atlanta and we did three songs, and I brought them back to Billy to show him and he loved them. So I write music all the time, even when I'm not working. I just write, especially for a record where you want to make sure that you are, of course, are putting yourself into it."
Mayhem says she feels fortunate to have had Sheehan and Lowery, her chief collaborators, help bring her musical vision into reality. "I was able to feel comfortable enough to, you know, spill my guts (laughs) and then have them contribute their talents to it too." Mayhem expresses a gamut of emotions, from blue to bright, in her lyrics. "Hopefully," she says, "people will be able to relate to the content as well as enjoying the music part."
"Even though I'm a vocalist, I'm really rhythm section-conscious, I guess. Because I love double-pedal and I love those deeper parts, so the rhythm is really important to me. Having Ray (Luzier) play drums on it and really bringing it to life was incredible. After the songs had been written, Bumblefoot came into the studio to lay down guitar tracks. "I still can't get over the fretless guitar solo he did on "Witchcraft". That's like my favorite part of the song. And when Russ Parrish came in I was staring, just watching the technique he had with the guitar.
In addition to the rockers, Now You Know features a couple catchy ballads and a 1964 Burt Bacharach/Hal David cover song snagged out of left-field, Mayhem's album shows her range as a singer, and perhaps music nerd. "Billy and I were trying to figure out what kind of cover song we wanted to do. We wanted to make sure that it wasn't too 'on the nose', or necessarily in the genre. We wanted to do something different but stay true to what my sound is. We were listening to a whole bunch of songs and we came up with Dionne Warwick's "Anyone Who Had A Heart"." The Warwick classic flaunts Mayhem's range as a singer: an excellent pull from the oldies trove.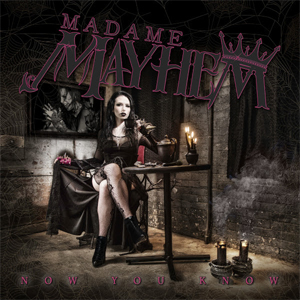 Citing Judy Garland, Alice Cooper, Ozzy Osbourne, Chris Cornell, and Pat Benatar as some of her influences, Mayhem was bit fiercely by the music bug early on and set out to be a performer.
"I've been classically trained in vocals my entire life. I went to the University of Miami for musical theater and classical voice. I've been doing this for a really long time—since I was a kid—being trained and making sure I knew my instrument and my voice and also making sure I understood music. That was my passion and that's all I have ever wanted to do."
Despite this classical training, Mayhem loves to put on her black attire and scream: "I'm just a metalhead and a hard rock fan, so it only made sense to go into the genre that I love so much. Having the groundwork of already knowing what I need to do to get the right sounds across and have an understanding, I'm able to play with it from there."
"Songs like "Better Days" and "Pain"—those definitely are part of my soul. Once in a while I'll bring a guitar with me and throw it on during a set just to be part of what I made. I love being the front woman and the show woman first and foremost during shows, so I can run around and do more crazy things. You never know what you're going to get when you come to a MADAME MAYHEM show. But it's always going to be entertaining."
Check out the video for "Monster" on KNAC.COM right HERE
http://madamemayhem.com/ https://www.facebook.com/madamemayhem