Junkman's Annual NAMM Convention Recap

By Junkman, On-Air Personality
Wednesday, February 19, 2003 @ 12:56 AM

| | | |
| --- | --- | --- |
| | | Junkman Invades NAMM 2003 With |
NAMM 2003: Another Year of Music Madness As the year 2003 starts, some people in the business world are predicting massive changes in the music business. Slow CD sales, a very fickle market, file sharing web sites ala Napster, and radio stations controlled by huge conglomerates that seem to be playing the same 10 songs by the same ten artists for about ten weeks then are never heard of again, seems to be the state of the biz. Many executives have been fired or have resigned their positions. Labels have folded. Artists, that, just a few years before had been signed to huge contracts, have been fired or bought out of those contracts. Some of the problems facing the future of the music business have made many, including myself, start to look into the possibility of another career in a different field. The positive outlook has, in many ways, become negative. Where and how do we get this business back to being the most exiting and profitable business known to man? How do we make it respectable and creative? How do we get the right people in the right positions to get the best product available to the consumer? The answer is at the annual NAMM convention. Now for those that are unaware, NAMM is the National Association of Music Merchants. They hold their bi-annual conventions in Nashville in the summer, and, at the Anaheim Convention Center in Anaheim California the third week of January. This is where the answers lie. Why? Because this convention combines the two most important elements of the music business.: The musicians, and the people that manufacture the instruments that they use, to create their music. Throw into the mix the retailers and wholesalers who sell these products and of course BUY them, as well as journalists like myself, who look to interview and watch the attendees play and talk about what they like about the products. Groupies looking for a famous person to spend the weekend with are ALWAYS a part of this convention. A good case in point is the very attractive woman whose breasts are so large that anyone near her may fail to notice that the first name on her NAMM badge is Charles. This is where people in the business do most of their networking for the year. I don't know the percentages of networking the groupies make for the year at this event but maybe next year I'll investigate. These are the people who REALLY matter in this business, the musicians and the manufacturers. Without these two groups there would BE no music business, as anyone who is a member of NAMM will tell you. Forget the record company executives of the past that made fortunes exploiting people for their own profit. Those people are a dying breed that has been forced out of the game by their own greed. With recording technology growing and made "user friendly" by these manufacturers (most being musicians) it is easier to just go out and make your own record and distribute it yourself. It's just become the way it is. Day One: Catching Up With Dave Ellefson, Pat Travers, Neil Turbin So on Friday morning January 17th, I head over to the Convention Center to be a part of this event, that for the past 17 years or so, I look forward to so much. Most of the people that I truly admire in life are here, or, at least represented in some way. I'm loaded down with just about everything that I need. My back-pack is full of analog and digital tape recorders, digital and non-digital cameras, pens, writing paper, cough drops and of course batteries. As my buddy Ernie and I approach the registration desk, we hear a familiar sound welcoming us back for another weekend of fun. It's the bag-pipers playing in the lobby that immediately makes me think back to all the fun I've had at this convention in years past. These guys are exactly that. A way of expressing with the music of my partial Scot heritage, "Welcome To the NAMM Convention 2003"! As we get our badges at the media desk, the attractive woman behind the desk asks me if I'd like to attend the Elton John concert that evening at the Arrowhead Pond up the street. This is a NAMM event sponsored by Yamaha, who have awarded Sir Elton its Lifetime Achievement In Musical Excellence Award. The concert would feature many special guests, including Ray Charles, Beach Boy Brian Wilson, Jewel, Michael McDonald, and many others. Now myself not being a huge Elton John fan, and not actually liking most of the music he's put out in the last 25 years or so it would be easy to say "No, thank you." But the bargaining side of me took over and I politely asked the nice lady if I could have 2 pair, and she smiled and handed me 4 tickets to the show. As my friend watched in amazement, knowing the value of these tickets to some of the people in attendance, I slipped them in my pocket and made my way to the convention doors. "First thing's first." I explained, to my friend. "Get as many passes to the big shows as possible." The reason for this being that not everyone likes the same kind of music, and, if I cannot attend a particular show that I WANT to see because the sponsor is out of tickets then you can bargain with tickets to another show as a trade off. Call me a "weasel" if you want, but this is the way I get what I want and see who I want to see. EVERY TIME. While perusing my show directory and waiting for the doors to open at 10 am, I start to notice the various vendors scurrying into the convention center, hot cups of coffee in their hands, cell phones starting to lose connections (an ongoing problem inside). Many are here for the first time and I love to watch the mix of Midwesterner and Asian, Black and white, Spanish speaking and French, all races of people who speak the same language, the language of music. At exactly 10 am the doors open and it looks like the opening of a new department store or something like it. Immediately the isles are filled with people. And at the same time, musical instruments of every type seem to be being played. Of course, not the same tune. This must be similar to what my 7th grade band teacher must have heard, during our first few rehearsals. Anyway, I'm too excited to think too much about that as I head to the scenes of past encounters. Many booths such as Peavey, Dean Markley Strings, Tama drums/ Ibanez guitars etc. have posted signs saying which endorsees will be signing autographs and the times that they are expected. As I go to the E.S.P. guitars booth of which many of the artists played on KNAC.COM are endorsed, I run into my good friends Lorne and Marsh who are very busy talking with clients. They ALWAYS have time for me though, and tell me about the new James Hetfield guitar that is being introduced at the show. Among the various endorsees appearing over the weekend at E.S.P include George Lynch, Michael Wilton of Queensryche, Tom Araya of Slayer and others, Hetfield himself unfortunately will not be attending the convention. They do however tip me off to some "golden info." Appearing that evening at the House Of Blues Anaheim will be none other than Cheap Trick! This event is sponsored by Shure microphones. So off I go to the Shure booth and the people there happily hand me a pair of passes. One of the women there told me that she read the article I wrote on last years convention and said she enjoyed it. I promised her I'd have nothing but good things to say about Shure products. And its true, I don't have to lie -- I have been using their products for years and have always been happy with them. It's no wonder that the Shure SM58 is the most popular mic in live music. Ask anyone in the business! It's around this time that I start to see many famous people in the biz appearing at the various vendor booths. As I pass the long line at the Marshall amplifier booth, I see that the inventor of the most famous guitar amp, Jim Marshall, is signing t-shirts and posing for photos. At the Peavey booth, George Lynch is completely shredding on a guitar solo, to a packed house. He was everywhere during the weekend, signing autographs at not only Peavey but at Dean Markley (along with band mate Jeff Pilson) as well as E.S.P. We spoke briefly about his upcoming record with Pilson, simply known as LP. For more info on that project, stay tuned to the KNAC.COM newswire. Peavey, as in years past, became pretty much my "home base" for the convention. It's a very large booth, centrally located on the convention floor, and the people that work for the company have always been incredibly supportive of KNAC.COM. Not to mention that their list of endorsees that perform at NAMM every year are incredible. This year was no exception. Artists due to perform and sign autographs this year included not only George Lynch, but Dweezil Zappa and Lisa Loeb, Marco Mendoza, Union Underground, Lynyrd Skynyrd's Gary Rossington, Tribe of Judah featuring former Extreme and Van Halen vocalist Gary Cherone, and, if that wasn't enough, Saturday featured an appearance by none other than the great Edward Van Halen himself!
As I spoke with a member of Peavey's staff, a familiar face comes walking up. It's former Megadeth bassist Dave Ellefson. Dave has done artist relations with Peavey for quite some time and we spoke about what he has been doing since Dave Mustaine put Megadeth in "retirement". Dave explained to me that when Megadeth suddenly ended last year, he didn't want to immediately form or join another band, (so much for that whole joining Metallica rumor) he wanted to take a well deserved break and see what kind of projects were interesting to him. One of the things he did was write some music with Marty Friedman, formerly with Megadeth, and also with Al Pitrelli who replaced Friedman in Megadeth. Keeping with the whole Megadeth "family," he worked with drummer Jimmy Degrasso as well, who I also ran into at the Peavey booth. Dave told me that he also has done some management of other talent and has been an advisor to other artists about Peavey gear. Not only that, but was quite involved in production of the Megadeth live CD Rude Awakening, and the long form DVD on Sanctuary Records of the VH1 Behind the Music special. Not only that but he also will be working on a new project in the not so distant future with some musicians that I'm sure most of you "Pure Rockers" have heard of, at least once or twice. Stay tuned to KNAC.COM for more details as they evolve! I made my way over to Dean Markley after that and ran into a couple of legendary guitarists for a quick photo op. James Burton, who played guitar for Elvis Presley among others, was there along with the "King of the Surf Guitar" Dick Dale. I also spoke with guitarist Pat Travers who told me One Way records has released two of his old records, Puttin it Strait and Heat in the Street on one CD. He is also recording a new CD with drummer Aynsley Dunbar, as well as trying to reunite with drummer Tommy Aldrich and bassist Mars Cowling for a few shows and maybe a DVD. You can keep up to date with Pat at pattravers.com. I also bumped into one time Anthrax singer Neil Turbin who has a CD coming out in March. Among the musicians appearing on the CD are former XYZ drummer Paul Monroe, my friend and former MSG guitarist Mitch Perry, and bassist Sean McNabb from Great White. Check out neilturbin.com for more info. Off I went over to "Drumland", also known as Hall D of the Convention Center. This is my playground, being a life-long drummer, and I had to spend some time checking out all the new products. New hardware, drum heads, finishes, and drum stick sizes to see and mess with. Not only that, but plenty of electronic kits to play and lots of cymbals to bash! Ahh, there is nothing like loud noises to make a drummer happy. While at the Sabian Cymbals booth I ran into my idol of sorts, the guy whose "Realistic Rock" book I learned to play drums on, Carmine Appice. Carmine has been a frequent visitor to KNAC.COM in the last few years and it's been a thrill to get to know him. He promised to come on MY show to talk drums soon. As you know, from when he last appeared on KNAC.COM , that we are playing his reunited Vanilla Fudge, which really rocks-realistically! It wasn't until later on that evening that I found out that they PLAYED at the Sabian sponsored "Drums Along NAMM" concert at the West Coast Anaheim Hotel. This was the biggest disappointment of the weekend for me, the fact that I missed that show, but, to tell you the truth, I ended up having quite a Friday night of entertainment as it turned out anyway. After spending quite a while at the drum booths I decided to quench my thirst and head for the "happy booth." In other words, the cocktail bar. Since, by now, it was nearly 6 PM and the convention hall would be closing, it was time to adjourn to the scene of many past and future NAMM memories, the cocktail lounge at the Anaheim Hilton. This is the place to meet and greet people in the business, (and yes a GREAT place to meet women) in the intimate setting of a cocktail party. Memories of having drinks and swapping stories with people in years past like Lemmy from Motorhead, Joe Walsh, and the late great John Entwistle, all at one table, a few years back, was one memory that came to mind. Or the time when I sat in on drums with the trio that played in the corner of the lounge. Their drummer had disappeared, and I offered my services. A vocalist offered his as well, and we quickly delivered a bang up version of the Percy Faith classic, "When A Man Loves a Woman." This particular vocalist, a very inebriated Englishman, sang some of the most soulful notes I'd ever heard. He punctuated this performance by falling headfirst off the grand piano (of which he had climbed on after the first verse) on the very last note, to a grand applause by most of the people in the bar. It wasn't until later that I found out that it was none other than Terry Reid, a legend in British Blues, and Jimmy Page's original choice of vocalist for Led Zeppelin. As I said before, MANY fond memories of this particular place. Anyway after getting my usual Heineken and finding a table, the parade started. The Convention Hall had closed and people started to file into the cocktail bar just as I did. But in droves! Within minutes the place was packed with salesmen, musicians, wide-eyed tourists, and, of course plenty of women who looked at your badge and your face in the same glance. I ran into a friend of mine who had been working at a booth all day and was exhausted after traveling from New York the day before. As we shared a drink, he asked me what my plans were for the evening and I explained that I had 3 concerts to attend. He looked at me and smiled. As his wife joined us moments later he explained that he was so busy at the show, he did not have time to make any social plans for himself and his wife. And after hearing him speak of how he and "The Wife" look forward to this event as a chance to get away together, just the two of them, I got an idea. Well, if you think THAT'S nice, you should have seen the look on his face when I pressed my extra pair of Elton John tickets in his hand. "The Mrs." gave me a big kiss, and I secured my angels wings! Yeah, I like being a nice guy. Besides, tomorrow this guy will be so busy he may not even get to speak at ALL with her. Saturday at NAMM is the biggest business day of the year. Friday Night's Alright – For Cheap Trick! After downing a few more beers, it was time to go to the House Of Blues Anaheim for the Cheap Trick show. This event was sponsored by Shure. It was a benefit to promote awareness to hearing loss (with Cheap trick hmmm….) and we were handed complimentary ear-plugs as we entered the building. We also were treated to a HUGE buffet and an open bar-WOO-HOO!!!! We decided to happily indulge and found our way into the concert hall. After a short video presentation promoting awareness to hearing loss, a Shure representative presented a $50,000 check to the Hearing Conservation Program -- A great program that many in the music business should be more aware of. Being a drummer and niteclub performer for many years has no doubt affected certain parts of my hearing, and hopefully more will get the message and use protection. I noticed that many in the crowd proceeded to open the free ear-plug packages IMMEDIATELY after the presentation. What followed was a presentation of $5000 in Shure equipment to the winner of a Shure sponsored song writing contest. A gentleman named Zack was the winner out of over 1600 songwriters.
Soon after, the light dimmed and the one and only Cheap Trick hit the stage. Opening with "Hello There," they proceeded to rock the house with about 90 minutes or so of their own brand of powerful pop tunes and their awesome, no bullshit, in your face, attitude. The band tore into "Big Eyes," "If You Want My Love," and "She's Tight," before bringing bassist Tom Petersson and his 12-string bass up front to sing "I Know What I Want." Guitarist Rick Nielson was his usual self, hamming it up for the crowd and showing off his extensive collection of Hamer guitars, of which, he changed every song. Nielson also throws hundreds of guitar pics into the crowd, one of which hit me in the eye and is now a treasured souvenir! Lead singer Robin Zander was in fine form, belting out the classics "I Want You To Want Me," "Clock Strikes 10," "Tonight Its You," "Words" and "California Man." Drummer Bun E. Carlos started to pound out the beginning to "Aint That A Shame", and the band, joined by MC5 guitarist Wayne Kramer, brought the house down. Cheap Trick closed out the set with "Southern Girls," "Surrender"(but of course), and "Voices" before exiting the stage to a huge applause. They then returned for an encore with "Dream Police" and a tune I couldn't recall entitled "Scent Of A Woman." What a show! We exited the building totally stoked, but the night was still young. So off we went up the street to the Arrowhead Pond, to catch the rest of the Elton John extravaganza, and maybe more! Friday Night's Not Alright For Elton John As we arrived at the Pond, which is a beautiful arena in Anaheim, home to the Mighty Ducks hockey team and down the street from Disneyland, we made our "game plan." Catch as much of the show as we felt like. Being a "Pure Rocker," and not much of an Elton John fan for the past 25 years or so, made me look ahead to the rest of the evening before even entering the arena. I think the last album of his that I liked was Goodbye Yellowbrick Road and I think that was released in 1975! Nonetheless, we found our seats just as the "tributes" to Sir Elton were ending, and he walked onstage just as we sat down. Perfect timing! Opening with the classic, "Funeral For A Friend / Love Lies Bleeding," Elton John and his band, featuring longtime members, Davey Johnstone on guitar and Nigel Olsson seemed like they were having a good time and were pretty together considering the long list of tributes from other artists that had preceded their set. Next, they played their latest single, "I Want Love," a very "seventies-sounding" song. Following that with "Wasteland," then they played the gem "Mona Lisa's And Mad Hatters" from the 1972 album Honky Chateau. After "I Guess That's Why They Call It The Blues" and "Sacrafice" featuring Grammy nominated singer John Mayer on a duet, I was ready for a drink Off we went to Lofflers, an Anaheim nightclub a few miles away that was hosting a NAMM party sponsored by Cort Guitars. My good buddy Ric was handling the soundboard that evening as he does most weekends, and we had no trouble getting in the door and over to the bar. The place was packed, and, this place would be holding an all- star jam the following evening as well for Fender Guitars. Onstage were a variety of musicians including bassist Jeff Berlin and his band, and former Late Night with David Letterman's Worlds Most Dangerous Band guitarist Hiram Bullock and current CBS Late Night Orchestra bassist Will Lee. By this time I was beginning to run out of steam as was my buddy Ernie, and we decided to make it an evening, after all, tomorrow was a big day at the convention. As we headed toward the door we saw Ernie's idol, Tower of Power bassist Francis "Rocco" Prestia in the crowd. Now recuperated after receiving a new liver, Prestia is now back on the road with T.O.P., "funkin' it up" in a town near you in 2003! Day Two: Serj Tankian Loves KNAC! Junkman, One Herbie and Two Chesters Saturday morning came early, and, after downing a pot of coffee, I headed off, once again, to the convention center. After attending 3 concerts the night before, I found out about some of the shows I missed. Sabian had hosted "Drums Along NAMM" at the West Coast Anaheim Hotel .The show had featured the afore mentioned Tower Of Power (without Rocco on bass), Shape 68, featuring legendary vocalist and bassist Glenn Hughes (Deep Purple, Hughes / Thrall Band) with Robin DiMaggio and Red Hot Chili Pepper Chad Smith on drums. Also appearing were the L.A All-Stars featuring members of Earth, Wind and Fire, and members of Prince's band. Rounding out the show was the original Vanilla Fudge that I spoke of earlier. SWR sound also hosted a big "NAMM-Jam" in the Pulse nightclub, which is inside the Hilton. All around the Convention center and surrounding areas, places were jumping! Oh well, I had a pretty good night of entertainment; after all, I couldn't see EVERYTHING! Although I was prepared to give it my absolute best shot and see as much as I could. As soon as I walked in the Convention Center, I bumped into System of a Down singer Serj Tankian. "I LOVE KNAC" was the first thing that he told me. He explained that after the release of Steal This Album, the band will head back to the studio and tour this summer. Rounding the corner to head over to the Paul Reed Smith guitars booth, I was then pushed out of the isle by an enormous man. As I turned my head to see who had done the deed, I realized it was the body guard for an approaching Carlos Santana. Santana, an endorsee of PRS guitars had taken a picture with me last year at the booth with our own lovely DJ Frankie De Vita. Also outside of the PRS booth I saw jazz legend Herbie Hancock, and drummer Chester Thompson along with KEYBOARDIST Chester Thompson. Two Chesters and a Herbie, side by side! Inside the booth I met guitarist Erik Braunn. If this name doesn't ring a bell, Erik at the age of 17 played on perhaps the most recognizable "Heavy Metal" song of all time, In A Gadda-Da Vita by Iron Butterfly. I would say that the "da-da- dada- da da, DAH- DAH-DAH" riff on that song is as well known as maybe "Smoke on The Water," or maybe "Sunshine of Your Love" by Cream as anything ever done in rock. Erik has been writing and recording his own music for years and doesn't really stay in contact with the other members of Iron Butterfly. He was surprised that I actually recognized him, as he hasn't been in the public eye too much lately. He told me some stories about being on the road with the Iron Butterfly and being on stage with the likes of Jimi Hendrix and Janis Joplin among others, while still in his teens! This is priceless stuff to rock historians and I told him that I would keep in touch with him, which I have done. More to come on that subject! Forget Paul Stanley and Joe Satriani… Take Me Straight To Eddie Van Halen By this time, I figured that I would head over to Peavey and since I had my press credentials, maybe I would have time to have a few words with Edward Van Halen, who was due to appear at 1:30. My plan was to speak with EVH, then cruise by the Ibanez booth and speak with Joe Satriani (due at 2 PM), and then go to another booth and see Kiss guitarist Paul Stanley (in full makeup). This is the way things happen at NAMM on Saturday, "bada-bing,bad-BOOM"!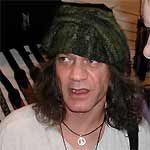 Well the first thing I found out at Peavey was, that Edward would be late in arriving. HOW late I did not know. The second thing I found out was that, I wasn't the only one that was waiting for him to arrive. The booth was soon completely FILLED with people. A line around the booth followed that. Nervous looking Peavey employees and security guards patiently answered people's questions about what the "hubbub" was all about, and WHEN would HE arrive! I give great credit to the Peavey employees for their patience and smiles for handling what turned out to be a near disaster. I have been around enough to know that when Van Halen makes an appearance, it becomes an event. I spoke with him briefly a few years back at the Music Man booth and he was very nice, autographing a poster for me and telling me about the upcoming (at the time) Van Halen recording, For Unlawful Carnal Knowledge. Today would be a completely different story. Partly on the facts surrounding him and the band, in other words, "WHATS THE DEAL, ED"? I had many questions to ask, as I know most of us want to know. "What is the status of": The Band? Your Health? Who's gonna sing? (lots of rumors floated around the convention on THAT one). Among many others that I figured I would bring up, but once again today would be a different story in terms of approachability. What's the Deal With Eddie "I Don't Feel Tardy" Van Halen Anyway?! While waiting for the great VH, I ran into my friend, Armored Saint/DC4 guitarist Jeff Duncan. First words out of his mouth were, "Where's Eddie"? He told me that he and his old band Odin, featuring his brother Sean on drums had reunited for a few shows, and that he would be busy with that and of course the other bands in 2003. By then the crowd was becoming impatient, (go figure), and no EVH to be seen. So much for speaking with Satriani or Paul Stanley, or anybody else for that matter if I was going to get a shot at seeing this dude. Finally at about 4 PM he showed up and I was ushered into a soundproof booth that he would be "performing" at. After speaking with company founder Hartley Peavey upstairs in the office area for quite some time, Van Halen made his way into the performance booth, completely MOBBED by his fans. What followed was something bordering on bizarre.
Looking like he just got out of bed, (he may have) and speaking in a croaking voice, he told the crowd that he would be granting no interviews or signing anything. Damn! He also refused to discuss anything about the new products that he and Peavey had been working on, explaining that he simply didn't want to give an endorsement to a product that was still in the experimental stage. After refusing to answer some of the crowd's questions about equipment, some one screamed for him to play, and he reluctantly grabbed a guitar, plugged it into one of his signature Peavey 5150 amps, and proceeded to noodle away at it -- with his back to the audience! After turning around and explaining that he had not been playing much guitar lately, just piano and cello, (cello?) he played a few vintage riffs before stopping and telling the crowd that he didn't want to play anything old for the "punk-asses" that were inside with their video recorders, taping the event. He did however start playing the opening riff to "Mean Streets," before stopping and once again telling a VERY disappointed crowd that he would not give them anything from the past. Matter of fact, he didn't seem to want to give them anything from the future either, explaining that he would not play or talk about anything that wasn't finished. Van Halen then smacked his guitar on the microphone stand and one of the employees heads a few times, saying that that was what he loved about his guitars, meaning that they could be bashed about and still stay in tune. He then played a boogie riff that he said he had just written, and then, just like that, it was over. Off he went, surrounded by security, and a few hundred disappointed fans. What the fuck? I (and just about everyone else that was in that room) wondered. Oh well, that's rock n roll. Time will tell what will happen with the future of Van Halen, and the products he will endorse and produce. What was so weird and coincidental about his tardiness, ("I don't FEEL tardy") was that it bumped a performance by Tribe Of Judah, a new band featuring the last Van Halen vocalist, Gary Cherone to the next day, in that same performance booth! Pow Wow at Ernie Ball and Mandatory Hilton Cocktails
Well by now, I was ready for a drink and a walk. I had maybe an hour before they closed the hall, and I was pissed. I dropped in to see a few people I knew in the pro-audio area of which I had worked with at one time. Saw lots of people all around, Fieldy from Korn signing autographs, Kerry King from Slayer and our own DJ Will from KNAC.COM. Guitarists Steve Vai, John Petrucci, and Steve Lukather having a "pow-wow" at the Ernie Ball booth. THIS was an interesting booth. Ernie Ball makes strings and guitars, and their NAMM booth has a theme every year. This year, the booth was set up like a football field, complete with bleachers and press box, along with goal posts and employees dressed like football players, and cheerleaders etc. Sterling Ball himself was dressed as the late sportscaster Howard Cosell. I spotted guitarist Steve Morse here as well, although he was dressed as Steve Morse! After heading back to Peavey to catch part of a performance by Union Underground the hall was nearly closed. I hadn't really made too many plans for that evening except for going to the Galaxy Theater for the second of three weekend concerts at that venue. Friday night had featured a Paul Reed Smith sponsored event featuring Carlos Santana and Creed members Scott Stapp and Mark Tremonti paired with the rhythm section from Tool. Also appearing was Collective Soul amongst others. I was given tickets to tonight's event by a friend of mine, but, as it turned out, I never made it! I made my way to the cocktail lounge at the Hilton and secured a table by the entrance. That evening came and went without ever having to move from that spot, except, maybe a few times, to "relieve myself." Bumped into our own Sefany Jones from KNAC.COM along with former Alice In Chains bassist Mike Inez and tossed back a few. After that was an endless parade of people, lots of whom I knew from my years in the business. Many more whom I did NOT know, but got to, over the course of the evening. To say that I made the most of the bar would be an understatement. To all the beautiful girls I met and exchanged business cards with that evening, I hereby declare myself innocent of anything that I may have been made accountable! Day Three: The Aftermath Sunday morning came in a haze. As I shook off the effect of the events from the night before, in other words a major hangover, I again headed off to Anaheim. Now, mind you, Sunday at NAMM, in my experiences over the years, has traditionally not been the most exciting day of the Convention. There are many reasons for this, mostly the fact that musicians, for the most part, are up late on Saturdays, either playing a gig or perhaps spending their evening in the bar, or both. Upon entering the Convention Hall, I noticed a major difference in the amount of people attending as opposed to the day before. And the vendors that I spoke with, seemed to be feeling every bit as horrible as I did. Saturday was a big party night, no doubt! I decided to check with some friends of mine in the "Pro-Audio" section and catch up on what was what. At the Pioneer Electronics booth, my old friends Karl and DJ Hot Toddy were demonstrating the latest products and told me Kiss's Gene Simmons was there the day before and wanted to buy the big-screen plasma TV that was mounted in their booth. After explaining to Simmons that the TV was used to broadcast demonstrations of the latest Pioneer equipment, he took some literature and quietly moved on. At the Denon Electronics booth, DJ AphatDJ (also known as my boy Jesse) inquired about his favorite KNAC.COM personality Frankie De Vita. I explained that, sadly, due to car trouble, she would not be attending, but that he could catch her on the chat line during her show on Fridays . Check out all the new Denon products at www.del.denon.com. Catching Up With Gary Cherone I actually ended up buying a few cases for my portable DJ gear from another vendor that I knew, and after locking them in "The Junk-Wagon," headed over to the Peavey booth for a performance from Tribe of Judah. After finding my place inside the scene of yesterdays Van Halen fiasco, aka the performance booth at Peavey, TOJ hit the stage and put on a brief but very energetic 30-minute performance. Introducing himself to the crowd as "David Lee Hagar," singer Gary Cherone impressed me with his manic stage presence and vocal range. During one song he jumped off the stage and landed in the lap of a girl in the front row, completely catching her, and everyone else off guard. The band consisting of Cherone on vocals, Steve Perlozzo on keyboards and programming, Leo Malace on guitar, Pat Badger on bass, and Mike Mangini on drums, played a few numbers off their Spitfire records CD Exit Elvis, as well as a VH3 tune and an Extreme number. The crowd packed into the booth and listening in outside in the aisles seemed to approve of the set as the sweaty band members finished up. After the gig I got to speak with Cherone and the rest of the band members, upstairs in the Peavey offices. All of the members of the band were looking forward to the following evenings performance at the Viper Room in Hollywood, and invited me to the show. It would turn out to be a real highlight of my week as they would perform a FULL set, and invited Van Halen bassist Michael Anthony up for a few numbers. Also former Extreme guitarist Nuno Bettancourt joined the band for a searing version of Led Zeppelin's "Rock and Roll." For a full report on the show, read the review in "Headbangers" on the KNAC.COM site. Cherone told me that they are looking forward to touring in 2003 and promised to come on the Junkman Show on KNAC.COM and maybe play live, the next time they are in town. This is a band to keep an eye out for, they truly have "the goods." For more information go to www.tojonline.com, or check out www.spitfirerecords.com. I told the guys in the band that the thing that blew me away was, that when we first started playing them on KNAC.COM, I wasn't aware of who was singing and that something just sounded familiar about them. I was alerted to the fact that it was Cherone on vocals by a listener on the east coast and then it all made sense. Once again, check them out when Tribe of Judah comes to YOUR town. Waxing Philosophical As I walked out of the Peavey area, down the aisle came what appeared to me to be a "scrum," like in the game of rugby. It turned out to be Stevie Wonder and his entourage, out for a day at NAMM. Everywhere, it seemed, musicians that I hadn't heard from in a while, were appearing. That's when it hit me that the state of the music business these days doesn't include what I consider true MUSICIANS. In other words, today it seems like just about every "Hit" record that you hear on the radio is nothing more than someone with more "attitude" and style than actual musical talent. This made me feel like I was actually a member of a "secret society." A group of people that actually understand that without actual MUSICIANS, all you have left is music made by people with limited skills, in other words, half-assed, disposable shit! Music that will not last long enough in the minds of the consumer that actually PAYS for it in the first place.
Now, to paraphrase Dennis Miller, "I don't wanna get off on a RANT here, or anything," but I do want to make a point. Support your local musician and bring back music programs in public schools. Without music programs in most schools, an entire generation of kids have grown up without any appreciation and knowledge about this field, that I and so many others care so deeply to be a part of. People are being fed ONLY what they hear on the radio and on places like MTV, the place that teaches our kids that violence and garbage are cool. Then again, that's just MY opinion. Use your own mind, then write your own article about it. I checked out a performance of GHS 3, which was guitarist Frank Gambale, bassist Stu Hamm, and drummer Steve Smith (yup, formerly from Journey). Talk about musicianship! This was the "power trio from hell" for the millennium. A small crowd had viewed this performance, once again at the Peavey Booth (yes, I actually DID leave that booth over the course of the weekend!). I thanked as many of the vendors as I could that had helped me get close to the musicians that I watched and spoke with for the last few days. I know that if I left out their names that they would understand. I got a LONG list of people who I need to thank. People who went the extra mile for me in trying to document a weekend that, for me, is the best weekend of the year. All the folks at Peavey, E.S.P., Shure, Dean Markley, etc. I know there are many others and I promise to get back to them. NAMM Winds Down With A Dosage of Social D and Some Johnny Winter As the time started to wind down and another NAMM convention came to a close, I decided to head out to the nearby Galaxy Theater to see a performance by Living Colour. They kicked ass! A great evening of their own style of heavy rock and funk, topped off by a killer version of Jimi Hendrix "Cross Town Traffic". My week didn't stop there, the following evening I went to the Tribe Of Judah show at the Viper Room. The next night I went to the House of Blues Anaheim for the final performance in an amazing 19 sellout show run by Orange County's own Social Distortion. As the curtains parted to "Somewhere Over the Rainbow," singer Mike Ness led his band into kick ass versions of "Sick Boy," "Mommy's Little Monster" and "Angels Wings", which he dedicated to the nearby Orangewood Children's Center, where he told the audience he had spent time in his youth. "Don't Take Me For Granted" was dedicated to his late friend and bandmate Dennis Dannell, who died a few years back. Social D ripped it up with "Bad Luck" and "Footprints on My Ceiling" and "I Wasn't Born To Fall In Love" (dedicated to Joe Strummer and Joey Ramone). Exclaiming "Lets do this motherfucker," Ness and the guys tore it up with "Ring Of Fire" and "Ghetto Life" before closing the show with "Story Of My Life," leaving the crowd totally satisfied and the band totally exhausted. Speaking of exhausted, I was pretty much spent by this time. Not a whole lot of sleep for this boy the past week or so. I decided to end my week 2 nights later for a performance by the great Texas blues guitarist Johnny Winter. Now growing up and being a huge fan of his for many years made me understand that he's not as young as he once was, and years of touring and "living the life" have taken something off the speed that made his hands the one time "fastest guns in the west." Playing his "Lazer" guitar while sitting in a chair (the result of a hip injury), Winter played a great mix of rock and blues, highlighted by his great band featuring the one and only James Montgomery on vocals and harmonica. Many in the crowd screamed for him to play slide guitar and he did not disappoint them. Breaking out his vintage Gibson Firebird guitar, Johnny Winter showed the adoring sold out crowd what slide blues is all about when played by a master. Backstage afterwards, I asked him who excites him when he listens to contemporary blues, he explained, "Derek Trucks." Derek is the nephew of Allman Bros. drummer Butch Trucks, and plays guitar with them as well as fronting his own band. I had seen him play when he was a teenager many years ago at a NAMM event, and am looking for ward to seeing what makes a guy like Johnny Winter happy, when he and his band come to town in a few weeks. Stay tuned! Johnny then told me that he has been quite busy recording a new CD that at press time is about halfway finished and as soon as he got off his current tour he would be heading home to finish it off. He also told me he may do some shows with his brother Edgar who is also touring and recording as well. All In All…. What a great way to finish up a week I thought. Interviewing a hero of mine and truly being an "insider" in the music business. All the negativity of what has been labeled "popular music" of late had, at least temporarily, been replaced by interaction with people who I truly respect and admire for their work and commitment to their craft. THIS is what makes me excited about this business! This makes me want to be involved in it until my dying day. This makes me know that the profession I so long ago wanted to go into, has not been killed off by corporate greed, but has replenished itself with more and more ideas from people like the Johnny Winters of yesterday and the Derek Trucks of tomorrow. This feeling will, for me, be expressed on my show on KNAC.COM, every time I'm on the air. This is where REAL music by REAL musicians is played. If I ever lose my focus I can always count on one thing to put me back in my musical mode -- NEXT YEAR'S NAMM CONVENTION! Excuse me but I need some sleep. Keep Rocking, bang your head and listen to KNAC.COM. (Photos By Junkman and Ernie Vance)
Please log in to view RANTS