JUNKMAN Recaps 2015 AFTERSHOCK FESTIVAL

By Junkman, On-Air Personality
Tuesday, November 24, 2015 @ 1:44 PM

| | | |
| --- | --- | --- |
| | | From Gibson Ranch Park, Sacramento, California |
All Photos By Junkman
For the final big American rock festival of 2015, I travelled to the California capitol city of Sacramento, as I have done for the past three years, for Aftershock, 2 days of music and madness. The 2015 version of this very successful fest featured a new location, and a new month. "Rocktober" would be very fitting and the fact that it was now relocated to Gibson Ranch Park, just outside of town, made me wonder about a connection to Gibson Guitars. Les Paul, Explorer, and SG model guitars would surely be used throughout the weekend by many of the bands on the bill.
I must say the park was enormous! In fact it was so large that I and many others had trouble even finding the gate, which I was told had to be moved because of an infestation of hornets. I honestly felt like I was on a wilderness hike just to get my credentials, but once inside, all that changed. It was a very comfortable festival grounds, with a natural sound barrier of grassy hills and plains in between the four stages.
There were also plenty of food trucks and beer stands, although the choices were pretty limited. Sponsors Coors was all that was available. Oh yeah, Coors light as well. Like the Louder Than Life festival in Louisville, Kentucky earlier in the month, there was also a tent dedicated to professional WWE NXT wrestling, complete with a ring and all the works. Here's a great Youtube clip of Wrestler Baron Corbin mixing it up with Festival Co-headliners SLIPKNOT singer Cory Taylor:
Spanning the rest of the grounds, there were plenty of merchandise booths, as well as a huge VIP tent, and the "Crazy Dave's Music Experience" tent, which featured vendors of music products, such as Paul Reed Smith guitars, where one could plug in, play and speak with a representative of the company. There was also a Jack Daniels Distillery tour, for those interested in seeing how the whiskey is created. Festival sponsors Monster Energy Drink had their viewing pavilion set up, as always, near the main stages to give folks a better view of the show than the general madness of the open fields. Again, plenty of room for plenty of people and they came out in droves. A sold out weekend, in fact. Friday night featured a pre-party at "SLIPKNOT's Scream Park", a series of live action haunted houses that had live actors, basically scaring the crap out of you as you wandered through darkened mazes that featured lots of blood and gore. There was also live music just outside and it rocked as much as it scared the groups of festival goers that attended.
As for the music, there was plenty of it all weekend. Close to 60 bands, in fact! Saturday for me started at the Coors light stage with an eye opening set from England's RAVENEYE, fresh off opening for SLASH in Hollywood the night before. This 3 piece straight ahead rockers were the perfect way to get things started, with a very likeable hard rocking set. I became an instant fan. I had not seen the band SNOT in a number of years, and they took it to the early risers from the comforts of the Monster South Stage, which was set up side-by side with the Monster North Stage. Loud and muddy is the way I would describe SNOT to the novice fan, and they looked like they were having a really good time onstage.
SEPTEMBER MOURNING is a great visual band, and their stage show is always entertaining. Cool, dreamy, sometimes industrial sounding hard rock with a vampy, alluring singer decked out in white with white hair and makeup, along with her "Druids" as she referred to her band which featured former GEMINI SYNDROME guitarist Rich Juzwick on guitar. Just a cool show to see. And there were plenty of them throughout the afternoon. ART OF DYING, HELMET, RED SUN RISING and ALL THAT REMAINS, all put on amped up brief sets for the still arriving Aftershock crowd, that swelled and got rowdy as some of the hip-hop rock influenced bands such as HOLLYWOOD UNDEAD and P.O.D. got things jumping. In all this action, I missed the always chaotic SUICIDAL TENDENCIES set, but I had plenty to keep me busy.
CLUTCH was one band that stood out from the rest. They have a pretty unique brand of grungy funk that you just can't help moving to. Yes, dancing instead of moshing or crowd surfing is the norm at a CLUTCH show. And they tore it up on the Coors light stage, with a great nine song set, that got my toes-a tappin'.
POP EVIL is a great band to see. Solid rock, very entertaining. They rocked 10 songs, a lot for their mid-afternoon set opening with the killer "Deal With The Devil" and closing with their most popular tune "Trenches" which I absolutely love.
On the other hand, SEETHER trudged their way through their set looking, once again, very uninspired. I don't know what it is, but this band has great songs such as "Rise Above This" and "Fake It" but just don't seem to generate the kind of excitement that some of the other bands on the bill seemed to display.
BREAKING BENJAMIN was one of those bands. Lots of energy and a very entertaining stage presence. I really love their song "So Cold", which was performed, and during "Imperial March" they broke into a mini-medley of 1990's rock hits, featuring snippets of TOOL's "Schism", NIRVANA's "Smells Like Teen Spirit" and the PANTERA classic "Walk". Always fun to see in concert, BB singer Benjamin Burnley is a fan favorite and a great front man.
Great Britain's BRING ME THE HORIZON got the evening portion of the party started with a 9 song set that was dominated by lead singer Oliver Sykes and his manic energy, and a backlit stage which kept the visual to minimum unfortunately. Nonetheless, they gave the crowd what it wanted, with favorites like the opener "Happy Song", "Go To Hell", "For Heavens Sake" and "Throne". Sykes baited the crowd to make noise throughout, and they responded loudly each time, as the band ended their set with "Drown", one of their most popular numbers.
Which brings us to MARILYN MANSON. To many in the crowd, this is why they were here. He has a huge following. After a fog filled opening to a pre-recorded RICK ROSS ditty, Manson and band hit the stage with "Deep Six" from their very listenable latest release The Pale Emperor, which pretty much describes Manson's onstage persona. Grabbing an old style "bullet" microphone, and waving it wildly in between primal screams, he and his spooky looking band gave the fans a hit filled set featuring songs from various points in his career.
I was not pleased that he made sure the photographers (of which I was included) were kicked out of the photo pit after only only one song, as opposed to the standard three. But then again, it's all part of his ego and that was pretty much understood by my fellow paparazzi. He did serenade us with my two favorite MM tunes as I made my way into the crowd. "Mobscene" followed "Disposable Teens" and I was pretty well satisfied for my MM fix, and I headed to the media tent to prepare for the next act and get a well overdue drink. As I finished my beer, the lovely sounds of his final song "The Beautiful People" wafted across the warm Sacramento concert grounds.
Jacksonville, Florida based SHINEDOWN have come a long way since I first saw them about ten years ago. A couple of member changes, a few hit albums and a new attitude has made them superstars on rock radio (what's left of it..) and headliners on the touring circuit. A part of that attitude change has been the sobering up and complete makeover of singer Brent Smith. Formerly pudgy and addicted to god knows what, he is a lean, mean singin' machine, and owner of some of the strongest vocal pipes in the business.
They have a huge stage setup with balconies, and ramps, and pyrotechnics-the works. Opening with their latest hit "Cut The Cord" from their terrific new release Threat To Survival, SHINEDOWN (Smith on vocals, Barry Kerch on drums, Eric Bass on bass and Zach Myers on guitar) came out blazing. Literally blazing, as flames from the pyrotechnics accented the song and added dynamics.
Brent Smith, in his ultra hip short haircut and preppy sweater and shirt combination looked more like a Mormon missionary than a rock star but, oh that voice! He interacted quite a bit with the crowd, asking everyone to shake hands with the person next to them, and he did with a few members of the crowd as well. There were also plenty of crowd sing a longs through the twelve song set, including their biggest hit "Second Chance" and their terrific version of the LYNYRD SKYNYRD classic "Simple Man". They finished their set with the title track to their third release The Sound Of Madness to a huge applause from the now weary Aftershock audience.
The final act for day one of the festival was SLIPKNOT. And why not? Probably the biggest draw on the current heavy rock circuit these days, they actually would be appearing the following night at their own Knotfest going on the same weekend outside of Los Angeles, so I was thrilled to be able to catch them in "Sactown". As the PA system cranked out the VAN HALEN classic "Runnin' With The Devil", the curtain dropped and the "Slipknot Circus" was on. Opening with "XIX" and "Sarcastrophe" from last year's outstanding .5:The Gray Chapter release, they were all over the stage. What is always cool about a SLIPKNOT show, and I've seen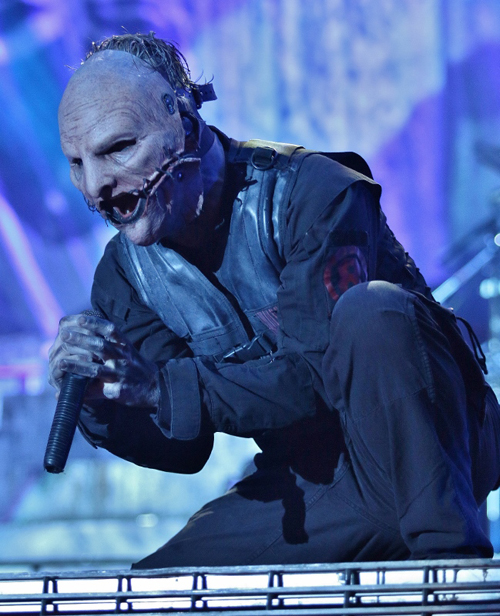 many, is that there is something interesting going on at every point of the stage at all times. A huge stage setup with plenty of flashing lights and pyro, nine band members in the scariest masks you have ever seen, and all in constant motion. Of course singer Cory Taylor is the ringmaster, crouching at center stage, and blasting out SLIPKNOT classics, like "The Heretic Anthem", "Wait And Bleed" and "Custer". All the while goading the audience into getting louder and having a good time. Flanking him at either end of the stage are Shawn "Clown" Crahan and Chris Fehn and their huge rotating and elevating percussion kits, which are in constant motion. It's almost like a scary cartoon brought to life with a sonic boom.
Their new rhythm section of bassist Alessandro Venturella and drummer Jay Weinberg bring it all together. The low end syncopation on the set closing "Metabolic" alone was defening. Encoring with "742617000027" and "(sic)" totally set the crowd off. The pits were furious. Bodies were everywhere. Ending the show, and Day 1 of the festival with "Surfacing" the encore tri-fecta from their 1999 debut album was complete and pleased the old school fans as well as the new. A terrific way to start a rock fest.
Day 2 of the festival offered a different vibe as far as the musical acts were concerned. Far less "metal" style bands, and more mainstream or "alternative" (I've always hated that term…) acts. The first band I checked out was THE PINK SLIPS, fronted by Grace McKagen, the daughter of GUNS 'N' ROSES/ VELVET REVOLVER bassist Duff McKagen, who looked on proudly from the side of the stage. Grace is quite a front woman. Young and very animated, she and her band reminded me of a lot of bands that played around Los Angeles during the "New Wave" period of the early 1980's. I see a future for them. On another level completely, THE SWORD just flat out rocked. This quartet from Austin, Texas is not much of an exciting stage act as it is a sonic assault, reminiscent at times of early BLACK SABBATH. They played a killer seven song set mostly devoted to their 2012 release Apocryphon, although they did play one song, the title track of their latest High Country. I am a fan of this band and have been since their first tour.
As I had mentioned, the second day was not much of a heavy band day, but there was an exception: The mighty SEVENDUST. Most definitely the heaviest band of the day. Perhaps the weekend, in fact. Singer Lajon Witherspoon led the charge and it was battle time in the mosh pits as SEVENDUST, as they always have just exploded onstage. Bassist Vince Hornsby is all over the stage, in constant motion, mugging for the crowd, just a joy to watch as he pounds his bass into submission. Guitarists Clint Lowery and John Connoly threw so many guitar pics into the crowd, you would swear the hornets were invading the area again. As per usual, they played my favorite "Denial" and the crowd ate it up, much to the smiling face of singer LJ, who just oozes energy when he hits the mic. Drummer Morgan Rose is always animated and lots of fun to watch. Mad skills behind the kit. Again, a great set, by a great road-tested band.
One of my favorite sets of the day came from EAGLES OF DEATH METAL. This band featuring QUEENS OF THE STONE AGE member Josh Homme, who today was playing drums (he also plays guitar sometimes, you just never know…). They looked like they were having the time of their lives onstage. Guitarist/singer Jesse Hughes aka "Boots Electric" is a blast to watch, dancing, prancing and rocking out on his geetar, all the while keeping the pace straight forward into a rock n roll drag race. I love it when a band just looks and sounds like the stage is the best place to possibly be, as opposed to so many acts, that just stay pissed off and look at their shoes. Not the case with EODM.
RED FANG was a pleasant surprise. Totally "geeky" but what a complete ass kicking band they are. They had the small crowd at the Coors Light stage into it from the get-go, they lit it up with an uptempo thud along the lines of bands like HELMET and SNOT that had appeared the day before. Songs like "Blood Like Cream" and "Wires" were highlights, and they ended their set with a track off their first record "Prehistoric Dog".
STONE TEMPLE PILOTS had the distinction of having the most popular catalogue of songs on the entire bill. Now fronted by LINKIN PARK singer Chester Bennington, what all of us in the crowd did not realize is that this would be their last show with Bennington fronting. (They DID play on the Jimmy Kimmel show not long afterwards, and Bennington announced he was leaving to spend more time devoted to LINKIN PARK…) It's a shame, because he really brought great stage presence to the band, and apparently is a lot more stable then former front man Scott Weiland.
It was my second time seeing them with Chester, and they played just about everything you would want to hear from them, in an abbreviated 10 song set. Opening with "Sex Type Thing", guitarist Dean DeLeo's chunky, fat guitar riffs brought out the foundation and magnitude of just how good their songs are, as the sun set on not only the crowd, but this version of the band as well. They released a 5 song EP last year and "Out Of Time", a track off of it, was represented about half way through the set, which finished with a great 1-2 punch of "Interstate Love Song" and "Dead & Bloated".
Again, a crowd pleasing set, in spite of the doomed lineup. By now, darkness had fallen on Sacramento, and I again decide to sample some of the food trucks and grab a Coors beer. Yeah, I drank it.. I ran into some friends and fellow industry people backstage and chatted about the diversity of the bands that were at the festival, and we all agreed that it added to the fact that people had come from all over to attend. Many festivals and rock shows these days don't really stray from a mixture of styles too much, but give credit to Danny Wimmer Presents, the organizer of Aftershock and many other rock fests throughout the US, for staging such a well rounded event. A great mix indeed.
A really different style, again was represented by COHEED AND CAMBRIA, who's blend of progressive rock and "jam band" approach was a real treat, especially to those that had not seen them before. Lead vocalist and guitarist Claudio Sanchez, his signature huge head of hair covering his face for most of the set as he flailed about the stage, led the band on a ten song set that encompassed many points in their career. They have a brand new release The Color Before The Sun that was represented from the opener "Islands" as well as the single "You Got Spirit, Kid" and "Here To Mars". A very cool record and performance, that seems more pop oriented than some of their earlier material. Again, it's hard to describe this band other than to see them live and come to your own conclusions. I have enjoyed them for years, and tonight was no exception.
The final band on the East stage was none other than Los Angeles's own JANE'S ADDICTION. A rare live performance from them, as all band members are very involved in other projects. But they were very tight, and seemed well rehearsed. Opening with "Stop", lead singer Perry Farrell was constantly fidgeting with an onstage monitor system that he was controlling himself. He seemed to have it wired by the time they blasted out a funky version of "Been Caught Stealing" midway through the set that had the weary crowd jumping and dancing frantically, almost as much as Farrell and his quirky stage persona. Guitarist Dave Navarro, like AEROSMITH guitarist Joe Perry, is the ultimate in cool to his lead singer's antics, and slashed through heavy chops all during the foggy strobe light enhanced set. During "Whores" there were two dancers hanging above the stage suspended by actual hooks in their skin. One of the dancers got stuck and was literally stranded above the stage for the final song. Closing with the sing-along mid tempo number "Jane Says", everyone seemed pleased, and I saw nothing but smiles as the masses trudged towards the North And South stages for the final 2 acts of the festival.
First up was Sacramento's own DEFTONES. Shrouded in a ton of fog and strobe lights, they opened with the first song I can remember hearing from them, "Be Quiet And Drive (Far Away)", who's words I have actually said to more than one pain in the ass in my life. This crowd was really into them. Singer Chino Moreno fed on this, and was above and beyond his usual frantic self onstage, hopping across the monitors and perching himself on the drum riser as he screamed his brutal howls during "Digital Bath" and "My Own Summer (Shove It)". Guitarist Steph Carpenter was a whirling dervish all through the one hour performance rocking distorted riff after riff to his adoring crowd. Finishing their set with the huge hit "Change (In The House Of Flies)" set off the Sacramento faithful and the band, joined by Moreno's son Jakobe, finished things off with "Engine No.9" with a bit of CYPRESS HILL's "How I Could Just Kill A Man". Again, looking around, nothing but smiling faces on the moshers and crowd surfers that rained into the pit like happy salmon swimming upstream.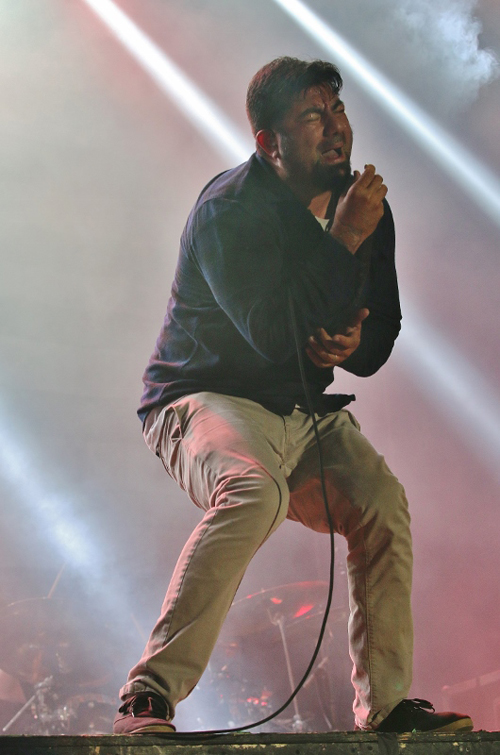 For the final act of the festival, it was a band that I had never seen before, live, the recently regrouped FAITH NO MORE. For some reason, I had always missed them over the years, and it was a big part of my decision to make the trip to my state's capitol city to see them. Appearing dressed all in white, bathed in bright lights and a stage that was literally filled with stacks of fresh flowers, FNM and their quirky show was interesting to say the least. Opening with their comeback song "Motherfucker" that brought the vibe to a fever pitch, singer Mike Patton looked more like a clergyman than a rock singer in his flower adorned white outfit. All my FNM favorites including "Epic", the tongue in cheek version of THE COMMODORES' "Easy" and a great version of "Midlife Crisis" that featured a bit of "End Of The Road" by the 90's vocal band BOYZ II MEN thrown in during the breakdown. "Ashes To Ashes" has always been one of my favorite tunes by this band, and featuring Roddy Bottom's dreamy keyboard foundation was represented towards the end of the set.
Finishing with another of their latest songs, "Superhero", the band encored with perhaps their most recognizable songs, the fun "We Care A Lot" before ending things with "Just A Man", a tune from 1995. After two days of some of the most diverse and exciting live acts, FNM were the sweet iced topping to a very tasty cake.
So many good things about this festival. Other than the atrocious traffic issues, it was very comfortable surroundings. Again, lots of room, great natural sound barriers that that keep the "bleed through" from bands performing at the same time on different stages, great food, and a very spacious and cozy press and backstage area, made this an enjoyable experience and I look forward to next year's event.
My thanks to all involved. Danny Wimmer presents, Monster Energy, and all the sponsors, and of course Kristine at AM Media. Again, a great experience, all around. I hope you enjoyed my review. Enjoy the photo gallery as well.
Please log in to view RANTS