Drummer Rod Morgenstein: He's Only (Got) Seventeen

By Diana DeVille, Rock Goddess
Monday, February 17, 2003 @ 11:03 AM

| | | |
| --- | --- | --- |
| | | KNAC.COM's Diana DeVille Catch |
As I was wandering through the drum section at the NAMM Convention recently, I bumped into Rod Morgenstein (Winger), who was in town playing some gigs with the Dixie Dregs. Rod's a lively likeable guy who's always got a ton of interesting projects going on, so I grabbed my chance to catch up with him. Our conversation follows: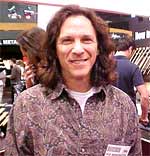 KNAC.COM: We talked a little bit when you were on the road with Winger last year, and everyone was glad to see you out there. Good to see you back.
MORGENSTEIN: That was so exciting for all of us. You know, we're still all great friends. It's not one of those stories like the band broke up because they all hate each other, you know like you hear most of the time. We've all maintained close friendships, and you know, we never had weird problems on the road back in the day; it's just that that type of music fell by the wayside, and it was so much of an uphill battle that we just wished each other well and went on our merry ways to our other musical endeavors. To do it now was great, and I can't wait to see Reb [Beach] in Whitesnake! KNAC.COM: Oh right! He's playing.
MORGENSTEIN: Yeah, Reb was at the show two days ago, and he had come down from rehearsal. KNAC.COM: That's great to know. And are there any future plans for Winger, or was that just a one-shot deal?
MORGENSTEIN: We never say never, and after we toured on the Poison tour, we went out on our own in October on the East Coast, which was a lot of fun. We finished that and just kinda said, "Let's just all stay in touch and if the time is right, of course we'll do it." KNAC.COM: How was the reaction to the tour from your point of view?
MORGENSTEIN: It was just like the old days. I was just telling a friend of mine that, when we played in L.A., it even felt like a time warp, because the people looked, and were dressed the same as in the '80s! The crowd was really great, the band was really well received, I think we played well, and all around it was just a fun experience. We laughed most of the time. KNAC.COM: I think you were perhaps the "surprise" act on the tour, because people had seen Poison before, they'd seen Cinderella before, Faster Pussycat had been touring around, so people had seen them, but nobody had seen you guys play since the old days. I think a lot of people wanted to see what you were going to do, and I think it was a great reaction watching the crowd.
MORGENSTEIN: And we tried to not just play the songs that everybody would expect, I mean, obviously you have to play your hits, but we also kind of threw a couple of things in there that were more our favorite songs to play. So it was a nice balance where we got to do a little more than just playing the parts to the hit songs. KNAC.COM: So you mentioned that you are playing with the Dixie Dregs now. What other projects are you working on? Is that your main band now?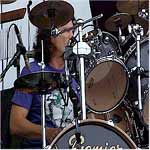 MORGENSTEIN: I have a really cool band called the Jelly Jam with Ty Tabor, who is the guitarist for King's X, and John Myung, who is the bass player in Dream Theater, and we put out a CD a few months ago and have a second one in the works that hopefully will come out later this year. Then I have a power duo with the keyboardist in Dream Theater; his name is Jordan Rudess. We have a duo called the Rudess-Morgenstein Project, and we are in the midst of recording now. He helped me out on a tune that is coming out on a drummer's record. Magna Carta Records is putting out a drummer's drummer record that has ten or twelve drummers each submitting one song. So I think in the drumming community it will get a lot of attention. I don't know if you're familiar with Steve Smith, Simon Phillips, Terry Bozzio… KNAC.COM: Yes I am.
MORGENSTEIN: …Josh Freese, he's a newer guy. So we're all submitting a song. I just sent mine in, and Jordan helped me out on that. So that'll be out. KNAC.COM: And when does that come out?
MORGENSTEIN: Probably May. And then I'm in my sixth year at Berkeley College as an associate professor of music, so I'm just sliding that into the mix. KNAC.COM: And how do you like that?
MORGENSTEIN: I love it. I like doing everything. KNAC.COM: Rod, thanks so much for talking with me. Best of luck on all your projects.
MORGENSTEIN: Thanks a lot. So great to see you. For more information on Rod and his many projects, visit www.rodmorgenstein.com.


Please log in to view RANTS