He is easily one of the most recognized voices in power metal and has had a career spanning three decades. The keening wails featured on SANCTUARY's 1987 debut Refuge Denied drew in fans of the genre that were eager for something new. He is Warrel Dane and he's never sounded better. Refuge Denied's follow up album took three years to finish, but Into The Mirror Black was well worth the wait. The lead single, "Future Tense", was in heavy rotation on metal radio and Headbanger's Ball. Tours were sold out and the band was in top form, yet not long after conquering the genre, their trail went cold.

Dane and bassist Jim Shepard went on to form NEVERMORE, a band that took them to the top of the power metal ladder but fans were always eager for more SANCTUARY. That particular band's story was not finished and in 2014, Dane, Shepard, guitarist Lenny Rutledge and drummer Dave Budbill revived SANCTUARY and released The Year The Sun Died via Century Media Records.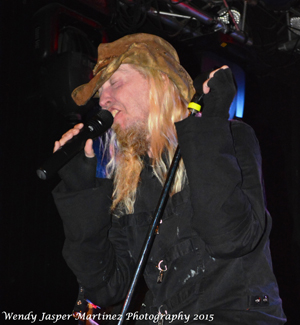 It was pure, conceptual SANCTUARY and the ensuing European and U.S. tours proved that fans had never forgotten their favorite band. The band's original second guitarist, Sean Blosl, elected not to rejoin the project so former FORCED ENTRY guitarist Brad Hull accompanied Rutledge for guitar work on the album. He later left the group and was replaced with former ARCH ENEMY guitarist Nick Cordle.
Fans were delighted with the results and seem to have identified with the band's penetrating sound and the variety of musical offerings that range from dark and introspective to fast and thrash-worthy.
"We went after the same conceptual outline as NEVERMORE did with Dreaming Neon Black. I think that the fans want to hear the ferocity and intensity of the music and the lyrics become secondary to them, but then you also have the fans that are so analytical and delve deep into what I write lyrically. There are two sectors of metalheads; those that are into the intellectual side and those that are just into the sound. I'll take either one; I love them all," he laughed.
While SANCTUARY maintained their core fan following over the years, younger and newer fans have carried over from Dane's days with NEVERMORE and have latched onto the band in order to keep up with their favorite singer.
"Many of the fans are comparing the new record to NEVERMORE because I am the singer, but there is absolutely no similarity," he said. "NEVERMORE did put out more records and that fan base has transferred over, but this is a return to our roots and it's been very powerful for us as a band. I see the next record as being deeper and heavier and we have a lot of ideas for how we are going to proceed with the writing and recording."
Touring for the reunion album has been gratifying for Dane and his cohorts. The turnouts for shows have been good and fans have been excited to hear not only the new music but their favorites from the first two albums.
"For the most part the crowds have been crazy and fun," Dane said. "We are out there having fun ourselves and we want to share that with the audience. I don't care if there are 50 people, or 500 we always play the same. We don't let numbers affect our performance. We had a great run in Europe and that was incredible and it has been wonderful to be back on a stage here in the States performing these songs. We were out for three weeks in Europe with Overkill and then we played with them again on this U.S. run in New York and it was outstanding. Jim has not been able to do all of the shows so we looked close to home for a bassist that could adapt to our style. Our touring bassist is George Hernandez. He is an old friend of ours from Seattle and is well known on the metal scene, so it was really easy for him to step in."
Right now, Dane is wrapping up his two week tour for the 15th Anniversary of NEVERMORE's Dead Heart In A Dead World album, a favorite of his that has maintained popularity and has turned into a solo project for him.
"I'll have done two weeks of shows in Greece for the Dead Heart In A Dead World 15th anniversary," he said. "I have an entire band that is devoted to my international shows. I found a band in Brazil that are such incredible musicians and I am very lucky to have found them. They can play the music perfectly and it is something that I have to do. It means so much to me to not only be able to play again with SANCTUARY but to have my solo career. I am hoping to bring some of these shows to the States in the near future."
After Dane is back in his home state of Washington it will be time to settle into project mode and start working on his ideas for a new SANCTUARY record.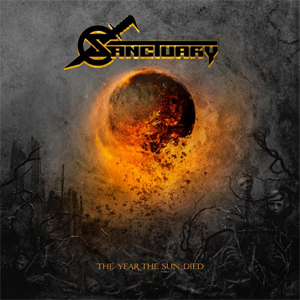 "The focus will be on writing now that this tour is over. I just know that when we started this that we were going to transcend what we had done with the first two albums and that it would be good," he said. "I think there will be a big jump from The Year The Sun Died to whatever we come up with for the new record. I know it's going to be fresh and there will be a progression. I think this is all what we would have naturally morphed into had we stayed together all these years. I want the songs to be faster, heavier, and more powerful. In addition to writing, I am doing another solo tour in March and then I will take a break. I am NOT complaining. I chose this and I love it."
With all of the good things lined up for Dane and company, the fan base is likely to be astounded at what will be coming down the pipeline from SANCTUARY. Until new music is available, continue listening to the new album and check out the band's videos for new songs like "Frozen", "Existence Fading", "Exitium" and "Arise And Purify".
https://www.youtube.com/watch?v=OtUSR4TKMd4.