JUNKMAN Recaps The 2015 LOUDER THAN LIFE Festival!

By Junkman, On-Air Personality
Friday, October 30, 2015 @ 2:35 PM

| | | |
| --- | --- | --- |
| | | Louisville, Kentucky |
Photos Courtesy Of John Payne/Payne Productions
Live music, Kentucky bourbon, and "gourmet man food" were the main headliners at the recent second annual Louder Than Life Festival in Louisville Kentucky. Although not much of a bourbon fan, it sounded enticing to me and I had to investigate. So to the Lou, I skipped, and as expected, had a great weekend of fun, experiencing as much as I could in the two day event, held at Champions Park, not far from downtown Louisville, a huge area, complete with four stages, and a ton of food and drink stands.
Upon entering the festival grounds I was greeted by none other than "Big Bully", a 15 foot, 2.5 ton metal sculpture of a giant bull, created by Atlanta based artist Charlie Smith, that sported huge "Disco Balls" as testicles, and randomly shot flames out of its head and ass. This absurd sculpture was made for the recent "Burning Man" festival, and added some amusing weirdness to this festival, especially on a chilly and drizzly October afternoon. The heat from the flames warmed all that stood to watch, and it was a great meet-up spot for friends. Speaking of heat, the fire was on for lots of BBQ at the festival. I first encountered a large complete pig on a spit that was about to be taken apart. With amazing skill, I watched Food Network star Tom Coghill's Iron Barley and Bill Kunz' Highway 61 Roadhouse strip it of its skin ("Anyone wanna make a football?", he exclaimed) and proceed to use the entire carcass to create some incredibly tasty pulled pork sandwiches and BBQ ribs. It's head was placed on a plate and displayed by the check out counter. "His name was Orville, and he gave his life for rock n roll", joked the grill master.
There were booths throughout that catered to just about any palette. A Mexican taco truck featuring short rib taco's next to a booth filled with huge vat of grilled cheese and bacon. another sold some very tasty brisket sandwiches that was next to a nacho truck that had nacho's made from fresh potato chips and filled with meat and cheese. A gourmet hot dog stand. Pizza and burgers and gourmet pickles and vegitarian dishes, and even wok fried noodles-oh MY! No I would not go hungry at this fest. So much better than the crappy choices of many festivals I have attended in the past. And reasonably priced, I might add.
There were also celebrity chef demonstrations throughout the weekend, though I did not attend. There was too much else for me to see and experience. For the beer man in me, there were a ton of craft and local breweries there, including Alltech Lexington (Kentucky Bourbon Barrel Ale, Kentucky Ale), Falls City Beer (Hipster Repellant IPA, City Pale Ale), Goodwood Brewing Company (Bourbon Barrel Stout, Bourbon Barrel Ale, Louisville Lager), IRON MAIDEN's Trooper Beer, MOTORHEAD's Shiraz Wine, New Albanian Brewing Company (Black & Bluegrass, Hoosier Daddy), West Sixth (West Sixth IPA, Deliberation Amber and Lemongrass American Wheat), and more.
I especially enjoyed the local "Falls City Ale" and partook in quite a few of those bad boys, which, combined with some BBQ'd swine, made for a wonderful lunch.
The alcohol was well represented at "Bourbon World" a huge tent featuring some of the nations best bourbon makers. As a novice, I decided to try a few, and was pleasantly taken by "Angels Envy' bourbon which was quite tasty, and provided a really good warm fuzzy feeling that was perfect for the chilly, drizzly day ahead. Later on many of us also enjoyed watching some rather inebriated girls attempt to dance in front of the honky-tonk style piano player that was performing inside the tent. Pure comedy.
There was also a Jack Daniels whiskey tent that also offered a ton of Jack Daniels merchandise such as T-shirts, hats and even custom made wooden barrel heads for sale. Other vendors included, Crazy Dave's Music Experience, where one could talk to a variety of guitar and music product specialists, the "Zippo Encore Music Experience" where one could order a custom made Zippo lighter amongst other goods, and of course the Monster Energy viewing area and beverage sampling booth, where they had various artist signings and you could get up close and personal with the gorgeous Monster Girls.
One of my favorite and one of the most popular booths was 'Wild Bills Soda Pop Co" (www.wildbillssoda.com )where for $20 you could purchase a very cool steel mug emblazoned with the "Louder Than Life" logo on it, and use it for unlimited refills of his delicious craft soda's. I especially took a liking to his Birch Beer, which was outstanding. The mug's were almost as popular as the T-shirts that were sold at the festival, and I remarked to my friends that "It still fits after you wash it". It will be a cherished souvenir by myself and many others and I'm sure I will fill it with lots of loose change or pens, and stuff on my desk, where it now resides.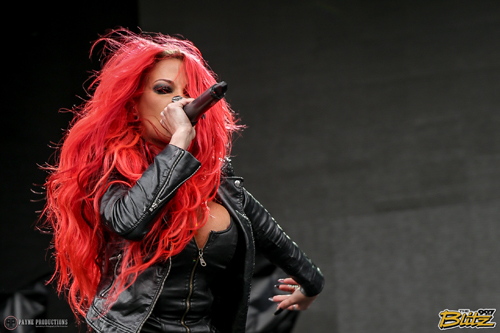 So, food, booze, and lots of other stuff. Did I mention wrestling? Yes there was a huge tent dedicated to WWE's NXT Superstars, complete with a full on wrestling ring in the center and appearances by NXT wrestlers Finn Bailor, Baron Corbin, The Vaudvillians and others. There were not only live matches, but plenty of autograph signings for the fans, and it was well recieved. Yes, this festival had something for everyone! As for the music,( oh yeah, the music!) Day One had plenty of highlights. Because of the early morning rain, things got started a bit late and some of the set times were juggled. BUTCHER BABIES were the first band I saw and did their sonic wake up call to all the early risers. TRIVIUM absolutely POUNDED, thrilling their fans with a great set featuring plenty of songs from their latest release, Silence In The Snow. SAINT ASONIA were a treat. The new band featuring former THREE DAYS GRACE singer Adam Gontier, STAIND guitarist Mike Mushok and the exciting drummer Rich Beddoe from FINGER ELEVEN, rocked the mid afternoon crowd, opening with "Better Place" from their debut release, and absolutely making a lot of new fans throughout their set , which also included the TDG hit "I Hate Everything About You" as well as a killer version of my favorite STAIND tune, "Mudshovel". Great band, check them out.
TREMONTI, featuring guitarist Mark Tremonti from ALTER BRIDGE and CREED, gave the crowd plenty to love, as did my local favorites ATREYU who, as always, brought the energy in the crowd to another level. HOLLYWOOD UNDEAD was HUGE. They definitely had their crowd here as they rocked them with their special brand of 'Hip-Hop Metal". SEVENDUST just flat out kicks ass. They always have, they always will. Opening with "Black", singer Lajon Witherspoon and company whipped up a short but sweet 7 song set. They have a new CD Kill The Flaw and they closed with "Thank You", a fitting track from that very release.
SEETHER, is a band with great songs, but for some reason I just don't find them to be interesting when they play live. They have their fans though, and they were well recieved. CHEVELLE is another in that area as well, great songs but just OK presence onstage, in my humble opinion. They are always great to listen to. GODSMACK on the other hand completely ROCKED the North Stage. Opening with "Whatever" and gliding into "1000hp", the race was on. Sully Erna and company are one of the most exciting bands of their genre , and always bring it live. Tonight was no exception. Sully usually stays close to his microphone, to the grief of the many photographers that were moshing in the photo pit for the ultimate shot. Well tonight they got it, as he strayed to the nether regions of the stage, and was without his signature baseball cap. A killer cover of the ALICE COOPER classic "School's Out" preceded the set closing "I Stand Alone", which had the LTL crowd in a moshing in the mud frenzy.
Closer ROB ZOMBIE got things going with his version of the GRAND FUNK classic "We're An American Band" and it was all spooky after that. He danced his ass off on a fun version of the James Brown classic "Get Up (I Feel Like A Sex Machine)", bustin' out his best grooves, before guitarist John 5 amped it up with "Living Dead Girl". More highlights included a extra gothy "Meet The Creeper" and a couple of WHITE ZOMBIE classics, "More Human Than Human" and "Thunder Kiss '65" which featured a bit of THE RAMONES classic "Blitzkrieg Bop" as well as some shredding guitar work from John 5. Closing the set with "Dragula", the muddy crowd went home happy and exhausted after Day One of the festival.
Sundays lineup was very diverse. NOTHING MORE is a band on the rise and were well recieved. I ventured over to the East stage to check out a set from the legendary KENTUCKY HEADHUNTERS. No not a "Metal Band" at all, just a band I had been familiar with and never had a chance to see. Opening with their version of the old Norman Greenbaum hit "Spirit In The Sky", they gave their fans what they wanted, a quick set of country rockin' with lots of their hits. And no, I was not lucky enough to see any "line dancing" at the show. This was a rock crowd, through and through.
Caught a few songs from HINDER. The crowd loved them. I ran into my old friends Snake Sabo and Scotti Hill from SKID ROW backstage, and they asked me to join them onstage for their set on the East stage. I did, and enjoyed every second of it! It was my first time seeing them with their new singer, former TNT front man Tony Harnell, and he was terrific. He hit all the right notes, of course originally done by former singer Sebastian Bach, who I had seen trying to perform these songs a few weeks earlier. I must say, my vote goes out to Harnell, who did a better job, and the band, as tight as always, blasted all the SKID ROW hits, "Monkey Business", "18 And Life", "I Remember You" and of course "Youth Gone Wild" to a packed and appreciative Sunday afternoon crowd.
By now the sun, which had been out most of the day, in contrast to the chilly day before, was taking it's toll on many, especially outside the whiskey and bourbon tents. Moderation is always key, kids. But again, there was plenty of food, and places to sit, and lots of shade, making it a much more pleasant experience comfort wise, than many of the other festivals I have attended. I even ran into original Woodstock promoter Michael Lang backstage, he of the sloppiest mudfest ever. He told me how impressed he was with the organization of Danny Wimmer Presents, the organizers of Louder Than Life, Rock On The Range and many other festivals.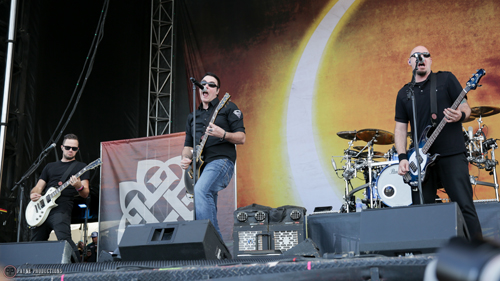 I missed a set by COLLECTIVE SOUL while visiting backstage on the other end of the festival grounds, but made sure to check out what I thought was the best set of the day, brought on by my good friends and Kentucky natives BLACK STONE CHERRY. They, as always brought their "A-Game". They are truly one of my favorite live bands the last few years. Opening with the hit "Me And Mary Jane" , they pleased new fans and old with a fast and furious 8 song set. From lead singer/guitarist Chris Roberson's growly vocals, to Ben Wells exciting and energetic stage presence, to drummer John Fred Young's hard hitting drum technique this band just flat-out kicked ass and played songs from a variety of their albums, closing out with the one-two punch of "Lonely Train/30 Seconds Of Death Metal" which left their fans, including myself, screaming for more. I spoke with Young and Wells earlier in the day, and they are very excited about recording their next release and producing it themselves. "It's gonna bring the feel of the first album back to life, and we are looking for ward to it", exclaimed Young.
I caught a bit of THREE DOOR DOWN and BREAKING BENJAMIN's sets and again, the sold out crowd was clearly enjoying themselves. My friends in the band WE ARE HARLOT had been scheduled to perform at about 12:30 or so, but their bus broke down in another state and they had to scramble to make the event. They got it together and played on the Jagermeister stage at around 6:30, therefore it was decision time for me. Insted of catching Slash's set, who I had already seen a few times this past year, I decided to catch WE ARE HARLOT, and was impressed with what I saw. Lead singer Danny Warsnop, formerly of ASKING ALEXANDRIA and his bandmates, guitarist Jeff George, drummer Bruno Agra and former SILVERTIDE bassist Brian Weaver have been touring non stop this year in support of their self-titled debut release, and it shows. They have become a very tight outfit. great stage presence, great vocals and musicianship, and a lot of fun to watch and listen to. After the show, Jeff George told me that they were off to their first shows in Japan, and could not contain his excitement. Needless to say, The Jagermeister sponsors were very generous with the band.
Immediately after leaving the Jagermiester stage, I walked 20 feet backstage and ran into LYNYRD SKYNYRD guitarists Gary Rossington and Rickey Medlocke, and as you can guess, as a long time fan of these legends, I was absolutely THRILLED to get a few moments with them before their set, which went off right on time and as expected, and packed as many LYNYRD SKYNYRD hits as possible into an 11 song set. Just about any of the classics that you could think of was played, including "I Ain't The One", "Saturday Night Special" and "Sweet Home Alabama". I hightailed it out during the ultraclassic of all ultra classics, "Free Bird", and hiked it all the way to the North stage to catch SHINEDOWN.
Now this band has come a long way from when I first saw them, and are now stars, on the concert and rock radio (is there still such a thing?) scene. Opening with "Asking For It" from their brand new release Threat To Survival, they rocked a 12 song set to an overly enthusiastic LTL crowd. Highlights included their latest single "Cut The Cord", the controversial song "Bully" and a long heartfelt speech from singer Brent Smith apologizing to fellow Jacksonville, Florida based LYNYRD SKYNYRD band for the fact that time restraints and curfew limits made them perform while LYNYRD SKYNYRD was still onstage, rocking "Freebird". Smith expressing his extreme repects for his heroes before launching his powerful, soaring vocals into "Simple Man", the SKYNYRD classic that SHINEDOWN did such a great job of covering on their Leave A Whisper release form 2004.
Closing down the show were none other than "That Lil' Ol' Band From Texas", ZZ TOP, who it seems have been around longer than Texas has been a part of the United States. Their 12 song set gave the exhausted Louder Than Life crowd all they could ever ask for, again, just like LYNYRD SKYNYRD, a set filled with all the hits from their long career and huge catalogue. "Waitin' For The Bus/Jesus Just Left Chicago", "Gimme All Your Lovin'", "Sharp Dressed Man", "Legs" and the set closing "La Grange" and "Tush", left everyone happy and satisfied, the crowd, bands, and promoters alike.
A huge success, very well organized, great food, drink, comfort, music, Louder Than Life was a joyful experience from beginning to end. My thanks to all who were involved, especially all at Danny Wimmer presents, Monster Energy Drink and the rest of the sponsors and Kristine at Am Media. I look forward to next year's event.
Check out a photo gallery from the festival right HERE.
Please log in to view RANTS