Kings Of Thrash Are Repentless: An Exlclusive Interview With KERRY KING Of SLAYER

By Wendy Jasper, Black Metal Aficionado
Tuesday, October 13, 2015 @ 4:46 PM

| | | |
| --- | --- | --- |
| | | "There will certainly be those out there that will think a SLAYER record can't be done without Jeff, but this is a new era." |
Live Photo By Gnarly Charlie
For more than three decades one band has been at the forefront of the thrash metal movement. Revered by many and emulated by scores of young new artists, there can still only be one SLAYER. The past two years have brought many changes for the five time Grammy nominated, undisputed kings of thrash; the death of much beloved guitarist Jeff Hanneman after a lengthy illness brought the question of the band's continuation to the forefront of the metal world. Fans and musicians the world over were shocked and saddened by the news of Hanneman's passing and everyone wondered if this was the end for SLAYER. It was speculated in the press and on social media and it was heartening to find that support of the band's continuation was so strong with fans.
Founding member and guitarist Kerry King says there was never any question of ending the band as that was not what Jeff would have wanted. The band that would not repent nor relent reached out to a longtime friend, EXODUS guitarist Gary Holt, and together with vocalist and bassist Tom Araya and drummer Paul Bostaph, the band has released their first album for Nuclear Blast Records entitled Repentless.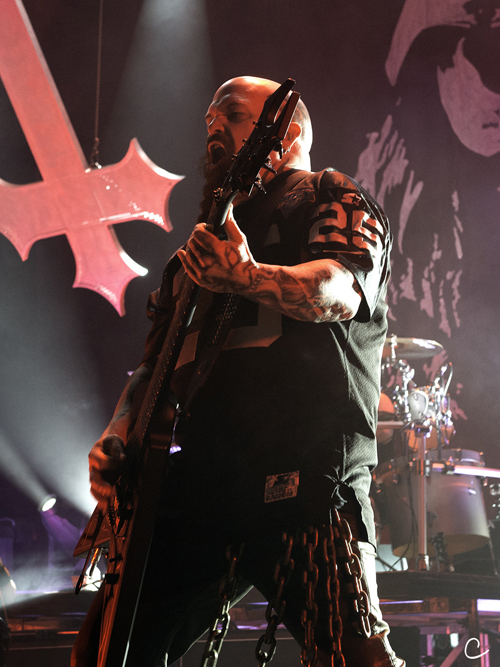 "We had to make sure that this was a strong, solid SLAYER record," King said. "I am really proud of it. I think we had to be prepared and we had to stay true to our roots because there will be those people that will be gunning for us because we did a record without Jeff. There will certainly be those out there that will think a SLAYER record can't be done without Jeff, but this is a new era. It was devastating for us to lose a brother and friend, but in the long run, he wouldn't have wanted us to end SLAYER and I think that with live shows and on the record, Gary has stepped up the plate and added a new dimension to the band. I think that this is, honestly, the best product we have had in a long time. The title track certainly reflects SLAYER's outlook on the world and our music and it was absolutely Jeff's outlook on things so maybe people can look deeper, feel what the song means, and hopefully gain a little closure over the loss of Jeff."
The band headlined what is said to be the last Rockstar Energy Drink Mayhem Festival this past summer and while the line-up of bands was strong, the size of the festival was much smaller in scale and appeared to be more of a SLAYER tour with multiple opening bands. There was also much publicized discontent between the band and the festival owners; however, King didn't want to dwell on what was an excellent way for multi-generational fans to be exposed to the band.
"Every time we tour, we see a variety of fans," he said. "You see our generation there with their kids, so SLAYER is still running strong and we are constantly gaining a new audience. I think the fans love this record. I don't actually have a favorite song. There are so many cool moments and it is so heavy that I just have something that I think is unique about each track. I think our fans will get what we are doing and I think new audiences will like with they hear. When we hit the stage the energy is so high and we have been opening all our new sets with a track from the new record and I think that even though we didn't necessarily plan it that way, opening with a new song was an awesome move because right away the crowd gets a taste of the new record and what is to come. We play a very long, full set so not only are they getting to hear much of the new music, they are hearing all of their older favorites as well."
King did say that the song "Take Control" does stand out to him because of the speed and intricate riffs showcased within the tune but that each song on the album was carefully crafted and well thought out during the writing and recording process. He said that the band took care with this record not only because it was something new for SLAYER fans but because they had also moved to another label and wanted their debut to be spectacular.
"We knew that Nuclear Blast was going to be the right label for us," he said. "We had been with American (Recordings) for so long and we did give them first right of refusal on this new record but we had been shopping and negotiating what would be best for SLAYER in the long run and it turned out that Nuclear Blast was what we were looking for. The staff there live, eat and breathe metal, and they understand what we are trying to do and say. I was in favor of working with them from the beginning and I like everything they have to offer so I was very excited that it turned out the way I wanted and we signed with them. They are every bit a metal label; it has the right feel and I'm happy with it. Everyone at the label is supportive and they clearly love this music and they love what they do, so we know we made the right choice."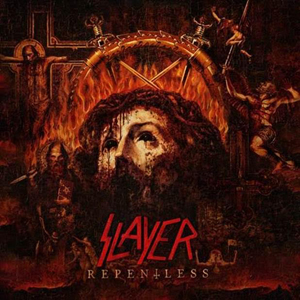 Incidentally, the new album debuted at #4 on the Billboard Top 200 Album charts and it was the highest charting release for the band in their 32-year musical history. Repentless now also holds the record as the band's career-highest chart debut in Germany (#1), Holland (#2), Australia (#3), New Zealand (#8), the UK (#11) and on the Japanese International Chart (#1), and bowed at #3 in Finland, #3 in Canada, #4 in Belgium, and #5 in both Sweden and Greece. Additionally, the album debuted in the Top 10 in France (#7), Italy (#8), Hungary (#9) and Japan (#10).
The band released a video for the title track in September and it has already has views in the millions on YouTube. The storyline of the video reveals the band playing inside a prison yard when a riot breaks out. It's a brutal and exciting video that has garnered much attention and King thinks the video captures the ferocity of the song. It can be viewed on KNAC.COM right HERE.
The band embarks on their European tour this month and they will be overseas until December. Plans to continue touring into 2016 are a certainty and you can find out more at www.slayer.net
Please log in to view RANTS