Steve Smyth is a legendary guitarist in the thrash and progressive metal scenes, having toured extensively with TESTAMENT and NEVERMORE. He spent several of his early years as a member of VICIOUS RUMORS, formed DRAGONLORD with Eric Peterson and Steve DiGiorgio, guitarist and bassist at TESTAMENT, respectively. DRAGONLORD, a symphonic metal band, would ultimately go on to release two albums.

Although he's taken some time away to fill the spot in FORBIDDEN, Smyth's real focus is his latest project ONE MACHINE. The band's two founding members are Smyth and Jamie Hunt, guitarist at NEVERMORE. After having released their first album in 2014, they've made a few changes to the lineup and the band's sophomore release, The Final Cull is set to debut on September 18, 2015.

I spent a bit of time talking with Smyth about the new album and all things ONE MACHINE. Here's what he had to say:

KNAC.COM: A lot of bands are doing fan-driven campaigns to fund new music nowadays, ONE MACHINE included. Does this give you more freedom in the writing process or perhaps add more pressure since the fans are now vested in the project?

SMYTH: I don't think it's had any effect on the way that we wrote or how we will write. More or less, people are coming to us anyway, based on hearing the music and being drawn to it to begin with. In that respect, doing it this way has been beneficial to us. As far as changing how we write in the future, I don't know. I don't really think so. We're writing music for us first and putting it out there with the hope that we connect with people who will appreciate it and love it.

KNAC.COM: Your latest release The Final Cull was recorded live. You've stated that this method of recording is a bit of a lost art and, as such, was important for you to do an album this way. What are the benefits to recording live and what, too, are its biggest challenges?
SMYTH: I'll go with the benefits first. You're in one room together, able to see each other. You're able to watch the drummer hit that cymbal at that certain point and play to it. All of us were able to do that. The communication level was great, as well, because we're all in the same room. We can go, 'Hey, wait a minute. How do you play that?', kind of double-checking each other, and make sure everything is right on point.
Top that with the fact that our singer was right there in the control room all set up with a microphone and jamming away while the four of us were in the main room, and is was perfectly awesome. He could hear how everything was going to sound as we were putting it down. It really pulled our direction, musically speaking. I purposely left a handful of the songs incomplete to see where we'd end up taking them. It definitely went in the direction of a live sort of sound. We were coming up with riffs on the spot, bouncing ideas around back and forth, and just jamming. Then, after four or five takes, we'd have it from there.
In terms of challenges, it was very exhausting. We did about 15 to 18 hours a day. The drummer on the record, Michele Sanna, basically ended up injured as a result. He developed an arthritic type of condition in his knee and in his wrist, as well. He's since recovered and is doing fine, but the recording process was very demanding on him. [Laughing] Any drummer I've spoken with since has been like, 'Man, you're an ass for doing that'. We kind of had to, though, because another challenge was the budget. We had 10 days to track basics while working around everyone's schedule. It was the dead of Winter, but we had a great studio in the northwest of Denmark to go and do this. When we first got there, there was a lot of snow, but it dissipated pretty quickly over the course of our 10 days of recording. No one got sick, or at least not too much because of the cold weather. We were particularly worried about our singer, Chris (Hawkins), in terms of any of that type of thing happening.
KNAC.COM: This album was recorded at essentially a marathon pace. Did that help the process and keep everyone's creativity alive? If so, would you purposely choose to write in this environment again?
SMYTH: I would do this again tomorrow. [Laughing] Absolutely! It brought us together on a musical level and a personal level, as well, in terms of being friends within the band. It tests your will, patience, and endurance both mentally and physically to keep going when you're in a creative atmosphere like that. We probably drank about 20 gallons of coffee along the way just to keep going, and it was good coffee. We were flying and just jamming stuff out. Coming back to the challenges part of doing it in this manner, another real challenge was just getting through it.
On all of those levels, yes, it was well worth it. We would definitely do it again. In fact, that will be the plan. Ultimately, how we're going to do it and with how much time, we don't know yet. We're going to have to see how this one turns out and where we go next.
KNAC.COM: You've put quite a bit of thought into assembling ONE MACHINE as well as its production team, including producer Tue Madsen and engineer Marco Angioni. Where along the way did you encounter your fellow band members and the team that would eventually bring this record to fruition?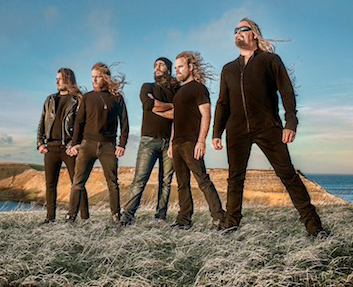 SMYTH: It's taken some time. It started with Jamie Hunt back in '07-'08. We met when I was in NEVERMORE and he was playing with BIOMECHANICAL. We were in Greece and BIOMECHANICAL was opening for NEVERMORE. I got to know him and just liked watching him play. He had a lot of energy on stage and could really shred, as well. Plus, he was a cool dude to hang out with. So, we started working on material and began looking for some other people. Over the years it took a little while.
[Laughing] I had a slight "distraction" with FORBIDDEN, but it was a happy distraction because it was a chance to jam with those guys once again after just kind of a one-off seven years prior. It did take away from the development of ONE MACHINE, though. We eventually found the first lineup, but some things happened after the release of the first record wherein two of the members eventually ended up throwing in the towel so to speak and moving on. We added the two guys we have now, Chris Hawkins on vocals and Stefano Selvatico on bass. They just fit really well. They're great guys and great talents with their respective instruments. Everyone gets along very well.
We met Tue Madsen through our former bass player, Tomas Koefoed. In fact, we were going to cut this record with Tomas up until about November of last year when Tomas was feeling a bit of pressure with regards to family and such. He needed to get back to that and we understood that perfectly. We're all still friends and everything's cool.
Tue had wanted to mix the first record, but we ended up going with Roy Z at the time. That decision was made more or less by a vote by the members of the band. We also decided back then that we were going to do our damnedest to get Tue for the next record if we could, so we did. Marco Angioni has had Death Island Studio for years now. I also knew Marco from another band called CHAOSWAVE from Sardinia, Italy. His former drummer, Raphael Saini, had been in ONE MACHINE on the first record. There was a bit of networking and knowing each other happening in addition to me having done some guest solo sessions for CHAOSWAVE a number of years ago, as well. We all kind of knew one another and it just turned out to be the right time and the right place.
Marco has a really cool studio with a big live room and that spelled everything out for me. I had gone there a few years ago to do some editing work on the first record The Distortion Of Lies And The Overdriven Truth. I saw the place and was like, 'Wow! I'm keeping this in mind for the next record,' and that's exactly what we did.
KNAC.COM: You've stated that the lyrics of "The Forewarning", the opening track of The Final Cull, "relate to advance warning of subliminal programming and psychological warfare, and the struggle to defeat it." Is the struggle to maintain freedom of thought something that permeates the whole album? If so, do you think this gives the album a dark undertone? Can free thought ultimately prevail?
SMYTH: The premise for "The Forewarning" is one part of a grand story that is found throughout all of the lyrics on the record. It's the classic man versus man conflict. What we see is power at the hands of the few, be it power through wealth or intelligence, to control humankind for their own purposes. In that respect, there is a struggle. I'm kind of a news junkie and it's really weird comparing the news outlets we have here in London with those in the States. There's one channel in particular, called euronews, wherein they have about a 15-minute cycle that repeats the day's headlines over and over. It goes on for about 6-8 hours, and then they'll switch it by the evening. That's all you're supposed to know and think about for that given time or day.
Then, you go over to CNN or one of the channels from the States and, lately, it's all directed toward other man versus man conflicts. Whether it's skin color or something else, it's one of those topics that are really brimming. It all seems to be media-driven. There again, is it a chosen few who are purposely running that type of programming? That's what we're talking about within the lyrics of "The Forewarning". We're just trying to say, 'Hey, wake the hell up and realize that there's something more than what you're actually seeing, than what you're meant to think about, than what you're meant to perceive.'
In terms of whether freedom of thought can prevail, we leave that open-ended right to the very end. It's a decision that more or less listeners are going to have to make for themselves. The very last song on the record speaks to that point. We just say, 'Welcome to the world', but we're not actually suggesting much else.
KNAC.COM: You entered into this project having already written some new riffs, but with the idea of letting the band take the material in any direction. Were you surprised by what became of your ideas? Did the band head in directions you'd have never expected?
SMYTH: In the respect that it's fresh when we're jamming it, yes. It's like, 'Whoa! Here we go'. It's one of those things where you play off of each other. Say your jamming to the riff beforehand and you're thinking, 'Where's this going to go? Don't know. Don't know.' You keep your mind blank, and then BAM. It just comes out of nowhere, and that ends up being the direction you go in.
The whole idea was to keep an open mind. It really shocked us that we can do this instantly as opposed to how we did the first record, where we laid out how far we'd gotten with each song and where things were going. We'd send out an email to everyone with song files attached. They'd learn them, work with them, and eventually send them back. This time it was instant, which was great. It really made a huge difference. We're less geographically spread out these days being that most of us are based out of England, which helps a lot, as well.
KNAC.COM: Bringing things full-circle, for those who've participated in this album's campaign ONE MACHINE has demonstrated real appreciation and is offering quite a few perks, including: special edition release packages, apparel, etc. Please elaborate on what's the band is making available to its backers and what it means to have received and continue to receive so much support.
SMYTH: There's a lot of great stuff. I'm making one of my signature 7-string guitars from B.C. Rich available. It's the Steve Smyth Signature 7 B.C. Rich Bich. Jamie's got a guitar that he's offering, too. It's an ESP Ltd. M17 7-string guitar very similar in fashion to the ESP Ltd. Horizon that he's playing. Jamie and I are offering guitar lessons, too. As for merchandise, we've got short-sleeve shirts, long-sleeve shirts, ladies t-shirts, and hoodies. We've got things bundled together as packages, and we've also got a vinyl option, however; we need to hit 100 pre-orders to make that happen.
We encourage fans to hit up our IndieGoGo site and check out all that we're offering. If fans go to Google and enter "IndieGoGo One Machine", it'll take them to our site. We have singing lessons with Chris, our singer. He's also a vocal teacher, so this is something that's a real specialty for him. Stefano, our bassist, is offering lessons, as well. He's got some pretty sick chops, so it's well worth bass players hitting him up if they're looking to step up their playing.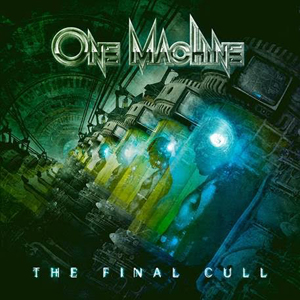 The guitars that we're making available come bundled in packages with lessons, the choice of the new album on vinyl or CD, and The Final Cull shirt to complete the package. Regardless of what level fans choose to participate, shipping costs are included with everything. We're really excited to have our fans be a part of this project. Beyond just making this record, our biggest goal is to generate enough excitement and response to get out on tour and perform this music live.
So many of our fans are quite spread out from where we are in England, so meeting the goals of our crowd-funded campaign is what will make touring and getting it out there a reality. It's our sincere hope in creating music that our fans will embrace it and want to share in it with us.
We've got a great live band and that's the biggest reason we wanted to do the record this way. We can definitely bring it live. We absolutely want to bring it to everybody, especially over in the States. I want to get to California. I want to get back home and play it for everyone over there.
One of the most interesting things about talking with artists like Steve Smyth is getting their perspectives on the world around them and discovering how they incorporate those perspectives into their music. They're paying attention to the concept that there's a lot more to the news than what's being reported and that, if people want all of the facts, they're going to have to seek them out. The Final Cull is a great metal album, but it goes beyond killer riffs and blazingly fast kick drums. A lot of thought went into the lyrics, the message, and really every part of the album. ONE MACHINE is comprised of some incredibly talented musicians who want nothing more than to make the fans part of what they're doing and to ultimately perform the music in front of those fans live. Here's to seeing them reach and exceed all of their goals!