WHITESNAKE Does PURPLE: An Exclusive Interview With Drummer TOMMY ALDRIDGE Of WHITESNAKE

By Wendy Jasper, Black Metal Aficionado
Wednesday, September 9, 2015 @ 4:35 PM

| | | |
| --- | --- | --- |
| | | "It is very gratifying to know that the fans like what we have done." |
Live Photo By Larry Petro
While so many artists from from "hair band" days are making a comeback, one band never really stopped and now they have managed to sell out venues worldwide on their tour supporting The Purple Album. WHITESNAKE's legacy has been solidified with top notch performances, technically intricate yet not overbearing, fun music, and a fan base that has followed vocalist David Coverdale through decades of songs.
The former DEEP PURPLE vocalist added his special touch to updated renditions of the songs on the album and the fans are loving it. Along for the ride is long time WHITESNAKE drummer Tommy Aldridge and he explains how the album came to be and what fans can expect through the rest of the year from the legendary band.
"It amazes me that people still want to come out and see our little ol' band," Aldridge laughed. "Our fans have stayed with us for years and this has probably been some of the most fun I have had out on the road. The shows have, for the most part, been full to capacity and people are singing and having a great time. We have some things in the works for later in the year, some package tours in Europe and there is just a lot going on. It has been wonderful, especially in these hard economic times, that fans still want to come see us. Concerts get expensive and we have to be intelligent about our bookings. We are doing mid-size, reasonable venues and it has worked out for us."
The resurgence of 80's bands is something that has tended to occur naturally because the fan base wants to hear the songs they loved in that era and WHITESNAKE was certainly a front-runner of the hair band pack. The current incarnation of the band includes guitarists Reb Beach and Joel Hoekstra, as well as bassist Michael Devin and keyboardist Michele Luppi.
"I think when we talk about how music changed in the early 90's and so many bands of our genre were displaced; it was something that may have happened at the right time," Aldridge said. "There was such a flooded market during that time period and while it may have put so many bands out of the spotlight for a time, we just had too much of the same thing. Many of the bands were very good, but there were too many. Now, the opportunity for some of us to come back in a big way has happened. WHITESNAKE had been around for many years before the "hair band" days occurred and I think that helped us in the long run. "Here I Go Again" was a #1 single for weeks on end but it was not a new song. It was done on a previous album and reworked completely to the band's satisfaction and released as a single on the '87 record. It blew up into the phenomenon that was WHITESNAKE. What we are seeing now is the return of bands that had more depth and had done well during that era return to the stage and the audiences are reciprocating. It is amazing."
Aldridge says originally, Coverdale wanted to do the songs on The Purple Album with former DEEP PURPLE bandmates and it was an idea that he had been pondering for quite some time, however, it didn't work out the way he thought it would and he turned to his trusted WHITESNAKE bandmates with the idea.
"I know that David had wanted to revive these songs for some time with Blackmore and Pace, but it didn't come to fruition and when he came to us with the idea we were all humbled by it and thought it would be a wonderful idea," he said. "It was a bit intimidating for me because Ian Pace is quite the icon, and I play nothing at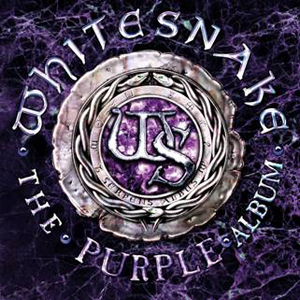 all like him. To DEEP PURPLE fans his work is like the Holy Grail so I had to really be on task. It was a daunting task because I think I'm the worst copy drummer in the world and you just can't mess up what Pace does, but I think I did an admirable job. However, we have made the tunes our own and the only similarity to me is that it is David singing on the songs. "Burn" was a huge song for DEEP PURPLE when it came out because it was heavier than a lot of the music the band had been doing and also heavier than other music that was out during that time period. It was something very new for DEEP PURPLE fans. We have taken that song and made it new again and you can hear the people in the audience singing along with it. It is very gratifying to know that the fans like what we have done."
Well, the fans have spoken and all of the shows on the bands recent runs have been sold out and it is looking as if their fall dates are well on their way to having the same outcome. The band will be in Japan in October and will tour throughout Europe before joining DEF LEPPARD in the United Kingdom and Ireland.
Please log in to view RANTS