A Deeper Shade Of Purple: An Exclusive Interview With ROGER GLOVER Of DEEP PURPLE

By Shelly Harris, Chicago Contributor
Tuesday, August 18, 2015 @ 4:57 PM

| | | |
| --- | --- | --- |
| | | "I love what I do! And that's why the word "luck" keeps coming in our lives. We're very lucky to be doing this." |
When you're revered as a member of one of the three bands (DEEP PURPLE, LED ZEPPELIN, BLACK SABBATH) that pioneered and molded the direction the entire hard rock and heavy metal genre, and you're also one of the most revered bassists in that genre, then you hardly need an introduction or backstory before getting to the meat of an interview with KNAC.COM.

Nevertheless, Roger Glover, who has been with DEEP PURPLE on and off since 1969 (for most of the band's most successful years) and who is equally well-known for his songwriting and production as well as his bass riffs, still good-naturedly weaves some of that intriguing DEEP PURPLE history into this conversation that occured after the fist gig on the DEEP PURPLE current 2015 summer tour.

We talk about the band's upcoming new and recent releases [particularly the live recordings now being released on Ear-Music, From The Setting Sun (In Wacken) & To The Rising Sun (In Tokyo)] and the mindset that keeps Glover and DEEP PURPLE going strong as one of the longest touring bands in the history of Rock.

KNAC.COM: Ah, you're in Nashville this morning, the Music City!

GLOVER: Yes, I haven't ventured outside yet, but, in general, I love Nashville; I think it's great! When we were arriving for the show last night, we passed by the downtown area with all the amazing clubs, and the bars, and the music, and the life! It was just wonderful.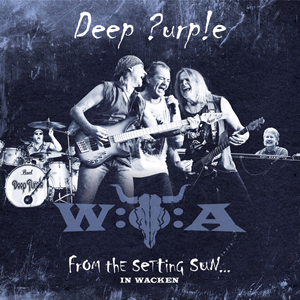 KNAC.COM: You're on another tour that lasts throughout the summer ... it appears to be starting here and ending in Europe.
GLOVER: Yes, it's not the start of a tour, it's a tour that has actually lasted for the past few decades ... whether there's an album out, or anything else, we'll still tour anyway.
KNAC.COM: Well, there aren't many bands still out there who have done it longer or as consistently... and I want to get back to that later, but, for the moment, maybe we can talk about the two new video releases coming out on EarMusic?
GLOVER: Yes, well they weren't planned - certainly not by the band. Both shows were filmed, and EarMusic actually had the idea, that we should do two shows, highlighting the differences between audiences. Everywhere we go in the world, we face different audiences every night. It's kind of an interesting topic anyway. But theses seemed like such extremes. Wacken is a real serious, industrial-strength, heavy metal festival. It goes on for days, it's wonderfully organized, it's really well stocked with people, security, refreshments - it's just a wonderful experience. But the crowd is a real heavy metal crowd. It's tattoos and fists in the air and stuff like that. By comparison, Budokon is a very sedate place, and very polite, and even though they are a great audience, it is a completely different setting. And yet, we're the same band, and so I thought it was an interesting juxtaposition - a great idea, and I don't think anyone's ever done that before.
KNAC.COM: Yes, and the titles, From The Setting Sun (Wacken) To The Rising Sun (Budokan), has that polar opposite imagery that obviously fits in with that juxstaposition. Were they recorded in a fairly close time proximity, or was there a gap?
GLOVER: There was probably just a year between them, or something like that. And they were actually shot in 3D, so there will be a 3D version of it.
KNAC.COM: I think there is also a Blu-Ray version available. Do you know if those will also be downloadable?
GLOVER: No, I don't really. The exent of my involvement with it was in the studio. So now all these formats are all their business [EarMusic] ... so I don't really know the answer.
KNAC.COM: You've produced in the past, so were you involved in the production in any way?
GLOVER: The production was done by two guys in the studio called Chamelion in Hamburg (Germany). I went up to visit them, just to see how they worked, and I approved of them very much. I think they did a great job. And when they finished they would send them to me and I would listen to them, make a few comments, send them back, and they would change a few things. That's how we worked. So, I had very little to do with it other than to be the overseer.
KNAC.COM: You did extensive production for other artists in the past, and are you still doing any of that these days?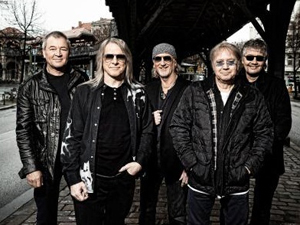 GLOVER: Well, I don't really have a lot of time for that. Most of the productions I did - and I did a lot - were mostly during a six year period. And then I joined RAINBOW, and I produced RAINBOW of course, and then PURPLE came along again, and I produced those few bits of PURPLE. You know production is a kind of amorphous thing - you don't know whether you're producing or just being a musician in a band. It's somehow part of the same thing. But I don't do outside productions, because I don't have two or three months clear. Because of the band, it doesn't happen; between family and DEEP PURPLE touring, life is full.
KNAC.COM: I'm sure you do have to pace yourself in order to have this longevity to be touring like you have been all of these years, right?
GLOVER: Well, it does require certain sacrifices. You're away from your family, to start with. I have young children again. They really miss me when I'm away, and I understand that. We keep in touch, but that's not the same. For all of us, family life is important, but it's also important to tour, so the sacrifice is really on the family ... and you tend to lose friends. Things happen - parties, wedddings, funerals - and you're away, and you have to lose your social circle a bit. But I'm not getting out my violin! (laughs) The reward is to be in a band that - mysticly - are still around after 40 odd years. People say, "Did you ever think you'd be touring this long?" and, no, of course you don't think that. You think when you join a band that it may last a couple of years, and, if you're really lucky, five years, and then you sort of drift off ... But for some reason, it's just kept on, so you enjoy the ride.
KNAC.COM: Well, obviously you wouldn't keep on doing it if there wasn't a reward in it ... Is the response from the audience at the shows part of the incentive to keep on doing it?
GLOVER: I suppose that is part of it. People say, "How does it feel to look out from the stage and have thousands of people loving you?" Well, it's hard to explain how you feel. There's a shot of electricity! When you are playing, you are living every micro-second. You're so in The Now, because you have to be. You have to react very quickly to what the other people in the band are playing, etc., etc. It's very intense ... and though your mind is focused on the job at hand, it can wander off a bit, and you look at the crowd and you say, "How did I get here?!" But, there's more to it than that. I think we all go back to our childhood when we get up onstage. Fifteen-years-old and that thrill of connecting with music that enthralls you - that's still there. Plus, how many people have two lives? I have a life at home, and I have a life on the road, so that's a rarity.
KNAC.COM: I actually think that's a recipe for the fountain of youth, to have something that you're passionate about, and then plug that into the things you just mentioned. It could be very good for the health ...
GLOVER: Passion! ... Some people don't find their passion. People often do what they do just as a job, to support themselves, and that's fine - there's nothing wrong with that - but I do feel sorry for some people who don't like their job. I love what I do! And that's why the word "luck" keeps coming in our lives. We're very lucky to be doing this.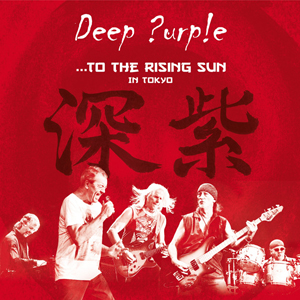 KNAC.COM: When people love and have a passion for something or what they do, regardless if it is music or something else, then they never really retire because it is what they are. So, that must be the case with DEEP PURPLE too, despite the fact that touring and the travel is never easy.
GLOVER: Yes. But it is easier these days than it was in the past. A cold van with no heating, broken down on the side of the road in winter! I've been there for many years.
KNAC.COM: The modern conveniences and modes of transportation do make it somewhat easier, I imagine. In addition to these new releases, you also had one that came out last year, Live In Verona, that included an orchestra. DEEP PURPLE does have a strong association with incorporating orchestras...
GLOVER: We have a long history of working with orchestras, from right at the beginning when I first joined the band. Jon Lord, the keyboard player, wrote the Concerto called the "Concerto For Group And Orchestra". And in 1969 we performed that at the Royal Albert Hall, and we've done a 30th Anniversary of that event, which is really what brought the name DEEP PURPLE to the attention of most of Europe. In fact, in 2012 we did a whole tour with an orchestra that was wonderful! When you think of bands and orchestras, you think of the band in front, and the orchestra behind, sawing away at the riffs and making them sound bigger - and a lot of bands do that. But, on this particular tour, it was more jazz than classical. And all the people in the orchestra were young, and a lot of them were in bands themselves, so they understood timing. So, in the end, instead of being five rock musicians and 40 member orchestra, it became a 45 piece band because we joined together so well, and worked together so well. That is the tour Verona comes from, by the way. The tour went on for four or five months, but Verona [Italy] is obviously a special spot, because it's beautiful!
KNAC.COM: Okay now, going forward with DEEP PURPLE and yourself, do you just take it a day at a time, or year-by-year? Is there a plan?
GLOVER: I do it second-by-second, personally! (laughs) Well, the last studio album, a few years ago, was Now What? That was a really good experience, and that was very successful for us. It was produced by Bob Ezrin. In fact, Bob came to the show last night, because we had recorded it in Nashville. And, we had a couple of writing sessions, and we'll have a few more, and start recording early next year, probably back in Nashville and certainly with Bob Ezrin again, so, looking forward to that. But, in the meantime, we've got some touring to do!
Please log in to view RANTS