Creating A Revolucion: An Exclusive Interview With JOHN CORABI Of THE DEAD DAISIES

By Wendy Jasper, Black Metal Aficionado
Friday, August 14, 2015 @ 12:02 AM

| | | |
| --- | --- | --- |
| | | "To be honest, I am not a big fan of the "supergroup" title because sometimes that can be the kiss of death for a band." |
The title of their new album may be Revolucion, but when you think about it, that is exactly what THE DEAD DAISIES are creating. Many are calling them a "supergroup" because of the well known names associated with the band, but according to vocalist John Corabi, they are just a band of friends who are doing what they love best; making music.

However, when the members of a band have graced the stage with some of the best known groups of their genre, it is hard not to say that they are outstanding. Corabi himself fronted MOTLEY CRUE during their 1994 tour and self-titled release and the album was the first highly lauded album for MOTLEY CRUE in quite some time after dismal sales and the departure of Vince Neil. Critics said he breathed new life back into a waning band and he has been popular with rock audiences since.

"To be honest, I am not a big fan of the "supergroup" title because sometimes that can be the kiss of death for a band," Corabi laughed. "We are really just a group of good friends who have all known each other for a long time and we love to make music together. This is a strong project for us and we enjoy what we do. We are just making music, having fun and doing our thing. I'm a pretty normal guy; I'm just into football and buffalo wings and I like to sing and make music."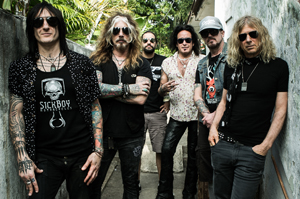 Corabi joined his cohorts, drummer Brian Tichy, keyboardist Dizzy Reed, bassist Marco Mendoza and guitarists Richard Fortus and David Lowy this past year and together they have created a solid rock and roll record and secured opening slots on both the KISS and WHITESNAKE tours. Their fan base has exploded and Corabi says the have really enjoyed the current run of dates.
"I actually wasn't in the band at the beginning," he said. "The band was put together by our guitarist David Lowy and he and a vocalist friend of his wrote about 25 songs but about a year in things were changing and David's friend left and they called me to see if I would be interested. I went to Cuba with them and they asked me to do the record and what you have is Revolucion."
The band picked up on the road with WHITESNAKE at the end of July and Corabi says it has been a great time on the road for the band.
"We started with them around July 30th," he said. "This run does end on August 16th and then we all have other projects that we are working on during the month or so that we have off. We have done some shows in Texas and our headlining show in Houston is right before the last WHITESNAKE shows. We have a lot going on. I have some solo dates with my MOTLEY '94 project and the other guys have tours and side projects that they are working on. After that month off we will rejoin KISS in Australia and also go on the KISS Kruise which is going to be a lot of fun. After that we hook up with WHITESNAKE again. So, we have been very busy."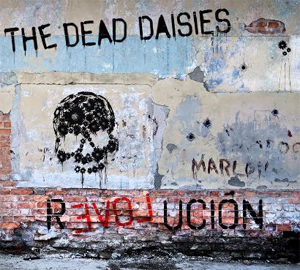 As the fan base has grown, so has Corabi's confidence that this project has produced an exciting future for the band.
"It is amazing how many people have discovered us. When we went to Europe and did some of the festivals and the KISS dates, we would take the stage and look out and find that the audience was there early to see us. That doesn't always happen here in the States. It is a different kind of audience there and we were humbled to find that so many were there to see us," he said. "I think that once the press campaigns took off, people heard us on the road, and all the internet and social media buzz grew, it kind of steamrolled into what it is. I am so excited to share what we have done with everyone."
THE DEAD DAISIES have much to offer hard rock fans with the new record, the single for the song "Mexico", a video documentary of their time in Cuba and their live set. For more information on the band, check them out at thedeaddaisies.com.
Please log in to view RANTS