There was once a time when winning a Grammy Award was the biggest thing in music. For some time, though, there's been criticism that the National Academy of Recording Arts and Sciences (the Academy), the organization who determines the winners, has lost touch with artists and fans alike. The complaint has been that the focus in determining award nominees and winners is weighted more heavily on record sales than current music trends or critical reception to the music.

It's hard to forget that moment at the 1989 Grammys when JETHRO TULL took home the award for Best Hard Rock/Metal Performance Vocal or Instrumental for its album Crest Of The Knave, beating out METALLICA's …And Justice For All. Taking nothing away from JETHRO TULL, if it wasn't already clear before, it became abundantly transparent right then that the Academy was completely out-of-touch with what was happening in the music scene. In response to criticism regarding this award the Academy made the decision to create two awards the following year, Best Hard Rock Performance and Best Metal Performance.

All was not lost, though, or so it seemed. In the mid-'80s, just when people were starting to become disenchanted with the Grammys, along came the MTV Video Music Awards, the VMAs. It was a great fit. During that time MTV was a great place to find the latest in the music scene as well as everything associated with it including: fashion, culture, and lifestyle. Artists and fans alike gravitated to the VMAs and the now-iconic "Moon Man" award became instantly sought after. Music had once again found a home.

There are countless memories from the VMAs during its early years. 1989 was an epic year for the show. Andrew Dice Clay's performance earned him a lifetime ban from the network and Vince Neil assaulted GUNS N' ROSES guitarist, Izzy Stradlin, which led to a verbal feud between Neil and Axl Rose. In 1991 POISON couldn't make up their minds which song they wanted to play while they were onstage. It was a monumental failure in front of the whole world. It led to a backstage fistfight between C.C. DeVille and Bret Michaels, and ultimately to DeVille being fired from the band.

1992 saw Howard Stern appear as his superhero alter ego, Fartman. In 1996, VAN HALEN reunited with David Lee Roth onstage and then broke up onstage all within the course of about 30 seconds. The last really memorable thing that came out of the VMAs happened in 2000 when RAGE AGAINST THE MACHINE bassist Chris Commerford climbed into the stage scaffolding during Fred Durst's speech and refused to come down.

In current years it's become more about outrageous outfits, comedians insulting boy-bands, political commentary and the never-ending Kanye West interruptions. The music became secondary. Somewhere along the way the network whose initials stand for "Music Television" virtually phased out airing music. Following suit, its award show lost its focus on music, as well. Much of the music we love was a big part of the MTV generation and the network's programming, shows like DIAL MTV and the Headbangers Ball. As such, countless would welcome MTV returning to its music-centered roots.

In an effort to retain readership many music publications have diluted their content of late, as well. Some publications have changed format to become more political and lifestyle oriented while others have gone the way of over-editorializing topics to the point of becoming tabloid-esque. For the past 30 years there has been consistency in music news reporting. Alternative Press (AP) has maintained its focus on the music and artists, and the fans who love them both. AP stays current. It moves with the trends, but sticks to its "alternative" genre. That covers a really broad spectrum, though, everything from pop punk to metalcore.
It only made sense, given how award shows have been trending that, after 29 years, AP would create its own Music Awards in 2014. Being based out of Cleveland, AP wanted to keep it a hometown event, so its inaugural show was held at the Rock and Roll Hall of Fame and Museum on April 24, 2014 and aired live on AXS TV. The 2014 Alternative Press Music Awards (APMAs) were a huge success much due to the fact that, like the magazine behind them, they kept the focus on the music, the artists, and to a great degree, the fans.
2015 marked AP's 30th Anniversary and the APMAs had far outgrown the Rock and Roll Hall of Fame and Museum. This year's event was held on July 22nd at Cleveland's Quicken Loans Arena, home to the Cleveland Cavaliers. As mentioned, it's no secret that AP president/founder Mike Shea remains faithful to Cleveland, the town where he started what was, at its beginnings, a local fanzine. What a tremendous turn of events then that the 2nd annual APMAs, perhaps the biggest event in the magazine's tenure, should fall on July 22nd, 219 years to the day on which the city of Cleveland obtained its name. This year's APMAs were also aired live on AXS TV and, in addition to AP, were sponsored by Journeys and Monster Energy Drink.
Like any great award show, the event began outside with rock stars and celebrities making their entrances via the red carpet. The hosts for AXS TV's coverage of the red carpet were lead vocalists for EVERY TIME I DIE and NEW YEAR'S DAY, Keith Buckley and Ash Costello, respectively. Things kicked off with a dynamic presentation by the Cleveland Cavalier Girls, Q Spirit Squad, and Q Scream Team. Their show included an enthusiastic dance routine featuring high-flying aerobatics and culminated with several members of the Q Spirit Squad doing high-speed, springboard flips over the head of WWE Superstar Corey Graves. It was truly a sight to behold.
Though all were moving along fairly quickly, I did have the opportunity to speak with several of those making their way inside. Here are the comments they made before the show.
KNAC.COM: You've been around for about eight years and have come full circle with a new singer and a new album. You're also one of the headline acts on this year's Vans Warped Tour. Do you feel as though your sound has changed along with the changes the band has gone through of late?
ASKING ALEXANDRIA (Ben Bruce): It kind of changed on the last album. We veered off in the wrong direction. Doing this album has brought us back to our roots. We've gotten back that aggression and excitement that we had in 2011/2012.
KNAC.COM: One of the things you've done in the past is told big stories with your songs and videos, like 2012's short film Through Sin And Self-Destruction. Do you think you'll continue to do that type of material going forward?
ASKING ALEXANDRIA (Ben Bruce): Definitely, I think we've got a lot to talk about this time.
KNAC.COM: This year you'll be presenting the Album of the Year Award. As a WWE Superstar, what role does music play in your life?
Corey Graves: All of us in the WWE are huge music fans, especially this current generation. Seth Rollins' favorite band is PIERCE THE VEIL and they send him pictures from tour every year. I'm always like, 'I'm jealous, 'cause you get to hang out and do all of this cool stuff.' The whole crop of guys coming up in the WWE spend so much time travelling, either flying or on the road. It's essential to have some music to chill out to. Conversely, in the gym or before a match you want to get pumped up and there's nothing better for that than music.
KNAC.COM: At the start of the show you had members of the Q Spirit Squad running at you full-speed then doing springboard flips over your head. Given all that you do as a wrestler, did that make you even the slightest bit nervous?
Corey Graves: I was terrified. That was the most horrifying thing I've experienced. I had guys flying at my face at like 100mph. I was thinking, 'this is it. I'm done.' As many times as I've been in the ring, I don't think I've been as scared as I was watching those guys fly at my face at full speed. As for being here and being a part of the awards, though, I'm really stoked!
KNAC.COM: I saw you in Pittsburgh about a month ago. You not only delivered a great performance, but a real camaraderie could be seen between the bands on the tour. It's seems like with WILSON it goes far deeper than just making music. It's a whole way of life for the band and fans alike. Would you agree?
WILSON (Chad Nicefield): It's a community to us. The whole thing is one big show: the artists, the art, and the audience together as one. It's one entity. We also really care about our live performances. It's about getting people out of their homes and interacting with others. It's hard enough to do in the age in which we live. If we can add value to that and give them a reason to come out by showing how much it matters to us, then it's a huge step. We care about the position we're in. At the end of the day it's entertainment. For a lot of people money is sparse, so if you can get them to believe in it again, especially rock and roll music, that's a really big deal.
KNAC.COM: Your live DVD Alive And Burning was released July 10th and is currently #1 in the US and the UK. It was filmed in Los Angles at the Wiltern Theater. What was the vibe like filming for your hometown crowd and with director Casey Tebo, who also directed AEROSMITH's documentary Rock For The Rising Sun?
BLACK VEIL BRIDES (Jake Pitts): We all live in L.A., not born and raised except for this guy. CC's been there. But I live pretty close to the Wiltern and have been to a bunch of shows there.
BLACK VEIL BRIDES (Ashley Purdy): It was the first big venue we'd played there. Before that we'd always played the club circuit. We've been on international tours, and then we got to come home and play the biggest venue in L.A. Usually we'd play the Whiskey or another smaller club.
KNAC.COM: How would you compare being one of the headliners out on Warped Tour with the other tours you've done in the past?
BLACK VEIL BRIDES (Christian "CC" Coma): It's like rock and roll summer camp. You catch up with dudes who you normally don't see because your tour schedules don't coincide when everybody is out headlining. So, to have everybody on one tour is a lot of fun. The only thing that sucks is that all of the buses line up, it gets too hot, and the generators die. Then you end up with no A/C. Otherwise, it's a lot of fun.
BLACK VEIL BRIDES (Ashley Purdy): [Laughing] I think it's horrible. It's not our tour. Our tour is comfortable. We get to do what we want and call all of the shots. With this, we play thirty minutes a day and we don't know when we're going to go on. It's just like boom, go, and we try to give the audience the best show that we can. But there's so much down time for only playing a half-an-hour and then we have all day. When we headline we play for an hour-and-a-half and have other things to do during the day. On this tour we spend a lot of time sitting around waiting. We're always hoping to play sometime in the middle of the day so there's something to break up the down time. One great thing about it, though, is that it provides you with more exposure to people who may not otherwise come out to see you or know your material.
KNAC.COM: You and I had such a great conversation prior to the APMAs that was previously featured on our website and today's awards see everything you've worked so hard for brought to fruition. Given your love for this city, I'm curious as to whether or not it was a strategic decision to schedule the 2015 APMAs on the anniversary of the date Cleveland received its name?
Mike Shea: I did not even know that. I've got to tell Jack (Barakat) and Alex (Gaskarth) that. I'm going to tell them that tonight. Really? So, it was discovered on July 22nd?
KNAC.COM: Cleveland obtained its name on July 22, 1789.
Mike Shea: That's awesome!
KNAC.COM: You just released you latest album Found In Far Away Places on June 29th. Your sound tends to be pretty progressive, so I'm wondering who were your biggest musical influences?
AUGUST BURNS RED (JB Brubaker): Not to reuse the word progressive, but it's simply a progression of our band from album to album. That's how we've been evolving as a band. There's not a major progressive foundation to our sound. It just sort of spiraled into that over time. There was actually a band called A LIFE ONCE LOST who put out a record called A Great Artist back in 2003. That album was a big influence on us in terms of odd time rhythms and such. It certainly set the foundation for us for doing staccato breakdowns.
KNAC.COM: In terms of being out on Warped Tour, AUGUST BURNS RED seems to be on the heavier end of the spectrum of the bands performing on the tour. Do you think that sets you apart from the rest or do you find yourselves somewhere in the middle of the mix?
AUGUST BURNS RED (JB Brubaker): We're definitely one of the heaviest bands on the tour. ATTILA might be another one. It helps set us apart. We draw an older fan base than some of the other bands on Warped Tour, so that makes us stand out, as well. When we go on stage the pitch of the crowd is a lot lower than a lot of the other bands because there are a lot more dudes out there. We definitely have our place and we're drawing a good crowd, which is awesome!
KNAC.COM: You've got a new album coming out soon. What can fans anticipate from this upcoming release?
ESCAPE THE FATE (Robert Ortiz): We're really excited about this new record. It's definitely our best one yet. A large part of that is a result of how it was written and produced. We worked with a new producer on this album. Instead of steering us in this direction or that, he let us create the way we wanted to. Then, he'd go back over it with us and just make suggestions as to what changes or improvements could be made. So, we really feel like this is our record and it sounds the way we want it to.
KNAC.COM: Are there certain members that do the majority of your writing or is it a collaborative process among all of you?
ESCAPE THE FATE (Craig Mabbitt): We all function as equals in this band. When we write and record everyone provides input. We work as a cohesive unit and that's a big part of what makes the music and being in this band so great.
KNAC.COM: Your new album Malevolence comes out this fall and you're already previewing some of the tracks from the release as you're out on Warped Tour. What can listeners expect once they get their hands on this new release?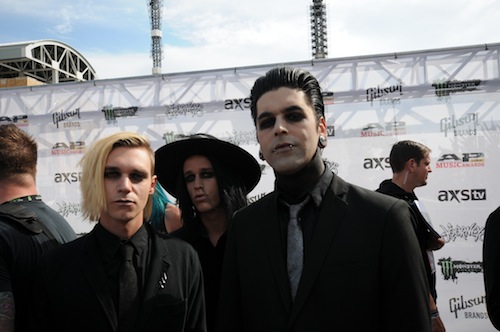 NEW YEAR'S DAY (Nikki Misery): It's pretty much a step up from our last album. It still has that same dark theatrics, but it's angrier. The sound is a bit more pissed off. There's a been-stabbed-in-the-back feel to it, which comes from our life experiences. We've had a lot of people stab us in the back like: record labels, friends, or family who all have left us. This is our outlet to get it all out there.
NEW YEAR'S DAY (Nick Rossi): A lot of artists can be a bit emotionally unstable and may have no real outlet for their negative feelings. For us, getting them out through the music is the only way we know how to do it. Who knows? If it weren't for that maybe we'd be homicidal maniacs.
KNAC.COM: When I talked with you last you were out with WILSON and RED SUN RISING. Now you're out with SHINEDOWN. How does the vibe on this tour differ from the other given their disparate fan bases?
NOTHING MORE (Jonny Hawkins): It's a totally different demographic, which is always great for us. One of the more positive things we've experienced on the road is that we've been connecting with people from 7 to 50 years old. We have a very wide demographic, which is awesome. When we play with different artists like SHINEDOWN, WILSON, RED SUN RISING or the MARMOZETS coming up, it gives us exposure to a much wider audience. There are always new people, so that's great for us and the other artists, too.
KNAC.COM: Since becoming aware of the #iknowJenny campaign that your band has put together I've noticed other, similar campaigns like the ";" initiative. Has there been any thought regarding collaborating with these other programs to create one, large group focused on mental illness awareness?
NOTHING MORE (Jonny Hawkins): That would be really interesting if we did team up with some of them. I've seen it online a bunch, the ";" initiative in particular. We haven't formally or officially done any type of teaming up with anyone, but it is an interesting idea.
KNAC.COM: Since the release of your latest book You're Making Me Hate You, there's been a lot of talk, especially online, about some of the comments you've made of late. Do you think people are just blowing things way out of proportion?
Corey Taylor: It's very much about people blowing things out of proportion. I'm the guy who says what's on everybody else's mind, but they can't say it. I've kind of embraced that. If people can't get passed the fact that I have an opinion because I'm a fan, then they just need to go back to bed and figure it out. Somebody's got to represent the people. It might as well be me. You may not agree with everything I say, but it means somebody's actually saying it.
KNAC.COM: One of the recurring questions I've had for a number of bands on Warped Tour has been how you'd compare it with being out on your own and whether you like the Vans Warped Tour format.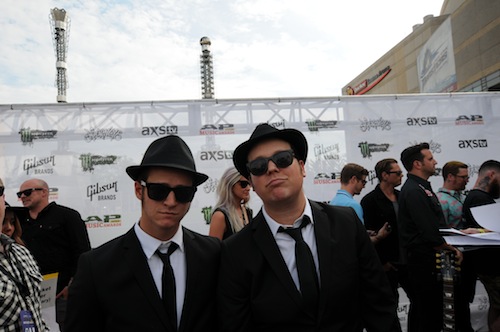 '68 (Josh Scogin): Everything's different. There are pros and cons, obviously, but I love it. Some bands don't. For us, it's like hanging out with a bunch of friends every night. I love the camaraderie. On a normal tour it's usually four or so bands. That's cool, too, maybe a little bit more intimate. But you get to hang out and meet a lot of people on Warped Tour.
KNAC.COM: Given the wide variety of styles performed by bands on the Warped Tour, is part of the attraction to playing it the exposure it provides to fans you might otherwise not reach?
'68 (Josh Scogin): Sure. That's exactly what Warped Tour and tours like that do. It brings in a bunch of people who would literally be like, 'I would never have heard that if I hadn't come to this show.' People walking in front of the stage while your playing trying to get to another band may hear you and like it. It's a great environment. It's what music's all about, mixing and mingling, and the camaraderie of it all.
KNAC.COM: You're here tonight as the recipient of the Vanguard Award. Your sound and the material you've been creating for nearly three decades have influenced many of the artists who are at the APMAs. So I was hoping to get an idea of what it's like hearing new music come out by artists who grew up listening to your stuff and feeling your vibe.
Rob Zombie: I mean; it's great. I never think about it. You never sit around thinking, 'oh, this person's a fan and they're influenced by me.' If they are, that's great. Unless you're a maniac you really don't sit around thinking those things.
KNAC.COM: Even though you don't consciously think about being an influence on the next generation of artists, do you ever hear your style coming through when you hear some of the new material coming out?
Rob Zombie: I do sometimes and with certain bands, yeah. But even then I think, 'well, it's probably just a coincidence.'
One of the things that really stood out about the red carpet and the entirety of the APMAs was its lack of what one would think of as "celebrity." There was no posturing, and no extravagant, big money outfits and jewelry on display. It was just the opposite. Everyone was extremely down-to-earth and relaxed. Artists were more than happy to spend time answering questions, posing for photos, and they all signed one of two Gibson Les Paul guitars to be sold at auction, the proceeds from which will go to help fund cancer research. Many also hopped the red velvet rope and made their way over to the enthusiastic crowd to sign autographs and take selfies with fans. Much as Mike Shea explained in my interview with him prior to the event, the APMAs are like a family gathering for the music scene and everyone is there to celebrate music, one another's accomplishments, the fans, and to have a great time.
Moments after the last of the artists had left the red carpet, musicians and fans alike made their way inside the Quicken Loans Arena and the show began. The hosts for the APMAs were ALL TIME LOW's Jack Barakat and Alex Gaskarth and the entire night featured performances by the Contemporary Youth Orchestra. ALL TIME LOW kicked off the night with a medley of songs that spanned 35 years of the punk and alternative scene from JOAN JETT's Bad Reputation (1980) to their own Something's Gotta Give (2015). This opening performance, like everyone's manner on the red carpet, made it even clearer that this event was about the music and the fans. Though they were the hosts and nominated for several awards, ALL TIME LOW performed only one of their own songs. Instead, their set paid homage to the music and artists who've influenced them and who have been an integral part of making AP the success it has become.
ALL TIME LOW's opening show set the tenor for the entire event. This was an all-inclusive celebration of music and everyone was invited. All of the performances of the night were outstanding and there are far too many to fully detail. That said; a few really stood out. BLACK VEIL BRIDES were crowd favorites from the get go. They opened with their own track "Faithless", then really got everyone stoked with their performance of BILLY IDOL's "Rebel Yell".
During Rob's Zombie's acceptance speech for his AP Vanguard Award he waxed nostalgic about the first time he and his band appeared on the pages of AP. It was just after the release of the first WHITE ZOMBIE record. Zombie explained that AP's review read, "This is the worst band ever. Ignore this band. Whatever you do, ignore this band." With a big grin on his face, he then proceeded to thank Alternative Press and the fans for ignoring the review.
Next up, MOTIONLESS IN WHITE got the crowd going, once again, with their own song "Reincarnate", but nearly blew the roof off of the building when they brought out Rob Zombie and performed his eponymous hit "Thunder Kiss '65". Zombie gave the fans up front something they'll not soon forget when he hopped over the photo pit and jumped into the crowd mid-song. The performance had me off of my feet, horns-up with the rest of the crowd.
The most astounding performance of the night came when SUM 41 took the stage after being off for more than two years and lead vocalist, Deryck Whibley, almost losing his life to liver and kidney failure in 2014. They began the set with a medley of some of their biggest hits: "Still Waiting", "In Too Deep" and "Fat Lip". During my interview with SUM 41 bassist Jason "Cone" McCaslin just prior to the APMAs he said the band had a few surprises in store for the show and that's no joke. After more than nine years away from the band, former lead guitarist Dave "Brown Sound" Baksh rejoined SUM 41 during their performance. Seeing his return was already enough to get fans out of their seats cheering. But that was just the beginning. Next out to perform with SUM 41 was Darryl "DMC" McDaniels of RUN-DMC. SUM 41 and DMC brought down the house performing a monster version of RUN-DMC's "King Of Rock". They closed with SUM 41's own "What We're All About", a song from 2002's Spider-Man soundtrack, which features a guitar solo by SLAYER's Kerry King.
HALESTORM delivered another of the night's outstanding performances with its own "Love Bites (So Do I)", and was then joined on stage by SLIPKNOT/STONE SOUR's Corey Taylor. Lzzy Hale and Taylor followed up the HALESTORM song with a rendition of TEMPLE OF THE DOG's "Hunger Strike". It too received one of the many standing ovations at the event.
Finally, PANIC! AT THE DISCO and lead vocalist Brendon Urie, after performing their own song "Hallelujah", demonstrated that it is possible to successfully perform QUEEN's "Bohemian Rhapsody", even adding of a bit of their own spin to it. In the event that Kanye West didn't already know it, this was a clear message that he ought to just move to some uncharted island off the coast of some other uncharted island and leave the rest of the world alone, particularly anyone affiliated with music.
The last award for the night was presented by Corey Graves of the WWE for Album of the Year and was taken home by BLACK VEIL BRIDES for their self-titled fourth release. Alternative Press has truly accomplished everything it's set out to do with its award show. It's created a family gathering for the music scene where artists and fans alike can celebrate all things music in a relaxed environment. The outfits are casual. Presenters make cheeky quips followed by sincere commentary regarding the love and respect they have for the fans and others in the industry. The bands that perform give 110% as though they're playing for their hometown crowd. Best of all, award winners accept their awards with the deepest of gratitude to AP, their fellow musicians, those working in the music industry, and the fans. It's that which rings the loudest, the love for the fans.
The APMAs are an award show that truly fits the publication's battle cry of "Alternative." They fly in the face of everything one typically associates with any of these types of events, like the infamous red carpet question, "who are you wearing?" Really?!? At the APMAs that question would almost always get the answer, "Levis." This event is fantastic for just that reason. It's accessible, it's real, and it's about music. I'm glad I was a part of it and I can't wait until next year's show!
Be sure to grab tickets to the 2016 APMAs and catch all of this year's show at Alternative Press Online:
www.altpress.com/apmas
2015's Journeys Alternative Press Music Awards Winners:
BEST VOCALIST presented by AXS TV: Hayley Williams, Paramore
BEST INTERNATIONAL BAND presented by AP Japan: The 1975
ICON AWARD presented by Artery Recordings: X
VANGUARD AWARD presented by Equal Vision and MerchNow: Rob Zombie
BEST BASSIST presented by Razor & Tie: Zack Merrick, All Time Low
ARTIST PHILANTHROPIC presented by Sub City/Take Action: Taking Back Sunday for American Cancer Society
BEST LIVE BAND presented by Macbeth: A Day To Remember
BEST DRUMMER presented by DW Drums: Rian Dawson, All Time Low
BEST FANDOM presented by Tumblr: 5 Seconds Of Summer
BEST MUSIC VIDEO presented by Journeys: "Drown," Bring Me The Horizon
SONG OF THE YEAR presented by Epitaph Records: "Kick Me," Sleeping With Sirens
BEST UNDERGROUND BAND presented by Sumerian Records: Being As An Ocean
MOST DEDICATED FANS presented by Fearless Records: All Time Low's "hustlers"
BEST GUITARIST presented by Gibson Brands: Tony Perry, Pierce The Veil
BREAKTHROUGH BAND presented by Splat: PVRIS
ARTIST OF THE YEAR presented by Monster Energy: Issues
ALBUM OF THE YEAR presented by Journeys: Black Veil Brides, Black Veil Brides
2015's Journeys Alternative Press Music Awards Set List:

ALL TIME LOW:
"Bad Reputation" (Joan Jett cover)
"Blitzkrieg Bop" (Ramones cover)
"Should I Stay or Should I Go" (The Clash cover)
"Smells Like Teen Spirit" (Nirvana cover)
"Basket Case" (Green Day cover)
"The Middle" (Jimmy Eat World cover)
"What's My Age Again?" (blink-182 cover)
"Sugar, We're Goin Down" (Fall Out Boy cover)
"Something's Gotta Give"
BLACK VEIL BRIDES:
"Faithless"
"Rebel Yell" (Billy Idol cover)
PVRIS (w/ Tyler Carter): PIERCE THE VEIL: MOTIONLESS IN WHITE:
"Reincarnate"
"Thunder Kiss '65" (White Zombie cover w/ Rob Zombie)
SUM 41:
"Still Waiting"
"In Too Deep" (w/ Dave "Brown Sound" Baksh, guitar)
"Fat Lip" (w/ Dave "Brown Sound" Baksh, guitar)
"King of Rock" (Run-D.M.C. cover w/ Darryl "DMC" McDaniels, and Dave "Brown Sound" Baksh, guitar)
"Throw Your Hands in the Air" (homage to Sugerhill Gang's "Rapper's Delight" w/ Darryl "DMC" McDaniels, and Dave "Brown Sound" Baksh, guitar)
"What We're All About" (w/ Darryl "DMC" McDaniels, and Dave "Brown Sound" Baksh, guitar)
TAKING BACK SUNDAY:
"Better Homes And Gardens" (w/ Contemporary Youth Orchestra)
HALESTORM:
"Love Bites (So Do I)"
"Hunger Strike" (Temple of the Dog cover w/ Corey Taylor)
SIMPLE PLAN:
"I'd Do Anything"
"Boom"
"Responsibility" (MxPx cover w/ Mike Herrera)
NEW FOUND GLORY:
"Vicious Love" (w/ Hayley Williams)
"My Friends Over You" (w/ Contemporary Youth Orchestra)
PANIC! AT THE DISCO:
"Hallelujah"
"Bohemian Rhapsody" (Queen cover)
WEEZER:
"El Scorcho" (w/ Contemporary Youth Orchestra)
"Go Away" (w/ Mariel from Candy Hearts)
"Buddy Holly"