Final Closure: An Exclusive Interview With MCCLINTON vocalist MIKE MCCLINTON

By Charlie Steffens aka Gnarly Charlie, Writer/Photographer
Saturday, July 11, 2015 @ 6:07 PM

| | | |
| --- | --- | --- |
| | | "We'd still have to take a shower in the car wash if we didn't have an RV." |
Band Photo Courtesy Of Renee Silverman
Since forming in 2011, New Jersey rockers MCCLINTON have shared stages with ACE FREHLEY, DIO DISCIPLES, STRYPER, WINGER, JOHN CORABI and a slew of other notable acts. It wasn't until this year, however, that the five musicians began to book shows nationwide and tour beyond the eastern seaboard. MCCLINTON have been on the road virtually nonstop since April, supporting their second full-length release, Final Closure.
KNAC.COM recently caught up with MCCLINTON frontman Mike McClinton after his band's set at House of Blues in Anaheim, CA. The unassuming singer seemed really pumped to be out on tour with RED, ADELITAS WAY and BAD SEED RISING. With a solid lineup of musicians who gel together onstage and love the road, McClinton's optimistic about the band's future.
Final Closure is McClinton's second collaboration with guitarist Paul Carabello from THE ATARIS. Carabello engineered the 2012 self-titled album.
With a sound that has been compared to SHINEDOWN and THREE DAYS GRACE, MCCLINTON will be releasing a single in the near future that displays a more abrasive side to the band, reminiscent of GODSMACK and FIVE FINGER DEATH PUNCH.
The single "Crumble" is probably the most "radio-friendly" song on the album and is currently getting spins on the modern rock outlets.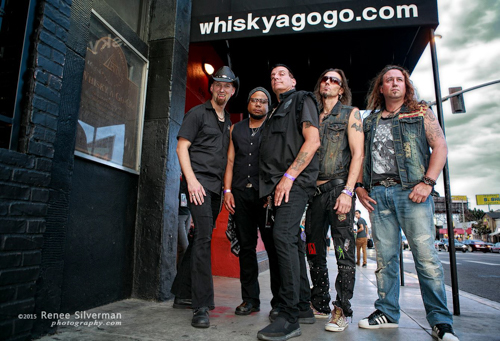 "This whole album was written around my life," he admits. "Growing Up", a touching rock ballad, is snapshot of a household stricken with alcoholism and poverty. "I went to school in Colorado. We lived in a one-bedroom cabin. My two brothers slept on a pullout couch and my sister slept in the bedroom with my mother and father. I blame my sister for that song (laughs). It was like Christmas Eve about two years ago she said, 'When are you going to write a song about our lives?' I said, 'I really don't want to do that because I don't want to offend anybody.' She said, 'When has that ever stopped you before?'"
"Over It" was sparked by McClinton's bout with colon cancer which has been in remission for six years. "Kicked", as McClinton says, is a "fuck you" song pointed at his former band mates who quit the band while he was in surgery, being treated for complications from his chemotherapy treatments.
"Final Closure" is about putting the past behind, moving forward with a new start; a new record, a new band, and new possibilities.
"The guys I have now—all they want to do is play and make some money. They love being out in the public and meeting new people," he says. "We have a great tour manager, Randy. I had a hard time relinquishing all the business end of it until he took over and said, 'Mike, you just need to just be a singer.' It took me a while to trust him to do that, but he came in and he just really turned everything around. I was way over my head trying to be a tour manager, a singer and everything else…we're a smooth-running machine, right down to our budget. And it's working out really well. We could probably stay out on tour for four or five years with this guy and not have a problem (laughs)."
"I love what I do. I am just a musician who loves to play in front of our fans and meet new fans and friends. We joke around on the tour bus about being rock stars and stuff. We're like, 'Yeah, but we'd still have to take a shower in the car wash if we didn't have an RV.'"
Please log in to view RANTS