UPDATED! The KNAC Staff Lists 2002's Top Album Releases

By Sefany Jones, Contributing Editor
Tuesday, December 31, 2002 @ 12:00 AM

| | | |
| --- | --- | --- |
| | | The KNAC.COM Staff and Contrib |
The staff and contributors here at KNAC.COM have put together our annual list of what was rockin' in 2002. Happy holidays! Enjoy! *************************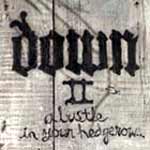 01.) Down Down II (Elektra)
Brilliant! Best album released in the last 10 years!
02.) Brand New Sin Brand New Sin (Now or Never)
Their debut album is nothing compared to their live set!
03.) Black Label Society 1919*Eternal (Spitfire)
Pure Zakkified brewtality.
04.) Superjoint Ritual Use Once and Destroy (Sanctuary)
Anselmo's latest debut album unleashes raw anger, violence, and massive fury – the way metal was meant to sound!
05.) Shadows Fall The Art of Balance (Century Media)
Expect big things from these guys!
06.) Nine Inch Nails And All That Could Have Been (Nothing)
I'd like to see Reznor hook up with Al Jourgensen
07.) Iron Maiden Rock In Rio (Sanctuary)
Classic!
08.) Jerry Cantrell Degradation Trip (Roadrunner)
Darker than I expected
09.) Stone Sour Stone Sour (Roadrunner)
Another great debut album!
10.) Ministry Sphinctour (Sanctuary)
See #6 -- we need new material, guys!

Looking forward to in 2003... Jane's Addiction's Hypersonic (please tour!), a Down DVD and more touring, Anthrax's We've Come For You All, Slash/McKagan/Sorum project, another Superjoint album, more from Brand New Sin, Nuclear Assault, a heavy Metallica album, and... (wishes hard) a Pantera album...?!

Frank Meyer, Contributing Editor

(In no particular order…)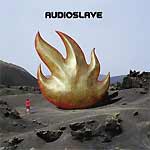 AudioSlave - self-titled - (Sony) Monster riffs and the best singer in the biz.
Queens of the Stone Age - Songs For The Deaf - (Interscope) The most diverse band out there.
Foo Fighters - One By One - (RCA) Pop hooks and hard rock riffing, I love it.
Styles - Gangster and a Gentleman - (Interscope) The best East Coast gangsta rap album since the end of the '90s.
Supersuckers - Musta Been Live - (Mid Fi) How come the Supersuckers are still more rock n' roll than the competition even when they are playing country.
Rose Tattoo - Pain - (Steamhammer/SPV) The mighty Tats return with one of their best albums to date.
Hanoi Rocks - 12 Shots On The Rocks - (Victor) The most highly anticipated reunion of my life.....and it's a killer.
Sahara Hotnights - Jennie Bomb - (Jet Set) Sweden's best export since the Hellacopters...and they're hot too!
South Park Coalition - Personal Vendetta - Cut-throat Houston psycho rap that is not for the weak at heart.
Bill Hicks - Flying Saucer Tour - (Ryodisc) The best comedian since God.



Diana DeVille, Rock Goddess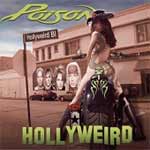 1. Audioslave Audioslave (Epic)
2. Poison Hollyweird (Cyanide)
3. Disturbed Believe (Reprise/Warner Bros.)
4. Down Down II (Elektra)
5. Various Artists Queen of the Damned OST (Warner Bros.)
6. Coal Chamber Dark Days (Roadrunner)
7. Lollipop Lust Kill My So-Called Knife (Artemis)
8. Saliva Back Into Your System (Island/Def Jam)
9. Bon Jovi Bounce (Island/Def Jam)
10. Brand New Sin Brand New Sin (Now or Never)



Jeff Kerby, Gonzo Contributor

And a nice Christmas stocking goes to…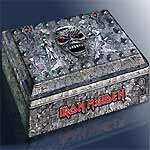 1. Iron Maiden —Eddies Archives (Columbia) Ok, this is a six disc set—so it isn't really fair--but it's a helluva good six discs, so I don't feel like excluding it. If you've got the money, pick this up for sure. I can't imagine any metal fan being disappointed with a representation of Iron Maiden this vast.
2. W.A.S.P. —Dying For The World (Sanctuary) Absolutely the best disc Blackie and the boys put out since their self-titled offering nearly twenty years ago. I can't believe they didn't tour in support of it.
3. Megadeth—Rude Awakening (Sanctuary) If this really is the end for Megadeth, this album serves as dignified epitaph.
4. Joey Ramone—Don't Worry About Me (Sanctuary) Rock and Roll is rebellion. If you want to fault Joey Ramone for not being Yngwie Malmsteen, then you've missed the point. A true legend of all that wasn't ordinary produced a record that should leave listeners with a smile and some hope. No small task.
5. Nashville Pussy—Say Somethin' Nasty (Artemis) Hey, NP tours in a shitty van and kicks ass in venues that most bands wouldn't want to be caught dirtying up their designer stage clothes in---rock as it should be---gritty, edgy and turned up all the way.
6. Geoff Tate—Geoff Tate (Sanctuary) Give credit to Geoff for putting out a record full of the kind of music that he wanted to make with the people he wanted to make it with. Give him even more credit for putting his name right on it and not hiding behind a band name and playing it safe.
7. Dio—Killing the Dragon (Sanctuary) You've got all the classic Dio elements here—dragons, powerful songs and descriptive lyrics. RJD brings it home with a big fat metal sign thrown right in your face.
8. Hank III—Lonesome, Broke and Driftin' (WEA/Atlantic/Curb) I don't apologize for putting what is essentially a country album on this list. Hank III has attitude and song writing ability regardless of the genre of music he is playing in whether it be his solo twang or the crushing tunes he performs with Superjoint Ritual. If you like diversity in your music collection, this would be a good addition.
9. Guttermouth—Gusto (Epitaph) Punk music with a funny side. They don't like people who put lemon in their water and neither do I.
10. Motorhead—Hammered (Sanctuary) Hmmm, Motorhead….you know what they deliver, and they just delivered it again. These guys make the kind of music that kids who weren't even born at the time of their first release don't have the balls or talent to record.



Eveready Ed, On-Air Personality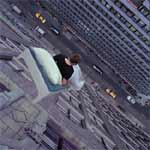 1.) Megadeth Rude Awakening (Sanctuary)
2.) Disturbed Believe (Warner Bros)
3.) Black Label Society 1919 Eternal (Spitfire)
4.) Korn Untouchables (Sony)
5.) Superjoint Ritual Use Once And Destroy (Sanctuary)
6.) WASP Dying for the world (Metal-is)
7.) Stone Sour Stone Sour (Roadrunner)
8.) Down Down II (Elektra/Asylum)
9.) Mudvayne End Of All Things To Come (Sony)
10.) Brand New Sin Brand New Sin (Now or Never)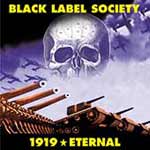 01) BLACK LABEL SOCIETY - 1919 Eternal (Spitfire)
02) POISON - Hollyweird (Cyanide)
03) STEPHEN PEARCY - Social Intercourse (Top Fuel Records)
04) DOKKEN - Long Way Home (CMC/Sanctuary)
05) BON JOVI - Bounce (Universal - Japanese Import Version)
06) JACK RUSSELL - For You (Knight Records)
07) L.A. GUNS - Waking The Dead (Spitfire)
08) TWENTY4SEVEN - Destination Everywhere (Metal Mayhem)
09) GILBY CLARKE - Swag (Spitfire)
10) DEF LEPPARD - X (Universal - Japanese Import Version)
11) ROBIN BLACK & THE INTERGALATIC ROCK STARS - Planet: Fame (Sextant/EMI Canada)
12) ICED EARTH - Tribute To The Gods (Century Media)
13) THE HOOCHIE COOCHIE MEN – Self-Titled (www.bobdaisley.com)
14) IN FLAMES - Reroute To Remain (Nuclear Blast)
15) MESHUGGAH - Nothing (Nuclear Blast)
16) DIO - Killing The Dragon (Spitfire/EMI)
17) REB BEACH - Masquerade (Frontiers/Now & Then)
18) SR-71 - Tomorrow (BMG)
19) TUULI - Here We Go (Linus Entertainment/ Warner Bros. Canada)
20) HALFORD - Crucible (Sanctuary)

Top 5 Concerts Of 2002
1) VINCE NEIL (Quebec City)
2) SKID ROW/KILLER DWARFS (Le Medley, Montreal)
3) POISON/CINDERELLA/WINGER/FASTER PUSSYCAT (Tweeter Center, Mansfield, MA)
4) TESLA (Casino Ballroom, Hampton Beach, NH)
5) OZZFEST (DTE Energy Center, Clarkston, MI - both nights)

Top 3 Metal Forecasts For 2003
1) L/P -- Having heard the demos, I can safely say that Jeff & George have created a great album.
2) CHEAP TRICK -- new album still untitled. Criminally, under rated band.
3) ANTHRAX - We've Come For You All

See Cheap Trick.



Peter Atkinson, Contributor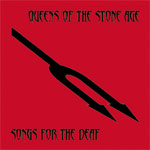 01. Queens of the Stone Age Songs For The Deaf (Interscope)
02. Porcupine Tree In Absentia (Lava/Atlantic)
03. Bad Religion Process of Belief (Epitaph)
04. Napalm Death Order of the Leech (Spitfire)
05. Dimmu Borgir World Misanthropy DVD (Nuclear Blast)
06. The Hives Veni, Vidi, Vicious (Warner Bros./Epitaph)
07. Arch Enemy Wages of Sin (Century Media)
08. Sentenced Cold White Light (Century Media)
09. System of a Down Steal This Album (Columbia)
10. Immortal Sons of Northern Darkness (Nuclear Blast)



Moshin' John, On-Air Personality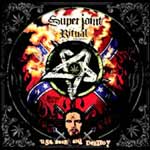 Non Century Media/Nuclear Blast releases:
1. Down II (Elektra)
2. Queens Of The Stone Age Songs For The Deaf (Interscope)
3. Myrkskog Superior Massacre (Candlelight)
4. Superjoint Ritual Use Once And Destroy (Sanctuary)
5. Entombed Morning Star (Koch)
6. Jerry Cantrell Degradation Trip (Roadrunner)
7. The Crown Crowned In Terror (Metal Blade)
8. December The Lament Configuration (Earache)
9. Origin Informis Infinitas Inhumanitas (Relapse)
10. Spiritual Beggars On Fire (Koch)

Century Media/Nuclear Blast releases:
1. Meshuggah Nothing (Nuclear Blast)
2. In Flames Reroute To Remain (Nuclear Blast)
3. Soilwork Natural Born Chaos (Nuclear Blast)
4. Shadows Fall The Art Of Balance (Century Media)
5. Immortal Sons Of Northern Darkness (Nuclear Blast)
6. Bloodbath Resurrection Through Carnage (Century Media)
7. Dimmu Borgir World Misanthropy DVD (Nuclear Blast)
8. Arch Enemy Wages Of Sin (Century Media)
9. Lacuna Coil Comalies (Century Media)
10. Grave Back From The Grave (Century Media)



Ace Annese, Contributor (realitychecktv.com)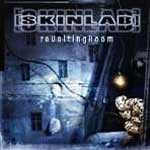 01. Queens of the Stone Age--Songs for the Deaf (Interscope)
The best disc this year by far, showing that a band can be heavy and still have catchy tunes without wimping out. Plus, they simply slayed live at Slim's in San Francisco w/ Dave Grohl. Awesome!
02. Skinlab--reVolting Room (Century Media)
A big leap forward for these guys, who are one of the most underrated heavy acts out there. They do The Bay Area proud! Their Fillmore appearance in SF gave Judas Priest a run for their money as well.
03. Motorhead--Hammered (Sanctuary)
Lemmy and Co. step up with one of their best efforts in years, and they keep crushing acts half their age onstage. Plus, my right ear is still ringing from hanging onstage with them while they destroyed in San Francisco this year. Oh yeah, whoever took Lemmy's hat better give it back!!!
04. Andrew WK--I Get Wet (Island/Def Jam)
This infectious disc gets me to "Party Hard"! And "I Love NYC" too, since that's where I was born! Also one of my fave live shows this year.
05. Glassjaw--Worship and Tribute (Warner Bros.)
NY Hardcore is well represented by this outstanding act, who were one of the highlights of this year's Warped Tour as well.
06. Nashville Pussy--Say Something Nasty (Artemis)
No drop off in quality song-wise or live performance-wise from these guys and girls. "In Lust We Trust"!
07. Poison--Hollyweird (Cyanide)
Underrated disc by this act, who showed they still have it in concert as well. The Poison/ Cinderella Tour was one of the best outdoor summer shows of the year.
08.(tie) The Demonics--Ritual on the Beach (Coldfront) & Murderdolls--Beyond The Valley of The Muderdolls (Roadrunner)
Great surf-punk from The Demonics, although they don't play out nearly enough and rarely gig outside the Bay Area, which is too bad. The Murderdolls show that an 'all-star' group can deliver the goods both on record and onstage.
09. One Man Army--Rumors and Headlines (BYO)
Great guys, great tunes, great live act, and the only band that played the doomed "Vulture's Row" Fest in SF this year who got paid in full without a bounced check!
10. (tie) Dio--Killing The Dragon (Spitfire) & Ted Nugent--Craveman (Spitfire)
Two from the 'old-school' who show that they still have it in the studio and onstage. Ted in particular makes up for his last studio disc, which wasn't nearly this hot.

Honorable mention: The Metal Blade Records 20th Anniversary Box Set, which has classic early trax from then-unknown bands like Metallica. A must for 'rivetheads' everywhere!
What to look for in 2003: Bay Area metallers 40 Grit, whose next disc, Nothing to Remember on Metal Blade will surprise a lot of people!



DJ Will, On-Air Personality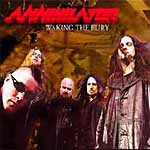 1. Wacken Festival-Germany Various Artists
2. Annihilator Waking The Fury (SPV)
3. Iron Maiden Eddie's Archives (Sanctuary)
4. Doro Fight (SPV)
5. Candlemass Documents of Doom DVD (Escapi Media)
6. Destruction The Antichrist (Nuclear Blast)
7. Black Label Society 1919*Eternal (Spitfire)
8. Halford Crucible (Metal-Is/Sanctuary Records)
9. Black Sabbath Past Lives DVD(Sanctuary)
10. Disturbed Believe (Reprise)

**Special mention carryovers from 2001:
1. The Dictators DFFD (Dictators Multi Media)
Official release of new material in years!
2. Slayer God Hates us All (Universal)
A cryptic release date on 9/11 and the return of Lombardo on tour.
3. Armored Saint A Nod to the old school ( Metal Blade)
Rare gems not heard since high school.



Vinnie Apicella, Contributor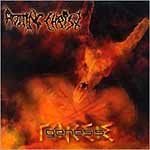 1. Rotting Christ Genesis (Century Media)
2. Bella Morte The Quiet (Metropolis)
3. The Mission UK Aura (Metropolis)
4. Marky Ramone & The Speedkings Legends Bleed (Thirsty Ear)
5. Rise Above 24 Black Flag Songs to Benefit The West Memphis Three (Sanctuary)
6. Demon Hunter Demon Hunter (Solid State)
7. The Crown Crowned In Terror (Metal Blade)
8. Spiritual Beggars On Fire (Spitfire)
9. Dio Killing The Dragon (Spitfire)
10. Saxon Heavy Metal Thunder (SPV)



Junkman, On-Air Personality
1.) Audioslave Audioslave (Sony/Epic)
2.) Shadows Fall-The Art Of Balance (Century Media)
3.) Disturbed-Believe (Reprise)
4.) Dream Theater-6 Degrees Of Inner Turbulence (Elektra)
5.) Black Label Society-1919 Eternal (Spitfire)
6.) Queens Of The Stone Age-Songs For The Deaf (Interscope)
7.) TIE: Down-Down II A Bustle In your Hedgerow (Elektra)/ Motorhead-Hammered (Sanctuary)
8.) Brand New Sin-Brand New Sin (Now or Never)
9.) Nashville Pussy-Say Something Nasty (Artemis)
10.) Superjoint Ritual-Use Once and Destroy (Housecore/Sanctuary)

And continuing onwards....

Long Paul, Program Director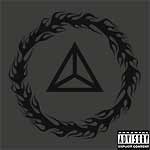 In no particular order...

Down Down II (Elektra)
Black Label Society 1919 Eternal (Spitfire)
Shadows Fall The Art Of Balance (Century Media)
Brand New Sin S/T (Now Or Never)
Stone Sour S/T (Roadrunner/IDJ)
QOTSA Songs For The Deaf (Interscope)
Disturbed Believe (Reprise)
Audioslave S/T (Sony)
Korn Untouchables (Epic)
Mudvayne The End Of All Things To Come (Epic)



Philthy Phil, Dee Jay Ay Cee Kay-Off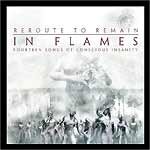 1 - In Flames Reroute to Remain (Nuclear Blast)
2 - Symphony X The Odyssey (InsideOut)
3 - Shadows Fall The Art of Balance (Century Media)
4 - Halford Crucible (Sanctuary)
5 - Down Down II (Elektra)
6 - Black Label Society 1919 Eternal (Spitfire)
7 - Brand New Sin Brand New Sin (Now Or Never)
8 - Sentenced Cold White Light (Century Media)
9 - Blind Guardian A Night at the Opera
10 - Otep Sevas Tras (Capital)



Mick Stingley, Contributor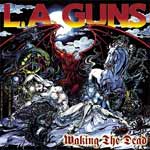 1. LA Guns Waking The Dead (Spitfire)
2. Danzig D7-I Luciferi - Evil Live (Spitfire)
3. Saliva Back Into Your System (Island/DefJam)
4. Poison Hollyweird (Cyanide)
5. Iron Maiden Rock In Rio (EMI)
6. Jerry Cantrell Degredation Trip (Roadrunner)
7. Murderdolls Beyond The Valley Of The... (Roadrunner)
8. Lacuna Coil Comalies (Century Media)
9. Coal Chamber Dark Days (Roadrunner)
10 Tribe Of Judah Exit Elvis (Spitfire)



Ally McSqueal, On-Air Personality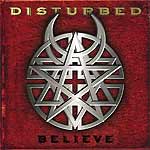 1) Bad Religion The Process of Belief
2) Jason and the Scorchers Wild Fires and Misfires
3) NERD In Search Of...
4) Paul Gilbert Burning Organ
5) Ryan Adams Demolition
6) Disturbed Believe
7) Foo Fighters One By One
8) Bree Sharp More B.S
9) Drive By Truckers Southern Rock Opera
10) The Distillers Sing Sing Death House tie Transplants -S/T



Jason Daze, On-Air Personality/Creative Design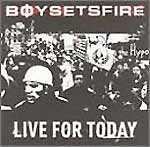 1.) Queens Of The Stone Age Songs For The Deaf (Interscope)
2.) Boy Sets Fire Live For Today (Wind-Up)
3.) Audioslave Audioslave (Epic)
4.) Killswitch Engage Alive Or Just Breathing (Roadrunner)
5.) Chevelle Wonder What's Next (Sony)
6.) Atreyu Suicide Notes And Butterfly Kisses (Victory)
7.) Foo Fighters One By One (RCA)
8.) Glassjaw Worship And Tribute (Warner Brothers)
9.) Avail Front Porch Stories (Fat Wreck Chords)
10.) Skinlab revolting Room (Century Media)



Ravinder, On-Air Personality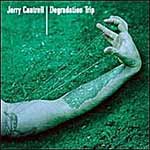 Sorta in order...

Audioslave Audioslave (Sony)
Korn Untouchables (Epic)
LA Guns Waking The Dead (Spitfire)
Bon Jovi Bounce (Mercury)
Jerry Cantrell Degradation Trip (Roadrunner)
Foo Fighters One By One (RCA)
Queens of the Stone Age Songs For The Deaf (Interscope)
Gilby Clarke Swag (Spitfire)
Dio Killing The Dragon (Spitfire)
Black Label Society 1919 Eternal (Spitfire)
Guns N' Roses Chinese Democracy (What? You haven't heard it yet?!)



Elaine Garvican, Contributor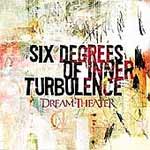 1. Dream Theater Six Degrees of Inner Turbulence (Elektra/Asylum)
Pure aural viagra. A classic has been pressed.
2. Engine Superholic (Metal Blade)
Expect great things…
3. Dio Killing the Dragon (Sanctuary)
Eat your heart hobbits.
4. Everon Bridge (Mascot)
Progressive, melodic, heavy – like a great cocktail it has a little of everything.
5. Queens of the Stone Age Songs for the Deaf (Interscope)
From strength to strength
6. Stone Sour Self-titled (Roadrunner)
You need a reason? You haven't heard it then?
7. Backyard Babies From Demos to Demons (Powerline)
Two discs of punk perfection.
8. Disturbed Believe (Reprise/Warner Bros)
Kicked my ass anyway…
9. Andrew WK I Get Wet (Island/DefJam)
I wanted to hate it, I really did, but the music got in the way.
10. Bon Jovi Bounce (Island/DefJam)
We're all getting soft in our old age…



Evil-Laurie Steele, Occasional DJ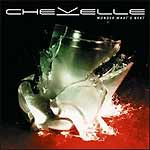 (in alphabetical order)
1) Blindside Silence (Elektra)
2) Chevelle Wonder What's Next (Epic)
3) Clockwise Lay Her Down EP (RCA)
4) Disturbed Believe (Reprise)
5) Down Down II: A Bustle In Your Hedgerow (Elektra)
6) KoRn Untouchables (Immortal-Epic)
7) Nonpoint Development (MCA)
8) Stone Sour Get Inside (Roadrunner/IDJMG)
9) Taproot Welcome (Atlantic)
10) Trust Company The Lonely Position Of Neutral (Geffen)



Eden Capwell, Contributor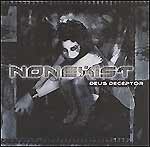 1) Nonexist Deus Deceptor (Century Media)
If you haven't heard this, or own it, it's mandatory if you like swedish metal. Simply some of the finest metal I have heard in years.
2) Arch Enemy Wages of Sin (Century Media)
No more needs to be said about this release. Five star all the way! Exceptional Melodic Death metal.
3) Nile In Their Darkened Shrines (Relapse)
The best death metal release this year!
4) Sixty Watt Shaman Reason to Live (Spitfire)
This is stony, bluesy, and full of everything you could want: grooves, harmonies, solos, including a drum solo. It's an exceptional release for this type of music.
5) Drunk as Usual Moonshine (Free Agents!)
Oh yeah, I started immediately playing the air drums. Grooves, hooks, chorus's galore. SO memorable. My top pick for hard rock album of the year! And a case could be made for this to be metal, and it may be metal. But it rocks so hard, that I am simply forced to say.......you're missing out if you don't have it.
6) Pure Sweet Hell (Demo) (Free Agents)
Simply put, amazing for a demo. The first time Van Williams of Nevermore sings in this long time coming collaboration. Goosebump raising metal.
7) The Crown Crowned in Terror (Metal Blade)
No, not their best, but nonetheless this is a phenomenal thrash death experience.
8) Iced Earth Tribute to the Gods (Century Media)
Yes! A collection of great cover tunes, that even made this die-hard Kiss hater...love Kiss songs!
9) Dies Irae The Sin War (Metal Blade)
Something so understatedly evil. The evil is perceptable, perceivable, palpable, and gives me the impression of something with putrid, vile breath is creeping up behind me. Listen to "Nine Angels" and your gonna get the ass beating of your life! Of course, any of the songs on this highly and largely overlooked Death Metal release are primo.
10) Shadows Fall The Art of Balance (Century Media)
Metal! It's a bit retro sounding, without ever being a recycle of someone or something else. Thrashy, Deathy, and ultra melodic. This is worth the purchase price alone for the guitar work!

For 2003, looking forward most to Nevermore, Enemies of Reality, another Pure Sweet Hell, new Iced Earth, and I am just now getting into Annihilator, Waking the Fury, so it didn't make my top ten--although it should have.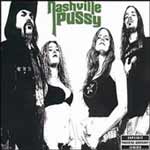 1. Nashville Pussy Say Somethin' Nasty (Artemis)
The Pussy strikes back, serving up another heaping plateload of greasy, beer-battered truck-stop rock, with lyrics that read outtakes from the Jerry Springer Show.
Best Track: "Keep On Fuckin'"
2. Iced Earth Tribute to the Gods 9Century Media)
Iced Earth salute their various heavy-metal heroes with a host of classics, even trumping a few of the originals.
Best Track: "God of Thunder"
3. Shadows Fall The Art of Balance (Century Media)
Refreshingly old-school thrash, yet without being a rehash of Master of Puppets, this one has that indefiniable something that makes it most decidedly current.
Best Track: "Stepping Outside the Circle"
4. Jackyl Relentless (Humidity)
"Whether you like it or whether you don't," Jackyl delivers their strongest album since their debut—-really! That's the way we like it!
Best Track: "If You Want It Heavy (I Weigh A Ton)"
5. American Dog Red, White, Black 'n' Blue (Outlaw Recordings)
More uncouth, beer-swillin', shit-kickin', music, with often humorous lyrics, crazed drumming and blazing guitarwork. Drink up!
Best Track: "Motors Down"
6. Ted Nugent Craveman (Spitfire)
Terrible Ted emerges from his cave to prove he can update his sound without losing any of his essential Nugeness.
Best Track: "Rawdogs and Warhogs"
7. L.A. Guns Waking the Dead (Spitfire)
After nearly a decade of experimentation and melodrama, L.A. Guns put out their second album with the same lineup, an astonishing feat, considering their history. This time out, they ditch the experimentation and go back to basics, and deliver their heaviest album that still sounds like L.A. Guns. The melodrama, however, continues.
Best Track: "Waking the Dead"
8. Arch Enemy Wages of Sin (Century Media)
Proving that Scandinavian death metal doesn't ALWAYS have to be complete shit, Arch Enemy offer contagious grooves, memorable hooks and the lovely Angela Gossow.
Best Track: "Heart of Darkness"
9. W.A.S.P. Dying for the World (Sanctuary)
While not necessarily "music to go out and kill people to," as Blackie Lawless claimed, this is a quite satisfying set of Headless-reminiscent Winged Assassins. Who cares who else is in the band?
Best Track: "Shadow Man"
10. Sixty Watt Shaman Rason to Live (Spitfire)
An impressive combination of blues and metal, with heartfelt lyrics (if not exactly the best vocals in the world) and stellar musicianship.
Best Track: "The Mill Wheel"

Honorable Mention: Lillian Axe Live 2002 (Red and Gold Records)
A little gem you probably wouldn't think to buy for yourself, but which reminds us of what a great band Lillian Axe actually were, had we not been too busy at the time to notice at the time. A best-of with crowd-noise. But what's with the weird flanger on all the acoustic parts?
Best Track: "Become a Monster"



Crazy Craig, On-Air Personality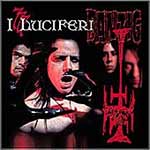 Not in any kind of order
1.Immortal Sons of Northern Darkness (Nuclear Blast)
2. Queens of the Stone Age Songs for the Deaf (Interscope)
3. Earthride Taming of the Demons (Southern Lord)
4. Hermano Only a Suggestion (Tee Pee Records)
5. The Rubes Hokum (Underdogma)
6. High on Fire Surrounded by Thieves (Relapse)
7. Superjoint Ritual Use Once and Destroy (Sanctuary)
8. Danzig I Luciferi (Spitfire)
9. Entombed Morning Star (Koch)
10. December The Lament Configuration (Earache)



Spyder, On-Air Personality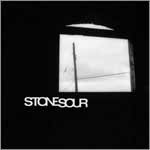 In no particular order:
1)Disturbed Believe (Reprise)
2) Dope Felons For Life (Label reps - open your ears)
3) Queens of The Stone Age Songs For The Deaf (Interscope)
4) Down Down II (Elektra)
5) Stone Sour S/T (Roadrunner)
6) Black Label Society 1919 Eternal (Spitfire)
7) Tommy Lee Never A Dull Moment (MCA)
8) The Distillers Sing Sing Death House (Epitaph)
9) Korn Untouchables (Sony)
10) Jerry Cantrell Degredation Trip (Roadrunner)


Please log in to view RANTS