LET THE MAYEM BEGIN! An Exclusive Interview With MAYHEM FESTIVAL Co-Founder JOHN REESE

By Chaos G, Nomad Contributor
Monday, June 29, 2015 @ 9:25 AM

| | | |
| --- | --- | --- |
| | | "I don't really give a fuck about what people say online. I think: if they can do it better, then get your checkbook out & go try to do it." |
SLAYER & KING DIAMOND. Two names that resonate deeply with all things Metal. The fact that these two mega-iconic bands are set to decimate North America, as headliners for 2015's ROCKSTAR MAYHEM FESTIVAL is cathartic, for most of us. SLAYER & KING DIAMOND touring for the first time together - EVER, seems like we should be pissing & moaning about how 'Of course it's in EUROPE.' Not this time! North America, get-the-fuck-ready. ROCKSTAR MAYHEM FESTIVAL is in it's eighth year with no indication of ceasing & good for it! We need MAYHEM FEST. Hard Rock & Metal does not receive anywhere near the amount of support as other genres when it comes to media coverage/push. When Hard Rock & Metal stopped reigning top spot, they fell more into a… a 'DIY' category. With that being said, it is of great magnitude that Kevin Lyman & John Reese have achieved the near impossible to bring us our 'own' touring Festival every year since 2008. Let's get to know the prolific - John Reese.

When it comes to music [especially Metal] people can be… let's say - PASSIONATE & wield a brutal opinion, usually behind a keyboard. Nah, let's just be straight. Some people can be outright ASSHOLES.

"I don't really give a fuck about what people say online. I think: if they can do it better, then get your checkbook out & go try to do it. We just try to put on a show that appeals to a seventeen-year-old kid or a sixty-year-old person. We try to put on a show that provides people with a wide variety of heavy music on MAYHEM FEST, not just one style or one thing… but everything from BEHEMOTH to AMON AMARTH. If I go back over the history, [MAYHEM FEST] we've had everybody except IRON MAIDEN, RAMMSTEIN, METALLICA and the like. Also, the young bands are important because that's what gets the people out early & to the second stages. Young people are willing to go out into the sun for a full day. You & I, we're not going to be out in the pit at one in the afternoon, you know? We're going to go get our seat, maybe walk around for a while & have a beer. It [Mayhem lineup] HAS to consist of a wide variety. So, any criticism, I take with a grain of salt. We have a pretty substantial fiduciary responsibility to our partners, sponsors, our bands, & everybody, to deliver an audience… a big crowd. It [MAYHEM FEST] is not cheap to tour around the country. There's three-hundred people, twelve transport-trucks & thirty buses & it's all very expensive. When people question the lineup, they're not the ones on the hook to face the bad times if these events don't sell. At least Kevin Lyman [Reese's business partner] & I know the decisions we make & have made, directly affect[s] our bottom-line & our festivals. We don't even take the easiest decisions lightly."
It's not just thick skin that's needed to thrive in the entertainment business… contrary to popular belief, you may have to actually work your ass off. JOHN REESE is like an exception to the rule & proves that you can think outside yourself, genuinely care for others… all while running a kick-ass business. It's not all about partying with Rockstars? Who knew?
"My year operates in three segments. 1. Booking: 2. Put em' on sale 3. Execution of event. I don't have a ton of time except in December to really think, look back & reflect on decisions made. Really, you're running & deciding while you're running. I don't have a grand plan of where I want to be. I want my staff to feel great about where they work & the work they do. I want the fans that come to our events say 'You did a damn good job of putting this event on!' That's my 'yardstick'. When the show is done it's done. That's the trippy thing. That's the weirdest thing about what we do. We spend all this time & energy creating these things, then the bands play & it's over… a memory. It's just weird when you see twenty-thousand people leaving a venue, you wonder 'did we do a good job?' 'Are these people leaving feeling happy?' "Are they feeling like they got their moneys worth?'" "I'm just a white-trash-kid from East Arizona who grew up in a trailer who really didn't have his parents around. I could've easily taken many other paths that went in a negative direction. This sounds trite & bull-shitty… but just hard work & passion will get you there. Put your eye on a goal & do it. There is NO substitution for hard work. Anytime anyone is successful, unless they win a lottery or you inherit a bunch of money… successful people & successful organizations are built on effort. At our company we strive to do the very best that we can & hopefully it shows in what we do. I've got sixteen people that work with me, I want to make sure they still have their jobs, the ability to make a good liven & take care of their families. At MAYHEM FEST this summer, there will be just in vendors, concessionaires & staff… fifteen-hundred people getting a check & supporting their family with."
With hard work should come hard play, but JOHN REESE still makes it about others.
"The reason why we have all the parties & everybody walks away from the festival feeling great, like they've just had an incredible six-week summer camp is because we want them to come back & play it again. So, it's important to us to create an environment that's very inclusionary instead of exclusionary. At the end of the day, if we show these artists a shitty time they're not going to want to ever come back again. We spend a lot of time, effort & money making sure that while they're [artists] out, they get their shot to play in front of as many people as possible. We give em' good food, we give em' what's on their 'rider' & whatever else is going to help them achieve the best time possible. A prime example: GEORGE 'CORPESGRINDER' FISHER [CANNIBAL CORPSE VOCALIST] - On the first year he did MAYHEM FEST, the last night he came up to me & we started hugging each other… he had a tear in his eye as he said it was the best tour he's been on in his whole life. Coming from a guy like that, it's a major compliment."
JOHN REESE not only takes on duties with MAYHEM FEST, he has fingers in many pies. One of which was not possible to bring to fruition this year; no ROCKSTAR UPROAR FESTIVAL in 2015.
"It's really… it's getting tougher & tougher to book headliners in the 'Rock Genre'. Unfortunately, the 'Rock-Scene' hasn't been producing many new headliners. It's an issue with… you know, if you're trying to do these big gigs in these big rooms, you've got to draw the people. We NEED more headliners in Rock & Roll and heavy-music! We're trying to do our part by creating platforms for them to go out & play to a lot of people. I think in the last twelve to fifteen years, record labels have really… you know, it's tough with the internet & sales. Most record sales are down eighty-percent from their peak period. When you don't really have that money to market & push Rock-Bands, it creates an issue. It HAS created an issue. Pop music; you put a song on the radio, it gets traction & action then all of a sudden you've got Sam Smith or Ariana Grande packaged with a bunch of other stuff. With Rock & Roll you're not going to get a bunch of heavy Rock songs on Pop radio. Rock-radio is not as powerful as it once was. It's really just about the marketing support, the dollars spent & the impressions & so forth, that need to reach critical mass. Getting headliners is one of our major goals & we're doing everything we can to profile bands… to feel good about it, you know?"
"I think this year I've bitten off more than I can chew. We have nine destination festivals, I think five or six touring festivals with probably thirteen different genres of music. This is kind of a Guinea-pig year for our company, as we're trying out new things like very, very niche events that appeal to segment of the population. We're not trying to be all things to all people. We're trying to create multiple events that become all things to all people… if that makes any sense. I'm not going to do a better job than COACHELLA founder PAUL TOLLET. Our strategy is a bit different in creating a comedy festival, reggae festival, metal festival, hip-hop festival & all the different genres that we can put into a nice-neat-box, those fan bases will really enjoy."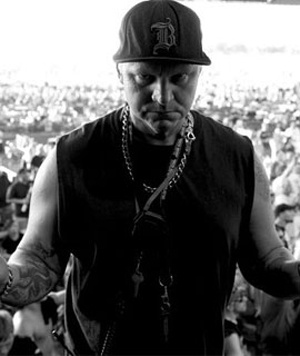 "I don't do as much global stuff any more, because it's SO expensive. There's a difference in fans' tastes from around the world. It's very difficult to take a festival & make it an international product on a touring basis. A TASTE OF CHAOS in the United States & Canada was a big festival. In other parts of the world it was a big concert. We couldn't include all the bells & whistles that we typically do in North America in let's say Australia, for instance. We'll bring some stuff, & some vendors, but nothing like the full-on North American show."
JOHN REESE comes from a perfect background to support his crazy life today.
"Their [GUNS N' ROSES] manger had worked with me in the security business in the early-mid eighties. He left when he graduated from college. Many of the guys working for me were college students. He went on to work for AIR SUPPLY, VAN HALEN & then went to work for GUNS N' ROSES when they started. He kicked-ass, did well, became their co-manager, then their manager. When he was co-manger, he reached out to me & asked if I was interested in coming out to California & working in the entertainment business. I had a security company, I was twenty-something years old, a shitload of employees, lawsuits & all kinds of craziness… but I accepted his offer, loaded up the truck & moved to Beverly [Hills that is] " There was never anything like it & there will NEVER be anything like it again. We did it LED ZEPPELIN TIMES FOUR! Private jets, five-star hotels, the decadence, the chicks, ALL of it. I try not to kiss & tell, because it always affects somebody. There are at least ONE HUNDRED great GUNS N' ROSES stories… from overdoses, to near-death, to riots, the list goes on & on & on. Picking one would be difficult for me.[laughs] Especially from nineteen-ninety to end of nineteen-ninety-three. That was the heyday of the insanity. In Argentina, they sold-out five consecutive stadium shows, sold three-point-five-million records for Appetite For Destruction & also for Use Your Illusion['s] … when there's only fifteen-million people in the country, that demonstrates how big they were. It was like that all over the world. Some bands will excel at concert ticket sale, some with record sales, some with merchandise sales… With GUNS N' ROSES all eight-cylinders were ROARING, and I mean ROARING. All inclusively, they were a juggernaut." The common stereotype of entertainment-industry moguls, is that of a greedy, bloodsucking troll who is only out to exploit for personal gain. Again, JOHN REESE breaks the mold.
"I started in the business as a fan. Metal has a special place in my heart because I basically started in that genre. It doesn't limit me, as I do comedy, rap, reggae, etc. I do everything… almost every genre of entertainment. Metal just happens to be what really, really launched the higher level of events we do. Metal will ALWAYS have a very special place in my heart & I'm a huge fan of heavy music."
"My motivation to persevere - My team. The people who depend on our company for employment… just the passion I have for the job. You know, I joke around about 'packing-it-in' but there's challenges in everything… in ANYTHING you do, wether it's a Garbage-Man or a CEO of a major corporation. It's about perseverance & passion, a real passion for what you do… a passion for the quality & end result of what you're doing."
For someone who's booked an insane amount of shows/bands, it begs the question of this mans dream lineup.
Dream business lineup: SLAYER, METALLICA, SLIPKNOT, RAMMSTEIN & PANTERA.
Dream personal lineup: SLAYER, METALLICA, SLIPKNOT, RAMMSTEIN & PANTERA.
What does JOHN REESE see for his distant future?
"When I was a kid I wanted to be a school teacher. Maybe when I'm done with all this craziness in the entertainment business, I'll finish the last few classes I need & teach class when I'm sixty-five. Who knows? [laughs]"
Be sure to get your Mayhem on this summer! Dates & tickets below. And check out the video highlights from the tour kickoff show in San Diego!
Remaining 2015 Dates:
6/30 – Auburn, WA (Seattle) @ White River Amphitheater
7/1 – Boise, ID @ Idaho Center Amphitheater
7/3 – Phoenix, AZ @ Ak-Chin Amphitheater
7/4 – Albuquerque, NM @ Isleta Amphitheater
7/5 – Denver, CO @ Red Rocks
7/7 – Council Bluffs, IA @ Harrah's Council Bluffs
7/8 – Milwaukee, WI @ Eagles Ballroom
7/10 – Noblesville, IN (Indianapolis) @ Kilpsch Amphitheater
7/11 – Clarkston, MI (Detroit) @ DTE Energy Amphitheater
7/12 – Tinley Park, IL (Chicago) @ First Midwest Bank Amphitheater
7/15 – Toronto, ON @ Molson Canadian Amphitheatre
7/17 – Camden, NJ (Philadelphia) @ Susquehanna Bank Arts Center
7/18 – Burgettstown, PA (Pittsburgh) @ First Niagara Pavilion
7/19 – Hartford, CT @ Xfinity Theatre
7/21 – Holmdel, NJ @ PNC Bank Arts Center
7/22 – Gilford, NH @ Meadowbrook (Bank of NH Pavilion)
7/24 – Bristow, VA @ Jiffy Lube Live
7/25 – Boston, MA @ Xfinity Center
7/26 - Wantagh, NY @ Nikon at Jones Beach
7/29 – Atlanta, GA @ Aaron's Amphitheater at Lakewood
7/31 – San Antonio, TX @ Whitewater Amphitheater
8/1 – Houston, TX @ Cynthia Woods Mitchell Pavilion
8/2 – Dallas, TX @ Gexa Energy Amphitheater
Please log in to view RANTS