3 Days Of Rock In America's Heartland: JUNKMAN's 2015 ROCK ON THE RANGE Recap

By Junkman, On-Air Personality
Monday, June 29, 2015 @ 6:16 AM

| | | |
| --- | --- | --- |
| | | |
As I have since the first one, in 2007, I recently ventured out to Columbus Ohio for the Rock On The Range music festival to take in the sights, and sounds, and experience the annual "kick-start" to the summer concert season. This festival has grown considerably since the one day affair in 2007. It is now spread out over 3 days, with 3 stages, and 60 bands, as well as a comedy tent, featuring some of the funniest guys in the business.

This year's event was also broadcast on AXS TV, as well as completely sold out, weeks in advance. So again, the growth factor is in full effect. As part of "The Worlds Loudest Month" series of rock festivals, which are produced in partnership with AEG Live, Danny Wimmer Presents, and Monster Energy Drink, Rock On The Range has become the go-to festival of the season, for me and many others, because of it's great organization, and of course, it's great line up of bands, both new comers and veterans of the touring scene.

Needless to say, I arrived in Columbus, totally psyched, with my cameras, audio recorders, plenty of sunscreen, water proof hiking boots, and a sack full of disposable rain poncho's, as wet weather was forecast for most of the weekend. Yes, this was "not my first rodeo". When you are photographing in the unpredictable climate of the mid-west, you must come prepared!

Got a bit of a late start, but luckily traffic was pretty light and I headed to MAPFRE Stadium (formerly Crew Stadium) got my credentials and made it to the main stage to see a great set by my friends, WE ARE HARLOT. This is a very fun-to-watch band, that features former ASKING ALEXANDRIA singer Danny Warsnop, former SILVERTIDE bassist Brian Weaver and my party buddy Jeff George on guitar. The guys are really having a blast, onstage and off, since making their debut at last years ROTR and their first self titled CD is available on Relapse Records. The growing crowd seemed pleased and gave them a warm welcome.

After a quick jaunt to the Jagermeister stage, I checked out a set by newcomer DOROTHY, who put an entertaining set of soulful, solid rock. She is quite a visual as well, and fed off her band mates and the crowd response with some great stage banter, before launching into each song. I have a feeling you be hearing a lot about this band in the future, which for me is what is so cool about the smaller stages at ROTR. Seeing new bands first!

But today, I was all about the main stage. Finnish band APOCALYPTICA and their electric cello's put on a very interesting energetic set. Did I mention electric cellos? A re-vamped LIVE made their ROTR debut, and blasted out hit after hit, with singer Chris Shinn a major presence in the band, since 2009. He absolutely nailed LIVE classics that included "I Alone", "Lightning Crashes" and "All Over You" that almost made you forget that he is not the band's original recorded vocalist. The band was decked out in matching black outfits that looked like they were individually sprayed with bleach before they got onstage. I had not seen this band perform since 1994, but they held their own, and sound and performance wise, fit right in with today's new crop of bands.
A very well received set from BREAKING BENJAMIN followed LIVE on the main stage, and the crowd surfers went wild! It looked like pods of dolphins amongst the sold out crowd, and the security crew, who are ALWAYS on their toes throughout the weekend, making sure everyone was safe, as male and females, and plenty of people donning superhero costumes (all the rage at shows these days...) reached their intended goal of making it across the barrier that separates the crowd from the photo pit, where I and about 100 other photographers were busy doing our thing. As they landed in the pit, helped down by said security team, the looks on their faces were priceless. A combination of relief, and accomplishment. They had made it, and they sprinted back into the crowd, for no doubt, a return trip.
As for the newly re-formed BREAKING BENJAMIN, this and their own hit filled set, which also included a cool medley of sorts featuring "Schism" by TOOL, "Smells Like Teen Spirt" by NIRVANA, as well as a cool take on "Walk" from PANTERA, was a sort of "jump start" for things to come during the rest of the afternoon and into the evening.I did venture over to the Jagermeister stage one more time to catch a bit of the madness that is HATEBREED, but again, this day, mostly stayed at the main stage.
And did that stage ever rock. SLASH, Featuring MYLES KENNEDY AND THE CONSPIRATORS were next up with a solid set that featured plenty of GUNS 'N' ROSES and VELVET REVOLVER hits, and plenty from last years outstanding World On Fire release. Of particular note was a performance of "Anastasia" from 2012's Apocalyptic Love CD, that was absolutely breathtaking. Slash and Myles Kennedy are great live performers, and kept everyone's attention throughout.
MARILYN MANSON followed on the main stage, and even with all the hype and smoke, and spooky, religious themed stage set up, really was a bit of a let down. For me anyway. Yes, the crowd loved hearing his 'hits' like "Dope Show" and "Beautiful People", but I guess after seeing him a few times over the last few years, his act completely bores me. His latest release The Pale Emperor is probably his best work in a while, but nothing about it sticks out, and "Deep Six" which opened the show, was the only track from it represented during his set.
On the other hand SLIPKNOT, who headlined the main stage, completely blew everyone's mind. It was as if the entire Mapfre Stadium Had waited all day to completely let loose, and many had. Opening with "Sarcastrophe" from their latest .5:The Gray Chapter, the band, headed by front man Cory Taylor sporting his ultra scary mask, put on, in my opinion one of the best sets of the weekend. Incredible burst of pyrotechnics, along with the impossible pace of drummer Jay Weinberg's double kick drums that had the entire crowd obeying Taylor's pleas to "Jump the fuck up".
SLIPKNOT has killer songs, and their latest CD was well represented during the set. Songs like "AOV", "The Devil In I" and "Killpop" were all well received, by the pumped up crowd. But this band is an AWESOME visual band, with a huge stage set, and plnty going on, with percussionists Shawn "Clown" Crahan and "Chris Fein" banging on their beer-keg looking drums, which were spinning and rising up and down on a scissor lift, as again, the flames shot skyward. quite the experience, I must say. Ending their set with "Surfacing" from their debut self titled release from 1999, SLIPKNOT had triumphed once again. The "Rangers," as ROTR attendees are affectionately known, had seen it all. And it was only day one of the festival. We all retired to our prospective camps, beaten but pleased and ready for day two.
Saturday morning in Columbus brought with it some weather. Thunderstorms to be precise. I thought it fitting that one of the first bands up was LIKE A STORM on the Ernie Ball Stage. Fans braved the rain, with plastic poncho's and gathered for shelter under trees, and buildings, as well as in the halls of Mapfre Stadium where a "Special Guest" would open the main stage.
Tipped off the night before, and invited to their CD listening party, I knew the "guest" would be the new band SAINT ASONIA, featuring former THREE DAYS GRACE singer Adam Gontier, STAIND guitarist Mike Mushok, bassist Cory Lowery and drummer Richie Beddoe, who is a total showman, and used to be in FINGER ELEVEN. They put on a very entertaining set, featuring songs from their new CD (which, at press time, has yet to be released) as well as THREE DAYS GRACE's "I Hate Everything About You" and STAIND's "Mudshovel". A nice way to start the day.
I then made my way to the Jagermeister stage to catch a few songs from FROM ASHES TO NEW, a rock/hip hop hybrid band from Lancaster Pa, that looks to have quite a future, considering the reaction of the ROTR crowd. Dueling vocalists Matt Brandyberry and Chris Musser rapped and rocked the still awakening crowd into a bouncing mosh within minutes. Check out their EP Downfall.
Orange County California rockers OF MICE AND MEN really amped things up a few notches as they blasted their way through a great set, featuring songs from their latest offering Restoring Force. Pumped up Rangers reacted to songs like "Bones Exposed" and "Feels Like Forever" by literally hurtling themselves at the band via crowd surfing and flailing away en masse, clearly pleasing the bands vocalist Austin Carlile who's face was in constant flux between grimace and huge grin all during their eight song set.
Celebrating 35 years as a band is no small feat. Sounding great at the point is an even better feat. SAXON appearing on the smaller Jagersmeister stage, makes it a trifecta. Opening with the appropriately titled "Heavy Metal Thunder" they raped and pillaged their way through an all too brief six song set, with their signature thud, that separates them from most of the other younger bands. "Ramming Speed" screamed singer Biff Byford as they launched into another blistering number that had the crowd pumping their fists in the air, singing along to anthems like "Denim And Leather" and "Power And The Glory". Quite a treat on such a small stage.
Back on the main stage, SCOTT WEILAND AND THE WILDABOUTS made their ROTR debut. Opening with my favorite STONE TEMPLE PILOTS song "Crackerman", Weiland was his usual spacey self onstage, screaming into a bullhorn and pacing back and forth, although a bit slower than I've seen him in the past. Outstanding new guitarist Nick Maybury led the band through a nine song set consisting of a mix of STP tunes and 3 songs from the WILDABOUTS latest, Blaster, in particular the song "Way She Moves", which is just a great song. I actually spoke for a few minutes with Scott Weiland afterwards, and he was very sweet and soft spoken, as opposed to his onstage manner.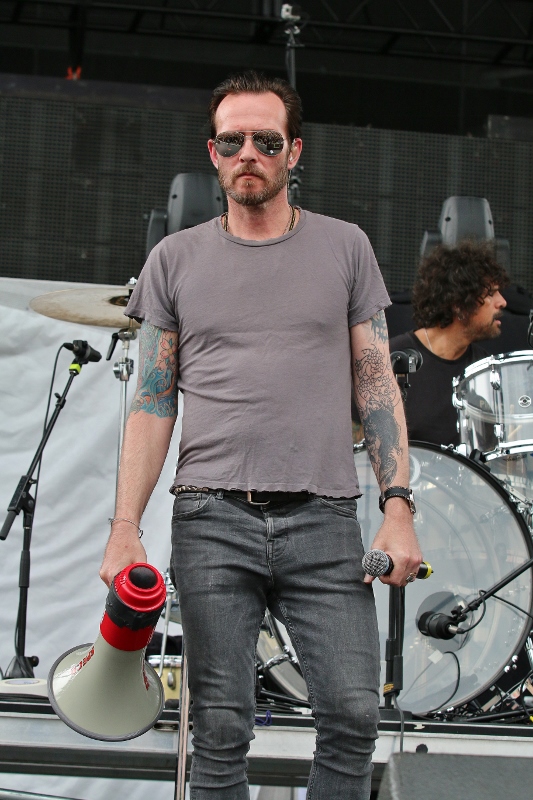 I wanted to check out Japanese band BABY METAL, just out of curiosity, but management forbade most of us to photograph them (supposedly something to do with them being underage. Oh, well...) so I decided to take a break and grab a bite to eat from one of the various vendors surrounding the stadium. "Island Noodles", a wok-fired soba noodle cup and a Monster Energy drink was my choice of lunch du jour, and I hastily devoured it and headed back to the main stage.
IN THIS MOMENT put on a very entertaining show, featuring the very theatrical Maria Brink and her back up dancers. Very reminiscent of an old time burlesque show, complete with lots of costume changes, theatrical lighting and effects, and for good measure-LOUD FUCKING ROCK supplied by guitarist Chris Howorth and company. The opening montage of "Sick Like Me" and "Black Widow" had myself and all the other photographers in the pit scrambling to get that perfect shot. I hope I succeeded. Nonetheless, ITM has upped their game in terms of performance. By the time Brink donned her dunce cap for "Whore" towards the end of the set, I saw nothing but smiles on the already exhausted Rangers as I scanned the crowd.
PAPA ROACH are veterans of ROTR, that's for sure. It seems like they have played every one that I have attended, but I'm not sure. I DO remember seeing them on one of the smaller stages. But they have worked hard, and always give the fans what they want when they perform live, and today would be no exception.
A one two punch of "Face Everything And Rise" and the sing along chorus of "Getting Away With Murder" lit the flame for this Sacramento California based band, and as always they went full out. The crowd, which had been throwing themselves towards the stage all weekend, got a little back, as singer Jacoby Shaddix lept into the audience, and crowd surfed nearly the entire length of Mapfre Stadium and back. My cohorts and I gave him extra points for "hang time" on that maneuver. By the time, they played their biggest hit "Last Resort" and finished their 13 song set with "..To Be Loved", the stadium looked like a battlefield . Bassist Tobin Esperance told me that the band will continue to tour all through 2015. Go see them, you will not be disappointed.
The final act of the day on the Ernie Ball stage was none other than veterans of the 'Industrial Music" scene, MINISTRY. Singer Al Jourgensen, looking like a heavy metal pirate, paced that stage and sneered while cursing and shouting out MINISTRY favorites like "N.W.O." and "Punch In The Face" as his band mates pounded out their brand of electronic, yes industrial metal upon an adoring and somewhat curious crowd. Not happy with the abbreviated set time given, Jourgensen bitched about it but still had a good 40-45 minute set, that again, went over well. You never know what you are going to get with him, but this version of his band are terrific at what they do.
GODSMACK was next on the main stage and revved up the crowd with their brand of Boston Beatdown". Opening with the title track of their latest, 1000 HP, they were off and running from the get-go. "Cryin' Like A Bitch", "Straight Out Of Line" and "Keep Away" are all memorable in their own way. Nothing quite sounds like GODSMACK when they are on a roll. Singer Sully Erna, his baseball cap pulled way down, stayed close to his microphone stand and belted out song after song, occasionally facing his drummer Shannon Larkin as he powered out chords on his guitar.
That is until Erna steps behind a drum kit himself, to battle it out with Larkin to "Batalla De Los Torres" towards the end of their set, always a highlight of any GODSMACK show. Erna is an outstanding drummer, and again, the audience roared their approval. The still energetic Rangers went absolutely ballistic as GODSMACK ended their set with the one-two punch of "Whatever" and "I Stand Alone". Truly a great band, and a great live show. I have seen them numerous times and have never been let down.
The Gods Of Metal were in the house. Actually, and more precisely, the "Metal God" himself, JUDAS PRIEST front man Rob Halford. And, after BLACK SABBATH's classic "War Pigs" was blasted out over the house PA, there they were, and louder than hell. Great lighting and background video and a huge open stage welcomed JUDAS PRIEST right into your face for an ultra metal 13 song set with plenty of tunes from all phases of their long career. Opening with "Dragonaut", the opening track of their latest Redeemer Of Souls, it was everything you would want in a PRIEST show. Thundering guitars, courtesy of Glenn Tipton and Richie Faulkner who really shined all through the set with his blistering leads on songs like "Victim Of Changes" and the classic power chords of "Breaking The Law" and "Hell Bent For Leather". But Rob Halford and his primal scream vocals are always the center point of any PRIEST show. Encoring not once but twice, to an adoring Columbus crowd, finally winding up with "Painkiller" and "Livin' After Midnight", the mighty JUDAS PRIEST had once again conquered a sold out crowd. Everyone in the house seemed to have the same happy thought running through their heads as they exited Mapfre Stadium- That TOTALLY kicked ass! After a great post show party in downtown Columbus, Sunday came quite quickly, for the third and final day of the festival.
A major traffic jam delayed us, the hung over and the late risers to the stadium for far too long, and I missed a few bands that I wanted to see, such as UNLOCKING THE TRUTH, and most of SEPTEMBER MOURNING's set. Made it to the main stage to see my old friends HOLLYWOOD UNDEAD do their brand of hip hop and rock, to the still arriving crowd.
Caught some of PRETTY RECKLESS' set as well. Taylor Momsen is becoming a true rock goddess.
I did spend quite a bit of the early afternoon, checking out some of the festival grounds. There were TONS of vendors, selling every thing from T shirts, to hats, to smoking gear, as well as plenty to eat. there was even a Ferris Wheel set up , again adding to the carnival like atmosphere. As a veteran "Ranger", I noticed many repeat vendors, which tells me business is booming. As I found out, many of them follow the "Worlds Loudest Month" festivals across the nation every year, and have a great time doing so. Not a bad way to make a living, especially if you enjoy rock festivals.
As I mentioned at the beginning of this report, there was a huge "Comedy tent" set up with big named performers all weekend. Great idea, to unwind and laugh your ass off to funny guys like metal head Brian Posehn, That Metal Show co-hosts Don Jameson and Jim Florentine (who were EVERYWHERE it seemed all weekend...) Jim Norton and Rob Schneider amongst others. I stopped by a few times and it was pretty crowded each time. Yet another successful idea from the creators of the festival.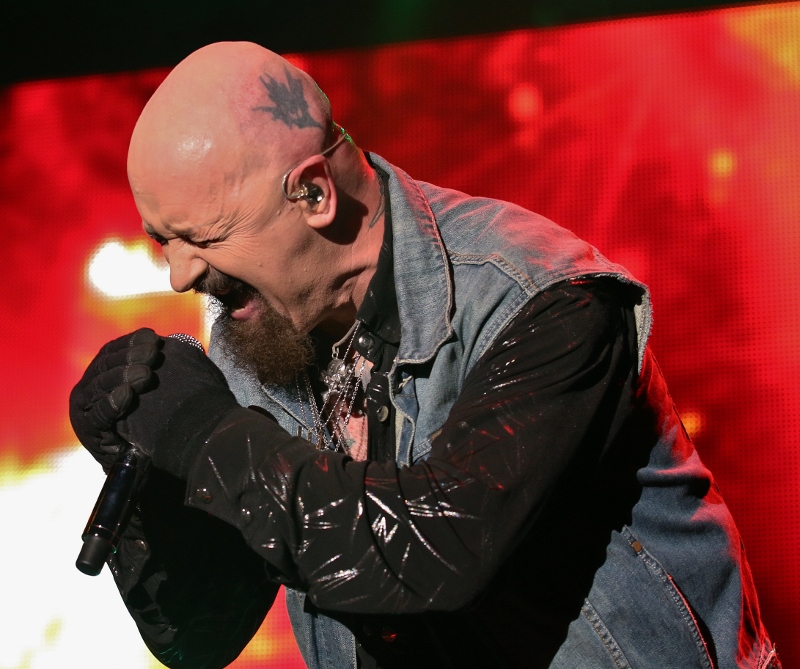 But the music and the weather were heating up. On the main stage, metal veterans ANTHRAX put on a killer show. They literally just explode when they hit the stage, with more energy than most bands half their age. Singer Joey Belladonna uses the entire stage and, opening with "Caught In A Mosh", proceeds to incite the crowd to do just that, mosh it up, and we all obeyed. The infectious bass line belonging to Frankie Bello on their classic cover of Joe Jackson's "Got The Time" is what sets the pace, guitarist Scott Ian's moshing and leaping about and drummer Charlie Benante's frantic, yet almost impossible drum chops, combined with Belladonna's never ending wail and mugging for the crowd is what make's ANTHRAX tic ( "Tic, tickin' in my head"...) and fire on all cylinders at once. Lead guitarist Jonathan Donais gracefully does his business as the chaos ensues, and the band wrapped up their 6 song set with their 1987 song "Indians". I then made a "bee-line" to the Ernie Ball stage.
My reason? One of the most exciting bands to come along in years, RIVAL SONS were about to hit the stage. And, as they always do, they totally schooled their audience with an old fashioned ass kicker of a rock show. starting off with "Electric Man" from their latest release, singer Jay Buchanan is a whirling dervish onstage, howling out soulful, bluesy, and yes, electric vocals. And barefoot at that.
The band, Scott Holiday on guitar, Dave Beste on bass, Todd Ogren Brookes on keyboards and the rock solid Michael Miley on drums, are reminiscent of early LED ZEPPELIN with their amped up combination of soul, blues and powerful rock riffs. It's too bad that they were only given a short set on a side stage, as I think the stadium crowd would embrace them. Either way, they were here and I got to see them. Check them out sometime, you will not be disappointed.
What else can you say about HALESTORM that has not been said already? They are, without a doubt, one of the best live bands on the circuit these days. And because of that, they are becoming more and more popular by the day. On the heels of their latest CD Into The Wild Life, they "stormed" the main stage with their opener "Love Bites (So Do I)" and the place went nuts. They proceeded to perform an 11 song set, heavy on their hits, but also plenty of new material like "Amen", "Scream" and 3 others, which feature great performances by guitarist Joe Hottinger and his crunchy guitar licks, and drummer Arejay Hale, a virtual wizard behind the drum kit.
But all eyes are on singer Lzzy Hale who continues to be the "It Girl" for the rockin' chicks world wide. Armed with her signature white Gibson Explorer guitar, she wailed on songs like the rock fan friendly "I Like It Heavy" and the introspective "I Get Off" from the bands first recording. Yes, I loves me some HALESTORM.
Next on the main stage was yet another of my favorite live bands, VOLBEAT. The Danish rockers wasted no time getting the fans what they wanted, as they opened with "Hallelujah Goat", singer/guitarist Michael Poulsen grinning a devilish grin as he delivered to the sold out crowd. Guitarist Rob Caggiano, sporting his trademark skull cap and PRS guitar, blazed out terrific rockin' riffs during songs like "Lola Montez" and "The Hangman's Body Count", all the while smiling as if it was his first show ever. The band even tried out some new material on the already thrilled audience and it sounded great, although I could not figure out what the title was. They then ended the set with "A Warriors Call" and "The Mirror And The Ripper", a great bludgeon of their roots rock meets metal sound, that had Mapfre Stadium shaking from the "Rangers" rocking response.
Another band that I have seen grow in popularity over the years is RISE AGAINST, and they had their fans out in full force today. Opening with my favorite number of theirs, "Ready To Fall", it was the perfect way to open a set, as the crowd sang along, and the crowd surfers found the perfect wave. This band just gives off so much energy on stage and off as vocalist Tim McIrath jumped down from the stage and up to the barrier to sing "Give It All" directly to the fans, packed in like equipment in the band truck. All the while guitarist Zach Blair was doing kicks mid air while jumping off the monitors as he struck power chords on his guitar. Again, this Chicago based band is all energy, and ended their nine song set with the fan favorite "Savior".
The final act of the weekend, LINKIN PARK, is not exactly what you would call a heavy rock band, by any means. But they are about as popular with today's youth as just about anyone on the scene. And with an arsenal of hit songs, they were a great choice as a closer for the festival. Metal band or not, they bring it. Singer Chester Bennington is a bona fide superstar, and now that he is also the singer of STONE TEMPLE PILOTS, his music credibility keeps growing.
Opening with "Papercut", the first song from their first EP, they proceeded to rock a long 23 song set, that left nothing but smiles on every fans faces. Bennington and co/lead singer Mike Shinoda were all over the stage, singing, rapping, trading vocals, and delivering the goods in general. Hits like "One Step Closer", "Breaking The Habit" and "In The End" were all performed (strangely, "Crawling" was not..) and the now totally exhausted but thrilled ROTR crowd was totally in to it. They owned this crowd. A very cool stage lighting and minimal stage set kept the emphasis on the performers. No pyrotechnics or distractions, and for that, I give them props. Guitarist Brad Delson was not at the show and his guitar tech took his place and didn't miss a note, furthering the impression I got from this band. Total pros in every way, putting on a great show, that covered all the bases of today's rock genre.
And with that, it was over. 3 days of fun in the sun and the rain, moshing, noshing, friends, family, laughs and loves, and some of the best live music that you will see, all packed into a few acres of central Ohio. You can be bet I will be back next year, as will most of the people I spoke with. After the show, I hung out in the "Artists Lounge" with a bunch of the band members, crew, press and festival organizers, and had a few beers as we reflected on a wonderful weekend. I was honored to be asked by one of the organizers to contribute some of my pictures and stories to a festival archive that they are producing. he called me 'family", and that means a lot to me. I am again honored to be a "Ranger For Life". See you next year.
My thanks to all the organizers- AEG Live, Danny Wimmer Presents (especially Gary..) all at Monster Energy Drink, Ernie Ball, Jagermeister, Kristine and Mike at AM Media, and all my friends and cohorts as well as the bands and crew. You know who you are!
Some of the Setlists:
SLASH Featuring MYLES KENNEDY AND THE CONSPIRATORS
"You're A Lie"
"Nightrain"
"Back From Cali"
"You Could Be Mine"
"Bent To Fly"
"World On Fire"
"Anastasia"
"Sweet Child O' Mine"
"Slither"
"Paradise City"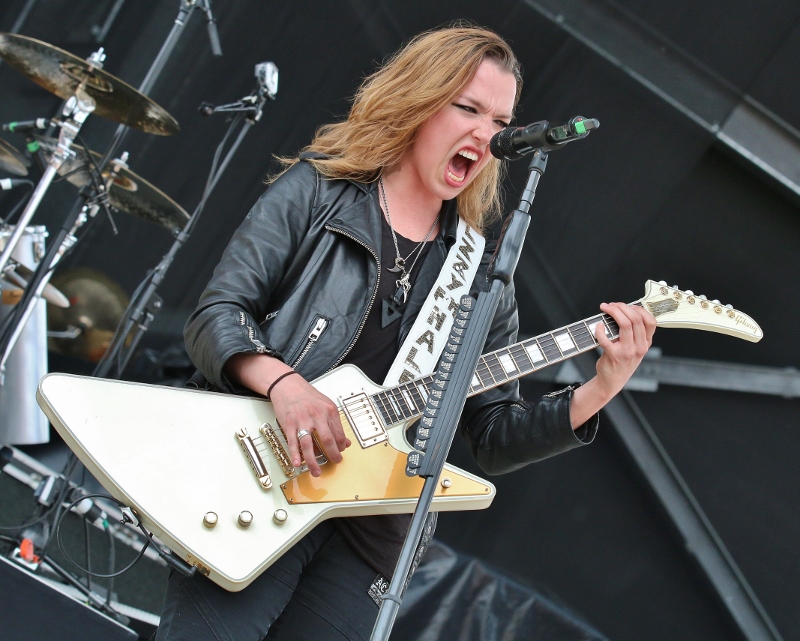 MARILYN MANSON
"Requiem" (Wolfgang Amadeus Mozart song)
"Live Intro 2014"
"Deep Six"
"Disposable Teens"
"No Reflection"
"Mobscene"
"Lunchbox"
"The Dope Show"
"Rock Is Dead"
"Sweet Dreams (Are Made of This)" (EURYTHMICS cover)
"Personal Jesus" (DEPECHE MODE cover)
"The Beautiful People"
"Irresponsible Hate Anthem"
JUDAS PRIEST
"Battle Cry" (Intro)
"Dragonaut"
"Metal Gods"
"Devil's Child"
"Victim Of Changes"
"Halls Of Valhalla"
"Turbo Lover"
"Redeemer Of Souls"
"Jawbreaker"
"Breaking The Law"
"Hell Bent For Leather"
Encore:
"The Hellion"
"Electric Eye"
Encore 2:
"Painkiller"
"Living After Midnight"
"Beginning Of The End"
GODSMACK
"1000hp"
"Cryin' Like A Bitch"
"What's Next"
"Straight Out Of Line"
"Awake" (with "Mistakes" intro)
"Generation Day"
"Something Different"
"Keep Away"
"Voodoo"
"Batalla De Los Tambores"
"Whatever"
"I Stand Alone"
SAXON
"Heavy Metal Thunder
"Sacrifice
"Power And The Glory
"To Hell And Back Again
"Denim And Leather
"Princess Of The Night"
SCOTT WEILAND AND THE WILDABOUTS
"Crackerman"
"Meatplow"
"Amethyst"
"The Way She Moves"
"Big Bang Baby"
"White Lightning"
"Vasoline"
"Dead & Bloated"
"Unglued"
MINISTRY
"Hail To His Majesty (Peasants)"
"Punch In The Face"
"PermaWar"
"Rio Grande Blood"
"Lies, Lies, Lies"
"N.W.O."
"Just One Fix"
"Thieves"
IN THIS MOMENT
"Sick Like Me"
"Black Widow"
"Sex Metal Barbie"
"Adrenalize"
Drum Solo
"Whore"
"Blood"
SAINT ASONIA
"Better Place" (Live Debut)
"Fairy Tale" (Live Debut)
"I Hate Everything About You" (THREE DAYS GRACE cover)
"Dying Slowly" (Live Debut)
"Mudshovel" (STAIND cover)
"Live My Life" (Live Debut)
Note: *First Live Performance*
ANTHRAX
"Worship"
"Caught In A Mosh"
"Got The Time"
"Antisocial"
"Fight 'Em 'Til You Can't"
"Hymn 1"
"In The End"
"Indians"
HALESTORM
"Love Bites (So Do I)"
"Freak Like Me"
"It's Not You"
"Amen"
"Scream"
"I Am The Fire"
"I Like It Heavy"
"Mayhem"
"I Get Off"
"Apocalyptic"
"I Miss The Misery"
VOLBEAT
"Hallelujah Goat"
"A New Day"
"Lola Montez"
"Danny & Lucy (11 pm)"
"Dead But Rising"
"Sad Man's Tongue" (preceded by a snippet of "… More")
"The Hangman's Body Count"
"Still Counting"
"The Garden's Tale"
(Unknown New Song)
"A Warrior's Call"
"The Mirror And The Ripper"
RISE AGAINST
"Ready To Fall"
"Give It All"
"Re-Education (Through Labor)"
"Help Is On The Way"
"Chamber The Cartridge"
"Prayer Of The Refugee"
"Ohio" (CROSBY, STILLS, NASH & YOUNG cover) (Acoustic, Tim McIlrath solo)
"I Don't Want To Be Here Anymore"
"Savior"
LINKIN PARK
"Papercut" (2015 intro)
"Rebellion"
"Given Up" (Ext. Outro)
"One Step Closer" (False Start, Ext. Outro)
"A Line In The Sand" (Keyboard Intro)
"From The Inside"
"Runaway" (Shortened (Intro/First Verse/… more )
"Wastelands"
"Castle Of Glass" (Live Experience with "A Thousand Suns" interlude)
"Leave Out All The Rest" / "Shadow Of The Day" / "Iridescent" (Ballad Medley)
"Robot Boy" (Shortened (Intro, Synth… more )
Joe Hahn Solo
"New Divide"
"Breaking The Habit" (2015 debut)
"Darker Than Blood" (Steve Aoki cover) (Live debut, First Verse Acapella + Synth)
"Burn It Down"
"Wretches And Kings" / "Remember The Name" / "Skin To Bone"
"Numb" (Numb/Encore intro)
"In The End"
"Faint" (Ext. Outro)
"Waiting For The End" (Apaches Intro w/ Until It… more )
"What I've Done" (Ext. Guitar Solo Bridge)
"Bleed It Out" (Ext. Intro; Ext. Bridge w/ Sing-a-long; Ext. Ending)
Note: Brad Delson was absent from the show. Guitar tech took his place.
Please log in to view RANTS