Texas metalheads know the name Randy Cooper. He has been a staple on the regional metal scene for years and was a driving force as the guitarist in the band TEXAS HIPPIE COALITION. But now, he's raging the stage with a whole new sound and band that is driving fans wild. EMPERORS AND ELEPHANTS is not like anything the metal scene has heard in a long time. Their energy is palpable and they are filling up rooms wherever they play.

Consisting of Cooper, vocalist Jesse Andrews, drummer Jason Meudt, guitarist Joseph Stiff and bassist Ron Vanders, the band is set to headline multiple festivals and shows around the country. Incidentally, this is a band that is constantly on the road and has garnered a fan base that has been loyal from day one. Their debut album on Pavement Entertainment, Devil In The Lake, has spawned a plethora of shows, radio spots and video hits that has the band poised for greatness.

"I met Jason through the Dean Guitar Company and that lead to us working together and with the band based out of Chicago so we work together as much as we can even though I'm based in Texas. We put this record together and it was just natural," Cooper said.

"We have just blown up in a way I never expected and the videos are getting tons of plays. "Man Of God" has been a staple of our shows and it's one of my favorites on the record and incidentally that is the song that people seem to want the most. Each song has its own identity and its own sound and everything has a different feel."

Touring is a staple of the band's weekly life. A band that stays this busy is one that Cooper says is strong and determined.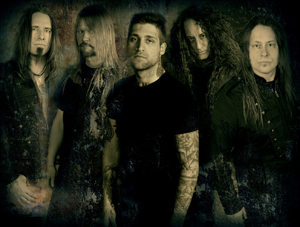 "We have been out for three months straight and we try to stay as busy as we can," he said. "We really don't want any gaps in touring and we manage to get quite a few shows. There are a lot of festivals that want us and I think we will score a lot of dates and there is something in the works that I think everyone is really going to enjoy. We are one good run away from having our career set up in a way we never dreamed. Our best touring run is from Chicago to Galveston and we have such a great fan reaction."
While the members of the band have a wealth of musical experience, Cooper says that when they came together as a band it was just natural.
"We were all working on different projects and when we met and started working together, my first reaction was that I loved this! It had such a natural feel and Jason and I talked about me coming out and when we worked on the first songs for the record, I knew that this was the best thing I could have done. We all work together in a way that is hard to describe. Jesse just blew me away with his voice. Sometimes people will hear him and have to do a double take because his voice is not like everything else you are hearing out there."
Fans are important to the band because they have been able to build strong relationships with the people at their shows.
"I was in New York and a fan recognized me on the street and I said, 'hey we have a show here tonight' and they came. People are getting really into what we are doing and we see the same people coming back and that is what it is all about. Our fans have shown great loyalty. We get to know the people in the places we play and they just keep coming to see us. They are loving the record and the videos and that is what it's all about."
Cooper's enthusiasm is contagious and it shows onstage. Be sure to check out the album Devil In The Lake and make sure to stay up to date at www.emperorsandelephants.com for tour dates, news and merchandise.