California's Bay Area is known for its beauty, its tourist attractions, and for being the home of thrash metal. One simply doesn't discuss Bay Area thrash and not know it as the originating base for the mighty TESTAMENT and the masterful EXODUS.

Both bands have histories that not only span more than thirty years, but are also intertwined. EXODUS frontman Steve "Zetro" Souza was the vocalist for the band LEGACY, which morphed into TESTAMENT. Souza left the band shortly before the release of the band's first album and the Big Chief, Chuck Billy, stepped in and fronts the band to this day. Souza went on to join EXODUS and the two bands have remained in the forefront of the scene. For the first time ever, the two bands are touring together for the Dark Roots Of Thrash II Tour and it has been sold out in most markets. Also appearing on the bill are the Texas based metal band SHATTERED SUN; a band that is managed by Billy and his partners at Breaking Bands LLC.

This is a raw, earthy tour that captures the elements of thrash at its finest and not only the fans are amazed by what has been happening on the tour so far; the bands, too, are astounded at the reception and feel as if they have put together a package that sets the pace for the entire metal genre.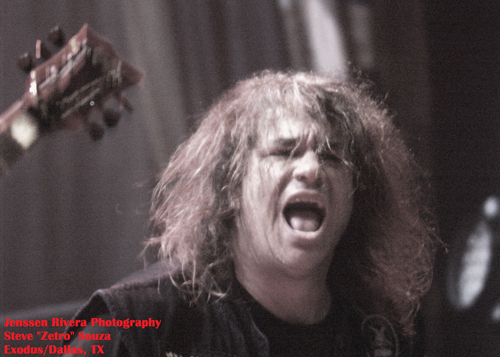 "This feels great," Souza said. "I want to say that even just a few dates into the tour we realized that this is something that fans of all ages are responding to in such a positive manner. The kick off show at home was sold out and the crowd was wild. These are songs that everyone has wanted to hear for so long. How do you put together a set list when you have ten albums out and still please everyone? I don't know how, but we have done it. There is so much good music to choose from and the audience response has been overwhelming."
TESTAMENT guitarist Eric Peterson seconds the motions set forth by Souza.
"So far we have been able to hit some really good venues," he said. "The Aztec in San Antonio was a great room and seemed to be sold out. It was a really wild crowd. People want to hear the classics and sometimes when we sit down and discuss doing an album tour we try to decide which album; well, so many people seem to want to hear the older music so when we started out we were doing The Legacy and The New Order in the order they were being played on the records, but then it didn't seem to mesh just right and we changed a few songs up, so now, while they are not completely in chronological order, the set list makes sense and I think the fans are just really happy with what we have done. We also throw in a few songs off Practice What You Preach so it is a well-rounded set."
The tour will trek to Europe after the American dates are finished and TESTAMENT will start to put together the new music they are writing while EXODUS may have more time on the road to support their new music. The rest of the band, Gary Holt, Tom Hunting, Jack Gibson and Lee Altus, are sharpening their set and are ready to unleash it onto the world.
"The new record (Blood In, Blood Out) has been doing really well and the response from our fan base has been very good," Souza said. "We have also picked up a lot of new fans along the way that are discovering us and really seem to like what they are hearing. I think we will do a lot more touring for this record. At least I hope we will. We went to Japan before this tour started and that was great; we have done some South American dates, and I think there may be more time on the road for us after we get back from Europe. We also always have ideas for new music so at some point we will sit down to discuss a new record."
Peterson said that TESTAMENT's post tour goal is to finish up what they have started with new music. He and his bandmates Billy, Alex Skolnick, Steve DiGiorgio and Gene Hoglan will be very busy in the coming months.
"The idea that we are all here together on tour and can work on the new record is ambitious," he laughed. "We always talk about doing it and we are all together and can have discussions about what we want, but the ideas flow all the time so while you are on tour you often get caught up in just what is happening on the road. We will likely work more on the new music after we are done. We always have so much floating around and we will send our ideas back and forth to each other and the music comes from that. We don't all live in the same place so we do work at a distance but once it all comes together it is very natural. We don't always do the same thing over and over so I think the new music will be very much a Testament record but will not be a replica of anything we have done before. You will always find certain elements of our signature sound in anything we do, but we want to have something new and exciting for the fans."
When the tour stopped in Dallas the bands once again played to a packed house. There were fans of all ages in the crowd. Opening the show was SHATTERED SUN, who played a thirty minute set that featured songs from their upcoming debut on Victory Records entitled Hope Within Hatred and the response from the audience was very positive. Comprised of Marcos Leal, Henry Garza, Robert Garza, Daniel Trejo, Joseph Guajardo and Jessie Santos, the up and coming band is one to watch for.
They are a high energy band that features elements of varying genres of metal. They have all the elements of a thrash band while still incorporating a progressive power metal core and a bit of experimentation with more modern metalcore tones.
"This has been really exciting for us and to be able to tour with TESTAMENT and EXODUS is something that a small band like us never thought would happen," Leal said in an earlier interview. The band has also been announced as a performer on the Victory Records Stage for the 2015 Rockstar Energy Drink Mayhem Festival that kicks off this summer.
As anticipated, the touring show is one that delivers powerful, classic thrash in a way that no fan should miss. This show is energetic, thrashy, wild and angst-filled in a way that fans of classic thrash will enjoy. The pits are massive and swirling with motion but in true metal chivalry, it is made fun for all ages.
The tour is not yet over so if it is coming through your area, don't miss it! Enjoy the photos from the Dallas show at The House of Blues this past April 8th and go out and witness it for yourself.
All PHotos By Wendy Jasper-Martinez and Jenssen Rivera
Please log in to view RANTS