Breaking The Walls Down: An Exclusive Interview with FOZZY's CHRIS JERICHO

By Curt Miller, Editor at Large
Monday, April 13, 2015 @ 6:29 PM

| | | |
| --- | --- | --- |
| | | "I never really cared what other people thought. I knew I could make it happen and here I am doing just what I said I'd always do!" |
Countless people know Chris Jericho for his myriad accomplishments in the wrestling ring, the "squared-circle" if you will, but that's really only part of the story behind this truly multidimensional performer. While wrestling may have been his first foray into the public eye, it seems music has always been his backdrop. Born Christopher Irvine, he chose the stage name, "Jericho" from the 1985 HELLOWEEN release, Walls Of Jericho. From a very young age Jericho developed a passion for music and he knew it was only a matter of time before it would ultimately become his full-time focus.

JERICHO: I guess I was about 8 when I really got into music. I was a big BEATLES fan and not just some run-of-the-mill fan either. I mean; I knew everything about the band. I was like a walking BEATLES encyclopedia by the time I was 10. I knew when I'd reached the age of 12 that there were two things I wanted to do with my life, be a wrestler and be in a rock band. It never occurred to me that I couldn't do both. I was in my first band at 14, playing bass, and I've never stopped playing music.

My wrestling career took off first, likely because of where I grew up in Winnipeg, Canada. There's not much of a music scene there. To this day, the GUESS WHO and the CRASH TEST DUMMIES are the only two big bands to come out of Winnipeg, Neil Young not withstanding. There was never a time when I felt I couldn't do both music and wrestling even though I had many detractors. I really didn't care what they thought. I just did my own thing and here I am all of these years later doing exactly what I said I was going to do when I was 13 or 14 years old.

KNAC.COM: Your accomplishments in professional wrestling are truly astonishing: far too many to list here. Are there any moments that really stand out over the years?

JERICHO: As you said, a history of the best of Chris Jericho would take far too long and is way beyond the scope of this interview, but what stands out right now is FOZZY's latest release, Do You Wanna Start A War, debuting at #54 on Billboard's Top 200 Chart and #9 on Billboard's Top Hard Rock Albums Chart. It's our highest debuting record and highest charting record thus far. This album has already outsold the last one by 50 percent. It was a really cool moment after all of the hard work we've put in over the years to get this mainstream pat on the back.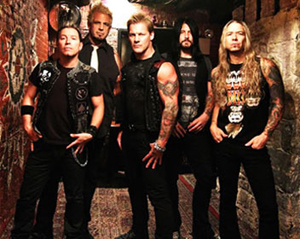 That's the idea. You want to be able to grow and build. Just like all of the wrestling championships. When I first won the Canadian Championship it was great, but I still wanted more. It's the same with FOZZY. When Sin And Bones debuted at #143, great; we're on the Billboard Top 200. Now, let's get even higher. When we played the Download Festival in England in 2005 on the side stage it was a huge accomplishment, but last year we played the main stage. So, we'd built ourselves up to that level. You want to continue to grow and evolve. I've always believed that past accomplishments are great, but they're in the past. I like to stay focused on working on future accomplishments.
KNAC.COM: You've cultivated success in a wide variety of areas: as a champion professional wrestler, recording artist, bestselling author, radio personality, and husband and father. What's your secret to staying on point and focused as you manage these disparate projects and objectives?
JERICHO: All of these objectives are kind of intertwined. It's all about managing the Chris Jericho brand. It's a cottage industry at this point and there are a lot of different aspects to keeping the Chris Jericho Corporation rolling. You have to be diverse in this day and age. Otherwise, you can end up stuck in a box. Wrestling is something I did full-time for two decades, but it's not what I do full-time now. Nor should it be. I mean; I'm 44 years old. If I were only wrestling, I'd be setting myself up for a major fall because, sooner or later, you just can't do it anymore. It's too physical an occupation.
As far as keeping the ball rolling, I don't put myself in a box. I don't necessarily have a list of things I want to do. I just kind of lie back and see what opportunities come up and I'll either find various projects interesting or not. If something seems interesting, I'll do it no matter what it may be: dancing, writing a book, hosting a game show, you name it. It's not as though many of these were things I sat down and determined were things I wanted to do with my life. They're just things that crossed my professional table that I thought I'd either be great at or at least give a try.
There are also a lot of things that come up that I don't do, as well. I never really found Celebrity Apprentice to be all that interesting. So, three times I was asked to appear on the show and three times I turned it down. I just wasn't feeling it. Sometimes you accept the project. Sometimes you don't. The most important thing for me is doing what I want to do because I want to do it, not because I have to do it or any other reason.
Some people are confused by my approach and some don't like it, but honestly, I don't care, not at this stage of the game. I've done too much and come too far to do anything because I need the money. It's that mindset that's likely one of the primary reasons I continue to grow as a performer and creative artist. I push myself to do new things and continuously change things up.
KNAC.COM: In 2014 FOZZY released Do You Wanna Start A War, your sixth studio album since 2000. The album delivers one, powerful, metal track after the next. You followed up this release with a tour including shows at 2014's major rock festivals: Carolina Rebellion, Rock On The Range and Download Festival. Do these accomplishments along with your Podcast radio show mark a change of focus in your career toward a prioritization of music or will wrestling always play a big role in your life?
JERICHO: When FOZZY started recording Chasing The Grail that's when we all decided that the band would be the priority and see how far we could go with it. The growth of FOZZY in the last five years has been phenomenal because of that decision. So yeah, my days of being a full-time wrestler are done, but they have been for a while. You can see by my schedule over the last four or five years that I've come and gone from wrestling quite a bit, primarily because I have other things going on.

That said; I still love wrestling. I still love performing. I'm now working with the WWE mostly on the weekends and at live events and having a blast doing it. I don't think I'll ever be a full-time wrestler again, at least not right now, but who knows? I try not to really plan too much. Rather, I go with the flow and do what feels right at the time. I can't say that wrestling will always be in the background because, sooner or later, I won't be as comfortable taking it. But, as of right now, I feel I can perform at the best level and still deliver one of, if not the best matches of the show. As long as I can still do that, why wouldn't I continue to work with the WWE whenever it's convenient for both of us? It's not just about me. There've been times when I've wanted to come back, but there's not an opportunity at the moment for anything good to do. So, I don't. As far as ever going back to full-time status like I've been in the past, I'd say that's very unlikely to ever happen again.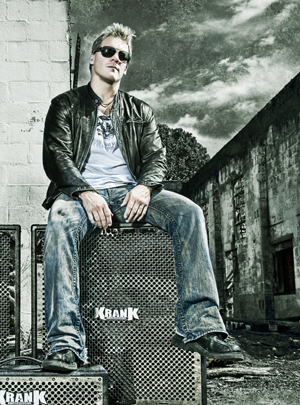 KNAC.COM: How was the concept for Talk Is Jericho developed? Just recently, you've featured several guests including: Lemmy Kilmister, Robert Trujillo, Michael Sweet, George Lynch and Andy Biersack (since the time of my interview with Chis Jericho he has also interviewed Gene Simmons of KISS). Have there been certain guests who really stand out?

JERICHO: There's a lot and I'm developing good relationships because I make a real effort not to ask the same old questions. I know what those interviews are like and I know how boring they can be. I don't ever want to ask the same old cliché things.

My favorite interview right now, just because of the hugeness of it, has to be Paul Stanley. I've been a Paul Stanley fanatic for years; so having the opportunity to interview him in his dressing room prior to a show for my 100th episode was an enormous accomplishment. It was an even greater honor when people around the world took notice. There were those who said mine was the best Paul Stanley interview they'd ever heard conducted. I mean; here's a guy who's been interviewed what, about a million times? To get that kind of a review is a real pat on the back.

I had a great time talking with Lemmy, too. He has a reputation for giving one-word answers during interviews, but that was not at all my experience spending time with him. He was off the charts! It was a great interview!

Doing this show has been a blast. I just got back from L.A. where I was conducting interviews with some iconic people. Here I am in their houses having conversations that sometimes last more than an hour and a half. As a fan, as a professional, as a performer it's terrific! People are really getting into it. Regardless of who is on the show, whether listeners know their work or not, they're going to enjoy it. It's a good place to be.

That was my goal. I wanted people to realize that there are so many really interesting people outside of the wrestling world that they may never have heard of but whose stories and work they'd very much enjoy. My show is an entertainment show. It's not centered on any particular topic. That's why I think it's grown so much. The only rule I have regarding guests appearing on the show is that he/she has to be interesting. As long as we deliver that to our listeners, I'm happy!

KNAC.COM: When FOZZY came on the scene it began with a tongue-in-cheek back-story, wherein it had been signed to a contract stranding FOZZY in Japan for 20 years. All of the FOZZY's demos were then stolen and popularized worldwide by the artists now famous in the metal scene. Where did this idea come from and how did it evolve during the development and release of FOZZY's first two albums, Fozzy and Happenstance?

JERICHO: Because of who was in the band, Rich Ward and Frank Fontsere from STUCK MOJO and Chris Jericho from the WWE there was a buzz about us. After only two shows there was a bidding war, sight unseen and sound unheard. We were just doing covers. Megaforce Records signed us as a cover band. We thought well this is interesting. Okay? I guess! But instead of just being a cover band, why not put a back-story behind it and make it like a BLUES BROTHERS/TRAVELLING WILBURYS-type deal, where it wasn't really us at all? We all had fake names and we had more fun with it. It was a Sgt. Pepper's Lonely Hearts Club Band kind of thing. It was a cool way to start, but it was also very limiting. We knew early on that, if we were going to continue to grow and develop as a band, we were going to have to do our own thing and write our own songs.

Kind of like PANTERA, there've been two versions of FOZZY. There was the first version of PANTERA that had much more VAN HALEN-style sound with Dimebag and Vinnie Paul wearing makeup and perms. Then, the membership, the look, and the feel completely changed and with it so too did PANTERA's sound. Suddenly, they became the PANTERA that we all know and love, the legendary, pioneering band.

FOZZY went through similar growing pains that just come with being a band. I take great pride in the fact that we were signed to a deal right off the bat, but we were just doing what every band does. You cut your teeth playing covers in bars. We just had a record deal that gave us the opportunity to record versions of those songs. Rather than just do yet another cover album, we thought it'd be cool to create the back-story idea in the beginning to set us apart. We always knew that we'd break away from that model and into the other side of FOZZY with our own unique style and original material.

KNAC.COM: Both "Died With You" and the cover of ABBA's "SOS" from Do You Wanna Start A War really struck chords with me. As per the first song, it seems very personal. Is there a story behind the lyrics? In terms of the latter, as a child of the '70s, I enjoyed the original and FOZZY's cover is terrific. What was behind the band's decision to cover this particular song?

JERICHO: With a song like "Died With You", there's definitely a story behind it, but it may not just be one in particular. Any time a relationship ends there are always those feelings that things will never be the same again. I think we all go through that. What are the reasons? Why did it happen? So, while it may not pertain to one specific incident, it's definitely about the whole concept of a relationship coming to an end, which is something I think everyone can relate to.

I've really focused my writing over the past few records on interpersonal relationships. Whether it's a heart-wrenching ballad, like "Died With You" or a more of a rock song, like "Bad Tattoo", these are tracks people can understand and feel. You know; (quoting "Bad Tattoo") "I can't get rid of you. You're like a bad tattoo." Everybody's got that one relationship that was just terrible, but they couldn't get rid of it. Even after it ended, they're forever scarred. They've always got that 'tattoo.' It's always there. People can relate to those types of lyrics.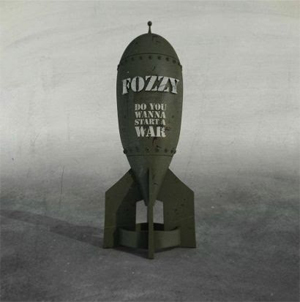 As far as the cover of ABBA's "SOS" our musical interests are very diverse and for FOZZY guitarist Rich Ward, his favorite era for music is the '70s. We were backstage after a show that we'd performed with ANTHRAX in Leipzig, GE and that song came on through someone's iPod shuffle play. Rich and I looked at one another and nodded in agreement because, lyrically, it's a very dark and depressing song. It also has an amazing Yngwie Malmsteen/RUSH-type riff running through it, too. So, we thought imagine if we triple that with guitar, bass, and keyboards how cool it would sound.

It was originally planned as a B-side. It's so out of left field, but actually it's really not because it's so heavy. It's a very rockin' song that's never had the true rock and roll treatment that it deserves. Much like when you think of VAN HALEN doing "You Really Got Me", they really pumped it up and took a song out of left field and made it into their own tune.

Once we heard how well "SOS" turned out we knew there was no point in making it a B-side. I'm not certain there's even a point to B-sides anymore. Originally, we were going to have 10 tracks on the album with two B-sides, but it just made more sense to do the release with 12 tracks.

Fan response has been terrific, as well. So much so that "SOS" may be the third song released from Do You Wanna Start A War. People kind of know the song already, then they're like, 'No way; FOZZY's doing this tune.' But when they hear our version, they realize it was made to be a heavy rock song.

Because of the limits of instrumentation most times all you can do as a metal band with a cover is to homage the original song. With FOZZY's release of "SOS" we've made it our own. That's the real secret of making a great cover song. It's not simply about copying it, but making it your own.

There can be little question that Chris Jericho is a goal-setter and quite successful at obtaining that which he sets out to achieve. He's focused, determined, and highly motivated. Though he's had his detractors, he's made it clear he doesn't really care what they think and he's done a good job of proving them wrong thus far.

FOZZY's latest album, Do You Wanna Start A War, is definitely their best yet. The two tracks mentioned in this piece are my personal favorites, however; the release delivers 12 solid hard rock/metal tracks. Chris Jericho's Talk Is Jericho podcast provides a unique variety of guests from across the entertainment industry, so he's hitting his own metric by keeping the show interesting.

Given all that Chris Jericho has delved into by the young age of 44 it's hard to tell where his career will take him next. It's a safe bet that, regardless of where life takes him, he'll go with confidence and, even if he's not an instant success, he'll not likely give up easily and he definitely won't care what the naysayers think!
Please log in to view RANTS